Qatar Airways turning 20 - and hoping for a joint venture with American Airlines
Analysis
Qatar Airways turns 20 in 2017. The once tiny regional airline has become a global powerhouse and is reshaping oneworld, the alliance to which it belongs. Qatar has stakes in IAG and LATAM, and Qatar Airways CEO H.E. Akbar Al Baker has told CAPA that in the near future he expects Qatar to make acquisitions in two additional airlines, aside from Meridiana. He said the additional airlines would be successful airlines, as "We are not going to collect crap".
Strategic partnerships without equity are important; Mr Al Baker hopes American Airlines will cease its partnership with Etihad Airways and work solely with Qatar Airways, even forging a multilateral JV anchored around American, British Airways/IAG and Qatar. Qatar is heading towards a fleet of 250 aircraft in 2-2.5 years' time. Mr Al Baker expects recently ordered 787-9s to replace 787-8s, while an LoI for 737 MAX 8s will be to replace Qatar's A320s and grow that fleet.
Qatar Airways to have 250 aircraft in two years. Al Baker leads 'disciplined' approach
Outlining future plans, Mr Al Baker highlighted that Qatar Airways will have 250 aircraft in 2-2.5 years. Emirates in Nov-2016 has 242 aircraft in Nov-2016, but all are widebodies. Qatar's 189 aircraft in Nov-2016 include 49 narrowbody aircraft and mostly medium-sized widebodies, whereas Emirates has more of a large/very large widebody fleet (although it has been evaluating the medium-sized widebodies A350 and 787).
Qatar's existing impact in size and strategic direction earned it the title of CAPA Airline of the Year, awarded on 27-Oct-2016 at the CAPA Global Aviation Summit in Amsterdam. In accepting the award Mr Al Baker reflected on how he had initially refused the CEO job for six months but finally accepted it. Since then his impact on the airline has been pronounced, as he led it from being a small regional airline to the global powerhouse it is today.
Like many reigns, Mr Al Baker's defining tenure and high objectives have not been a match for everyone. Mr Al Baker said he knew that his reputation at the airline was "The Dictator", but defended his actions as "discipline" necessary to delivery the high service that is a core part of Qatar Airways. Comparing Qatar Airways with competitors Mr Al Baker remarked: "They have legacy costs, they have inefficient airport regimes...they have low utilisations of their airplanes compared to us, and of course most importantly the standards of service that people have to give. And if they don't give, then they have to leave the organisation.
They have to leave. They don't have to worry, we don't have to worry about unions. People are accountable and people have to deliver."
Qatar Airways CEO Akbar Al Baker interview after receivig the award for CAPA Airline of the Year: Oct-2016
Qatar CEO Al Baker: 'It's not all about money'
Like its peers Emirates and Etihad, Qatar Airways faces a range of accusations to the public and government designed to discredit them or stop/reduce their expansion. A common public accusation is that Gulf airlines, via their wealthy government owners, have unlimited money and that this alone changes competition to a point where others cannot compete.
Mr Al Baker rejected this notion, saying: "Just sitting on the fence and crying foul that these Gulf carriers, as one of the CEOs of a European carrier said, 'They only have sand and money' – that is not the case. When people say this about our region, I think they are just sitting and smelling glue because they don't realise we are really sophisticated countries, we don't just throw away money because we want to throw away money. We are launching successful entities".
Mr Al Baker concluded: "It's not all about money and sand. It's about serious business". Even if the money argument was taken at face value, no amount of money at western countries (or Air India, for that matter) could address dysfunctional aviation ecosystems and hubs, as well as underlying service issues (for example, passenger treatment before considering hard products).
Accusations to governments about Gulf airlines often come down to the lack of a "level playing field" or the lack of "fair competition". CAPA has recently analysed Mr Al Baker's views on "fair competition", a phrase that is central to EU open sky negotiations with countries/markets including the State of Qatar and the UAE.
See related report: EU-Gulf open skies negotiations: Qatar CEO Al Baker warns of biased 'fair competition' definition
As for competitor airlines' claims of a distorted playing field, Mr Al Baker said: "Actually there is a level playing field but they cannot play on the level playing field. They want to keep the cake and eat it themselves".
Airlines competing with Gulf airlines face the presence of Gulf airlines, but also internal problems. It is arguable these internal problems (especially labour and unions) are a greater threat than Gulf airlines as these challenges impact not just markets that overlap with Gulf airlines, but all market segments. The impact on short haul services under threat from LCCs has been considerably greater in many cases; and managements, faced with inertial forces, have faced enormous hurdles in adjusting to the new environment. Air France-KLM's new management plan for example reflects changes that the new executives are taking because of the control from labour groups, especially pilots.
See related report: Air France-KLM: Attempting to rearrange the deckchairs while pilots remain on full steam ahead
Qatar Airways considering investments in two airlines
Besides Qatar Airways' pending deal with Italy's Meridiana, Mr Al Baker said that Qatar was weighing two additional undisclosed investments. Mr Al Baker said the near future could see Qatar "making some more acquisitions. We will be making some interesting announcements soon...We have two other projects in the pipeline which you will get to know."
Qatar Airways now owns just over 20% of IAG - the holding company of British Airways, Iberia, Aer Lingus and Vueling. In Jul-2016 Qatar took a stake in LATAM. Mr Al Baker praised LATAM's management and noted the long-term opportunities for the airline and Latin America once the current economic woes are over.
While the opportunity is undeniable, it is unclear how much Qatar Airways will strategically benefit, given the limited ties between Latin America and the Gulf, and what traffic flows Gulf airlines can participate in from Latin America to the Middle East and Asia, even when factoring in growth. Latin America is the smallest market for Gulf airlines.
Average daily flights from Gulf airlines to long haul regions: 11-Jul-2016 to 17-Jul-2016
As with the IAG stake, investing in LATAM was not necessarily a prerequisite for a partnership, especially since they are each members of oneworld. As far as investments go, on a strictly financial basis there are typically better investments than airlines, so Qatar's stakes must have a few driving elements that are difficult to quantify precisely.
See related reports:
IAG, LATAM and Qatar Airways group revenue, operating profit and net profit: 2015/2016
Qatar order for 30 787-9s to replace 787-8s
In Oct-2016 Qatar Airways announced a 100 aircraft deal with Boeing consisting of an order for 30 787-9s and 10 777-300ERs, and an LoI for 60 737 MAX 8s. Mr Al Baker told an interview with CAPA TV that the 787-9s will replace Qatar's 787-8s. Qatar has 30 787-8s in service, potentially allowing for a one-for-one replacement.
Qatar Airways average fleet age: Nov-2016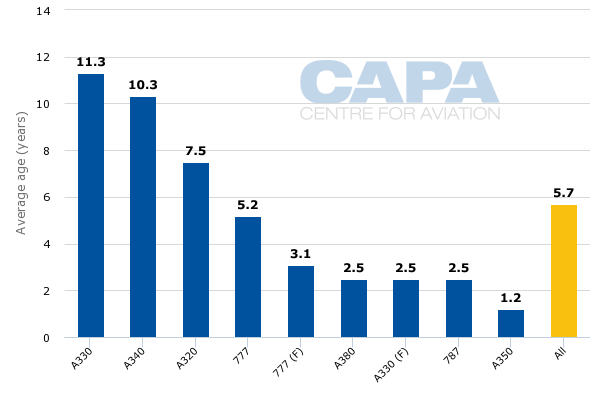 The 787-8s have the second youngest average fleet age in Qatar's fleet, at 2.5 years. Only the A350 fleet is younger, at 1.2 years.
Qatar's 787-8s range in age from 4 years and 7 months to only seven months. All but one of the aircraft are leased, according to CAPA's Fleet Database. The low ages, even at the "old" range, makes is unlikely that 787-9s will immediately replace 787-8s. Qatar may find benefit in operating the two alongside each other. Some airlines are finding that the 787-8 allows them to open new services, but the 787-9's larger size brings lower unit costs that make operations more sustainable.
Qatar Airways CEO Akbar Al Baker interview with CAPA TV: Oct-2016
737 MAX 8s to replace A320s, enter JV airlines
Qatar's LoI for the 737 MAX 8s is yet to be finalised. It was entered into when Qatar had very difficult relations with Airbus over the A320neo, which Qatar Airways has refused the delivery of. This background has caused some to suggest that the Boeing 737 MAX LoI is leverage against Airbus, and that Qatar will not conclude the deal with Boeing.
Nonetheless, Mr Al Baker said the 737 MAX 8s will be used to replace Qatar's A320s. Qatar operates 39 A320s, in addition to two A319s and eight A321s, its only narrowbody passenger aircraft. The addition of possibly 60 737 MAX 8s implies growth, although Mr Al Baker said that the aircraft could be placed into service with JV airlines. Noting airlines in the plural suggests that the aircraft would be placed with airlines other than Qatar's proposed investment in Meridiana. The planned Saudi airline Al Maha Airways has new A320s, but its launch prospects do not appear to be strong.
Outlook: most radical shift would be Qatar joining American-IAG JV
Mr Al Baker identified partnerships as central to Qatar Airways, remarking: "Cooperation, relationships will make this industry a win-win for everybody". Qatar Airways has been the only one of the three Gulf superconnector airlines to join an alliance.
Qatar formed a JV with oneworld's Cathay Pacific, but this has since been dissolved. More recently Qatar and British Airways formed a JV. While Qatar owns approximately 20% of British Airways' parent company IAG, the JV was expected long before Qatar made the equity investment.
See related report: British Airways-Qatar Airways form Europe's first Gulf airline JV, showing some oneworld flexibility
Qatar's entrance into the oneworld alliance also resulted in it forming a bilateral partnership with oneworld's North American member, American Airlines. The Qatar-American partnership supplemented, and did not replace, American's partnership with Etihad Airways.
Since Qatar joined oneworld and partnered with American, American has expanded its relationships with both Qatar and Etihad. American has even done this while denouncing Qatar as being part of the alleged subsidised Gulf airlines that the big three US airlines rallied against. Mr Al Baker did not like American choosing a bilateral partner over a fellow oneworld member, saying: "I don't see the sense of them doing business with two airlines from the same region and diverting more traffic to Etihad, ignoring the alliance partner Qatar Airways".
It would be bold for American Airlines to end its relationship with Etihad and work solely with Qatar in the Gulf (oneworld's Royal Jordanian is in the Levant). Even more extreme, but logical, could be Qatar Airways and American Airlines forming a joint venture.
With such a JV, the American Airlines-IAG/Finnair JV, and British Airways-Qatar JV, an end-game scenario could emerge of the three JVs being stitched together covering an expansive segment of travel.
JVs have so far been region-specific, but ultimately in the long term and with adaptation from regulators could be combined and take closer steps toward consolidation.
As for the prospect of American and Qatar having a JV with British Airways/IAG, Mr Al Baker was opportunistic: "I'm a businessman and I would be delighted to do this with American. I think the American Airlines administration has been misled by Delta and I think in the long run they will realise that a partnership with Qatar Airways is a very robust business proposition for them".
In his opening remarks Mr Al Baker referenced how airlines long doubted Qatar Airways' growth ambitions. Having proved naysayers wrong, Qatar Airways is narrowing the gap in size between itself and Emirates. Qatar's planned next steps indicate continuing capacity growth while adding strategic growth.
Qatar Airways is increasingly becoming too big to say no to.