Qantas wins "right to manage the airline" as FWA ends industrial dispute with international pilots
Analysis
A bitter two-year dispute between Qantas, and three of its worker unions has drawn to a close, for the time being at least, with Australia's Fair Work Commission handing down the last of three arbitration decisions on an employment contract for international long-haul pilots.
Qantas and AIPA have until 12-Feb-2013 to provide the FWC with a draft agreement giving effect to its decision and raising any areas of disagreement in doing so.
In the decision issued on 17-Jan-2013 the FWC, (formerly Fair Work Australia) found largely in favour of Qantas, rejecting key job security claims by the Australian and International Pilots Association (AIPA) representing 1,600 long-haul pilots.
The pilots had sought to impose the terms and conditions of their employment contract on pilots beyond the Qantas mainline brand including LCC subsidiary Jetstar.
Two earlier decisions involving negotiations with the Australian Licenced Aircraft Engineers Association (ALAEA) and the Transport Workers Union (TWU) were issued on 23-Jan-2012 and 08-Aug-2012 respectively.
The long running dispute came to a head with the unprecedented decision by Qantas CEO Alan Joyce to ground the entire Qantas fleet on 29-Oct-2011, forcing FWA to intervene on the basis that the dispute could damage the national economy.
Qantas appears to have achieved a favourable outcome in each of the decisions, which effectively confirm its right to manage the business. Importantly the decision also provides Qantas with relief from industrial action from the three powerful unions until the end of 2014.
Job security provisions central to Qantas workers' employment contract claims
Claims from AIPA centred on a "job security" provisions and wage increases, as was the case with Qantas' ground workers represented by the TWU and the airline's engineers represented by the ALAEA.
In total the FWC was faced with dealing with a myriad of more than 60 claims from Qantas and more than 30 from AIPA, nearly all relatively minor in nature.
However, the negotiations were predicated on AIPA's principle negotiating stance to secure "job security" provisions, including a requirement that all aircraft in Qantas livery would be operated by pilots covered by the agreement or on terms and conditions no less than if they had been covered under the agreement.
The FWC, however, rejected the claim which in effect would have applied Qantas terms and conditions to other Qantas group entities including LCC Jetstar, potentially curtailing the highly successful two-brand strategy pursued in both the domestic market and in Asia by limiting codesharing between the two carriers.
Qantas believed the inclusion of the clause would be an unreasonable constraint on its ability to respond and adapt to an increasingly competitive environment.
The so-called "livery clause" would also have resulted in any new operations either not using the Qantas livery, new or expanded operations only commencing with AIPA's agreement, which Qantas maintained would be inimical to job security and the public interest.
Qantas Group executive government and corporate affairs, Olivia Wirth, said after the FWA announcement: "The dispute was always about Qantas retaining the right to manage its business and retaining the flexibility we need in a competitive industry like aviation. Had the union been successful with its claims, including its so-called 'job security' claims, it would have meant that over time Qantas would not be financially viable".
An earlier New Zealand JetConnect proceeding had been similarly decided
AIPA in 2011 attempted to have the 100 pilots of Qantas' New Zealand-based JetConnect subsidiary, launched in 2002, placed on Australian wages – despite their being employed in New Zealand.
JetConnect, which operates with Qantas branding, operates trans-Tasman flights between Australia and New Zealand. Its 600 employees are under New Zealand contracts which can support lower wages than in Australia, upsetting AIPA.
AIPA brought a claim against Qantas to the then named Fair Work Australia, to place the New Zealand-based JetConnect employees on Australian contracts. FWA rejected the claim on 06-Sep-2011, after rejecting in 2007 AIPA's claim to represent JetConnect pilots.
Under the determination, pilots were to receive a 4.5% wage increase from 20-Jan-2012, followed by two 3% increases in Jan-2013 and Jan-2014. AIPA's claim for annual increases of 3% starting 01-Jan-2011 was rejected by the FWC.
The FWC limited the agreement to two years, rather than the four years requested by Qantas, and will expire on 31-Dec-2014.
The commission broadly accepted evidence about Qantas' loss making international operations and the competitive environment in which it operates.
For the 2012 financial year all parts of the group were profitable with the exception of Qantas' international network. Qantas mainline (including international) reported an underlying EBIT loss of AUD21 million (USD22 million), down AUD249 million (USD262 million) compared with FY2011, reflecting the poor performance of the international network.
International competition for 'end of the line' airlines has become overpowering
Qantas is facing increased competition from the rapid growth of sixth freedom carriers from the Gulf States, Singapore and China, adding significant capacity on its international routes to and from Australia as well as growth in LCC competitors, particularly in Asia.
That competition saw Qantas' main brand international market share drop from 34% in 2002 to 19% in 2011. Including Jetstar's international flying, Qantas last year had a market share of 27%.
For the week ending 27-Jan-2013, Innovata data shows Qantas and Jetstar combined international market share by seats was 24.8% of total – slightly ahead of the combination of Emirates, Singapore Airlines and Cathay Pacific, at 23.8%. As Chinese airlines too expand their sixth freedom presence in the market, this trend will only intensify.
Australia international market share (% of seats) by carrier: 28-Jan-2013 to 03-Feb-2013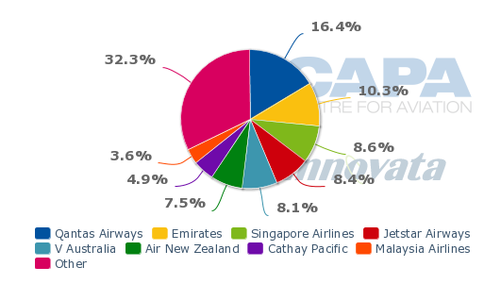 While Qantas' domestic business is performing well it has come under pressure from a resurgent Virgin Australia which has evolved from a LCC to a full-service carrier targeting the lucrative business and corporate market which Qantas previously dominated. Virgin's partnerships with Etihad, Singapore Airlines, Air New Zealand and Delta have helped springboard the smaller competitor into a much more powerful position over the past two years.
Qantas' domestic market share had reduced from 74% in 2002 to 45% in 2011, but continues to maintain a "line in the sand" 65% group market share including Jetstar domestic operations.
Qantas claims its cost base is about 20% higher than its key competitors and its long-haul productivity is relatively low compared to its competitors, making the case for more efficient work practices compelling.
Qantas submitted to the FWC that the workplace determination must allow it to effectively respond to competitive pressures in the interest of the long-term future of the airline.
AIPA is already preparing to take on Qantas in 2014
A defiant Qantas pilots union is already gearing for another industrial campaign in 2014, buoyed by the FWC's decision to limit the term of the agreement to two years instead of the four years requested by Qantas.
AIPA acting president Nathan Safe said the short life of the agreement, effectively sending the parties back to the negotiating table next year is a rebuke to Mr Joyce's "hyper aggressive approach to industrial bargaining".
Qantas CEO Alan Joyce said the airline was no more able to guarantee job security than any other industry

Negotiations over new three-year contracts have been ongoing for six months as Qantas CEO Alan Joyce – presumably with strong board support – dug his heels in over union claims which the airline claimed would have limited management's ability to run the airline.
Mr Joyce, who is understood to think Qantas came out at the short end of the last round of negotiations in 2008, just before he become CEO, made it clear from the outset that Qantas' long haul operation had too high a cost base, putting it at a competitive disadvantage to the Asian airlines and Middle Eastern network carriers. The cost base of the long-haul operations, he maintained, had to be lowered to secure Qantas' future.
In lead-up negotiations, the airline offered pay rises of around 3% a year, but said it could not guarantee job security any more than any other industry.
"For the first time we're standing up and saying no to the unions," Mr Joyce said in Aug-2011. "Qantas has a competitive disadvantage that has to change to be in the market for the longer term and to survive. We will do what we have to do in order to defend that position and make sure we build a stronger and better Qantas. If that means abstention with union leaders, if that means abstention with some of the members, then so be it. It's for the good of the company and we have to do it," Mr Joyce said. "We will defend the company for the future."
That determination to secure the airline's future led to Mr Joyce taking the extraordinary gamble of grounding Qantas on 29-Oct-2011 to force concessions from the three unions and end their damaging industrial action.
Members of the unions were to be locked out from 17:00 on 31-Oct-2011. Due to concerns over how the workforce would respond to the move, potentially walking off the job early or endangering operations, the fleet was grounded immediately.
With the Australian Government implicitly on side, the FWA quickly moved to support Qantas' action, halting all industrial action, including Qantas' grounding.
Publicly, Mr Joyce and Qantas were criticised, including strident condemnation from Australian prime minister Julia Gillard and minister for transport Anthony Albanese, for taking what some regarded as the nuclear option over less punitive alternative action.
The alternative to Qantas' dramatic action was a 'slow bake' for the airline
In retrospect, Qantas in fact probably had little option, with no end in sight to continuing damage to the airline's finances and brand reputation. The ongoing industrial action, including work stoppages and a ban on overtime, resulting in maintenance delays, grounding aircraft, was costing the airline AUD15 million (USD15.5 million) a week and had reached AUD68 million (USD71 million) by 28-Oct-2011. Forward bookings for the vital Christmas period were down 10-25%, depending on the sector and uncertainty over potential strike action during the holiday season was accelerating passenger cancellations and buy-aways from Qantas.
Indications from the unions were that their actions would continue for another six months at least in order to "bake Qantas slowly" in an attempt to effectively control the airline. Coming at a time when Qantas' main domestic competitor was in resurgent mode, Qantas was exposed to the risk of permanently losing customers to Virgin Australia had the issue dragged on.
Prior to the shutdown, Qantas appeared to have hoped for government intervention in the dispute, which was not forthcoming as the government wanted to avoid being seen at the battlefront, where government-supportive unions were involved. The protected industrial action being taken by the unions was also not threatening immediate significant damage to the economy in such a way as to force FWA to step in.
That left Mr Joyce to force the issues with seemingly the only legal form of retaliatory industrial action available to Qantas – grounding the fleet – thus opening the door for FWA to intervene on the basis that it threatened to cause significant damage to the tourism and air transport industries. The grounding cost Qantas AUD194 million (USD204 million), according to its FY2012 report.
On 31-Oct-2011 FWA ordered all industrial action be terminated by Qantas and the three unions and gave the parties 21 days to negotiate a settlement. Failure to do so would subject them to a binding determination by FWA. AIPA unsuccessfully appealed the decision to terminate industrial action to the Federal Court of Australia.
With Qantas resuming flying in the afternoon of 31-Oct-2011 and restored full services on 01-Nov-2011, disruption to the all-important corporate market was largely limited to only Monday morning and afternoon.
Qantas ultimately reached a negotiated agreement with its aircraft engineers
While none of the negotiations between Qantas and the unions was able to be concluded within the 21-day grace period provided by FWA, agreement was reached with the ALAEA, representing about 1,600 licensed aircraft maintenance engineers before a full hearing of the commission. The FWC in turn approved that agreement, which will also remain in place until 31-Dec-2014.
The determination issued on 23-Jan-2012 substantially continued the previous terms and conditions and provides for a 3% pay increase per annum.
It also excluded the union's claims which would have (i) forced Qantas to build a new hangar and (ii) expanded job security, which would have extended the job security clause to new aircraft delivered in future.
Qantas airport ground workers lose key claims in arbitration
The FWC rejected a bid by Qantas' 4,000 ground workers, represented by the TWU, to limit the use of labour hire workers in baggage handling and ramp services. Qantas had argued the union's demands were "out of step with what is fair and reasonable for a union to demand of an employer". A claim for a 20% cap on contract ground staff and demands for non-permanent workers to be paid the same as full-time employees was also rejected by the FWC,
The commission awarded ground workers the 3% annual pay increase previously offered by Qantas, rejecting a claim for 5%.
Qantas has won a temporary relief from industrial action, now it has to rebuild workforce relations
Qantas has won an enforced peace for the next two years, but as the attitude of AIPA suggests, it's an armistice at best.
The FWC's decision relating to AIPA members shows just how unwieldy Qantas' industrial relations had become and the intrusive powers that its three major unions were able to wield over the management of the group.
In the world beyond Australia's boundaries, competitive pressures are only going to intensify and there is clearly a need for a new formula where Qantas management and staff are able to share a common vision based on those realities.
For the airline to be able to implement its inevitable long-term cost cutting reforms, revitalised engagement with its workforce is not optional. With the prospect of again sitting down to negotiate in a little over a year's time, there is a lot of rebuilding to be done. At least the FWA decision has provided some breathing space, where all sides have won at least the concession that the airline can continue competing in a global marketplace.
By the time the next rounds begin, the international operation will be drastically different, as a new agreement with Emirates reshapes Qantas' role. That announcement has seen a massive shift, not only for Qantas, but also for the world system. Yet, by the time the new workplace agreements come around, it will seem distant history. There are many more major upheavals in the aviation system to come.
For a full history of events leading up to the grounding, see related articles: