Qantas joins Air New Zealand in Japanese growth, hoping to regain traffic from Cathay and SIA
Analysis
While many airlines are reducing flights to Japan, Qantas is joining Air New Zealand in growing services. The thinking behind the move is partially that outbound traffic to Japan will grow with the yen's depreciation, but also that as other carriers cut capacity in Japan, outbound Japanese traffic has fewer options. Australia and New Zealand were once big favourites of Japanese travellers; as recently as 2005 Japan was Australia's third largest source of travellers. Now the China market has overshadowed growth developments.
Qantas from Aug-2015 will launch a daily service to Tokyo Haneda from an Australian city to be confirmed by the end of 2014. Although Haneda is more convenient than Narita, Qantas will need to contend with Haneda's limited slots – potentially making Sydney-Haneda a difficult option. By offering more options, Qantas will hope to regain traffic from Cathay Pacific and Singapore Airlines, which carry about 19% of Australia-Japan passengers. But those sixth freedom carriers will likely retain an advantage with their city pair and time combinations.
Haneda's late night slots could be a challenge for Sydney service
Under the Australia-Japan open skies accord reached in 2011, Australian carriers were given access to midnight Tokyo Haneda slots. At the time Qantas was not interested in exploiting the benefits of Haneda access and fifth freedom beyond Japan.
While those benefits have not changed, market conditions have: the yen's depreciation is making Japan more affordable for Australians, growth at long-haul unit Jetstar is topping off, sixth freedom carriers like Cathay Pacific and Singapore Airlines have scooped up Australia-Japan transfer traffic and – perhaps most importantly – Qantas is restructuring, cutting costs out of its expensive long-haul division. These restructuring efforts include greater fleet utilisation, which Qantas says is what will make possible the additional Australia-Tokyo service.
See related report: Australia-Japan open skies agreement fails to gain traction in shrinking market
Qantas in past years has ended Perth-Tokyo and Melbourne-Tokyo service, leaving only Sydney-Tokyo plus routes from low-cost off-shoot Jetstar. All of Qantas' services had used Tokyo Narita. Moving the Sydney service to Tokyo Haneda would be ideal, except that slots available to Australian carriers in Haneda may mean Qantas would be unable to return to Sydney until late morning, less than ideal for business travellers – and especially those who would have to make an onward connection from Sydney.
Qantas's Tokyo service in Dec-2014 arrives back in Sydney at 07:30. Although Narita can be an hour further travel time from central Tokyo than Haneda, that hour may be worthwhile if it means a far earlier arrival back in Sydney.
Qantas prefers a morning arrival into Asia and an evening departure from Asia, effectively overnight services in either direction. Although this can leave aircraft idle on the ground, the yields can be worth it. Qantas has an advantage over JAL since JAL has a daylight return from Sydney. (However, most of Qantas' services are afternoon/evening arrivals into Asia.)
Melbourne is Qantas' largest connection point from Tokyo with about 40% more traffic than the connections from Brisbane, according to OAG Traffic Analyser for the year to Sep-2014. A service from Haneda to either of those cities would avoid the Sydney stopover and mean those passengers would arrive at their destination around the same time as if they connected through Sydney. A Melbourne service however would overlap with the four weekly Melbourne-Tokyo Narita service which Jetstar launched in Apr-2014. The Tokyo service has boosted Melbourne's inbound Japanese arrivals, including 39% in the three months to 30-Sep-2014, making Japan the largest growth market for Melbourne.
As recently as 2005 Japan was Australia's third largest source of passengers based on uplift/discharge country. This declined to fifth largest in 2006 and 2007, seventh largest in 2008, ninth largest in 2009, 2010, 2012 and 2013. In 2011 Japan for the first time in recent history did not rank in the top 10 due to travel downturn following the Mar-2011 earthquake and tsunami.
Largest sources of carried passengers to/from Australia ranked on uplift/discharge country: 2005-2013
As its Asia strategy unfurls, Qantas will increasingly look to gain back traffic that has "leaked" onto Cathay Pacific and Singapore Airlines. The three non-stop carriers in the Japan-Australia market (JAL, Jetstar and Qantas) accounted for 70% of traffic in the year to Sep-2014, according to OAG Traffic Analyser. (This data, like most booking data sources, is less robust with LCC traffic. AirAsia X sees itself being a large player in the Australia-Japan market.) The largest sixth freedom carriers were Singapore Airlines with an 11% share of traffic and Cathay with 8%. The next largest, Korean Air, had a 3% share. To put the percentages in perspective, SIA's share equates to the carrier running a daily A330 at a 70% load factor from Australia to Japan while Cathay's share equates to it running a daily A330 at a 60% load factor from Australia to Japan – not optimal loads, but clearly substantial traffic.
However this traffic is not necessarily all there for Qantas' taking. The Australia-Japan market is fragmented, spread over many airports in both Australia and Japan. Qantas can offer a one-stop service from Australia to Tokyo (connecting through Sydney) or from Sydney to Japan (connecting through Tokyo Narita, where there are limited domestic flights).
Cathay and SIA meanwhile can offer one-stop service to a wider range of city-pairs with more time options. While their routings may be circuitous, their hubs are set up to quickly and comfortably handle transfer passengers. This is unlike Sydney or Tokyo Haneda where the international terminal is separate from the domestic ones. Also, corporate contracts and loyalty preferences come into play.
Only 8% of Cathay's Australia-Japan traffic is between Sydney and Tokyo, according to OAG Traffic Analyser. That is the only route where Cathay competes with Qantas' non-stop offering. 30% of Cathay's traffic is from Melbourne to Nagoya, Osaka and Tokyo. 24% is from Perth to Nagoya, Osaka, Sapporo and Tokyo. This is notable as Qantas ended long-haul flights from Perth, including a Perth-Tokyo service in 2011.
SIA carries 6% of its traffic between Sydney and Tokyo while 29% is from Perth to Fukuoka, Osaka and Tokyo. The higher share is explained by SIA having more capacity into Perth than Cathay. Traffic from Melbourne to Fukuoka, Nagoya, Osaka and Tokyo accounts for 25% of SIA's traffic. Overall, around 45% of Cathay's Australia-Japan traffic and 40% of SIA's is on one-stop city-pair combinations that Qantas would need two stops to serve.
AirAsia X and Cebu Pacific are among the carriers that have recently made a push into connecting Australia with North Asia. This is partially driven by over-capacity, dictating they look for additional options. Even Garuda and Thai Airways, which are growing in Japan, are connecting Australia and Japan, although all of these traffic flows are very small so far.
See related reports:
Australian visitor numbers to Japan were up 18% to 245,000 in 2013 compared to 2012, according to JNTO. However this was only slightly above the recent peak in 2008 of 242,000 visitors (this was also when Qantas and JAL had more services). Japanese visitors to Australia in 2013 were at their lowest level in nearly a decade according to ABS. Qantas cites an ABS outlook that Australian outbound travel will increase 13% in the next two years, partially fuelled by an Australia-Japan free trade agreement.
Australian visitors to Japan and Japanese visitors to Australia: 2005-2013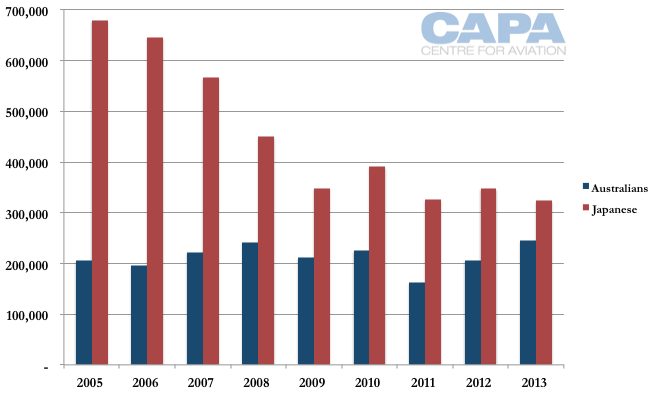 This development comes as Japan Airlines has mooted re-opening service from Tokyo to Brisbane, which JAL ended in Sep-2010 as part of its restructuring. Brisbane has been looking to regain a Japanese route (there are a few from nearby Gold Coast) and casually gained the interest of All Nippon Airways, which is considering service to Australia but most likely will not reopen the route. Australia is non-core to ANA's network, very leisure heavy and ANA lacks a partner (although presumably it could form a deal with Virgin Australia, whose main Asian partner is SIA). JAL had also mooted moving its daily Sydney service from Narita to Haneda.
Australia is JAL's only long-haul market not covered by a JV (American Airlines to North America, and IAG and Finnair to Europe). Likewise Japan is one of Qantas' longest routes not covered by a deep strategic partnership: Qantas partners with American Airlines for North American routes, LAN for Santiago and Emirates for Dubai and London.
Qantas and South African Airways have ended their partnership, making Sydney-Johannesburg Qantas' longest route not covered by a partnership. Qantas plans to cover its Shanghai route with a JV with China Eastern. But given that Qantas Group and JAL would have a monopoly on the Australia-Japan market with few viable direct alternatives, regulators may find a deeper partnership difficult to approve.
A year ago Air New Zealand identified Japan as a growth market since other carriers were decreasing leisure capacity, mainly Delta and United to popular beach markets (see graph below). Air New Zealand's capacity growth, implemented in Nov-2014, gave it more capacity than Qantas over the longest period of time since 2012 – impressive given New Zealand's smaller size to Australia.
Jetstar's Apr-2014 Melbourne-Tokyo Narita presented only incremental growth as the four weekly services replaced three to Osaka Kansai from the Gold Coast.
Japan to Southwest Pacific (seats per week, one way): 19-Sep-2011 to 10-May-2015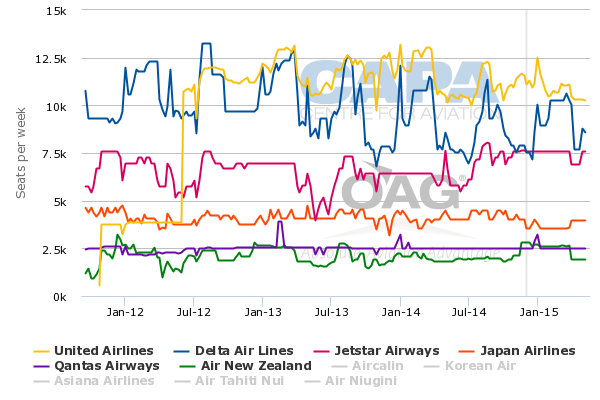 As CAPA previously wrote: "Air NZ has been growing in Japan, sensing other carriers have been removing capacity, leaving a void for leisure capacity. Air NZ says it has been happy with the growth so far and concentrating on the Tokyo market, which has made Tokyo the 'standout' in Air NZ's Asia market."
See related report: Air New Zealand's third year of profit growth does not create complacency: 6% growth in FY2015
Qantas will codeshare with Jetstar Japan as it strengthens Japanese footprint
Qantas' growth announcement coincided with an announcement it would codeshare with Japan based JV, Jetstar Japan, which Qantas Group partially owns alongside JAL as major investors (the two also concurrently announced a capital injection into the LCC). Qantas will codeshare on all nine of Jetstar Japan's domestic routes from Tokyo Narita (Fukuoka, Kagoshima, Kumamoto, Matsuyama, Oita, Okinawa, Osaka Kansai, Sapporo and Takamatsu). JAL only has four domestic destinations from Tokyo Narita.
Qantas is actually late to the party, becoming Jetstar Japan's third codeshare partner after JAL and American Airlines. Both are using Jetstar Japan's Tokyo Narita base to offer services from their long-haul flights to Jetstar Japan's domestic network, which is far wider than JAL's from Narita. JAL's domestic footprint at Tokyo Narita is essentially provided for connecting, not domestic, traffic. These flight numbers are small but significant given low load factors and are becoming redundant as more airlines move to Haneda. Japan's regulators request that airlines do not decrease Narita service in favour of Haneda, although this is difficult to enforce.
Although growth from Qantas is welcomed both by Australia and Japan, Qantas and Australia will remain well below their peak in the Australia-Japan boom. Qantas in 1996 derived 11% of all revenue from Japan. This decreased to 3% in 2009, the last year Qantas gave the statistic.
Contribution of Japan and non-Japan Asia revenue to the Qantas Group: 1996-2009
Increased growth without any increase from JAL could see the Qantas Group make further gains in non-stop marketshare to Japan, which was 85% in 2013.
Australia-Japan seat capacity by carrier: 1991-2013
Australia-Japan market share by carrier type: 1991-2013
See related report: Qantas dominated 1990s/2000s tourism boom from Japan, but is disadvantaged in current Chinese influx
China is a market for the future, but Japan has room for profitable near term upside
Although Australia's tourism future is geared towards China, Qantas Group's footprint remains far larger in Japan than China.
Qantas' cost base is higher than Chinese carriers but lower than - the very high - Japanese carriers. Even a proposed JV with China Eastern is unlikely to prompt Qantas to grow its Chinese capacity significantly in the medium term, leaving Japan as Qantas Group's anchor in Northeast Asia.
For now Japan's market is more predictable than China's, its competitive dynamics are more straightforward, Qantas has a longstanding relationship with JAL, a good reputation in the market (including Jetstar, which has very high brand recognition) and, potentially the opportunity exists to "join the dots" - using both JAL and Jetstar Japan for domestic and, potentially, international connections. JAL meanwhile has an interest in expanding its behind gateway options in Australia in order to stimulate inbound tourism to Japan.
See related report: China Eastern-Qantas & Air China-Air New Zealand JVs show renewed interest from Chinese airlines
Qantas Group seat capacity in China and Japan: 1991-2013