Prospects for Indianapolis International Airport look promising after good 2014 passenger growth
Analysis
Indianapolis International Airport has weathered US airline consolidation fairly solidly, posting an uptick in passengers during 2014 after a few years of modest declines. It is gaining traction during 2015 with new service from its largest airline Southwest and the entry of ULCC Allegiant Air into the market.

The airport should continue its growth in 2015 driven by Indianapolis hosting the NCAA final four men's basketball tournament in Apr-2015 and one of the largest gaming conventions Gen Con held in 2H2015. Tourism is one of the drivers in the region's economy, which ensures a certain level of passenger throughput at Indianapolis International.
Indianapolis' airfares appear to be stable, and its cost per enplanement generally falls in the mid-range among US airports. After a push by Allegiant, the airport's management is pursuing additional airlines, hoping to attract service from some of the US hybrid airlines and other ULCCs.
Indianapolis posts growth in 2014, and starts 2015 with new service additions
After a few years of decline, passenger throughput in Indianapolis increased 2% year-on-year to 7.4 million, still below the 8.2 million travellers the airport processed in 2008, but close to the steady rate of 7.5 million recorded in 2009, 2010 and 2011.
Indianapolis International Airport annual passenger numbers: 2008 to 2014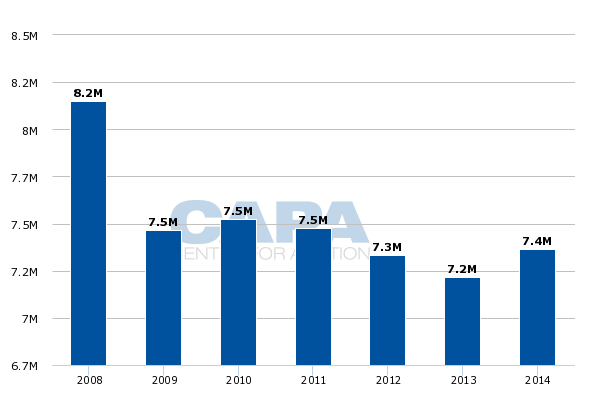 Indianapolis International Airport growth in annual passengers: 2009 to 2014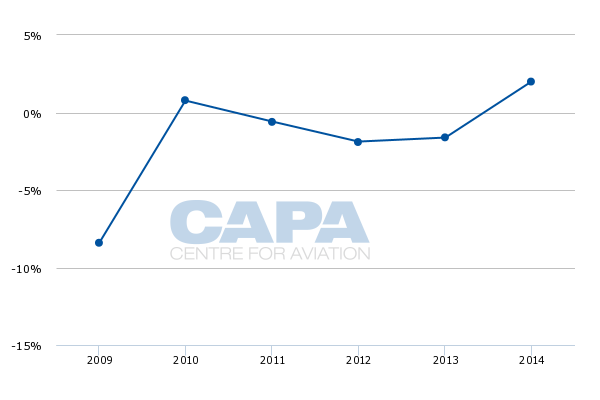 Indianapolis was a focus city for Northwest Airlines prior to its 2008 merger with Delta, and AirTran also had a strong presence in the market before it was acquired by Southwest Airlines in 2010. The result has been some route eliminations over the years, but with the US economy gaining some traction and consolidation in the US aviation market place largely complete, Indianapolis is gaining some new service.
Southwest, which is the airport's largest airline measured by seats (33%) and ASMs (42%) added flights to Dallas Love Field in early Apr-2015, and plans to introduce service to Los Angeles and Boston in Jun-2015, joining Delta in operating flights to Boston, and American and Delta on service to Los Angeles.
Indianapolis International Airport capacity by airline (% of seats): 20-Apr-2015 to 26-Apr-2015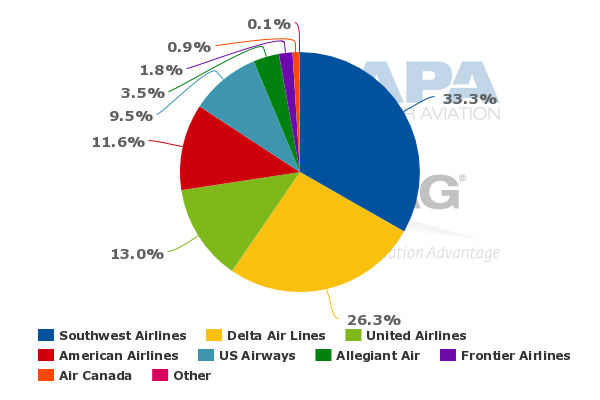 Indianapolis International Airport capacity by airline (% of ASMs): 20-Apr-2015 to 26-Apr-2015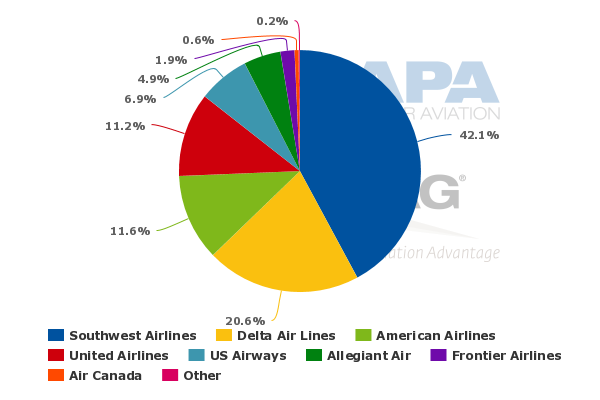 Indianapolis plays into Allegiant's medium sized market expansion strategy
The expansion by Allegiant from Indianapolis showcases how some airlines are moving into medium sized markets in a post-consolidated environment, and Allegiant has made similar moves in Cincinnati after that airport's role in the hub network of Delta has diminished.
Allegiant's logic is that there is less need for discounting for off-peak flying in some medium sized markets. Cincinnati's domestic fares remain above the national average even as the airport has been downsized by its largest airline Delta during the last few years. The latest data from the US Department of Transportation (DoT) show that the average fare in Cincinnati during 3Q2014 was USD532.69 versus a national average fare of USD397. Allegiant expanded rapidly from Cincinnati in 2014, citing the market as one of the fastest growing in its history.
See related report: Allegiant Air works to exploit opportunities created by consolidation in medium sized markets
During late 2014 Allegiant unveiled Indianapolis as a new city, and according to schedules from CAPA and OAG for the week of 20-Apr-2015 to 26-Apr-2015 the airline operates service from Indianapolis to Fort Lauderdale, Orlando Sanford, Punta Gorda, St Petersburg-Clearwater and New Orleans.
In early 2015 Allegiant told local news outlet the Indiana Business Journal that fares in markets such as Indianapolis, Jacksonville and Cincinnati were "incredibly high". Presumably that creates an opportunity for Allegiant's ultra low-cost service to stimulate traffic, but perhaps at a higher price point than smaller markets such as Provo, Utah. DoT data show that Indianapolis' average domestic fare was USD417 in 3Q2014, down 0.7% year-on-year.
Allegiant's typical low-frequency service pattern may not create a huge shift in airfares in Indianapolis, but its service should help to stimulate traffic to create another year of growth in 2015. The airline told the Indianapolis Business Journal that the Indianapolis market was responding well to its product.
Data from the airport show that through Feb-2015 (the latest statistics available) that passenger enplanements and deplanements in Indianapolis were up 4% year-on-year.
Indianapolis works to target additional low fare service
Obviously the goal of Indianapolis International is to attract new service from airlines not currently serving the airport. Airport CEO Mario Rodriguez told the Indianapolis Business Journal in early 2015 that airport officials were in talks with JetBlue, Virgin America and Spirit Airlines.
JetBlue's entry into the Cleveland market could be a positive development for Indianapolis' efforts to attract new service from the airline. After United initiated a significant pull-down at the airport in 2014, low-cost airlines have entered the market. JetBlue is introducing service to Boston and Fort Lauderdale at the end of Apr-2015. It is competing with United and Spirit, and its competitors between Cleveland and Fort Lauderdale include Frontier, Spirit and JetBlue.
Indianapolis-Fort Lauderdale may not be a stretch for JetBlue as Fort Lauderdale has been one of its fastest growing focus cities during the last two years along with Boston. Southwest and Allegiant presently serve the Indianapolis-Fort Lauderdale pairing, and JetBlue's entry would provide a hybrid offering between Southwest's higher fares and Allegiant's ULCC product unbundled model.
Although Southwest may have an advantage with its still-free checked bags (JetBlue is introducing bag fees with new fare bundles debuting later in 2015), JetBlue arguably can offer a more comfortable experience at fare levels comparable or lower than Southwest. JetBlue also has some network gaps in the US midwest that could become more viable in a lower fuel price environment.
Back in 2007 when Virgin America finally won DoT approval to start operations, Indianapolis was listed as a city under consideration for additional service. After Virgin launched operations in 2007, the economic downturn and high oil prices ushered in capacity restraint and more consolidation in the US market place, but now with additional stability and Virgin America's plan to resume growth in 2015 and beyond, Indianapolis could be elevated in the airline's evaluations. It is planning CAGR of 9% from 2014 to 2016, adding five Airbus narrowbodies in 2015 and 10 aircraft each year from 2016 to 2019.
Spirit would be an interesting addition to Indianapolis. Its fellow ULCC Frontier also serves the airport with flights to Atlanta and Denver. It is not clear if Indianapolis has all the right elements for Spirit's consideration, but the airport's higher than average fares could be a draw for the airline. Spirit is growing by about 30% in 2015, and is forecasting double-digit annual growth for the foreseeable future, so a higher fare market such as Indianapolis is likely on its radar, provided the cost of doing business in the market is favourable.
Indianapolis stands a reasonable chance of attracting new airlines
In mid-2013 ratings agency Fitch estimated that the cost per enplanement at Indianapolis was USD10, but noted the facility was aiming for USD9 or less. That puts Indianapolis in the mid range of some of the lower cost airports such as Charlotte (USD1.33 per enplanement) and Miami (USD20 per enplanement). Although the airport likely offers a package of incentives for new service, its ability to draw ULCCs Allegiant and Frontier could bode well for its goals of attracting new airlines.
Indianapolis is squarely an O&D market, with nearly 95% of passengers beginning or ending their journey at the airport. With higher than average fares, and the right package of incentives, Indianapolis stands a reasonable chance of securing the point to point flights that underpin the networks of many low-cost airlines.
Indianapolis has a good chance of sustaining passenger growth in 2015
Indianapolis stands in a favourable position of catching the attention of some airlines in the post consolidated market place looking to capitalise on opportunities created by the morphing of several major airlines into three global US network airlines and Southwest preserving its strong domestic position with the acquisition of AirTran.
As the US economy picks up and fuel prices perhaps change the way airlines look at growth, the airport stands a solid chance of attracting additional service as hybrid airlines are expanding and have clear network gaps in the US midwest. It is not clear when or if that interest will materialise into new service, but Indianapolis' prospect for continued passenger growth in 2015 do look promising.