Peru Aviation: Chile's Sky Airline has ambitions for domestic Peru
Peru is becoming one of the most dynamic aviation markets in Latin America. The country's first fully fledged LCC, Viva Air Peru, debuted in 2017 and the country's second largest operator, Peruvian Airlines, is now working to expand through the creation of a new subsidiary, Aeroperu International.

Now Chile's Sky Airline has declared its intention to enter the Peruvian domestic market. Sky has long been Chile's second largest airline, and has made the transition to the LCC model during the past couple of years.

Peru remains ripe for stimulation, with just 0.7 trips per capita in 2017. And Sky's ambitions show there is no shortage of airlines aspiring to capitalise on the opportunities in the country. The next few years should prove interesting as the number of airlines working to exploit opportunities in Peru continues to grow.
Summary
Peru continues to post solid domestic passenger growth as Viva Air Peru defines its market share targets for 2019.
Chilean LCC Sky Airlines has outlined its ambitions to launch domestic service in Peru.
Sky's decision will create interesting dynamics in Peru's domestic market during the next couple of years.
Peru draws LCC interest driven by domestic stimulation and LATAM's domination
Peru has logged solid passenger growth during the past few years, posting an 8.5% increase year-on-year in domestic passengers during 2017, to 11.7 million. LATAM Airlines Peru has long been the market leader, and held a 55% passenger share for the first five months of 2018.
Domestic passenger share of Peru's airlines for the 5M ending May-2018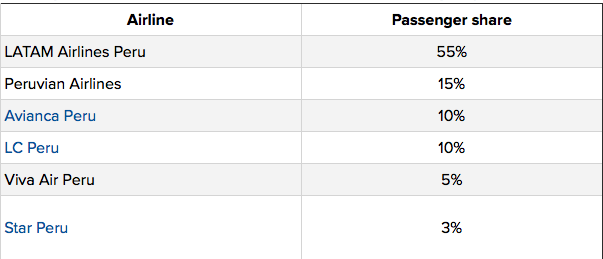 The country's 0.7 trips per capita is against a backdrop of a domestic passenger market of close to 12 million and a population of 36 million.
2017 trips per capita for selected Latin American countries

Given those dynamics, and Peru's historical domination by FSC LATAM Airlines Group, it is not surprising that the country has become a hotbed for LCC activity.

Viva Group airline Viva Air Peru made its debut in May-2017, and recently calculated it had transported close to 500,000 passengers in its first year of operations. Company CEO Eduardo Farien recently declared: "Our goal is to transport 940,000 passengers during this year, that is, more than 1.2 million from our first day of operations until the end of 2018". The airline also set a target to attain an 11% market share in 2019, which would surpass those of Avianca Peru and LC Peru.

See related report: Peruvian aviation: steady domestic growth and airlines' ambitions
Sky Airlines decides on Peru for expansion of its brand outside Chile
Now the Chilean low cost operator Sky Airline has declared its intent to launch operations in the Peruvian domestic market. The company made an announcement through its LinkedIn account, and Sky CEO Holger Paulmann declared: "We will generate a reduction in fare prices as we did in Chile. The Peruvian market will be able to have double digit growth rates in the next years ahead".

Sky has been operating in Chile since 2002 and has long been Chile's second largest airline, behind LATAM Airlines Chile. For 1H2018, Sky held a 25% share of Chile's domestic passengers behind LATAM Group's total share of 62.4%. Sky posted 8.5% domestic passenger growth year-on-year during 1H2018, to 1.6 million. (All data is from Chile's JAC.)

In 2015 Sky began transitioning to a full LCC model, and Mr Paulmann has previously told CAPA TV that the airline's unit costs on a stage-adjusted basis were at the same level as those of ULCCs in the northern hemisphere.

Armed with a lower cost base, it makes sense for Sky to expand beyond Chile, and Peru seems like a logical choice. Argentina is attracting numerous low cost start-ups, including the recently launched Flybondi and Norwegian Air Argentina, which is aiming to start operations in Oct-2018. Peru has only a single low cost airline, and is not attracting as much attention as Argentina, which could make the market more attractive, given its inherent opportunities for stimulation.

Sky is also facing new low cost competition in its home market of Chile. The Indigo-backed ULCC JetSMART made its debut in late Jul-2017, and for 1H2018 the airline transported 768,239 passengers for a 12% share.

Sky has not stated whether it plans to order additional aircraft to support expansion into Peru. CAPA's fleet database shows the airline operated 15 current generation Airbus narrowbodies with an average age of 14 years. It has 13 A320neos on order.
Sky Airline fleet summary as of early Aug-2018

Peruvian Airlines will no doubt hold tight to its second place stature in Peru
Sky's decision to expand to Peru will create interesting market dynamics for airlines serving the country's domestic market.

During the past two to three years Avianca Peru (formally TACA Airlines Peru) has ceded its place as the country's second largest airline to Peruvian Airlines. Peruvian has been steadily building its share in the domestic market, growing from 12% for 1H2016 to 15% for the first five months of 2018.

Peruvian has declared its plans to launch a new subsidiary, Aeroperu International, and pledged to order 10 Sukhoi SSJ-100s and 10 Irkut MC-21 jets, both of which types are manufactured in Russia. At this point, the strategy for establishing a new subsidiary does not seem clear, but Peruvian clearly has no intention of losing its second place standing in Peru's domestic market.

LATAM Airlines Group has an arsenal in place from the growing LCC threat
Peru's largest airline group has not been resting on its laurels as LCCs have started to proliferate in South America during the past couple of years. LATAM Airlines Group has rolled out a branded fare structure in its South American markets, with fares on the lowest rung 20% cheaper than fares featuring more amenities.

LATAM Airlines Group has also not ruled out the possibility of establishing a stand-alone LCC.

See related report: Latin America: leading airlines, the start-ups and market stimulation
Sky's move shows the inherent opportunities for LCCs in Latin America
Peru's potential is drawing attention from low cost operators that have monitored a domestic market dominated by FSC, and an opportunity to stimulate traffic.

Sky's move into the market is an interesting development, and reflects its confidence of the overall opportunities for LCCs in Latin America. Opportunities for LCCs in South America are ripe, and Sky is likely just the latest LCC to crystallise its ambitions for growth outside its home country.