PEOPLExpress Airlines nears completion of initial route line up. Success remains far from certain
Analysis
US proposed startup PEOPLExpress Airlines is close to completing its initial route roll-out with a first point to point market outside its base at Newport News Williamsburg International Airport. The debut of service would be from Orlando International to Charleston, West Virginia in Oct-2014.

Even as the airline is close to reaching a full two months in operation, the same questions over PEOPLExpress' long term viability loom large – sustaining enough demand on thin O&D markets from Newport News to create a sustainable business.

Like other low-cost airlines, PEOPLExpress believes US consolidation has created a particular window of opportunity for airlines looking to target cost conscious travellers. But there is a huge gap between recognising an opportunity and successfully capitalising on favourable circumstances. PEOPLExpress has some ground still to cover before success can be guaranteed.
The debut of PEOPLExpress will no doubt create some increase in traffic at Newport News international, where passenger throughput averaged roughly 1 million annually from 2005 to 2011. After AirTran pulled out of the airport in 2012 the number of passengers travelling through Newport News fell to 646,550 in 2012 and 544,031 in 2013. From 2011 to 2013, passenger throughput fell 48%.

Vision Airlines, doing business as PEOPLExpress, now accounts for approximately 52% of the seats deployed from Newport News and roughly 54% of the airport's available seat miles.
Newport News Williamsburg International Airport capacity by airline (% of seats): 8-Sep-2014 to 14-Sep-2014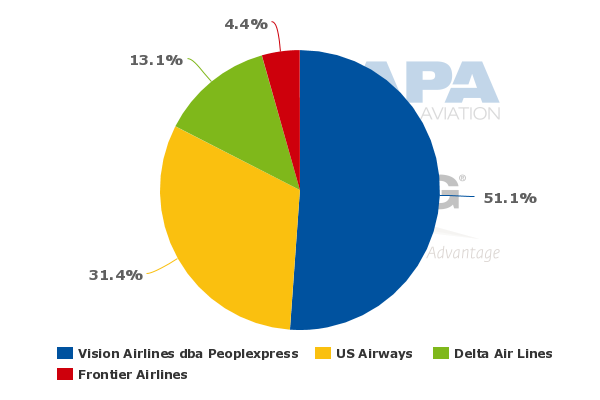 Presently, PEOPLExpress operates service from Newport News to Atlanta, Boston, Newark Liberty, New Orleans, St Petersburg/Clearwater, Pittsburgh and West Palm Beach. Service to Orlando begins in Oct-2014 alongside the planned Charleston-Orlando flights.
PEOPLExpress (planned) route map as of Sep-2014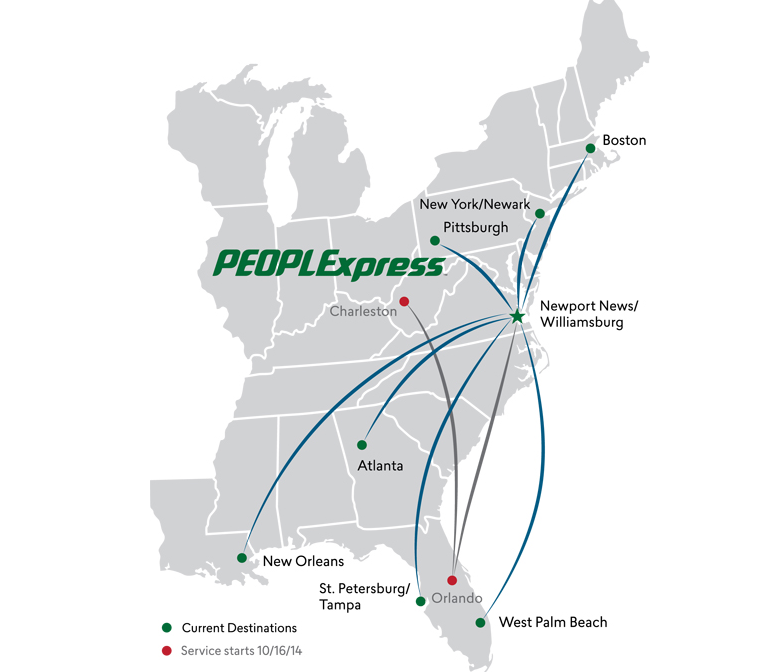 PEOPLExpress' small competitive overlap should help
Some of the routes from Newport News were operated by AirTran prior to new owner Southwest's decision to pull out of the airport. Southwest, which purchased AirTran in 2010, is targeting to complete its merger integration with its smaller rival by YE2014. Southwest is also the third largest airline at Norfolk International Airport (roughly 39km from Newport News), holding a 17% seat share for the week of 8-Sep-2014 to 14-Sep-2014 (based on data from CAPA and OAG).
PEOPLExpress faces a competitor on a single route from Newport News. Delta offers flights from the airport to its Atlanta hub, and holds roughly 65% of the approximately 2,550 one-way seats on the pairing and PEOPLExpress holdings the remaining 35%.

At nearby Norfolk International, Southwest operates roughly 1,130 one-way weekly seats to Orlando International (based on CAPA and OAG data for the week of 8-Sep-2014), while United operates service to its hub in Newark. American and Delta offer service from Norfolk to JFK and Delta, American and US Airways operate service from New York LaGuardia to Norfolk. In total, there are roughly 4,800 weekly one-way seats from Norfolk to the New York metro area.

Even with AirTran's former presence at Newport News, the airport has largely been a collection point for connecting passengers on US major network airlines, and hubs of those airlines remain as the top destinations served from the airport. For the week of 8-Sep-2014 to 14-Sep-2014, Charlotte, Atlanta, Newark and Philadelphia are the largest destinations served at Newport News measured by seat deployment.
Newport News Williamsburg International Airport top 10 domestic routes by seats: 8-Sep-2014 to 14-Sep-2014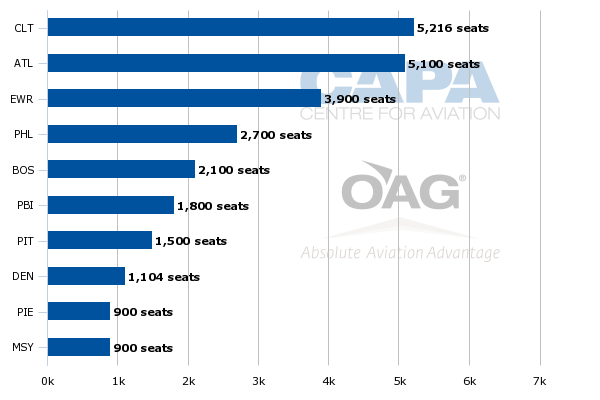 PEOPLExpress faces little direct competition on its routes from Newport News and is shielded from competition at Norfolk International; however, it will be tough to stimulate enough O&D passengers on its routes to Pittsburgh, St Petersburg, New Orleans and West Palm Beach to generate high levels of revenue.
Orlando holds more promise, but Southwest already offers ample service in the market, and it is not a given that passengers are willing to fly to Newport News for lower fares if they have to start paying for checked baggage.

Southwest's combination of free checked bags and brand awareness in the Virginia Beach-Newport News-Norfolk metro area create a solid competitive shield from any minor encroachment from PEOPLExpress.
PEOPLExpress is attempting to alter the dynamics in a small O&D market
Vision operates 150-seat Boeing 737-400 Classics under the PEOPLExpress banner, and data from CAPA and OAG show that for the week of 8-Sep-2014 to 14-Sep-2014 the airline is offering roughly 450 one-way weekly seats to St Petersburg and New Orleans from Newport News. Newark is its largest market measured by seat deployment with roughly 1,900 one way seats, and the airline deploys roughly 1,000 seats to Boston. West Palm Beach and Atlanta all have approximately 900 one-way weekly seats and Pittsburgh has roughly 750 one-ways seats on offer.

It is an ample amount of seats to fill in a market that is tilted toward connections due to a lack of strong O&D traffic patterns, particularly given that the Hampton-Virginia Beach-Norfolk-Newport News metro area has a population of only roughly 1 million, and two airports serving the area.

Executives at PEOPLExpress have stated that perhaps as more aircraft come online, Newport News could create north-south hub flows in Newport News; but at the moment that is a lofty goal given that in some respects passengers need to be lured back to the airport. PEOPLExpress will no doubt charge fares that should entice passengers to travel on their routes, but the airline through Vision operates fuel-inefficient aircraft, adding a negative dimension to the routes reaching profitability in a reasonable period of time.

It still too early to collect any definitive data on PEOPLExpress' operations. But Pittsburgh International Airport recently stated that 3,000 passengers travelled on PEOPLExpress flights to Newport News in Jul-2014. PEOPLExpress initially offered a single daily flight from Pittsburgh to Newport News when it launched the market on 30-Jun-2014. Schedules in CAPA and OAG show that the airline during Sep-2014 is offering five weekly flights on the route, which would equate to roughly 6,000 seats on offer per month (based on a four week month).
PEOPLExpress could have some luck with its Charleston-Orlando pairing
PEOPLExpress introduces its first route outside Newport News in Oct-2014 with the launch of flights between Charleston Yeager Airport in West Virginia and Orlando. The service seems to be an add-on to the new Newport News-Orlando flight.

Yeager is another spoke airport for US major airlines, reflected in its top routes all being network airline hubs. No low-cost airlines serve Yeager; but Allegiant offers flights from Huntington, West Virginia (roughly 85km from Charleston) to Orlando Sanford.
Charleston Yeager Airport top 10 domestic routes by seats: 8-Sep-2014 to 14-Sep-2014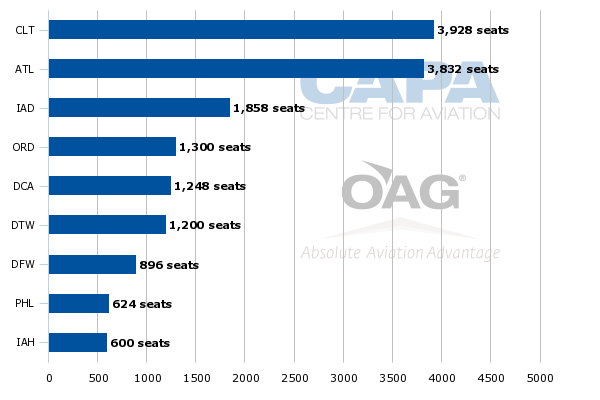 Charleston Yeager Airport capacity by airline (% of seats): 8-Sep-2014 to 14-Sep-2014
PEOPLExpress' major challenge remains to secure investor interest
PEOPLExpress appears to be targeting some level of business passenger from its Newport News base with service to Boston, Atlanta and Newark, which account for the largest seat deployment for the airline from the airport.
The airline will have to work hard to create a strong following among even small business owners since its approach is similar to Spirit, charging for checked bags, drinks, priority boarding and pre-assigned seating. This passenger segment more typically finds a hybrid product attractive, or at the very least fare bundles would be more appealing than a strict a la carte product offering.
Whatever happens PEOPLExpress is likely to morph its business model to fit the market and a test of its survivability will be how flexible its management can be - and how effective its decisions. It does not add to its credibility that the airline opted to withdraw its application for an operating certificate with the DoT rather than provide additional information that was required by the agency.

PEOPLExpress' route network will need to perform well to impress the investors to become fully operational in its own right, creating significant obstacles to sustainable viability. And it does not have a lot of time to achieve the necessary credibility.
Hopefully for its promoters, their assessment of market opportunity and the funding to get it through its teething period will prove correct. But the odds still seem to be that the PEOPLExpress brand will, like others before it, be consigned to a bygone era.
See related report: Low-cost airline PEOPLExpress readies for launch. But will its "Vision" take hold?