Peach Aviation profits overshadowed by Jetstar Japan & Skymark losses in Japan's changing market
Analysis
Peach Aviation reports maiden profit while Jetstar Japan reports third annual loss
Peach Aviation was the first of the new wave of LCCs to launch in Japan, with Peach flying for the first time in Mar-2012. Jetstar Japan and AirAsia Japan (which later became Vanilla Air) respectively commenced services in Jul-2012 and Aug-2012. Spring Airlines Japan launched in Aug-2014 while AirAsia plans to re-enter the Japanese market in 2015. Peach and Jetstar have publicly disclosed their performance.
Peach reported an operating profit in FY2013 (the 12 months to 31-Mar-2014) of JPY2 billion (USD19.4 million). This was Peach's maiden profit and follows a loss in FY2012 (its first full year of operations) of JPY960 million (USD9.6 million). Peach says its operating profit was 12.7% higher than planned. This was a result of a 31.2% increase in revenue, however this would have been dampened by higher costs related to the Japanese yen's depreciation.
Peach CEO Shinichi Inoue, speaking at CAPA's recent LCC Congress in Singapore in Oct-2014, proudly noted that Peach had made a profit after only 25 months and that "no one expected" a LCC could be profitable in high-cost Japan.
Jetstar Japan reports according to part-owner Qantas Group's fiscal year, which ran to 30-Jun-2014. In this period Jetstar Japan had an operating loss of JPY10.72 billion (USD105 million), an 18% increase from the JPY9.05 billion (USD91 million) in the year to 30-Jun-2013. 2014 revenue increased 127% year-over-year. Net losses increased a faster 26%. Jetstar Japan's total accumulated deficit as of 30-Jun-2014 was JPY22.58 billion (USD232 million).
Of Japan's major carriers that regularly report detailed financial results, Jetstar Japan had the largest loss. Peach was rare in being the only other carrier to join heavyweights ANA and JAL in making profits, although Peach's profit was understandably smaller. Skymark and StarFlyer, hybrid airlines, posted losses. StarFlyer's operating margin was worse than Skymark's, but StarFlyer is a smaller player.
Select Japanese airline operating profits (USD million): 2013/2014
Peach made about USD6.60 per passenger, based on a combination of Peach's disclosed domestic traffic statistics and estimates for its international traffic. This is well above IATA's estimate of Asia-Pacific airlines making USD2.01 per passengers in calendar 2013 and USD2.98 in calendar 2014.
Jetstar Japan meanwhile lost USD32.60 per passenger. Jetstar Japan blamed its large loss partially on the delayed opening of its base at Osaka Kansai. This led to an under-utilisation of its fleet. This loss was considerably less than the USD55.80 Jetstar Japan lost per passenger in the year to 30-Jun-2013.
See related report: Jetstar Japan launches critical Osaka Kansai base as Japan posts 8% domestic traffic growth
Peach Aviation had a larger margin than ANA while JAL Group had the highest margin in Japan
Although Peach's profit was significantly smaller than ANA or JAL, Peach itself is significantly smaller. Looking at Japanese airline financial results on an operating margin level, Peach achieved a higher operating margin (6.5%) than part-owner ANA (4.1%).
The JAL Group meanwhile had the country's best and worst margins: JAL with an operating margin of 12.7% and Jetstar Japan with a negative operating margin of 36.8%. This was half the negative 70.7% operating margin Jetstar Japan had in the year to 30-Jun-2013.
Select Japanese airline operating margins: 2013/2014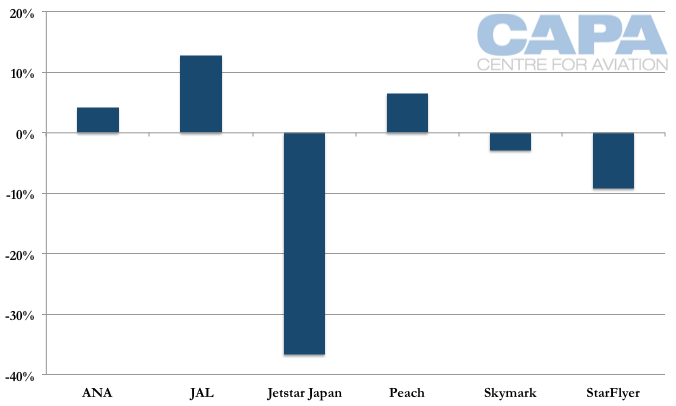 Clearly, correcting Jetstar Japan's negative operating margin of over 30% will be a challenge. Jetstar is on the way with its newly-opened Osaka Kansai base boosting aircraft productivity, which dipped in Sep-2013 and remained depressed until Jul-2014. In Dec-2013 and Jan-2014, Jetstar Japan's average daily ASKs per aircraft was half that of Peach (both only operate 180-seat A320s).
There are some nuances, such as Peach benefiting from not having a curfew at its Osaka Kansai base and having limited over-night flights. But the driving factor was Jetstar Japan being unable to expand. In Aug-2014, Peach aircraft were 20% more productive. In Nov-2014 the two are approaching similar levels, although Peach is being impacted by a pilot shortage, depressing its utilisation.
Vanilla Air has had similar productivity to Peach despite being based at Narita, so clearly Narita alone is not the problem. Spring Airlines Japan (data is incomplete for Spring and Vanilla) is seeing greater under-utilisation that Jetstar did. Spring has three aircraft operating only five very short-haul round-trips. Spring plans international expansion in 2015.
Average daily ASKs per aircraft: Apr-2013 to Nov-2014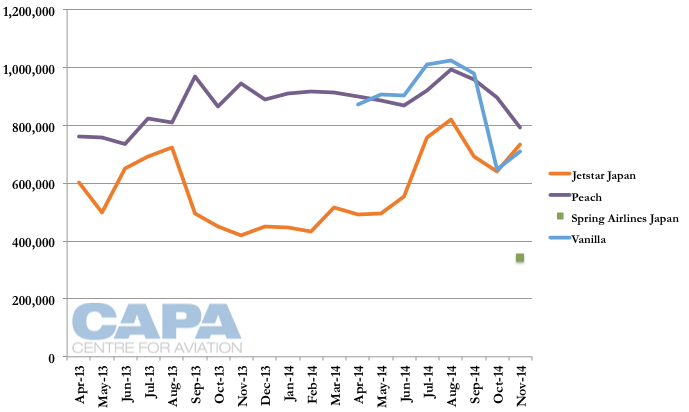 Jetstar Japan bucks trend of yield decline
Yields are on the wane in Japan, but in 1Q2014 (the three months to 30-Jun-2014, the latest data available) only Jetstar Japan and StarFlyer posted yield gains. StarFlyer's yield increased 2.6% while Jetstar Japan's increased a much faster 18% (these figures exclude ancillary revenue). Vanilla Air saw a 3.5% yield decrease while Peach saw a 6.5% yield decrease.
The gap between Jetstar and Peach's yields is decreasing, but recently this is due to larger decreases at Peach. Jetstar's expanded presence at Osaka Kansai should further pressure Peach's yields.
Jetstar Japan in the year 30-Jun-2014 increased its load factor by 7.9ppts to 76.9%, less than the 83.7% load factor of Peach (in the year to 30-Mar-2014). As noted above Jetstar had lower yields than Peach, indicating it is not leading on yields on loads.
Japanese domestic yields by fiscal quarter: 2012-2014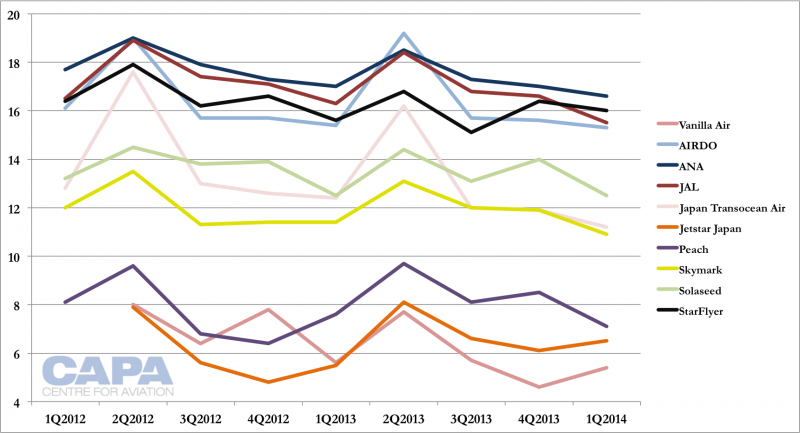 Jetstar Japan to slow growth while Peach will grow conservatively
Jetstar Japan in Jul-2014 said it would cap its fleet at 18, having previously expected to reach 24 aircraft by its third anniversary in Jul-2015. But Jetstar has now grown its fleet its 19. Jetstar Japan mooted having international flights from Narita for winter 2014/2015 after initially being planned for 2013, but these have now firmly slipped well into 2015.
On one potential route to Hong Kong, Vanilla Air has made a bold move and Jetstar's entry could come with large competition.
See related report: Vanilla Air and All Nippon Airways deploy dual-brand strategy on Tokyo-Hong Kong route
The 14th A320 Peach took delivery of in Nov-2014 will be its last for the year. Peach tentatively plans to add three aircraft in 2015 and end 2016 with 20 aircraft. Further growth will have to be slightly faster if Peach is to realise a stated ambition of doubling FY2013's three million passengers to six million in 2018.
Revenue will be mixed as expansion will bring a 10% increase but Peach expects a JPY3000 (USD30 million) hit in loss revenue from service cancellations due to the lack of pilots. ANA expects Peach to remain profitable, although Peach was loss-making in the first quarter.
Japan system seat capacity by carrier: 17-Nov-2014 to 23-Nov-2014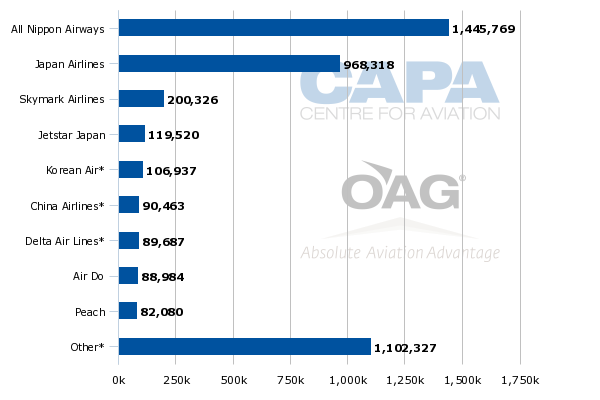 Jetstar Japan is stabilising after growing too quickly and making a costly error on its maintenance procedures that led to its effectively forced delay in opening its Osaka Kansai base. Jetstar Japan has quickly become the fourth largest airline in Japan after ANA, JAL and Skymark. Being the largest was Jetstar's ambition, and this has come with pain.
Peach continues to be conservative but more steady. More dynamic times – and more competition – are ahead as Jetstar and Peach go head to head at Kansai, Vanilla settles into a larger international schedule, Spring Airlines Japan urgently boosts utilisation and AirAsia Japan re-enters.
This is an exceptional amount of activity, and the challenge will for maintaining momentum as Japan enters recession. Stimulating traffic with low fares could be just what the economy needs, but Japan remains a difficult regulatory environment in which to operate, a continuing constraint that needs to be addressed.