Outlook 2011: The battle of the behemoths begins in the century's second decade
CAPA has released its industry outlook for 2011 as part of a special edition of Airline Leader, the high-end monthly magazine for airline CEOs. According to the report, airlines will have to confront "a whole new scenario" as substantial structural shifts and an uneven and weak economic environment affect the industry.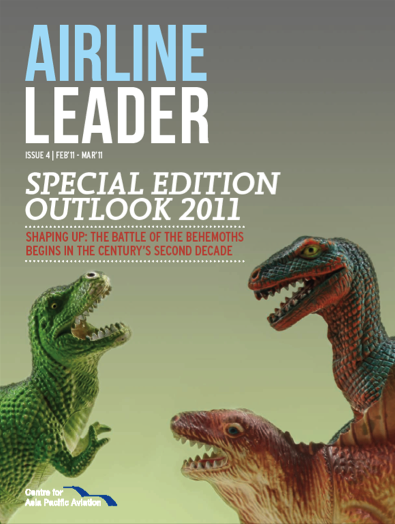 Many of last year's developments have sown the seeds for what will shape the industry in 2011. "As a foundation year for the second decade of this century, 2010 was, even by aviation standards, a watershed," says the report. These developments include:
- A new form of global warfare in which the three global alliances, led by the largest of the European and US carriers, do battle with each other:
"The three main global alliances … took large strides in 2009 and 2010 towards becoming the nearest thing international airlines will see to consolidation across borders."
- The ascendance of Asia and the Middle East:
"Asian aviation, along with the next-generation airlines of the Middle East, will occupy a much greater part of the limelight, as well as taking on new influence in shaping industry outcomes. This is where the growth will occur."
- Continuing high fuel prices to prompt high yield pressures:
"Every airline is looking over its shoulder at USD100-plus oil, a prospect that threatens to push costs up beyond levels that would allow a margin below the still-weak yields of a slowly recovering world."
- Convergence between the business models of full service carriers and LCCs:
"Intensified competition … led many LCCs to adopt attributes of network operators, including frequent flyer programmes and, most particularly, the ability to connect with other airlines' services." Many full service carriers, on the other hand, "looked to the LCCs for clues on how to enhance income, finally in many cases adopting their ancillary revenue systems and making themselves look more like their low-cost opponents."
- Ongoing confrontation between airlines and global distribution systems (GDS), exemplified in 2010 by the dispute between American Airlines and Sabre over access fees:
"Recapturing distribution power is a continuing struggle and will not go way easily. American is a kite flyer; its competitors watch eagerly."
- More thoughtful and innovative use of social media:
"Social networks and the power of the internet will quickly disturb the distribution equation – one way or another."
- The re-emergence of manpower shortages, especially in Asia:
"The dwindling pool of human resources again presents itself as a issue."
The report also includes regional performance reviews and an assessment of key airlines to watch in 2011.
In addition, a group of experts and regional representatives each identified one key issue they believe will shape events over the coming year. Contributors include Michael E. Levine, former senior airline executive; Nawal Taneja, industry strategist and author; Jeffrey Shane, partner, Hogan Lovells; Brian Pearce, chief economist, IATA; Ulrich Schulte-Strathaus, Secretary General, AEA; Barry Humphreys, chairman, BATA; Majdi Sabri, Regional Vice President, Middle East and North Africa, IATA, Abdul Wahab Teffaha, Secretary General, AACO and Andrew Herdman, Director General, AAPA.
A full version of the report is available for free download from the Airline Leader website.
Note to editors:
Airline Leader is a new high quality, full colour, 64-page monthly magazine that covers global aviation management issues. It provides cutting-edge feature stories and analysis, the latest financial and traffic reports, regional wraps, exclusive contributions from industry thought leaders and interviews with leading CEOs.
The hard copy of the magazine is distributed to more than 2,000 C-level executives from airlines, airports, aviation suppliers, government bodies and industry associations and is viewed online by an estimated 25,000 more industry leaders at www.airlineleader.com