Norwegian Air's new Dreamliner order will give it 38 widebodies by 2020. 3Q2015 profit doubles
Analysis
Norwegian's new order for 19 Boeing 787-9 Dreamliners demonstrates its renewed confidence that 2015 marks the return of financial and strategic momentum. It has eight 787-8s already in operation, alongside 91 Boeing 737-800s (projected at end 2015), and now has a total of 30 787-9s due for delivery as it continues to focus its growth on long haul routes.
The new order comes as Norwegian's long haul operation starts to prove itself financially ahead of schedule, with a positive net contribution now expected in 2015. The group has also reported a more than doubling of its operating profit in 3Q2015, helped by record load factor and low fuel prices. Norwegian should comfortably surpass its 2012 record operating profit in 2015.
The new order also suggests that Norwegian's hopes of a US foreign carrier permit for its Irish subsidiary Norwegian Air International are growing. Since filing its application in Dec-2013, Norwegian has modified its approach, offering to employ only EU and US flight personnel on NAI's transatlantic services, announcing US services from Ireland and applying for a UK AOC. Such pragmatism should serve it well in securing future long haul traffic rights.
3Q operating profit up 105%, confirming strong turnaround form FY2014 loss
In 3Q2015, Norwegian more than doubled its net profit to NOK833 million (EUR91 million) from NOK374 million in the same period of 2015. Operating profit (EBIT before other gains/losses) increased by 105% to NOK1,244 million (EUR136 million). Revenue grew by 15% to NOK7,277 million (EUR797 million) and Norwegian's operating margin gained 7.5ppts to 17.1%.
Norwegian Air Shuttle financial and operating highlights 3Q2014 and 3Q2015
| NOK million except where stated | 3Q2014 | 3Q2015 | Change |
| --- | --- | --- | --- |
| Revenue | 6,338 | 7,277 | 15% |
| EBIT | 532 | 1,182 | 122% |
| Operating profit excl, other gains/(losses) | 606 | 1,244 | 105% |
| Operating margin | 9.6 | 17.1 | +7.5ppts |
| Pre-tax profit | 505 | 1,098 | 117% |
| Net profit | 374 | 833 | 123% |
| Costs excl other gains/losses | 5,731 | 6,033 | 5% |
| Fuel costs | 1,945 | 1,509 | -22% |
| Costs ex fuel | 3,787 | 4,524 | 19% |
| ASK m | 13,905 | 14,143 | 2% |
| RPK m | 11,763 | 12,825 | 9% |
| Pax m | 7.1 | 7.7 | 9% |
| Passenger load factor % | 84.6 | 90.7 | +6.1ppts |
| RASK* NOK | 0.46 | 0.51 | 12.9% |
| CASK** NOK | 0.41 | 0.43 | 3.5% |
| ex fuel CASK** NOK | 0.27 | 0.32 | 17.5% |
This quarterly result firmly demonstrates Norwegian's recovery from its loss-making 2014 annual performance. Last year, its positive operating result in 3Q was not enough to offset losses in the other three quarters. This year opened with a significant operating loss in 1Q2015, albeit one that was NOK154 million narrower than the loss of 1Q2014.
Norwegian improved its 2Q2015 operating result by NOK533 million, returning to profit for the quarter, and its 3Q2015 result is NOK638 million better than for the equivalent quarter of 2014.
See related report: Norwegian Air Shuttle 2Q2015 back to operating profit. Long haul load factor 91%; leasing draws near
Norwegian Air Shuttle operating profit* by quarter 2013, 2014 and 2015

ASK growth of 2% driven by long haul; load factor above 90% for the first time
Norwegian increased its ASKs by 2% in 3Q2015, slower than in 1H, to give a 5% growth rate for 9M2015. This compares with a growth rate of 36% in 3Q2014 and 41% in 9M2014. Capacity growth was driven by the long haul network, while short haul was flat year on year. Norwegian's much more measured growth this year helped it to increase 3Q load factor by 6.1ppts to 90.7% (the first time its has beaten 90% in any quarter) and to raise 9M load factor by 5.7ppts to 86.7%.
Passenger numbers grew by 9% year on year in 3Q2015, driven by a 15% increase in long haul passengers. Norwegian's London Gatwick base enjoyed the highest growth, followed by its Spanish bases.
Revenue grows faster than costs, but low fuel prices play important part
Revenue growth of 15% in 3Q2015 was much stronger than ASK growth of 2%, thanks to the gain in load factor noted above and a 5% improvement in yield. Norwegian's yield performance was boosted by the impact of weaker NOK, but also reflected the maturing of a number of routes established in the rapid growth of 2014. Total revenue per ASK (RASK) increased by 13%, or by 5% on a currency adjusted basis.
Operating costs increased by 5%, faster than the ASK increase, but slower than the growth in revenues. Cost growth was contained by a 22% drop in fuel costs, while ex fuel costs grew by 19%, faster than revenue. According to our calculations, Norwegian's fuel bill would have been NOK470 million higher in 3Q2015 if its fuel cost per ASK had remained at the same level as in 3Q2014. This compares with its NOK638 million year on year improvement in operating profit.
RASK grew faster than CASK
Continuing the trend established in 1Q2015 (and in contrast to every quarter of 2014), Norwegian's growth in RASK was higher than the growth in unit cost (CASK - cost per ASK). CASK was up by 3%, but ex fuel CASK jumped by 17%.
Just as the weak NOK boosted unit revenue, it also boosted unit cost. Norwegian estimates that currency movements inflated ex fuel unit cost by 10%. This still implies that, adjusted for currency, ex fuel CASK grew faster than RASK and that the out-performance of RASK against total CASK was thanks to lower fuel prices.
To some extent, the increase in CASK can be explained by low ASK growth this year, while Norwegian is retaining some cost in anticipation of much more rapid expansion in 2016.
Norwegian Air Shuttle year on year development of unit revenue (RASK) and unit cost (CASK) by quarter 1Q2014 to 3Q2015

FY2015 should comfortably beat Norwegian's previous high operating profit
Norwegian's outlook for the 2015 is again largely unchanged, with total ASK growth still planned to by 5%, driven by long haul expansion. Its unit cost reduction target is now 5%, compared with a range of between 5% and 7% previously. As before, it has not set a profit target for the year.
For the first nine months of 2015, Norwegian's revenue grew by 15% year on year and its operating result improved by more than NOK1.3 billion to NOK940 million, compared with a loss of NOK827 million in 9M2014. Its 9M operating margin gained 8.1ppts to 5.5%. The seasonally weaker fourth quarter can be unpredictable in terms of its profitability, but Norwegian looks comfortably on course to beat its highest ever operating profit of NOK732 million (EUR98 million) achieved in 2012.
Norwegian Air Shuttle operating profit* 9M and FY 2009 to 2015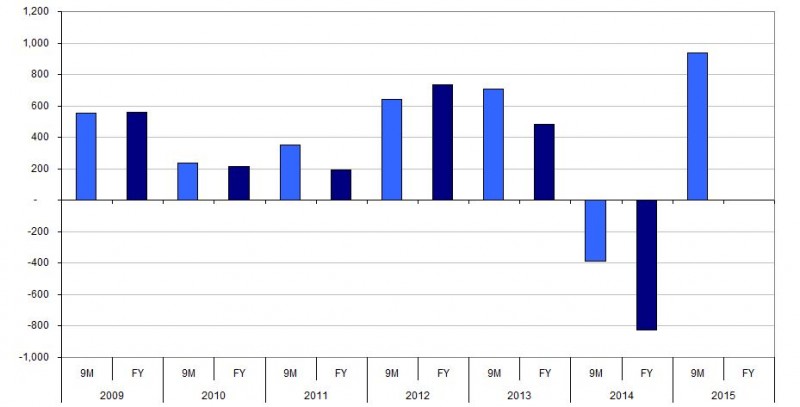 Norwegian's capacity growth will accelerate in 2016
In 2016, Norwegian plans ASK growth of 16%, comprised of 12% on short haul and 40% on long haul. Short haul growth will focus mainly on routes between Spain and Scandinavia and also includes Norwegian's planned new Cork-Boston service from May-2016, since this will be operated using narrow body Boeing 737-800 equipment.
Long haul growth in 2016 will include Las Vegas flights from Copenhagen and Stockholm this winter and Boston from Copenhagen and Oslo in May-2016. Norwegian may add one more European destination to its long haul network, but will also add frequencies on existing routes to serve demand.
See related report: SAS & Norwegian Air set to take market share in Scandinavia-US market as United and Delta pull out
New order for 19 Boeing 787-9 Dreamliners
Compared with its plan reported at the time of its 2Q2015 results announcement in Jul-2015, Norwegian's fleet at year end 2017 is now expected to be larger by two aircraft, with a total of 146 (see chart below). The increase is due to an additional two leased Boeing 787-9 aircraft.
The more significant fleet development, not reflected in the chart below, is a new order by Norwegian for an additional 19 787-9 aircraft. This brings its total orders for the variant to 30, to add to Norwegian's current long haul fleet of eight 787-8s. This is the largest single order for 787-9s in Europe.
Deliveries from the new order will commence in 2017 and are expected to be completed by 2020. In Norwegian's configuration, the 787-9 will have 344 seats with 35 in premium and 309 in economy. This compares with its 787-8 configuration of 291 seats, with 32 in premium and 259 in economy. The larger, longer range aircraft offers lower unit costs and greater route flexibility, although filling the extra seats may bring some yield pressure.
Mr Kjos told analysts on a conference call to discuss the 3Q results, "we will fly [the new aircraft] where people want to fly". He added that Norwegian's long haul operations would continue to focus on leisure markets, with growth coming particularly on routes between the US and European cities such as London, Paris, Barcelona and Rome. "We don't see any problems in placing these Dreamliners into the market", he said. Meanwhile, Norwegian's Asian long haul network remains limited to its Bangkok services from Stockholm, Oslo and Copenhagen. Its ability to add further Asian routes is currently held back by the limited availability of traffic rights through Russian air space.
The aircraft will be owned by Norwegian's Irish leasing subsidiary Arctic Aviation Assets and leased to Norwegian. Mr Kjos said that he was "very confident that Norwegian will be able to finance all of the aircraft without raising equity".
Norwegian Air Shuttle fleet plan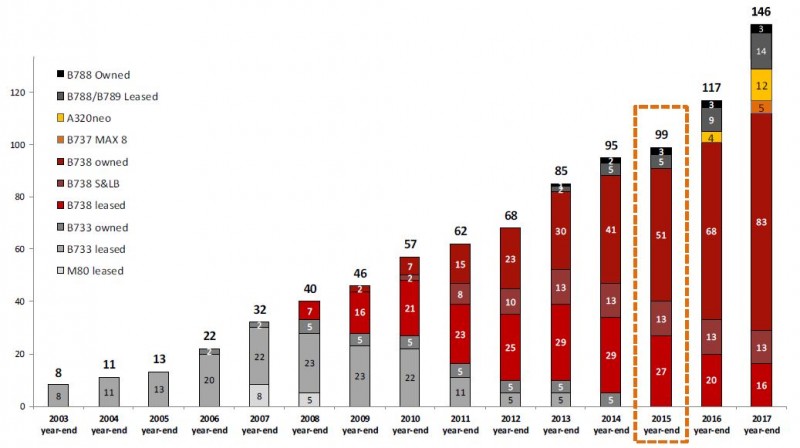 US foreign carrier permit for NAI is expected
Norwegian had previously indicated that it would not make significant new wide body aircraft orders unless it received long awaited approval for a US foreign carrier permit for its Irish-based long haul subsidiary Norwegian Air International. The new 19 aircraft order suggests Norwegian is confident of receiving the permit from the US Department of Transportation in the not too distant future.
Mr Kjos said that the application should have been approved a long time ago, adding "we expect to get it". Norwegian's plan to launch a Cork-Boston service at least gives NAI an Irish operation and this should help to expedite the approval from the DOT. Earlier this year, Norwegian offered to employ cockpit and cabin crew only from Europe and the US on NAI's transatlantic flights, in an effort to address a major concern expressed by opponents of its application regarding the possible undermining of labour standards.
See related report: Norwegian Air Shuttle renews its attempt to obtain US rights for NAI. Part 1: the arguments
Norwegian has also applied to establish operations under a UK AOC. Once that process is complete, it will apply for a US foreign carrier permit for this UK-based operator. "We don't expect a delay on the British AOC," said Mr Kjos. London Gatwick will be an important base for Norwegian's long haul growth.
Even without the US DOT approval for a foreign carrier permit for NAI, Norwegian's long haul operation has performed ahead of expectations. The company now predicts that long haul will make a positive contribution to profit this year, ahead of schedule.
Just as 2014 was a pivotal year when Norwegian was dogged by a number of challenges that caused it to fall into loss, it seems that 2015 now looks set to provide it with a springboard back into positive financial results and a developing strategic impetus.