Norwegian Air Shuttle reports its strongest quarterly result with bigger target on corporate sector
Analysis
Norwegian Air Shuttle reported a strong third quarter (three months to 30-Sep-2011) result, bolstered by strong gains in revenue, passenger numbers and careful cost control. The result for the third quarter, seasonally the carrier's strongest, was Norwegian's strongest ever quarterly result as the LCC continues to expand at breakneck pace in the Northern Europe region in which it now claims bases in all four major Nordic markets. The carrier is targeting a greater share of the corporate sector but will soon have to defend itself from full-service competitor SAS, who it has taken market share from.
Norwegian, the first European carrier of the third-quarter reporting season reported a stellar result amid a concerning quarter for the continent's airlines, which was characterised by downward revisions to earnings by many major carriers, although LCCs are faring much better.
EasyJet, which reports full-year results (year to 30-Sep-2011) on 15-Nov-2011, revised its guidance earnings upward in Sep-2011 due to stronger than expected performance, particularly from the corporate travel sector, a market that Norwegian is also trying to tap into in the Nordic region.
Norwegian's quarterly result, its strongest yet, follows another period of remarkable growth. The carrier has been living on a diet of double-digit percentage growth in passenger numbers for several years now, which has often come at the expense of SAS, which has shrunk, although the pan-Nordic national carrier has shrunk itself into profitability and is gearing up to reclaim market share it has ceded to Norwegian.
Operating income soars 61%
The airline, Europe's third-largest LCC, reported operating (EBIT) income of NOK923.3 million (EUR119.4 million) in the third quarter, a 61.1% year-on-year increase. The sharp increase in operating income was due to strong revenue gains in the quarter, which outpaced cost increases. The EBIT margin for the quarter was a healthy 27.3%, a 7ppt increase.
The strong EBIT result pushes Norwegian firmly into the black for the YTD (Jan-Sep) period, more than offsetting the NOK422 million (EUR55 million) in EBIT losses the airline had accrued at the end of 2Q2011. The airline finished the third quarter with accrued EBIT profit of NOK501.3 million (EUR65 million), a 7.1% increase, and net profit of NOK255 million (EUR33 million), a 31% increase.
Norwegian's net income in the third quarter was NOK 494.9 million (EUR65 million), a 6.2% year-on-year fall. The net result reflects the effect of last year's NOK172 million (EUR23 million) currency gain, which was unrelated to the performance of the business.
Revenue performance (domestic, international, total), 3Q2008 to 3Q2011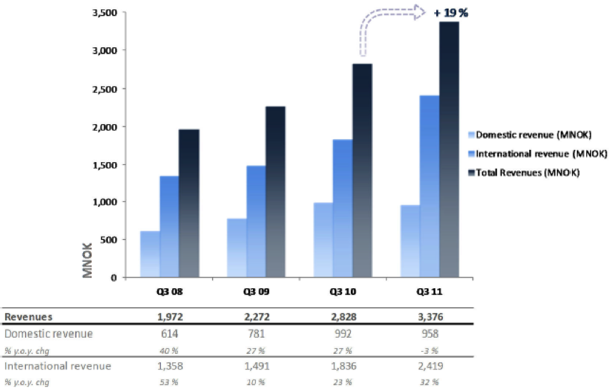 Total revenue in the quarter was NOK3.38 billion (EUR436.7 million), a 19.4% year-on-year increase, which slightly lagged the 21% growth in passenger numbers. Revenue gains were wholly driven by the international segment, which offset a slight overall decline in revenue from domestic operations. International revenue increased 32% to NOK2.4 billion on the back of strong international expansion at Stockholm Arlanda and Copenhagen, while domestic revenues fell 3% to NOK958 million.
The airline reported stellar passenger traffic growth in the period, with passenger numbers up 21% to 4.6 million.
Norwegian passenger traffic growth, 3Q2008 to 3Q2011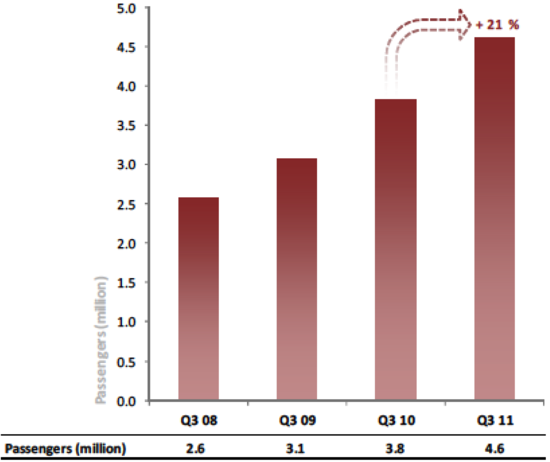 The LCC has consistently been Europe's fastest growing airline, regularly posting monthly traffic growth in excess of 20% year-on-year. Norwegian has enjoyed the strong growth, often at the expense of full-service rival SAS, which employs a similar pan-Nordic strategy. Norwegian has enjoyed the growth for at least the past two years, with growth interrupted only by the Apr-2010 ash cloud crisis.
Norwegian monthly traffic performance, Jan-2008 to Sep-2011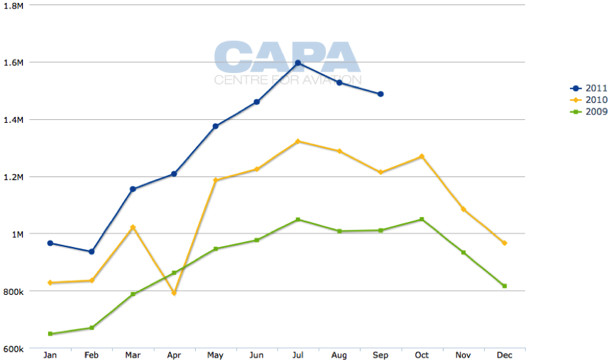 ASKs increased 22% and RPKs increased 27%, boosting load factors by 4ppts to 85% in the quarter.
Norwegian monthly load factor performance, Jan-2008 to Sep-2011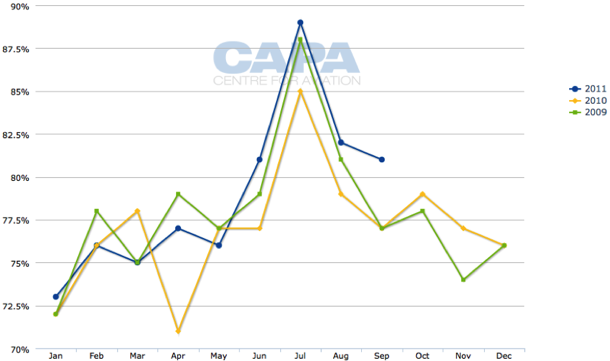 Yield, which has been a major point of concern for Norwegian in recent years and has often been sacrificed for growth, increased slightly in the quarter, up 1% to NOK0.54 (EUR6.98 cents). The quarterly yield increase was, however, driven solely by a strong yield performance in July, when yields increased 4% to NOK0.56. In the months of August and September, yield fell slightly, down 2% in each month. RASK increased 4.6% to NOK0.45 (EUR5.82 cents).
Norwegian monthly yield factor performance, Jan-2008 to Sep-2011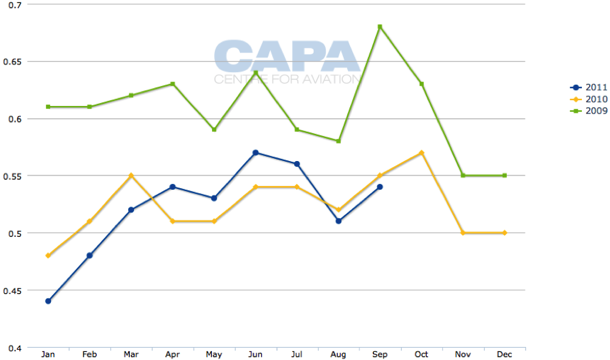 Ancillary revenue, however, was Norwegian's only real weakness, falling 5% to NOK80. The LCC's ancillary revenue generation has gone sideways in recent years, plateauing around the NOK80 (EUR per passenger level (EUR10.5 level). The income stream generated 11% of total revenue in the third quarter, falling short of the 15% target. Norwegian's ratio of ancillary revenue to total revenue falls behind LCC rivals Ryanair and easyJet, who both generate in excess of 20% of total revenue from ancillary sources.
Norwegian attributed the 5% fall in ancillary revenue to an increase in charter traffic in the quarter, which decreases per passenger ancillary spend due to different purchasing behaviours.
Norwegian ancillary revenue per passenger, 3Q2008 to 3Q2011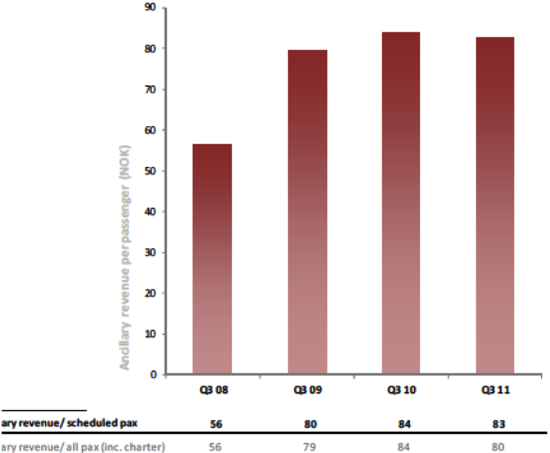 In other operational highlights, Internet booking fell 4ppts to 84% of total sales, as Norwegian expands distribution through GDSs. The move is part of the airline's plans to tap into the corporate travel sector, which is currently dominated by SAS, and get yield regularly trending in the right direction. Punctuality increased 4ppts to 88% in the quarter.
Cost discipline key to strong result
Key to Norwegian's strong quarterly result was its continued focus on cost containment and unit cost reduction. Operating costs excluding leasing and depreciation increased 9% to NOK2.17 billion (EUR281 million), far less than the pace of capacity growth (ASKs +22%), passenger traffic growth (+21%) and revenue (+19%). Such cost control, particularly impressive in light of the high-cost of operations in Northern Europe, has been key to Norwegian's continued success and expansion across the Nordic region. It also allows Norwegian to compete aggressively with higher-cost rivals, most notably SAS.
Units costs (CASK) fell 11% to NOK0.37 (EUR4.76 cents), while ex-fuel CASK fell 24% to NOK0.23 (EUR2.97 cents).
Norwegian unit costs 3Q2008 to 3Q2011 (EBITDA level)
Norwegian stated the 9% total operating cost increase was due to the sharp (22%) increase in capacity in the third quarter and an increase in fuel prices. Personnel expenses jumped 23% in the period to NOK463 million (EUR60 million), although personnel cost per ASK fell 1%. Staff costs account for 21% of total operating expenses. Norwegian stated that salary increases for cockpit and cabin crews were "more than offset" by efficiency gains from the use of larger aircraft. The LCC has been replacing older B737 Classics with B737-800s, which drives down unit costs.
Fuel costs increased 47% year-on-year in the third quarter to NOK893 million (EUR115 million), accounting for 41% of total costs, up 11ppts from 3Q2010. Fuel spend was driven up both by the sharp capacity increase in the quarter, a large jump in the price paid for fuel and a slight hedge loss.
Elsewhere, variable costs were either in line with capacity growth or fell year-on-year. Notable cost reductions were maintenance costs, which fell as the LCC retired older B737 Classic equipment and took delivery of newer B737-800s. Leasing costs fell 5% as the airline took delivery of more B737-800s on its books and returned ageing equipment to lessors. A stronger Norwegian crown against the US dollar also helped push down costs in these two areas.
Norwegian said cost reductions will continue to accrue to the airline as its replaces delivery of new aircraft and retires older aircraft (it has 17 B737 Classics left), achieves greater scale economies as the fleet size grows and introduces "smarter rostering" and seasonal adaptations. The LCC also plans to bolster aircraft utilisation and use larger aircraft to offset what it claims as the "highest salary cost in the industry".
Norwegian average salary (NOK) relative to peer group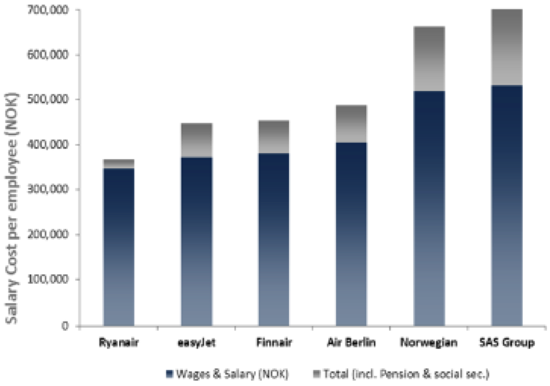 Fleet growth and modernisation continues
Norwegian has been growing and modernising its fleet in recent years, which has played a key role in unit cost reduction. The LCC has 61 aircraft in its fleet at 30-Sep-2011, an increase of four aircraft from 3Q2010.
The 61-strong fleet comprises solely B737s, including 44 -800s, an increase of 15 since last year, and 17 -300s, a decrease of 11. Norwegian, which primarily used leased equipment in its early years, plans to lower the proportion of its fleet on operating lease and increase the share of owned aircraft going forward.
Norwegian fleet breakdown, year-end 2006 to 2014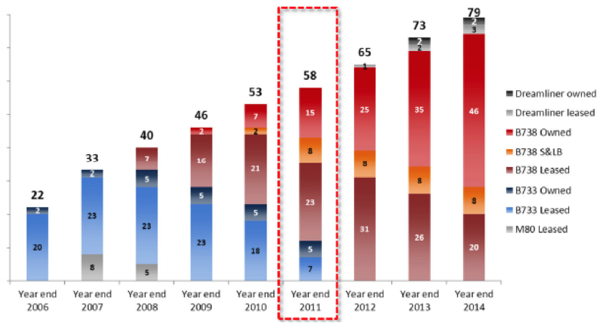 Norwegian poised for growth, but competition heating up
Norwegian's strong third quarter result pushes it firmly put in the black for the nine months to 30-Sep-2011 and ensures it remains in a strong position to compete aggressively in the Nordic region, and possibly abroad. All key metrics went in the right direction, with units costs down, yields up, and also cash flow up sharply. Cash in the bank increased 21.3% to NOK1.4 billion (EUR185 million), although debt increased 45% year-on-year to NOK7 billion (EUR903.1 million).
CEO Bjørn Kjos said that demand remains "satisfactory" entering 4Q2011 despite the economic uncertainty plaguing many short-haul markets to the region's south. The LCC is watching developments here and "may decide to adjust capacity deployment depending on the development in the overall economy and in the marketplace". "Norwegian will continue to take advantage of its increasing competitive power realised through continuous cost cutting, and from introducing larger aircraft, with a lower operating cost," Mr Kjos said. For the full-year, ASKs are expected to increase 24%.
Norwegian remains in a strong position to continue breakneck traffic growth, although it is likely to meet increasing resistance from major rival SAS, whose has set itself on a new growth trajectory following its impressive return to profitability in 2Q2010. SAS has announced a new strategy that will see it push through further cost increases and more aggressively attract leisure passengers, a market which has become increasingly dominated by Norwegian. Equally so, SAS' renewed focus might allow Norwegian to push into the corporate travel segment and better leverage its low-cost base, a strategy other European LCCs, most notably easyJet, have been doing for some time with success.
Norwegian, however, with its lower cost base, newer (and soon-to-be larger) aircraft and most importantly, the LCC's lack of baggage from a legacy past, remains a much larger threat to SAS than vice versa. Strong, industry-leading growth is likely to continue in the near-term as Norwegian consolidates its four hubs at Oslo, Stockholm, Copenhagen and Helsinki.