European airline traffic and load factors up in Sep-2011, but outlook mixed for major carriers
European carriers continued to post year-on-year gains in passenger numbers and load factors across their short-haul networks in Sep-2011, with a few exceptions. Europe has posted surprisingly strong traffic results throughout 2011, in spite of weaker local business and consumer conditions. IATA (which represents only full-service carriers) noted in Aug-2011 that "cross-border travel within Europe has held up remarkably well".
The good times continued to roll for most short-haul carriers in Sep-2011. On the earnings side, however, the outlook is mixed, with several European airlines expanding on their short-term expectations over the past month.
Load factors were largely in positive territory in Sep-2011, although the generally strong trend in load factor gains seen in the summer months of June, July and August was not evident in the Sep-2011 data, with much more muted or flat year-on-year growth. The majority of European carriers have announced plans to reduce capacity in the short-term across their short-haul networks due to a marked deterioration in the economic outlook for the region, which many hope will see their load factors and yields trending in the right direction over winter.
Europe's two largest LCCs, easyJet and Ryanair, once again topped the load factor tables, with 90% (+0.6 ppts) and 85% (-1 ppt), respectively. In the past month, easyJet increased its forecast for pre-tax profit for the year ending 30-Sep-2011 (already ended) to GBP240-250 million, up from the previous forecast of GBP200-230 million, due to "the strong performance of the business over the past 12 months", particularly in the corporate travel segment. The LCC has also announced plans to open new bases in Toulouse and Nice by summer 2012, as part of efforts to strengthen its French domestic and pan-European network. France remains a "strategic" growth market for the airline, owing to the high growth potential for LCCs in France, where penetration remains relatively low at about 24%, compared to above 50% in the UK and Spain.
See related article: easyJet pushes further into France, throwing down the gauntlet to Air France
Norwegian and Vueling, by far Europe's fastest growing short-haul carriers (see graph below), reported healthy gains in load factors. Cimber Sterling, which is embarking on a wide-reaching restructuring programme following years of losses, reported the region's sharpest load factor gain in Sep-2011. Cimber's average load factors increased 6 ppts to 71%, a strong gain, but still below the levels of its peers. The load factor gain came on the back of a sharp fall in capacity (ASKs), which fell 5%, and a 4% increase in RPKs. Cimber's passenger numbers, however, fell 7% in the month (see graph below).
Finnair was another notable performer in the month, increasing load factors by 1.6 ppts to 67.3%. But the oneworld member has joined Air France-KLM and Lufthansa in lowering its earnings guidance due to expectations of a weaker fourth quarter, according to forward indicators. The downward revision reflects poor forward bookings for business travel. The airline does not expect these bookings to pick up significantly during the fourth quarter due to global economic uncertainty. Finnair is expediting various cost saving initiatives due to the unexpectedly weak outlook, including job cuts.
Scandinavian carriers, as a group, have been complaining about excess capacity throughout 2011, which is reflected in their generally poor load factor record. The bottom four performers in the load factor table are all Scandinavian carriers.
Selected European airlines intra-Europe passenger load factor and passenger load factor growth: Sep-2011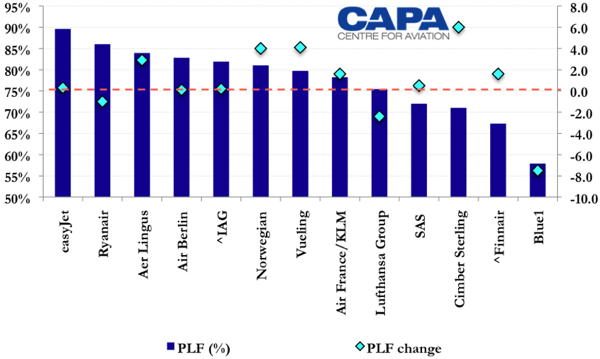 In terms of passenger numbers, Lufthansa Group and Ryanair remained the largest short-haul carriers in Europe, carrying 8 million (+3.6%) and 7.3 million (+5.6%), respectively.
Selected European carriers intra-Europe passenger numbers and passenger numbers growth: Sep-2011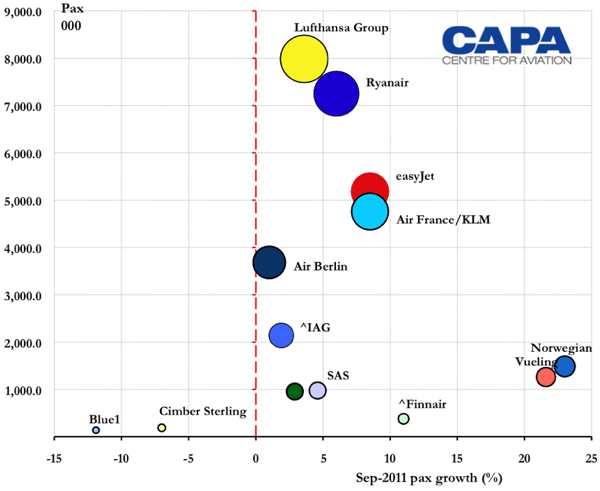 Ryanair CEO Michael O'Leary remains bullish about the LCC's growth prospects despite the economic gloom. Mr O'Leary has often said that recessionary environments benefit Ryanair, as passengers 'trade down' to LCCs, rather than fly with full-service carriers. But Ryanair, for the first time in its 25-year history, plans to carry fewer passengers this winter than last, in an attempt to limit winter losses. The CEO said Ryanair's forward bookings and yields profile remains strong, and said that if there is any change to its guidance, it would more likely "be on the upside than the downside". The LCC has left its after tax profit forecast for FY2012 unchanged at EUR400 million.
Meanwhile, Ryanair's full-service rival IAG, which increased short-haul passenger numbers 1.9% to 2.1 million in Sep-2011, has warned of waning demand for business travel amid the economic slowdown in the company's key European and North American markets, confirming months of concern about the vital segment. IAG said that "indications so far for October point to a softer demand picture" in premium passenger traffic and air cargo. The airline group, which owns British Airways and Iberia, is considering capacity cuts to better meet the reduced demand. Despite the warning, IAG maintained it remains on course "to produce significant growth in operating profit in 2011", one of the few carriers to do so and certainly the only full-service operator to do so. IAG benefits from British Airways and Iberia's profitable long-haul networks, which have held up far better than their loss-making short-haul businesses.
IAG confirmed this month that part of it plans to turn around its short-haul businesses will include the launch of an LCC. The carrier will be known as Iberia Express and operate part of Iberia's short- and medium-haul network and operate select feeder services. Over time, IAG plans for Iberia Express to develop new markets and destinations and strengthen the Madrid Barajas hub. Iberia Express will commence operations in summer 2012 (end of Mar-2012) offering business and economy seats at "competitive fares" from Madrid.
See related article: IAG to establish new LCC subsidiary Iberia Express
The move has strategic logic for Iberia, whose short-haul operations have been crimped by excessive LCC exposure. Spain's Ministry of Tourism released data showing that over half of the 7.4 million foreign visitors in Aug-2011 travelled on an LCC. Ryanair, easyJet and airberlin alone accounted for 54% of foreign LCC arrivals, with 70% of LCC travellers from the UK, Germany and Italy.
The launch of a LCC subsidiary and the above description of Iberia Express' role should sound familiar: Vueling has been appointed by Iberia to perform almost exactly the role envisioned for Iberia Express. The Barcelona-based LCC, in which Iberia has a 46% stake, has been progressively taking over part of Iberia's short-haul network this year, out of both Barcelona and Madrid, using aircraft borrowed from its parent. Although IAG said the creation of Iberia Express will not affect the existing relationships with Vueling, news of the Iberia Express launch must come as a blow to Vueling.
Once again, Vueling chalked up impressive year-on-year growth in Sep-2011, increasing passenger numbers by 21.6% to 1.3 million, in part due to its adoption of Iberia's short-haul network. Iberia Express' launch inevitably creates uncertainty around the scope for growth at Vueling. The LCC has been moving into new markets, most notably launch bases in Toulouse and Amsterdam, to diversify its earnings away from the Spanish market. Iberia has managed strong growth ever since the launch of the deal with Iberia, particularly since Apr-2011. For the past five months, Vueling has enjoyed monthly passenger traffic growth in excess of 18%.
Vueling passenger numbers: Jan-2009 to Sep-2011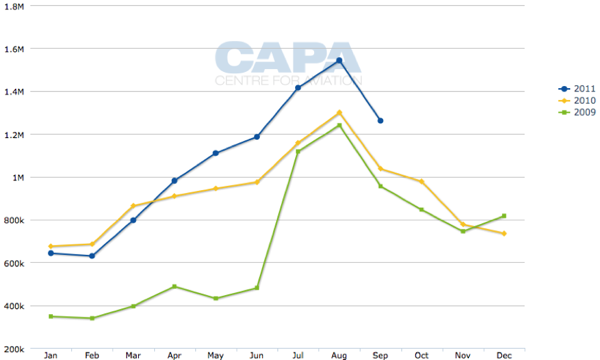 Norwegian Air Shuttle, once again, was the strongest performer in Europe's short-haul space, increasing passenger numbers 23% to 1.5 million. Norwegian, which seems to operate in a perpetual state of double-digit growth, continues to expand aggressively outside its home market, now has bases in every Nordic capital (excluding Reykjavik).
But like Vueling, it is unclear how much longer Norwegian might enjoy its reign at the top. Competition is the Nordic region is heating up and Norwegian's relentless expansion is likely to face hurdles. A stripped-down, re-focussed SAS is emerging as a genuine threat, ever-hungry Ryanair is now eyeing the region for growth opportunities and three smaller carriers – Sweden's City Airline, Skyways and Denmark's Cimber Sterling – have fallen under common ownership, with a merger between them on the cards. Clearly, Norwegian's extraordinary growth in Northern Europe is not going unnoticed and rivals have decided this growth has come all too easy for the Oslo-based LCC.
A major part of SAS' new "4Excellence" strategy is the widening of the group's target market. This expansion is the central feature of the group's new commercial focus, which will see leisure passengers more directly targeted. Under Core SAS, corporate and premium travellers were targeted, an aim which was largely successful.
See related article: SAS to increase leisure share under '4Excellence' strategy
In fact, SAS' share of the Nordic corporate travel market is such that CEO Rickard Gustafson has warned that a downturn in the global economy could impact SAS more than rivals due to the group's high penetration of the Scandinavian premium travel market, which he believes will be "hit first" in another recessionary environment.
Ryanair's Michael O'Leary has said the LCC is looking at expanding in the Swedish market by offering domestic services. "The problem [Ryanair] face[s] is that many airports are owned by the state," Mr O'Leary said, "which is eager to support SAS, and therefore charge high rates. But I think this will be changing soon". Ryanair currently operates to seven airports in Sweden and is in negotiations with another seven "mainly in the centre and north" of Sweden. Ryanair has two hubs in Scandinavia, at Oslo Rygge and Stockholm Skavsta, and hopes to have another three or four within a year, it says. Scandinavia and Central Europe are the regions within which the company is mostly looking to expand, Mr O'Leary stated.
A new, streamlined SAS and a larger Ryanair presence could create headaches for Norwegian, ultimately forcing the LCC to look at expanding outside the Nordic region for the first time. For nimble, flexible low-cost operators with an appetite for growth, such as Norwegian, opportunities are more than likely to arise. The LCC could be lured further south by a reduced short-haul presence by major carriers in the UK, continental Europe or the Baltic region.