New private airport opens at country music mecca
Analysis
Branson, Missouri's new and privately funded USD140 million airport was scheduled to open on 11-May-09. The small town and the immediate region has become mid-America's kitschy Mecca for country music lovers and budget-conscious family vacationers. In the aftermath of Chicago's decision to put the Midway lease on hold, but while at the same time there are at least eight other US cities considering privatising their airports, the outcome of this venture has taken on a new level of importance.
May 2009 sees the opening of an entirely private airport in country music haven Branson, Missouri. Noting that the nearest airport with scheduled service was 52 miles away (in Springfield), that it offered little service by low cost carriers and that road access by motor coach or private vehicle was via heavily congested roads (95% of visitor arrivals are by road), a group of entrepreneurs created Branson Airport LLC, acquired a parcel of land in Branson, received airspace approvals from the FAA, and set about raising capital. With USD140 million in hand they have created a single runway airport with a contractor-operated control tower and a modest terminal building. In advance of the opening, they began marketing it to LCCs.
Branson Airport Terminal Building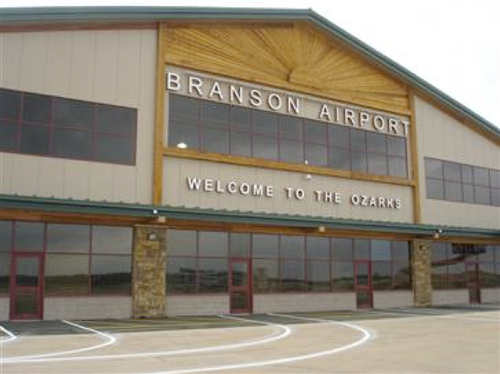 Because it is not constrained by the usual FAA grant agreements, Branson Airport can offer airlines two-year exclusive rights to link specific cities to Branson. So far, it has signed up AirTran for exclusive service to and from Atlanta and Milwaukee, and Sun Country for Minneapolis-St. Paul.
Terminal modelled on the European budget style
The single 2176m x 45m runway can handle most narrow-body jets used on domestic routes, but wide-bodies are not likely to land there in advance of an extension. The modest 5,800 m terminal is about one third the size of a large suburban supermarket. The terminal, clearly planned for LCC traffic, has no jet bridges and just four parking spots. Passengers will be required to access and exit aircraft by stairs, the accepted method at secondary airports across Europe and at many in Asia, but still a relatively novel procedure in the US for younger passengers and a reality check for older ones.
Branson is being billed as the US's first commercial airport built and operated as a private, for-profit business for which federal, state and local taxpayers paid nothing. Funding came from a bond issue (USD114 million) and from USD26 million of private equity. The City of Branson signed a 30-year 'pay-for-performance' agreement with the airport. Local Taney County officials have no financial obligation to the airport but agreed to accept ownership of the property and provide a long-term lease to Branson Airport LLC.
The Branson promoters' idea is largely a new one in the USA if quite commonplace elsewhere. Most US airports have been built with taxpayer dollars or by quasi-governmental authorities using public financing or government-backed vehicles such as bonds, with essential future infrastructure requirements supported by FAA grants that themselves come from the public purse.
The idea does seem to be catching on, even allowing for the Chicago suspension/cancellation, as cities desperate for better air service (usually smaller rural ones or on the fringe of metropolitan city-regions) realise it could help short-circuit the slow and frustrating political, regulatory and financial processes involved in building or expanding airports. All we need now is credit availability!
Music and retail therapy
Beginning in the 1960s, Branson has grown as a nationwide centre for live music. Today, it has 52 theatres that feature traditional country acts, crooners and ageing pop stars. New theme parks have joined the long-running The Shepherd of the Hills drama, which put Branson on the map in the first place, at an outdoor theatre. Three big outlet malls make Branson the third-largest outlet-shopping venue in the USA. Some consider it has as many tourist options, albeit of a different variety, as Las Vegas.
The entrepreneur behind the venture is Glenn Patch, a former magazine publisher who was attracted to Branson in the early 1990s and acquired 11,000 acres of land - 900 of which are where the new airport sits. He concluded that if Branson was going to become something bigger, it had to be more accessible.
Old and new privatisers come together
But voters twice rejected paying for an airport so in 2000 Patch joined up with Aviation Facilities Co. (AFCO) of McLean, Virginia, an operator of aviation facilities at 29 airports across the US, and in Europe, and which bought AVPorts from Macquarie Infrastructure Co in Jan-09. It is claimed that AFCO thereby became the successor of the company that was the first to manage airports privately in the US as long ago as the 1960s - Pan Am World Services - which itself had been swallowed up by AVPorts. There is a sense of sweet irony that this groundbreaking privatisation exercise should have been supported, indirectly, by a company 'descended' from one that itself was a primary mover in private airport management decades ago.
Jointly, they devised plans to build a private airport. In 2003, Steve Peet, a former bond trader and AFCO investor, became a passionate promoter of the idea and led a group of investors, including a unit of Citigroup, which in 2005 formed Branson Airport LLC. AFCO stayed on to manage construction of the airport, and Peet stayed on to become the airport's CEO.
Unpretentious Branson could yet herald a new dawn for privatisation but defenders of the status quo are out in force
Unpretentious little Branson Airport could yet have an outsize effect if it works. It could turn what now is a mostly regional tourist spot with only 7,500 year-round residents into a national destination for vacationers. And it could spur even more US cities to consider operating their airports privately.
However, the Chicago debacle has brought apologisers for the existing system out in force with new and more inventive defences of the status quo. One of the latest is that "public officials who sit on airport boards around the nation like their positions" and that "when it comes time to make the deal, most won't want to give up that power". However, the commentator, a retired Head of Airports Council International, did grant that while he didn't think airport privatisation would "go crazy" in the US he did concede that "if Branson works, it'll probably give a few other cities the courage to try it."
Another commentator, an industry consultant, opines that "Branson Airport is not likely to be the vanguard of airport privatisation. It's too hard disentangling existing airports from their government financial and legal tethers, and financial prospects at most airports probably aren't good enough to justify the risk. In Branson's case the local population is too small, and the region's attractions aren't sufficient to consistently generate sufficient traffic for profitable air service."I hope they can do it. I wish them well. I just don't see how it's going to work."
CEO Peet relies on the LCCs to bring in the tourists
For Steve Peet the key to success is attracting airlines, especially low-fare carriers, to bring value-seeking tourists from distant parts of the country. Branson already draws more than 60% of its visitors from more than 300 miles away, and a surprisingly large number from distant cities. Research by the Branson Lakes Area Convention and Visitors Bureau shows that 554 people a day come from the Minneapolis area, 107 a day from the Atlanta area and 598 a day from Dallas/Fort Worth, a seven-hour drive away. Those are the first cities with non-stop air service to Branson.

Peet has used the airport's exclusivity rights to attract two discount carriers first up - AirTran and Sun Country. Because Branson Airport did not accept any government money, it can pick and choose the airlines it will let in.

Another tool at Peet's disposal is low operating costs that reduce carriers' risk. Airlines serving Branson won't have to hire their own ground staff or pay conventional landing fees. Airport personnel will do all the ground tasks, such as processing passengers and loading bags. Charges will be based on the number of passengers airlines bring in, not the weight of the aircraft, as is usually the case.
Again, often commonplace in Europe but a whole new ball game in the Midwest. But the downside is that when attempts have been made to model that European style in the US airline business (e.g. Skybus' mimicry of Ryanair) it usually hasn't worked.

Branson Airport, meanwhile, will be paid USD8.24 by the city for each arriving passenger, ensuring a stream of income for 30 years in the sort of deal Ryanair would salivate over. It will be augmented by revenue from aircraft fuel sales and a cut from every transaction at the airport, whether it's the purchase of a sandwich in the restaurant, the sale of fishing tackle in a small shop that will operate in the waiting area, or a percentage from each car rented by Enterprise, which has exclusive car rental rights.

"If we're not handling 225,000 to 250,000 passengers a year three years down the road, then we'll be in a tough situation," Peet concedes. "But I don't think that's going to be the case. Peet also has set his expectations low. Reno, Nevada, another gambling capital in the mould of Las Vegas, gets about 2.5 million air travellers a year, or nearly 68,500 travellers a day, he notes. US discount champion Southwest Airlines has 38 flights a day there. But to reach Peet's goal of 250,000 passengers a year, Branson Airport needs only 685 passengers - five to six aircraft loads a day.
"The only thing Reno's got that we haven't is gambling and not many people want to be around that"
"Reno's got beautiful scenery. Branson's got beautiful scenery. They've got a lake. We've got three lakes. They've got lots of hotel rooms. Branson's got lots of hotel rooms. They're pretty isolated. Branson's pretty isolated. The only thing they've got that we don't are the casinos, and a lot of people don't want to be around gambling. What we're doing is going to work."
For the sake of airport privatisation in the US he needs to have made the right call. Intriguingly, just as the airport opens, the now rival Springfield-Branson Airport will receive a USD15 million Federal grant for upgrades, under the American Recovery and Reinvestment Act, a.k.a. the Economic Stimulus Package.
Another article on Branson Airport may be found in Airport Investor Monthly #51, Jan-2009.