Monarch Airlines' 1H2015 shows recovery progress after a near-death experience in 2014
Analysis
After forecasting a return to profit for FY2015 in Jan-2015, the Monarch Group reported narrower losses for 1H2015 (Nov-2014 to Apr-2015). This indicates progress with its restructuring programme, although the very seasonal pattern of its business means 2H2015 will be crucial.
Monarch Group has not yet published its FY2014 annual report, but CAPA has examined its FY2014 accounts, recently filed with the UK Registrar of Companies. These reveal a heavy loss in FY2014, mainly due to the Group's airline. Monarch Airlines grew too rapidly and suffered both from a fall in unit revenue and an increase in unit cost. Moreover, the Group almost ran out of cash.
In 1H2015, capacity was cut, slowing the fall in unit revenue. Moreover, unit cost fell, partly due to lower fuel prices, but also thanks to the restructuring programme. The sale of the Group towards the end of Oct-2014 brought new shareholders and much needed liquidity, saving it from collapse and giving it a second chance. Monarch's progress in 1H2015 shows that it intends to take it.
The Oct-2014 sale of Monarch to Greybull Capital
Just before the end of its financial year in Oct-2014, the founding shareholders of the Monarch Group, the Mantegazza family, ceased their 46 year association with the company. The Mantegazzas sold a 90% stake to Greybull Capital and the remaining 10% to the Pension Protection Fund.
At the same time, Monarch's management announced the main outcomes of its strategic review and restructuring programme. These included reducing the fleet from 42 to 34 aircraft, confirming an order for 30 Boeing 737MAX-8s, the withdrawal from long haul and charter flying by Apr-2015 and a focus on services to short-haul European leisure destinations from five UK bases (Gatwick, Manchester, Birmingham, Luton and Leeds Bradford, with its East Midlands base closed from summer 2015).
See related report: The Monarch Group. Part 1: No divine right to rule the air, but a new reign has started purposefully
Monarch Group fell back into loss in FY2014
The Monarch Group fell back into loss in FY2014, with a net loss of GBP42 million, after making a small profit of GBP4 million in FY2013. This result included a number of exceptional items, including aircraft impairment, restructuring costs and a positive settlement of pension liabilities.
The operating result, before exceptional items, was a loss of GBP94 million, down from a GBP20 million profit in FY2013. The operating margin fell 11.6 ppts to -9.5%. Group revenue grew by 3.5% to GBP990 million.
Monarch Group financial highlights FY2014 versus FY2013
| Year to 31 Oct | 2013 | 2014 | Change |
| --- | --- | --- | --- |
| Revenue | 956.9 | 990.0 | 3.5% |
| Operating profit before exceptional items | 19.8 | -94.0 | -574.7% |
| Operating margin | 2.1 | -9.5 | -11.6 |
| Net profit | 4.1 | -41.9 | -46.0 |
| Gross debt | 85.1 | 143.4 | 68.5% |
| Cash | 37.0 | 5.9 | -84.1% |
| Net debt | 48.1 | 137.5 | 185.9% |
| Capitalised operating leases* | 524.8 | 676.8 | 29.0% |
| Adjusted net debt* | 572.9 | 814.3 | 42.1% |
| Equity | -155.6 | -211.5 | -55.9 |
New shareholders provide liquidity, but the Group remains highly indebted
The Group's cash balance fell from GBP37 million a the end of FY2013 to just GBP6 million at the end of FY2014, equivalent to just 2 days of revenue, a highly perilous state. Gross debt increased from GBP85 million to GBP143 million, including an increase in loans from Monarch's shareholders from GBP72 million to GBP123 million. Net debt ballooned from GBP48 million to GBP138 million across FY2014. With the inclusion of off-balance sheet operating leases (the preferred form of funding for the bulk of Monarch's fleet), capitalised at 8 times annual payments, adjusted net debt was GBP814 million at the end of FY2014, up from GBP573 million a year earlier.
Meanwhile, the book value of the group's equity grew even more negative, closing the year at minus GBP212 million. On a more positive note, Monarch's exit from its pension scheme, following the transfer of the scheme out of the group, led to the elimination of a GBP158 million pension liability. The selling shareholders, the Mantegazza family, also injected GBP30 million into the pension scheme.
Greybull Capital did not inject new equity capital, but provided GBP125 million in debt capital and liquidity facilities. This involved GBP50 million of additional shareholder loans, funded in cash by the Mantegazzas, and a further GBP75 million in credit facilities supplied by the new shareholders.
The Group balance sheet will still have negative equity, until sufficient net profits start to be generated, and it will still be entirely debt funded. However, the sale of the business to Greybull ensure it has access to liquidity for the time being, thereby giving it the opportunity to restructure and to return to profit. Without this sale, Monarch would have disappeared.
CEO Andrew Swaffield said at the time of the sale of the company that he aimed to "get the business in a really strong shape financially to make sure it's never in the position again it's found itself in this year […], not by taking money from the shareholders, [but] by generating money ourselves." (TravelWeekly.co.uk, 27-Oct-2014). He also planned "to get the business debt free within two or three years."
The Group loss narrowed in 1H2015
If FY2014 saw a significant deterioration in Monarch Group's financial results, FY2015 has marked a tentative step back to recovery. In early Jun-2015, the Group reported a pre-tax loss of GBP70 million for 1H2015 (Nov-2014 to Apr-2015), narrowing its GBP111 million loss in the same period a year earlier.
No details were reported of revenues, balance sheet indicators, or the separate business segments in 1H2015.
Monarch Airlines is the Group's largest business segment
The Monarch Group consists of four business segments. In addition to the airline, it also includes engineering services, tour operations and charter airline broker First Aviation. The airline is the largest segment, accounting for 60% of group revenue in FY2014. Monarch Airlines' gross revenue was just below flat year on year (-0.4%), but its pre-tax result fell heavily into loss (see below for more on Monarch Airlines' results).
Monarch Aircraft Engineering enjoyed rapid growth, increasing its gross revenue by 20% and its external revenue by almost 40%. Third party revenue accounted for 35% of the engineering segment's business in FY2014, up from 30% in FY2013. The segment reported a breakeven pre-tax result in FY2014, down from a GBP4.0 million profit in FY2013.
The tour operating business, which comprises Cosmos Holidays, Avro and somewhere2stay, increased its revenue by 2.3% in FY2014, but its pre-tax profit fell from GBP4.5 million to GBP1.7 million due to lower margins on products sold and restructuring costs.
First Aviation suffered a 32% drop in gross revenue and its pre-tax result fell from GBP0.2 million in FY2013 to breakeven in FY2014. The fall in revenue reflected a higher than expected number of contracts having been won in FY2013. From 1-Nov-2014 (the start of FY2015), First Aviation's main activity will be the selling of ATOL protected flights on behalf of Monarch Airlines.
Monarch Group gross revenues by division FY2014 versus FY2013
| GBP million (year to Oct) | 2013 | 2014 | Change | % of 2014 total |
| --- | --- | --- | --- | --- |
| Airline operations | 767.5 | 764.4 | -0.4% | 60% |
| Engineering services | 100.2 | 119.8 | 19.6% | 9% |
| Tour operations | 336.5 | 344.3 | 2.3% | 27% |
| | 19.1 | 13.1 | -31.5% | 1% |
| Group | 7.5 | 28.8 | 283.6% | 2% |
| Total | 1,230.8 | 1,270.3 | 3.2% | 100% |
Monarch Group external revenues by division FY2014 versus FY2013
| GBP million (year to Oct) | 2013 | 2014 | Change | % of 2014 total |
| --- | --- | --- | --- | --- |
| Airline operations | 580.0 | 595.6 | 2.7% | 60% |
| Engineering services | 29.7 | 41.5 | 39.7% | 4% |
| Tour operations | 336.5 | 344.3 | 2.3% | 35% |
| | 10.7 | 7.4 | -31.0% | 1% |
| Group | 0.0 | 1.4 | - | 0% |
| Total | 956.9 | 990.1 | 3.5% | 100% |
Monarch Group profit before tax by division FY2014 versus FY2013
| GBP million (year to Oct) | 2013 | 2014 |
| --- | --- | --- |
| Airline operations | 8.7 | -206.2 |
| Engineering services | 4.0 | 0.0 |
| Tour operations | 4.5 | 1.7 |
| | 0.2 | 0.0 |
| Group functions* | -11.5 | 147.2 |
| Total | 5.9 | -57.3 |
Monarch Airlines' flat revenue and heavy losses in FY2014
Monarch Airlines' pre-tax result slumped to a loss of GBP206 million in FY2014, after a brief return to profit in FY2013, when the result was positive to the extent of almost GBP9 million. The airline's fortunes remain key to the performance of the Group as a whole.
The FY2013 profit had been its only positive pre-tax result since it broke even in FY2008. The result in FY2014 was burdened by almost GBP28 million in aircraft impairment charges and accelerated depreciation costs and GBP63 million in restructuring costs.
Nevertheless, even without these items, the airline suffered a significant drop in profitability in FY2014. The pre-exceptional operating result was a loss of GBP113 million, down from a profit of GBP19 million in FY2013, and the operating margin was -14.8% (17.3 ppts down from the previous year). The airline's revenue fell by 0.4% to GBP764 million.
Monarch Airlines financial and operating highlights FY2014 versus FY2013
| Year to Oct | 2013 | 2014 | Change |
| --- | --- | --- | --- |
| Total revenue GBP million | 767.5 | 764.4 | -0.4% |
| Operating profit* GBP million | 19.2 | -113.3 | -690.1% |
| Operating margin % | 2.5 | -14.8 | -17.3 |
| Pre-tax profit GBP million | 8.7 | -206.2 | -2470.1% |
| Total pax 000 | 7,008 | 7,034 | 0.4% |
| Total seat capacity 000 | 8,126 | 8,730 | 7.4% |
| Total load factor % | 86.2 | 80.6 | -5.7ppts |
| Total revenue per seat GBP (calc'd) | 94.45 | 87.56 | -7.3% |
| Revenue per seat GBP (reported) | 92.78 | 86.49 | -6.8% |
| Cost per seat GBP** | 92.09 | 100.54 | 9.2% |
Monarch Airlines revenue and profit before tax (PBT), GBP million, FY2005 to FY2014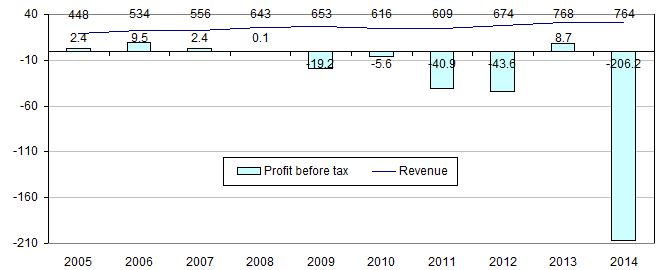 Load factor and unit revenue slumped on capacity growth in FY2014
In the financial year to Oct-2014, Monarch Airlines increased its seat capacity by 7.4% to 8.7 million, but passenger numbers were only just above flat (+0.4%) at 7.0 million, with a 5.7ppt reduction in seat load factor to 80.6% (on an ASK basis, load factor fell 4ppts to 81.1%). This significant drop in load factor followed a multi year period mainly characterised by rising load factors and has prompted a capacity cut in 1H2015.
Even to maintain passenger numbers required discounting and total revenue per passenger fell by 0.8%. Total revenue per seat fell by 7.3% to GBP87.56, according to our calculations (note that this figure varies slightly from the figure of GBP86.49, down 6.8%, reported by Monarch).
Monarch Airlines passenger numbers (million) and passenger load factor calendar 2005 to 2014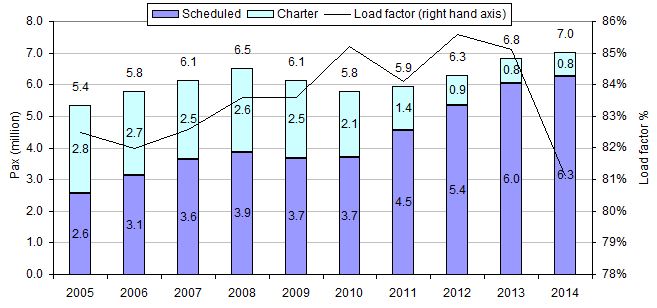 The airline's costs jumped by 17% in FY2014
Unfortunately for Monarch in FY2015, not only did the airline's revenues fail to keep pace with capacity growth, but also its costs grew much faster than capacity. Total operating costs, before exceptional items, increased by 17.3% to GBP878 million. Cost per seat grew by 9.2%.
The airline's annual report does not provide a full breakdown of operating costs, but it does reveal that operating lease payments increased by 29%. Presumably, this partly reflected growth in the fleet and also, perhaps, increased lease rates (possibly as a result of the airline's deteriorating credit quality). Monarch's fleet is almost all on operating leases.
Improved labour productivity is an important target
The accounts also show a 27% increase in employee costs, based on a 10% increase in average headcount. Pension costs were partly to blame for the strong growth in employee costs, but underlying wages (up 22%) also grew faster than staff numbers. Moreover, headcount increased more rapidly than capacity, highlighting a fall in labour productivity.
The restructuring programme aims to reduce operating costs overall "in line with other low-cost carriers". As part of this, the programme aims to improve labour productivity and includes measures agreed with employees such as pay cuts of up to 30% and 700 redundancies (two thirds of which voluntary).
Monarch has launched a group wide employee bonus scheme aligned to company performance and the punctuality of the airline. Average on time performance improved from 80% to 83.2% in 1H2015, according to a company statement.
Monarch becomes a scheduled-only airline, dropping its charter past
FY2015 saw a further increase in the proportion of Monarch's passengers flying on scheduled services to 89%, up from 88% in FY2013 and from just 48% in FY2005. Signalling its final move away from its past as a charter airlines, its restructuring plan saw it become a scheduled only airline by May-2015. Its network now includes new scheduled services that were previously served as charter routes.
Monarch Airlines proportion of scheduled passengers in the total calendar 2005 to 2014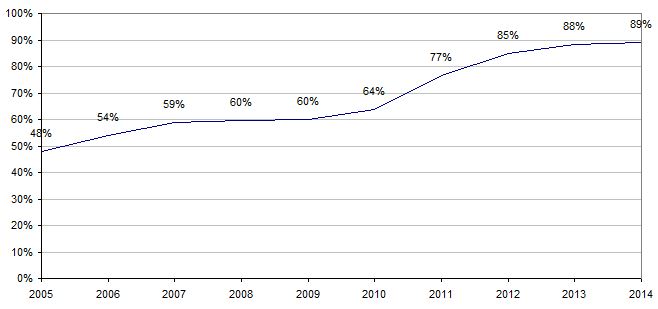 Fleet growth in FY2014 is now reversed under the restructuring programme
Monarch's capacity increase in FY2014 was effected by an increase in the average number of aircraft from 35.4 to 38.9. Data from the Civil Aviation authority, based on calendar years (rather than Monarch's Oct year end), show fleet numbers growing to 42 in 2014 from 39 in 2013 and from just 30 at the end of 2011.
However, average daily utilisation fell from 9.7 hours to 9.1 hours over this period. Although utilisation stabilised in 2014 versus 2013, it was considerably less than the 10.4 hours achieved in 2006.
Monarch Airlines' number of aircraft at year end and average daily aircraft utilisation (hours) calendar 2005 to 2014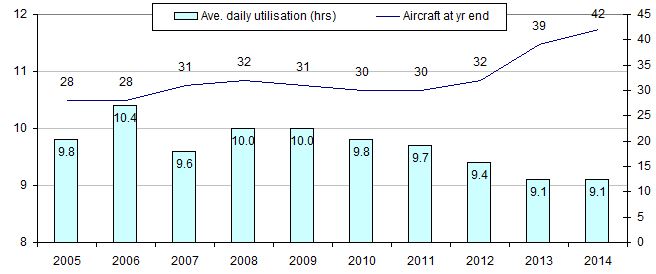 This failure to improve utilisation, together with the precipitous fall in load factor, has led the airline to reduce the size of its fleet. Mr Swaffield said after announcing the restructuring, "The key message is you mustn't grow too fast. I will never allow us to get carried away. That doesn't mean we won't grow. There are very few assets in business that are more expensive than aircraft and you can't have more than you can get a return on." (TravelWeekly.co.uk, 30-Oct-2014). Improved daily utilisation is also a target of the restructuring programme.
According to the CAPA Fleet Database, Monarch has 35 aircraft (of which 33 are active) as of 6-Jul-2015, down from 43 (42 active) in Oct-2014. The average age of the active fleet is 10.9 years, down from 11.7 years in Oct-2014, following the exit of its ageing A330s and Boeing 757s. The active fleet no longer includes any wide body aircraft.
Monarch has confirmed its order for 30 Boeing 737MAX-8 aircraft to replace its Airbus A320 family fleet from Apr-2018 through to 2020. This also implies that it currently has no plans to increase the overall size of the fleet from its current level. The combination of a more disciplined approach to capacity and the more fuel efficient 737MAX aircraft should be beneficial to Monarch's profitability.
Monarch Airlines Fleet Summary as at Jul-2015 versus Oct-2014
| Aircraft | Oct-2014 | Jul-2015 |
| --- | --- | --- |
| | | 0 |
| | | 8 |
| | | 25 |
| | | 2* |
| | | 0 |
| | | 35 |
1H2015: capacity and unit cost down
The limited amount of data provided by Monarch on its 1H2015 results demonstrate that Mr Swaffield has reversed the previous capacity growth path, cutting ASKs by 4.8% in the six month period to Apr-2015. Although unit revenue continued to fall, the decline in revenue per ASK (RASK) slowed to 4.1% (after dropping 7% in FY2014). Perhaps more importantly, especially given the drop in RASK, cost per available seat kilometre (CASK) fell at the faster rate of 12.1%.
Monarch did not give load factor figures, but CAA data for the first five months of the period indicate a further modest fall in load factor versus the same period a year earlier. This suggests that the RASK fall was also driven by continued yield declines.
Monarch did not provide separate 1H pre-tax profit figures for each business segment, but the GBP40 million narrower loss reported for the Group probably owes much to this falling CASK trend at the airline. Lower fuel prices contributed GBP10 million to the improved 1H2015 result (it is not hedged on fuel), but, according to Monarch, GBP30 million came from "the success of its self-help turn around programme".
The company said that it had taken measures to remove GBP200 million in annual costs.
Monarch Airlines operating highlights 1H2015 versus 1H2014
| 6M to Apr | 1H2014 | 1H2015 | Change |
| --- | --- | --- | --- |
| ASK million | 6,002 | 5,716 | -4.8% |
| RASK GBPp | 4.63 | 4.44 | -4.1% |
| CASK GBPp | 6.47 | 5.66 | -12.1% |
Cautious optimism, but Monarch risks being marginalised by fast-growing rival LCCs
Monarch Group CFO Barry Nightingale, appointed in Jan-2015 after previous experience in industries including car retail, tour operation and betting, said earlier this year that the company would report an operating profit of between GBP10 million and GBP100 million in FY2015. He said that this year would be a "substantial turnaround from the loss-making 2014", but he was unable to predict "whether it was going to be low or high double digit" (Reuters 29-Jan-2015).
Also in Jan-2015, Monarch announced that it planned to cut seat capacity by 17% and ASKs by 20% in FY2015. It expected RASK to grow by 3% and CASK to fall by 9% this year. The 1H figures shown above indicate RASK weaker than this expectation, but CASK better than this
The 1H2015 results announcement on 4-Jun-2015 did not give any new predictions for capacity, RASK and CASK FY2015, nor for FY2015 profits. However it did say that Monarch's winter performance was better than forecast and that it had seen "good summer sales in key months which will help us to deliver against a challenging plan".
Monarch's management team appears to be in a mood of cautious optimism and the restructuring programme has certainly had a positive impact. Nevertheless, as we concluded in our Oct-2014 report on the company:
"Monarch's lower cost rivals are currently expanding and will take every opportunity to absorb any demand that it sheds. Monarch may have little option at the moment other than to contract and lower its cost base, but it must also have a longer term growth plan if it is to avoid becoming marginalised by these bigger rivals."
See related report: Monarch Airlines. Part 2: Why one of Europe's lowest cost airlines is right to seek cost reductions