Mixed outlook for global air freight in 2011. Still awaiting confirmation of growth trend
Analysis
The spectacular rebound in global air freight demand of 2009/10 has recently slowed to a canter, raising some concerns that 2011 could be marred by excess capacity and yield pressures as demand softens. The recovery has been broad-based, though Asia - especially China - has been the powerhouse performer.
The moderation in growth rates in 2H2010 reflects continuing weak economic conditions in much of Europe, a stuttering US recovery and the increasing inflation problem in wider Asia. The completion of restocking activity that was a key driver of freight demand in late 2009/early 2010 has also taken the edge off the air freight market. In the US, retail inventories reached an 18-month high in Sep-2010. In this report, we review the recent performance of the major players and consider the outlook for capacity levels and freight yields in 2011.
Air freight performance has typically been a useful indicator of economic conditions around the next corner. Consequently, the way this sector performs is often watched both for its intrinsic importance and for its potentially wider implications. Despite a strong 2010, recent signs are uncertain, as Nov-2010 numbers softened.
For a time in early 2008, when freight growth slowed significantly, it appeared that its forward indicating nature had evaporated. The global economy, instead of slowing, continued to steam ahead well into that year, until high oil prices and then the mortgage/debt crisis provoked the global financial crisis. In retrospect this apparent asynchronicity may have been due to the artificial stimulus of low interest rates accompanying the property bubble, notably in the US and some European countries.
More recent air freight trends appear to have more faithfully tracked - and pointed the way for - economic recovery. But while a review of Asia Pacific freight performance over the latter half of 2010 offers a picture of generally solid recovery, it still contains some mixed signals as the year progresses.
The run-down in inventories during the first three quarters of 2009, when credit was severely squeezed, generated a bounce-back in 4Q2009, as businesses - now often leaner and more efficient - started to recover and restock. In the Asia Pacific region, the strength of China's domestic economy has boosted that revival.
But in the final quarter of 2010, global freight levels have dipped, while passenger numbers (which usually lag economic changes) continued upwards. This has occurred as freight yields remain mostly weak and despite only limited increases in capacity.
The following report covers each of the major freight operators and airports in the Asia Pacific region and seeks to draw some wider direction from the most recent developments as 2011 approaches.
Global freight rebounds to previous peak levels; freight load factors strong but weakening

Worldwide air freight volumes have rebounded to previous peak levels after a massive hole was drilled into global freight markets by the global financial crisis. That cargo revenue for 2010 is forecast to be at least equal to the previous peak in 2008, according to IATA, is a very good achievement, given the parlous state of world air freight markets just 18 months ago. This rebound is particularly evident in Asia, where volumes are well above previous peak levels established in 2007.
International air freight and passenger volumes (seasonally adjusted): 2005 to 2010
IATA moderates projections
IATA expects cargo demand to have increases by 18.5% in 2010, down slightly from a previously forecast 19.8%, limiting yield growth to 7.0% (below the previous forecast for +7.9%). IATA commented: "The post-recession rebound drove a rapid expansion for cargo earlier in the year, but it ran out of steam by the third quarter. Since May, overall volumes fell by 5%. This will only pick-up when consumers have bought the products that are already on the shelves". For 2011, IATA expects cargo demand growth of 5.5%, slightly higher than the previously anticipated 5.3% growth.
Freight load factors have strengthened throughout the year. Asia Pacific load factors have been particularly strong, tracking at 10-15 ppts above the global average, but will probably soften as capacity is added back into the market.
IATA freight load factor: Asia Pacific vs Industry for May-2010 to Oct-2010
Worldwide air freight load factors have been the best in four years in 2010, but are trending below 2009 and 2007 levels in the latter stages of the year.
Freight load factors on international markets
Cargo yields show improvements, but signs of softening; likely to remain flat in 2011
Yields also continue to show improvements, for now at least, but are expected to remain flat in 2011.
Global freight yields have continued to recover from the low point of 2009. However, southeast Asia-Europe yields have fallen from earlier highs with declines of USD0.45 cents per kg from a high of about USD3 earlier in the year on a seasonally adjusted basis, according to IATA. The decline takes yields to 11% below the pre-recession peak.
Air Freight Yields (USD per kilo): Seasonally Adjusted: Jan-2007 to Sep-2010
FedEx, DHL and UPS more optimistic on the global economy

The world's two largest freight carriers, FedEx and UPS, have both raised their forecasts and outlooks in recent weeks, offering confidence to US stock markets.
In early Dec-2010, FedEx Corp raised its full year forecast after handling record volumes in overseas markets in the quarter ended Nov-2010. The carrier added that it is more optimistic about the global economy and noted that the holiday season lead-up has been "very strong - much stronger than 2009 and 2008", noting improved consumer and business sentiment heading into calendar 2011. Growth in China has encouraged FedEx Corp to add two new services linking China and the US.
CEO Frederick Smith commented: "We believe consumer and business sentiments are improving. The global economic picture is increasingly more positive as the recovery continues at a steady pace. We're now more bullish about the remainder of the year." He continued: "Our yield improvement strategy is working, holiday peak season volumes are exceeding our expectations and our economic forecast for calendar 2011 has improved. Accordingly, we have increased our earnings outlook for our current fiscal year."
In Oct-2010, UPS increased its guidance following a 69% jump in earnings and revenue growth of 9% in 3Q2010. At the time the carrier stated it expected "modest growth during the holiday peak season".
DHL meanwhile noted the stabilisation of the economic recovery in 3Q2010, adding: "Although current indicators are sending mixed signals about the outlook for the global economy, we have adjusted our outlook for the financial year as follows given the positive earnings performance of the first nine months of the year". DHL also noted the "robust growth" in Asia's emerging economies during 2010 and the continuing "upward path" in the global economy, despite slowing momentum in the second half of the year.
Asia's biggest freight airlines see weaker freight outlook
But the mood among the leading Asian air freight carriers, particularly those in Korea and Taiwan, is less certain.
Asia, the world's economic powerhouse during the past year, suggests a more shaded outlook.
Over the past few weeks, the major cargo carriers in the Asia Pacific region have foreshadowed weaker freight growth in the months ahead. Asia Pacific carriers handle around 40% of world freight. The world's two largest freight carriers, Korean Air and Cathay Pacific, generate around 30% of their total revenues from freight. Singapore Airlines and Taiwan's China Airlines also rate as key international freight carriers in the region. (See Background Information for more details).
According to the Association of Asia Pacific Airlines (AAPA), member airlines' freight growth has slowed after the "sharp rebound in global trade" in 1H2010. Cargo traffic increased 17% in Oct-2010 compared to growth of 39% in May-2010 (off a very negative base in 2009). Meanwhile, global freight traffic at Asia Pacific airports increased almost 23% in the ten month to Oct-2010, according to the Airports Council International.
The following graph illustrates the core trends in the Asian freight market. Gains of 30-40% year-on-year in 1H2010 were off reductions of 20-25% in the previous corresponding period. Crucially, as demand slows, capacity has caught up with it for the first time in over a year, which will start to put downward pressure again onto the rates shippers can be charged.
AAPA FTK growth and FATK growth: Oct-2008 to Oct-2010
I. KOREA
Korean Air Lines: expects cargo demand to decline in Dec-2010
Korean Air Lines, the world's largest international cargo carrier, stated it expects cargo demand to actually decline in Dec-2010 year-on-year, due to rising stockpiles of electronics. The carrier added: "Global consumer spending hasn't fully recovered yet amid ongoing fiscal tightening policies and still low employment rates". The carrier is however still forecasting record annual freight volumes for the full year.
Korean Air reported 5% growth in cargo volume in Oct-2010 to 114,000 tonnes, but has forecast a 7.8% slump in Nov-2010 cargo volumes to 69,000 tonnes. The carrier reported freight growth of 13% in 3Q2010 with cargo yields improving by 28%. Cargo revenues, at USD835 million (+42%), represented 30% of total revenues. The carrier's load factors, meanwhile, declined on a year-on-year basis in 3Q2010.
Korean Air freight traffic (RFTKs) (left axis) and load factor (%) (right axis):
1Q2007 to 3Q2010
Asiana Airlines: sees weaker cargo demand in late 2010
Korean's main competitor, Asiana Airlines commented that pre-holiday season cargo demand in 2010 has been weaker than in 2009 partly due to a weaker than expected recovery in the global economy. The introduction of more non-stop China-US services is also sapping transhipment traffic, according to Asiana.
Asiana, which reported freight growth of 12% and freight yield growth of 21.3% in 3Q2010, has stated it expects Nov-2010 cargo volume to increase by just 2.2% y-o-y. Freight load factors have exceeded 2009 levels in every quarter of 2010, but are now trending down.
Asiana Airlines freight traffic (RFTKs) (left axis) and load factor (%) (right axis):
1Q2007 to 3Q2010
2. TAIWAN
EVA Airways: concerned about overcapacity in 2011, believes market can "absorb" it
EVA Airways, which is investing in a 16% stake in China Cargo Airlines alongside SIA Cargo (see below), has stated it is "concerned about global overcapacity next year", but added it believes the market "will absorb the capacity". EVA expects revenue from its cargo business to surge 70% in 2010 (off a terrible base in 2009). Cargo revenues are tipped to increase from 33% to approximately 40% of total revenue - the historical level for the airline.
The carrier handled 70,173 tonnes of cargo in Nov-2010, a 9% year-on-year increase, although cargo yields declined 4.5% to USD 27.17 cents. Load factors remain above 80% for the 18th consecutive month in Nov-2010, at 83.2%.
EVA Air freight traffic (RFTKs) (left axis) and load factor (%) (right axis):
Jan-2007 to Nov-2010
China Airlines: sees strong freight growth in 2010; but weakness in Nov-2010
China Airlines, the world's seventh largest international cargo carrier in 2009, stated it expects to report its "best ever performance" for the full year 2010, thanks largely to increasing cross-Strait services to Mainland China and a recovery in its core cargo operation.
The carrier reported a 7% increase in revenues in Nov-2010, although cargo volumes declined 12% to USD157 million to represent 42% of total revenues. Also in the month, freight traffic declined 8.2% while load factors also weakened to 71.8%, marking a continued weakening of load factors over the past six months. Load factors however remain significantly above their levels of the slump in Jan-2009, when they slipped below 57%.
China Airlines freight traffic (RFTKs) (left axis) and load factor (%) (right axis):
Jan-2007 to Nov-2010
Freight yields also declined in Nov-2010 by 4.1%, continuing a trend of weakening yield growth over the second half of 2010 as more capacity has re-entered the market and as year-on-year growth rate comparisons become more difficult against the steep increases in late 2009. Nonetheless, Nov-2010 actual revenue FTKs were below the levels of Nov-2009.
China Airlines cargo yield growth: Jun-2007 to Nov-2010
Aside from the recent slowdown, China Airlines' freight profile for the full year has been strong. Cargo revenues in the 11 months ended Nov-2010 have soared 81%, to represent 41.4% of total revenues at the freight-dependent carrier. Freight traffic increased by a similar amount boosting load factors by 2.4 ppts to 71.2%. Yields strengthened 29% in the period.
China Airlines freight traffic: Nov-2010 to 11 months to Nov-2010
3. HONG KONG
Cathay Pacific: more optimistic; lower capacity growth ahead due to aircraft delays

Hong Kong-based Cathay Pacific, which has forecast a record annual profit for 2010, is more buoyant in its assessment of current conditions.
Cathay Pacific GM Cargo Sales & Marketing James Woodrow, upon the release of the carrier's Nov-2010 traffic data, commented: "The cargo peak season continued throughout November with good demand and yields out of Hong Kong on all key routes. The load factor remained high, despite a big increase in capacity year-on-year, helped by good support from our contract agent partners. We operated according to our full freighter schedule and continued to mount extra sectors and charters where possible in line with market demand."
Cathay Pacific/Dragonair combined traffic: Nov-2010 and 11 months to Nov-2010
CATHAY PACIFIC / DRAGONAIR COMBINED TRAFFIC

NOV

% Change

Cumulative

%

Change

Cargo and mail tonne km (000)

881,103

13.5%

9,244,468

23.9%

Cargo and mail carried (000kg)

153,572

8.4%

1,642,619

18.7%

Number of flights

5,185

15.0%

54,233

5.8%

Available cargo/mail tonne km (000)

1,230,074

21.6%

12,240,323

14.9%

Cargo and mail load factor

71.6%

-5.2pt

75.5%

5.5pt

ATK (000)

2,168,569

16.8%

22,266,834

10.0%
The carrier has witnessed a 24% increase in freight traffic in the 11 months to Nov-2010 and expects its cargo fleet to be "pretty busy for the whole of next year". Freight is being aided by Chinese exports and the use of long-term contracts with freight forwarders according to outgoing CEO Tony Tyler. The carrier's cargo capacity growth is however limited to under 10% due to B747F delays. The carrier stated it is "monitoring the situation" very closely.
Load factors, meanwhile, have weakened in the past three months based on year-on-year comparisons, with a 5.2 ppt reduction in Nov-2010 to 71.6%. This compares to a 5.5 ppt load factor gain in the year-to-date period to 75.5%. Load factors peaked at 81.7% in Mar-2010 reflecting tight capacity conditions before the carrier returned freight capacity into its system.
Cathay Pacific freight traffic (RFTKs) (left axis) and load factor (%) (right axis):
Jan-2007 to Nov-2010
Cathay operates one of the world's largest freighter fleets and has developed a worldwide network that enables it to handle around 1.3 million tonnes of freight p/a through Hong Kong International Airport. The carrier is investing some HKD20 billion in new freighters and doubling its freight capacity within the next five years – representing one of the largest confirmed financial commitments of any airline to its cargo business.
Cathay's future cargo growth aspirations, meanwhile, are also being complemented by the carrier's cargo JV with Air China, which is due to commence service around the end of 2010. The JV will give the carrier access to freight hubs in Shanghai and Beijing. Air China and Cathay have agreed that Cathay's cargo subsidiary will gradually withdraw from the cargo market in mainland China over three years and specialise in international markets.
The carrier is also developing its new HKD5.5 billion freight hub in Hong Kong as part of efforts to boost its freight handling capabilities. Shanghai and Incheon also rated in the Top 5 busiest cargo airports in 2009. (See Background Information for more details).
HACTL and AAT report record freight growth
Cathay's Hong Kong hub is ideally located, neighbouring the Pearl River Delta, China's main manufacturing hub. Hong Kong is on course to surpass Memphis, FedEx's main hub, as the world's busiest air cargo airport in 2010.
Like Singapore Changi below, HKIA's actual throughput however remains far below the approximate 2007 trendline (dotted line in the graph below).
Hong Kong Airport cargo volume and cargo volume growth: 2005 to 2009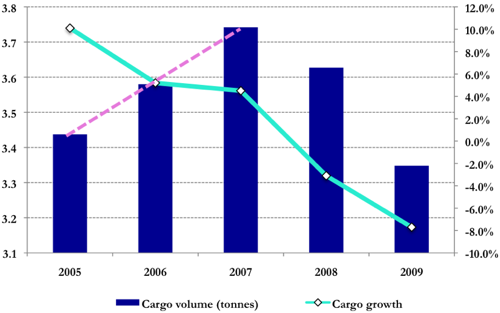 Hong Kong Airport reported a 7.1% y-o-y increase in cargo volumes in Nov-2010 to 368,000 tonnes. Traffic was driven mainly by robust growth in North America and Europe, both of which registered double-digit growth compared to Nov-2009. Year-to-date cargo throughput has expanded by 24.8% to 3.8 million tons.
Hong Kong Air Cargo Terminals Limited (Hactl) stated cumulative tonnage for the first 11 months of the year hit a new height of 2.65 million tonnes, up 26.7% year-on-year to surpass the pre-crisis annual record high of 263 million tonnes achieved in 2007. Hactl added that the result is "by far a new handling record for Hactl".
But the impressive year-on-year gains are vanishing as the market returns to more normal levels of growth.
Tonnage handled by Hactl in Nov-2010 and 11 months to Nov-2010
HACTL traffic growth: Oct-2008 to Nov-2010
AAT on track to break records despite slowdown in growth rate
Asia Airfreight Terminal Co Ltd (AAT), meanwhile, reported a new record for Nov-2010 with tonnage throughput of 69,063 tonnes and year-on-year growth of 21%. Export cargo registered 52,181 tonnes (+20% year-on-year) while import cargo volume increased 26% to 16,332 tonnes and trans-shipment cargo volume was 550 tonnes (+99%).
Asia Airfreight Terminal (AAT) traffic growth: Oct-2008 to Nov-2010
AAT GM for Corporate Development, Nelson Lee, commented: "It is encouraging that the tonnage handled in November created a new record. The growth was mainly driven by export and transshipment, and although the increase in cargo throughput has slowed, we are on track to break past annual records."
AAT cumulative tonnage throughput from January to November 2010
4. MAINLAND CHINA
Chinese cargo growth leading the recovery worldwide - but some challenges ahead
The Chinese airfreight market has shown a great deal of strength in 2010 as the country's manufacturing sector recovered at a cracking pace after the global financial downturn. Chinese airlines, as well as express freight carriers and international airlines, are expanding operations to/from the country in response to the resurgent demand which is expected to continue in the years ahead.
As noted by Boeing, the China market dominates regional freight traffic. During the past decade, there has been a dramatic rise in air cargo, mirroring the country's stellar economic performance.
Over the next 20 years, traffic flows linking China with other countries are expected to continue their strong growth. For example, the flow between China and the US will become the world's largest, representing more than 15% of worldwide FTKs in 2028, according to Boeing. Domestic China is expected to be the second largest market in terms of the number of FTKs, with 8.2% of the global total by 2028.
Chinese air cargo volumes increased by 11% (preliminary) in Nov-2010, according to the CAAC, with full year cargo expected to reach 5.2 million tonnes, up 20% year-on-year. This marks an average annual increase of 11.1% over the past five years.
Much of the following data reflects domestic freight carriage.
CAAC passenger number growth vs cargo volume growth: Jan-2009 to Nov-2010*
CAAC passenger numbers growth vs cargo volume growth: 2005 to 2010F
In China, the 'Big Three' - Air China, China Southern and China Eastern - dominate cargo operations, although the market is extremely fragmented with numerous private carriers and new entrant JV express freight carriers also competing for market share.
China Eastern remains the largest Chinese freight carrier as has been the case for the past 12 months. Significantly, Air China overtook China Southern as the second largest carrier in the market in Nov-2010.
'Big Three' Chinese airlines freight volume: Nov-2009 to Nov-2010
At the beginning of the year, the CAAC stated it would focus on the development of the country's cargo industry and encourage cargo airlines to undergo mergers and acquisitions, restructuring and business cooperation. Furthermore, in its Development Strategic Plan, the CAAC stated it plans to develop at least one internationally competitive airline company and one internationally competitive cargo airline by 2030.

Air China: on market share drive. 30% capacity increase in 2011

Air China Cargo stated it plans to increase its Asia Pacific capacity by 30% in 2011. The carrier also plans to increase its Europe capacity by 11%, apply 18% more capacity on its Americas sectors and increase its fleet to 11 B747-400 freighter aircraft by the end of 2011 to support its plans to aggressively grow its market share.
In Nov-2010, Air China reported a 13.5% increase in freight volume as the growth trend continues, with an upward trajectory with cargo load factors improving 4.3 ppts to 64.6% in the month.
Air China freight traffic (RFTKs) (left axis) and load factor (%) (right axis):
Jan-2007 to Nov-2010
China Eastern Airlines: projecting 22% jump in freight volume in 2010, integrating cargo business
China Eastern Airlines, meanwhile, reported a 31% jump in cargo volumes in Nov-2010 to 124,860 tonnes. Load factors increased 2.1 ppts to 63.2%. The carrier previously stated it aimed to handle 1.1 million tonnes of cargo volume in 2010, an improvement of 21.8% over 2009.
China Eastern freight traffic (RFTKs) (left axis) and load factor (%) (right axis):
Jan-2007 to Nov-2010
China Eastern is restructuring the ownership of its air freight unit, China Cargo Airlines, to welcome new investors (SIA Cargo and EVA Air) to help raise its competitiveness against the threat of an aggressive Air China-Cathay Pacific combination.
China Cargo Airlines and Shanghai Cargo Airlines have also signed an asset acquisition agreement under which the core cargo air transportation business and related assets of Shanghai Cargo Airlines will be acquired by China Cargo Airlines. China Cargo Airlines also entered into a CNY387 million (USD58 million) agreement to acquire Great Wall Airlines, as part of its goal of market consolidation.
China Southern Airlines: seeing strong increases in freight traffic, load factors weak by industry standards

This leaves China Southern, which applies a different strategy, utilising the bellyhold capacity of its vast passenger fleet, supported by a small number of dedicated freighters.
The carrier reported a 15.8% increase in cargo volumes to 98,100 tonnes in Nov-2010. Freight load factors stood at 50.3% in the period, marking the third consecutive month of load factors sitting above 50%.
China Southern freight traffic (RFTKs) (left axis) and load factor (%) (right axis): Jan-2007 to Nov-2010
5. SINGAPORE
SIA Cargo sees demand levelling off, load factor weakness. Yields expected to moderate
SIA Cargo, the world's fourth largest freight carrier, is meanwhile experiencing softening. The carrier stated demand has "levelled off in recent months" and yields are likely to "moderate in the near term". The carrier added that the seasonal peak in the December quarter is unlikely to be as pronounced as in 2009.
In the three months ended Sep-2010, cargo volumes increased 3% to 290,100 tonnes with cargo load factors increasing 0.4 ppts to 63.3%. At the same time, the cargo breakeven load factor declined sharply, 15.4 ppts to 60.2%. Cargo yields soared 25.1% to USD 27.78 cents while cargo cost (per FTK) declined 0.5% to USD 16.71 cents.
But, in Nov-2010, cargo load factor declined 1.3 ppts to 65.1%, with particular weakness noted on East Asian routes.
SIA Cargo Nov-2010 traffic
Nov-2010 marked the first month of year-on-year cargo load factor declines in 2010 for Singapore Airlines.
Singapore Airlines freight traffic (RFTKs) (left axis) and load factor (%) (right axis):
Jan-2007 to Nov-2010
In a move to increase its exposure to the Chinese air freight market, SIA Cargo has agreed to acquire a 16% stake in China Cargo Airlines, the cargo subsidiary of Shanghai-based China Eastern Airlines, subject to regulatory and other approvals. China Cargo Airlines operates a fleet of 13 aircraft comprising three Airbus A300 freighters, two Boeing 747-400 freighters, three Boeing 777 freighters and five McDonnell Douglas MD-11 freighters. Its global route network extends to 26 destinations outside Shanghai, covering major cargo ports in China, Asia, Europe and the US.
SIA Cargo needs a fillip for Singapore's declining role as a cargo hub. Volumes at Changi Airport this year are still some 13% below peak levels set in 2006, although there was some improvement this year from 2009. At its current level, Changi's freight volume remains around 25% below it trendline extrapolated from 2007. Perhaps partly a structural change, this still however suggests lingering trade weakness.
Singapore Changi freight traffic: 2004 to 2010 (11 months to Nov-2010)
Still waiting for confirmation of a consolidated recovery
Were it not for the last few months of the year - and some uncertain signs from several airlines, including Singapore Airlines, the confidence in a persistent economic recovery would be justified. Provided China's economy holds up and inflation does not provoke intervention by Beijing to slow the expansion rate, there are perhaps sufficient positive signs to remain sanguine.
However, to the extent that air freight growth is a forward indicator of general conditions, it will be necessary to see how Dec-2010 and Jan-2011 progress before attempting any projection. That said, the starting point from here is that a re-acceleration will be required if there is to be confirmation of a strong recovery.
From an airline point of view, this could prove challenging. Unless demand is strong, the expected influx of capacity in the sector in 2011 will drive down load factors, while yields remain sensitive. That is a bad equation for profitability.
Background Information
World's Leading Freight Airlines by International Scheduled Freight Tonne Kilometres: 2009
2009 Cargo traffic by airport: Top 30 airports
Domestic Scheduled Freight Tonne – Kilometres: 2009
Domestic and international scheduled Freight Tonne – Kilometres: 2009