Middle East powers on
Middle East airlines continue to report strong growth in demand as the rest of the industry slows. Growth rates have dropped from the highs of 2008, but the region's carriers continue to grow robustly where it counts, in the premium market, which is providing Middle East airports with strong retail sales, as we review in this Perspective.
Growth still three times the global average, but constrained by aircraft delays and fuel prices
The International Air Transport Association (IATA) released international traffic data for Jun-08 that showed further evidence of the slowdown gripping global aviation. Worldwide passenger demand growth fell to 3.8% - the lowest level since the SARS crisis of 2003, while passenger load factors dropped to 77.6%, 1.2 ppts down on the same month last year. Director General & CEO, Giovanni Bisignani warned that the situation "will get a lot worse", due to weaker consumer and business confidence falling and "sky-high oil prices".
IATA reports Middle East carriers saw their traffic growth slow to 9.6% in Jun-08 (from 12.8% in May-08), taking the year-to-date growth rate to +10.6%. IATA observed the growth is sharply down from the 18.1% recorded in Jun-07, but it reflects slower capacity growth by the region's airlines this year (mainly due to aircraft delivery delays, particularly A380s, that have hit the Middle East carriers more than other regions). Middle East carriers grew their capacity (measured in ASKs) by 9.8% in Jun-08 (10.7% in the year to Jun-08), leaving load factors virtually unchanged at 75.5%.
Latest Arab Air Carriers Organisation (AACO) data reveals still healthy, but slowing traffic growth rates in Jun-08.
'Arab World' passenger numbers growth (% change year-on-year): Jul-07 to Jun-08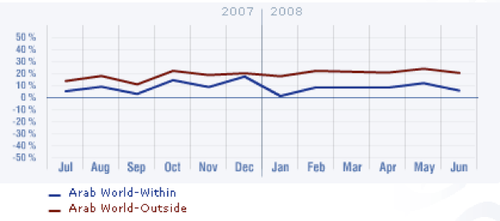 Middle Eastern carriers delivered the strongest cargo performance worldwide in Jun-08, according to IATA, with 12.1% growth (up slightly from the 10.7% recorded in May-08 and 11.8% growth in the year to Jun-08).
Fuel prices have also deterred growth by some - but not all - carriers in the region, although further falls in the oil price could soon trigger the next wave of expansion. Emirates President, Tim Clark, stated in mid-Aug-08 that if oil prices fell to around USD105 per barrel, Emirates would launch services to Durban, Algiers, Amsterdam, Kiev, Barcelona and Buenos Aires. Mr Clark added, "we have hundreds of places we can go".
Premium traffic growth accelerates
The region's airlines also enjoyed strong rates of growth in premium travel, which would support airline yields and help offset higher fuel costs.
IATA noted that the strongest business travel markets worldwide in Jun-08 continue to be within Africa, the Middle East and South America. The airline body added, "all of these regions are experiencing robust economic growth, which is continuing to support business travel. Also growing strongly are the Europe-Middle East and Middle East-Asia market segments, reflecting both increased business activity in the Middle East and the Europe-Asia capacity being deployed using the Middle East as a hub".
Premium traffic accelerated within the Middle East region (expanding a scorching 19% in Jun-08, taking the year-to-date increase to 12.5%), as well as in the important Europe-Middle East market (which is now the sixth largest premium traffic market in the world by revenue, accounting for almost 5% of worldwide premium airline revenues, despite its relatively small traffic flows). Europe-Middle East premium demand rose 11.5% in Jun-08, taking the year-to-date increase to 10%.
Middle East to Asia Pacific premium demand growth was still strong at +9.8% in Jun-08, although slower than the year-to-date increase of +16.5%, while the Middle East-Africa market growth rate also eased (+10.8% in Jun-08 and +17% year-to-date). The only weak spot is the Middle East-Southwest Pacific market (dominated by Australia), where premium demand fell 7.6% in Jun-08, dragging the year-to-date rate into negative territory (-2.4%), as Europe's economic slowdown is followed by Australia and New Zealand's.
IATA premium traffic growth by region (% change year-on-year): Six months ended 30-Jun-08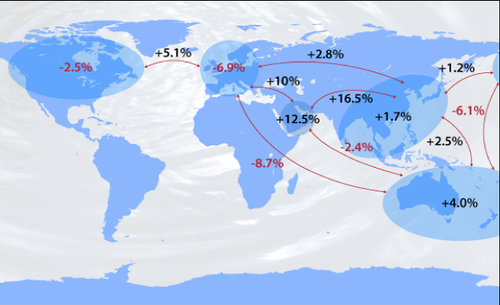 IATA premium traffic growth by region (% change year-on-year): Jun-08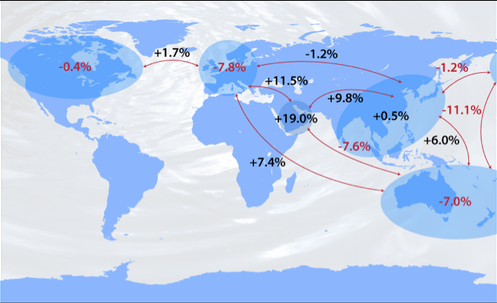 Airport retailing tipped to soar in the Middle East
The Middle East airports are key beneficiaries of buoyant air travel demand to, from and within the region.
Worldwide airport retail sales are expected grow by 11% in 2008 to USD30billion, making it the fastest growing retail channel after the Internet, according to Verdict Research. Airport retail sales are set to continue to grow strongly over the next five years, particularly in emerging markets in the Middle East region, driven by the rapid increase in air travel and major investment in new airports and retail facilities.
Global Airport Retail Spending* (USD billions): 2002-2008F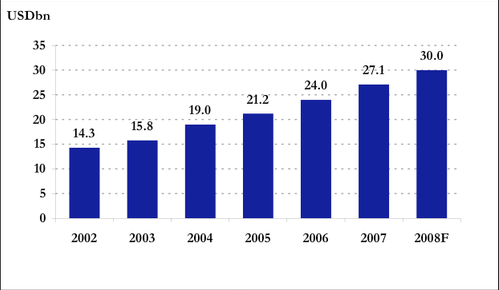 The key factors stimulating this growth in emerging markets are increased affluence, growing tourism, rapidly expanding airline networks and new routes (especially those of low cost carriers), according to Verdict, while the increase in business travel as a result of globalisation is "providing a further boost to airport retailers". Verdict added, "the clean slates of emerging market airport development provide huge scope for growth that is less feasible - physically or financially - in regulated and restricted mature markets, and this is now being taken advantage of by airport operators".
The Middle East region is expected to grow its share of worldwide airport retail sales three-fold between 2002 and 2012, to represent 14.4% of worldwide sales.
Breakdown of Retail Spending by Region (% share of total)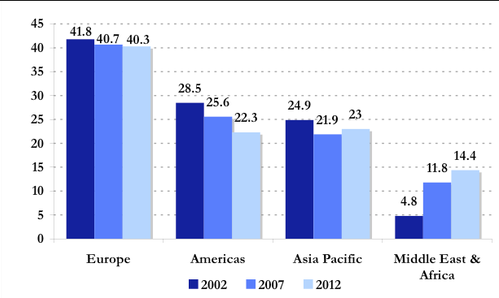 Between 2002 and 2007, Verdict estimates retail sales in the four key Middle East markets of the UAE, Qatar, Bahrain and Oman more than doubled from USD461 million to USD1.2 billion, with sales expected to double again and reach USD2.5 billion by 2012 as airports in those countries aggressively expand their capacity.
Widebody fleets to boom
The Middle East's massive airport development projects reflect the scale of new aircraft destined to join the region's fleet over the next decade. As a proportion of total fleet orders in the Boeing and Airbus order books, Middle East carriers now account for 13% of the total.
Airbus & Boeing total aircraft orders by region: Up to Jul-08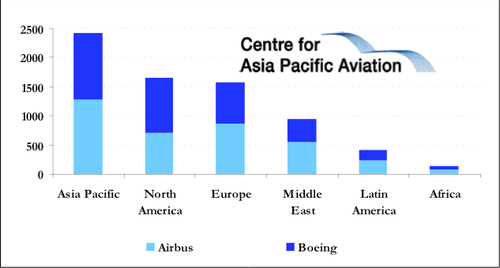 But as a proportion of widebody order books - an indicator of future international market flows - Middle East carriers account for 25% of the total, with 524 orders (led by Emirates, Etihad and Qatar Airways), against 763 orders for the entire Asia Pacific region - and significantly more than Europe or North America.
Aircraft total twin aisle aircraft orders by region: Up to Jul-08
Conclusion: Growth acceleration ahead
The entry into service this month of the first (of 58) Emirates A380 heralds a new era in global aviation. Growth rates consistently three times the world average this decade could even accelerate in coming years, as the Middle East region's airlines ramp up their capacity while the rest of the industry pulls back.
The latest airport retailing predictions for the region provide yet more evidence that the industry is coming to understand the Middle East growth story and the massive competitive changes that are dawning in global aviation.