Malindo emerges as Lion Group's main international carrier with nine new routes from Kuala Lumpur
Analysis
Lion Air Group's Malaysian affiliate Malindo Air plans to pursue rapid international expansion with several routes to be launched to Indonesia and India shortly after Dhaka in Bangladesh becomes its first international destination on 28-Aug-2013. Malindo could quickly become the largest international carrier in the Lion Group as Kuala Lumpur is positioned as a transit hub for international connections.
Malindo launched services at the end of Mar-2013 and currently operates 11 domestic routes. But Malindo will now turn its attention to Malaysia's international market, where it sees more opportunities.
Malindo will also start to leverage network synergies with its Indonesia-based sister carriers. Malindo and Lion's three Indonesian subsidiaries will offer joint itineraries on hundreds of city pairs connecting Indonesia, where the group serves about 50 destinations, with Malaysia and South Asia. Malindo is particularly keen at tapping the under-served Indonesia-India market.
Dhaka the first of nine international routes for Malindo in 2H2013
Malindo on 28-Jul-2013 announced the launch of a daily service from its Kuala Lumpur hub to Dhaka starting 28-Aug-2013. Dhaka marks the beginning of the second phase in development of the new Malaysian hybrid carrier.
The first phase involved the launch of domestic services, starting with jet routes from Kuala Lumpur International Airport (KLIA) to east Malaysia and followed by turboprop routes within peninsular Malaysia that were launched in early Jun-2013 from Kuala Lumpur's other more centrally located airport, Subang. Malindo now serves five destinations from KLIA and six destinations from Subang, which was Kuala Lumpur's primary airport prior to the opening of KLIA and is now only open to turboprop flights. Malindo currently operates a fleet of four 737-900ERs and two ATR 72s.
See related report: Malindo breaks AirAsia-MAS duopoly in Malaysian domestic market. Next stop: Delhi
Malindo CEO Chandran Rama Muthy recently told CAPA that the second phase of the carrier's development will include the launch of nine international routes over the next few months from its KLIA hub, including four to Indonesia, four to India and the one to Bangladesh. The international network expansion will be supported by the delivery of two additional 737-900ERs in Sep-2013, which will give the carrier a fleet of six 737-900ERs. Malindo operates its 737-900ERs in two-class configuration with 12 business class seats and 168 seats in the economy cabin, where it also provides a full service with meals, drinks and in-flight entertainment (IFE) monitors.
Malindo plans to end 2013 with a fleet of 10 aircraft as it plans to also take delivery of two more ATR 72s in Aug-2013 and Oct-2013 respectively. The carrier plans to use the additional turboprops mainly to increase frequencies from Subang, where it currently operates 14 daily flights across its six routes, according to Innovata data. Mr Chandran reveals that Malindo is also looking at potentially using one of its turboprops to operate domestic flights within east Malaysia from a second turboprop base at Kota Kinabalu.
International flights are also expected at Kota Kinabalu from 2H2014, initially to Indonesian destinations, as part of the second phase of the carrier's international expansion. This phase will also include flights from Kuala Lumpur to North Asia, including mainland China, Hong Kong and Taiwan.
Malindo has decided against launching for now international services to Singapore, Thailand and other Southeast Asian countries with the exception of Indonesia. Malindo has opted to leave the Malaysia-Thailand market for Thai Lion, a new joint venture carrier which is currently in the process of securing an operating certificate from Thailand civil aviation authorities.
See related report: Lion Air looks to accelerate international expansion by launching more JVs, starting with Thailand
"Right now we want to focus on the three countries – India, Bangladesh and Indonesia," Mr Chandran explains. "We will go step by step. I don't think a young airline like Malindo can start four or five countries after six months."
Singapore and Thailand are the second and third largest international markets from Malaysia after Indonesia. But Malindo is more attracted to the smaller India and much smaller Bangladeshi markets.
Malaysia international capacity (seats) by country: 5-Aug-2013 to 12-Aug-2013
Kuala Lumpur-Dhaka route sees huge influx of additional capacity
Kuala Lumpur-Dhaka, Malindo's first international route, is a relatively large market driven by migrant worker traffic. There are currently almost 14,000 weekly return seats between the two cities, making Kuala Lumpur the second largest international destination from Dhaka after Dubai.
Malaysia Airlines (MAS) is the market leader on the Kuala Lumpur-Dhaka route, which MAS currently serves with two daily 777 flights. Three Bangladeshi carriers also serve the route, with Biman and Regent Airways each operating one daily flight and United Airways offering five weekly frequencies, according to Innovata data. AirAsia pulled out of the Kuala Lumpur-Dhaka market in 2011, leaving a potential opening for a second Malaysian carrier. (The route was briefly served by AirAsia X in 2009 before the widebody operator handed it over to its short-haul sister carrier.)
Dhaka could prove to be a challenging market for Malindo as the route has already seen capacity nearly double in recent months with MAS introducing its second daily frequency in Apr-2013 and Regent entering the market in Jul-2013 after adding 737-700s to its previously all-turboprop fleet. While it is a market that can stimulated, yields will suffer as Malindo enters and the route sees a total of five competitors with six daily flights, compared to only three competitors and three daily flights in 1Q2013.
Malindo still waiting on DGAC approval to launch India flights
While India is the seventh largest international market from Malaysia it is relatively under-served, partially because of the pull-out of AirAsia X, which dropped Delhi and Mumbai in early 2012 as part of a network restructuring. Malindo prior to its Mar-2013 launch was able to secure from Malaysian authorities most of the traffic rights to India that were previously held by AirAsia X, which had about 8,200 weekly return seats in the market.
Malindo has been preparing for several months to launch India services but is still waiting for final approval from Indian authorities, which it needs before it can formally announce its four planned India routes and begin ticket sales. "We are hoping within next the few months to start operations [to India]," Mr Chandran told CAPA. "I think the demand is there. The market is good."
He says Malindo plans to initially link Kuala Lumpur with Delhi, Mumbai, Kochi and Tiruchirappalli. Malindo will initially serve each route with one daily flight. Delhi is expected to be the first of Malindo's Indian routes.
Malindo will compete with AirAsia in the Kochi and Tiruchirappalli markets, both of which are secondary cities in southern India. AirAsia currently offers one daily A320 flight to Kochi and two daily A320 flights to Tiruchirappalli, with a third Tiruchirappalli frequency to be introduced at the end of Aug-2013. Southern India and particularly Tiruchirappalli is a huge market for Malaysia as a large portion of India's Malaysia population is from that region of India. AirAsia is currently the only carrier in the Kuala Lumpur-Tiruchirappalli and Kochi markets but MAS is launching one daily flight to Kochi on 1-Sep-2013.
In the Kuala Lumpur-Delhi and Kuala Lumpur-Mumbai markets, Malindo will only compete against MAS. The Malaysian flag carrier currently operates 12 weekly flights to both Delhi and Mumbai, including daily flights with A330 or 777 widebodies and five weekly frequencies with 737-800 narrowbodies. MAS is adding one additional 737-800 frequencies to Delhi from 1-Oct-2013, giving it weekly 13 frequencies on the route.
At the same time MAS is adding an eleventh weekly frequency to Bangalore, a market it serves only with 737-800s. MAS also operates two daily 737 flights to Chennai and one daily 737 flight to Hyderabad. AirAsia operates two daily flights to Chennai and four weekly flights to Bangalore. AirAsia does not serve Hyderabad but is the only carrier operating the Kuala Lumpur-Kolkata route, which it serves daily. Air India Express is now the only Indian carrier serving Malaysia as Jet Airways, which also served the Kuala Lumpur-Chennai route, pulled out of Malaysia in mid-2012.
Four daily flights to India would give Malindo 5,040 one-way seats to India, equating to an 18% share of the total Malaysia-India market. MAS currently accounts for 53% of seat capacity in the Malaysia-India market while AirAsia accounts for 43% and Air India Express the remaining 4%.
Malasyia to India capacity by carrier (one-way seats per week): 19-Sep-2011 to 26-Jan-2014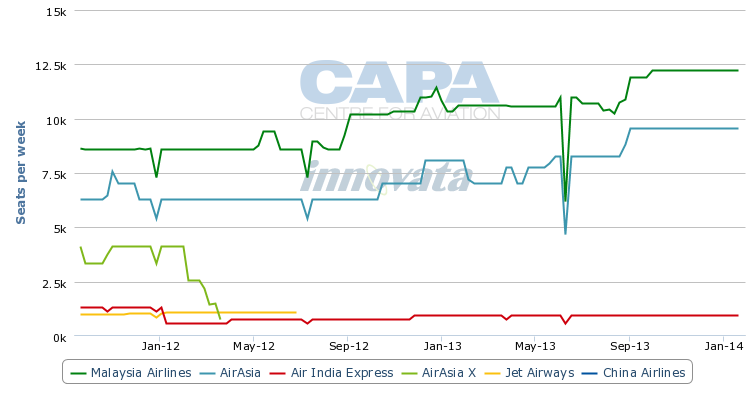 Malindo has the advantage until the Malaysia-India bilateral can be re-negotiated
Malindo's 5,040 seats essentially replaces the 4,100 one-way weekly seats previously provided by AirAsia X. With the new Malindo flights as well as the upcoming capacity increases from MAS and AirAsia, Malaysian carriers will be fully utilising traffic rights available between the two countries.
Malaysian authorities would like to expand the India bilateral as all three allocated Malaysian carriers (AirAsia, MAS and now Malindo) would be interested in pursuing further expansion to India. But Indian authorities remain reluctant as Indian carriers are currently only using less than 10% of their available traffic rights. Even if a new deal is negotiated, India will likely only be willing to agree to a small incremental increase as it did with Singapore in early 2013, when only 10% increase in capacity was agreed.
See related report: Singapore Airlines Group and Changi Airport to benefit as India-Singapore market opens up further
Malindo in the meantime will have a competitive advantage as other Malaysian carriers will be unable to respond to its launch of Malaysia-India services by further increasing capacity in the market. Rival AirAsia is particularly at a disadvantage as it will be unable to increase flights to India and fully exploit network synergies with AirAsia India, which plans to launch services in 4Q2013.
AirAsia India will be limited to operating domestically under Indian regulations, which prohibits new carriers from launching international services until they have operated domestically for five years. Unless AirAsia India succeeds in lobbying the Indian government to overturn this regulation - an unlikely event given that India's other LCCs will argue they had to wait five years before launching international services - the AirAsia Group can only access the Malaysia-India market from the Malaysian side.
But with the current bilateral, AirAsia is limited from expanding beyond its current five Malaysia-India routes and even if the bilateral is expanded they will need to fight with MAS and Malindo for any additional traffic rights.
The Malaysia-Indonesia market is more liberal and has a much different dynamic given that the AirAsia Group already controls a leading 62% share of seat capacity between the two countries. This includes a 31% share for Indonesia AirAsia and a 31% share for AirAsia (Malaysia).
Malaysia to Indonesia capacity by carrier (one-way seats per week): 19-Sep-2011 to 26-Jan-2014
With Malindo's upcoming launch of services to Indonesia, the Lion Group will be able to narrow the huge gap with AirAsia. The Lion Group currently only accounts for 9% of capacity between Malaysia and Indonesia, including 8% for the Lion brand and 1% for its regional subsidiary Wings, according to CAPA and Innovata data. The MAS Group accounts for 19% (includes flights operated by MAS regional subsidiary Firefly) while Garuda accounts for only 3%. Two other Indonesian carriers, Tigerair Mandala and Sriwijaya Air, along with KLM, Kuwait Airways and Yemenia, account for the remaining 7%.
Malindo plans to join sister carrier Lion in operating the Kuala Lumpur-Jakarta and Kuala Lumpur-Medan routes. Malindo also plans to launch services from Kuala Lumpur to the Indonesian island of Bali and Batam, routes which are not currently served by Lion. Mr Chandran says all four Indonesian routes are expected to be launched by the end of Sep-2013 and will initially be served with one daily flight. He adds that Malindo is planning a second wave of Malaysia-Indonesia routes in 2014, including Kuala Lumpur to Makassar and Yogyakarta.
Malindo to compete with AirAsia on three of its four Indonesian routes
Lion currently operates three daily flights from Jakarta to Kuala Lumpur and one daily flight from Medan to Kuala Lumpur, according to Innovata data. AirAsia currently has seven daily flights on the Kuala Lumpur-Jakarta route, including four that are operated by Indonesia AirAsia and three by AirAsia (Malaysia). The AirAsia Group currently has a leading 31% share of capacity on Kuala Lumpur-Jakarta. MAS, which also has seven daily flights on the Kuala Lumpur-Jakarta route, has a 29% share.
While one daily flight from Malindo will only marginally increase the Lion Group's 16% share of capacity on the route, it will likely be followed by additional frequencies. Indonesian carriers are generally under-represented in the Kuala Lumpur-Jakarta market as Garuda currently only operates two daily flights and Tigerair Mandala one daily flight. KLM also serves the route with one daily flight that originates in Amsterdam while Kuwait Airways serves the route with three weekly frequencies and Yemenia with one weekly frequency.
AirAsia also has a leading 59% share of seat capacity in the Kuala Lumpur-Medan market, where the group currently operates 46 weekly frequencies, including three daily flights from AirAsia Malaysia and 25 weekly flights from Indonesia AirAsia. In addition to the one existing Lion frequency, MAS operates two daily flights. MAS regional subsidiary Firefly also operates one daily flight from Kuala Lumpur Subang to Medan. Garuda does not yet serve Medan-Kuala Lumpur but has been considering the route as part of potential international expansion from Medan's new airport.
See related report: Indonesia's Medan poised for international growth as new airport opens, led by AirAsia and Lion Air
Kuala Lumpur-Bali is also a big market for the AirAsia Group, with five daily frequencies including three from AirAsia (Malaysia) and two from Indonesia AirAsia. MAS is currently the only other carrier in the market with four daily frequencies using a mix of 777s and 737s. Malindo will give the Lion Group its first presence in the Kuala Lumpur-Bali market. Lion currently does not operate any international services from Bali, where the AirAsia Group currently accounts for a leading 20% of international seat capacity. AirAsia operates five international routes from Bali.
The Kuala Lumpur-Batam route is not yet served by the AirAsia Group. But Batam is currently served from Kuala Lumpur Subang by Firefly with four weekly frequencies. Malindo will be the only carrier operating scheduled services from Kuala Lumpur International to Batam. But AirAsia will clearly take note of Malindo's decision to serve Batam, a small island near Singapore, and could look to launch its own service on the route. AirAsia already links its Kuala Lumpur hub with 14 destinations in Indonesia, including the potential Malindo destinations of Makassar and Yogyakarta.
Malindo's international operation will provide important diversification for the Lion Group
While Indonesia AirAsia is primarily an international carrier, allocating over 60% of its seats capacity to the international market, Lion is predominantly a domestic carrier, with only about 5% of its seats allocated to the international market. Lion currently only operates seven scheduled international routes, including four connecting Indonesia with Malaysia.
In addition to serving Kuala Lumpur from Jakarta and Medan, Lion currently operates two daily flights from Medan to Penang. Lion's regional subsidiary Wings Air also operates two daily ATR 72 turboprop flights from Medan to Penang, which is Wings' only scheduled international route. Lion's third Indonesian subsidiary, full-service operator Batik Air, currently only operates domestic services.
Malindo is poised to overtake Lion by the end of 2013 as the largest international carrier in the group based on number of routes. Malindo will likely overtake Lion in 2014 as the largest international carrier in the group based on seat capacity.
The nine international routes planned for 2H2013 will give Malindo 22,680 weekly international seats. Lion currently provides 48,000 weekly international seats, according to CAPA and Innovata data. Almost 40% of these seats are on the Jakarta-Singapore route, which Lion serves with six daily frequencies. Lion also serves Jeddah in Saudi Arabia using its fleet of two 747-400s. In addition to Jakarta and Medan to Kuala Lumpur and Medan to Penang, Lion's other two international routes include Surabaya to Singapore and Singapore to Ho Chi Minh in Vietnam, both of which are served with one daily flight.
Lion Air's international routes ranked by capacity (seats): 5-Aug-2013 to 12-Aug-2013
Malindo expected to rapidly grow its share of the Malaysian market
In the Malaysian domestic market, Malindo currently provides 42,000 weekly seats, giving the new hybrid carrier about a 7% share of total capacity in Malaysia's domestic market compared to 47% for AirAsia and 45% for the MAS Group (includes Firefly). The anticipated 22,680 weekly international seats will give Malindo about a 2% share of seat capacity in Malaysia's international market compared to 39% for the AirAsia brand (includes AirAsia X) and 27% for the MAS Group.
Malaysia international capacity (seats) by carrier: 5-Aug-2013 to 12-Aug-2013
On a system-wide basis Malindo currently accounts for just over 2% of total seat capacity in Malaysia compared to about 42% for the AirAsia brand and about 36% for the MAS Group. The Malindo system-wide share could reach 4% by the end of 2013 as the carrier takes another four aircraft.
Malaysia system-wide capacity share (% of seats) by carrier: 5-Aug-2013 to 12-Aug-2013
Malindo will need to contiue pursuing significant domestic and international expansion to capture a meaningful share of Malaysia's market. This should be achieved if Malindo sticks to its current fleet plan, which includes adding 10 more aircraft in 2014 and reaching 100 aircraft by its 10-year anniversary.
Malindo still plans to add some domestic capacity, including new 737-900ER routes from Kuala Lumpur International to Langkawi and Penang in peninsular Malaysia (destinations Malindo now only serves from Subang) and potential new ATR 72 routes from Kota Kinabalu to Sandakan and Tawau within the eastern Malaysia state of Sabah. But the focus for Malindo the remainder of 2013 and 2014 will be on building up an international network. "We don't want to put so much capacity in domestic, where the pie is smaller," Mr Chandran explains. "The pie is bigger in international."
Malindo's international expansion will give the Lion Group an important international presence in several key international markets as Kuala Lumpur quickly becomes the group's main international transit point. While Lion is also expected to eventually pursue its own international expansion, using Malindo as an international growth platform is logical given that Malaysia has a more established international market than Indonesia and the fact that Kuala Lumpur is significantly less congested than Jakarta.
Malindo believes Kuala Lumpur International is under-used as a transit hub compared to more congested Singapore and Bangkok. Malindo currently uses the main terminal at Kuala Lumpur International, where there is ample space, and will move into the new low-cost terminal at KLIA2, which is now slated to open in May-2014.
Malindo and Lion will offer joint itineraries
Malindo will work closely with Lion in the Malaysia-Indonesia market and on services from Indonesia to markets beyond Kuala Lumpur. The two carriers will interline and cross-sell using their respective websites. Malindo and Lion already use the same reservations platform as does Wings and Batik – both of which Malindo also plans to work with in offering domestic connections in Indonesia.
The emerging international strategy at Lion Air Group has some similarities to the AirAsia Group, which uses its Malaysian-based subsidiary and Indonesian affiliate to tackle the Malaysia-Indonesia market and operate 14 routes connecting Kuala Lumpur with destinations throughout Indonesia. In Kuala Lumpur, AirAsia offers its Indonesian passengers a wide range of connections throughout Asia, including flights operated by medium-haul/long-haul low-cost sister carrier AirAsia X.
Malindo also plans to offer a connection product at Kuala Lumpur for passengers originating in Indonesia. Malindo particularly expects a significant amount of traffic between Indonesia and India. Indonesia is the largest market from India not currently served with non-stop flights. The market is also growing rapidly, boosted by demand from Indonesia's Indian population as well as inbound demand from India. The largest concentration of Indians in Indonesia resides in Medan while Malindo also expects interest from Indian residents keen on holidaying in Bali.
But the approach at the Lion Group does have a large number of differences compared to the AirAsia strategy.
Malindo is a hybrid carrier, offering a business class and an economy class featuring complimentary meals and beverages along with IFE monitors at every seat. Lion's product is more basic but does include a 20kg complimentary checked bag allowance. This allows for a smoother transfer of passengers between Malindo and Lion as customers will not need to pay extra for bags to cover certain flights in a joint itinerary.
From an on board service perspective, Malindo believes its passengers will be able to accept Lion's lack of complimentary meals, drinks or IFE and says it will clearly communicate the differences in selling joint itineraries with Lion and Wings. As Malindo will not be putting its code on Lion and Wings flights, it should be clear which flights are operated by the sister carriers. No extra services or vouchers will be provided to Malindo passengers flying on Lion or Wings.
Malindo and Lion will price joint itineraries on a sum of sectors rather than origin and destination basis. Sum of sectors is the typical approach used for connections at LCC groups, but it can sometimes mean that full service network operators are able to offer lower priced through fares.
International flights will improve Malindo's aircraft utilisation levels
The international flights are also important from a cost perspective as utilisation of Malindo's 737-900ERs improve. Domestic flights within Malaysia are all under three hours and are only operated during the day. South Asia flights gives Malindo the opportunity to improve utilisation as most if not all flights to India and Bangladesh will likely be operated at night. (Dhaka, the only international flight so far scheduled, operates in the evening on the outbound sector and in the middle of the night in the inbound sector, landing back in Kuala Lumpur at 315am.)
Malindo weekly frequencies by flight duration: 5-Aug-2013 to 12-Aug-2013
Malindo now benefits from a relatively low cost structure as it is able to pursue joint purchasing with Lion, including for aircraft, engines and parts. It also is able to leverage the maintenance operation of its Malaysian owner, NADI, which owns a 51% stake in Malindo and has an MRO business with several hangars at Subang.
But Malindo's significantly less dense seat configuration on the 737-900ER means the carrier needs a higher average yield than Lion, which configures its 737-900ERs with 213 all-economy seats. The international flights should allow Malindo to capture higher yields and lower unit costs as average stage length and utilisation rates increase.
There will be challenges. Malindo will face intense competition across all its initial international routes from both LCCs and full-service carriers. It will also need to build up its brand overseas.
Malindo will be able to leverage the strong Lion brand in Indonesia, where the Lion group accounts for about 50% of the domestic market. But India and Bangladesh are completely new destinations for the Lion group. Malindo will need to work hard on developing local distribution solutions for India, where travel agents and online travel agents account for an overwhelming majority of bookings.
Pursuing international transit traffic also represents a completely new segment for Malindo and Lion, exposing the group to a different set of competitors including Singapore Airlines/SilkAir.
Malindo has a very ambitious business plan, as it strives to have a comprehensive network along with a fleet that is expected to eventually reach 100 aircraft. The upcoming initial phase of Malindo's international expansion will be a critical test as the carrier tries to prove that it can become a major player in the Malaysian and broader Asian markets.
Part 2
This is the first part in a series of reports on Malindo and the Malaysian market. In the second part CAPA will analyse Malindo's domestic operation and the rapid expansion of the Malaysian domestic market.