Malaysia Airports Holding Berhad proposes offering; Ferrovial shares gain 3.7%
Malaysia Airports Holding Berhad (MAHB) (+0.8%) announced (19-Nov-2010) a proposed offering of Islamic commercial papers and Islamic medium-term notes, persuant to an Islamic commercial paper programme and an Islamic medium term note programme. The combined value is up to USD995 million, with a sub-limit of USD321 million. CIMB Investment Bank Berhad has submitted the initial listing application to Bursa Malaysia Securities Berhad to seek its approval for the listing.
Ferrovial shares gained 3.7% on Friday (19-Nov-2010). On the same day the U.K. competition regulator said it may reconsider its ruling that Ferrovial's BAA Ltd. unit must sell three airports after the UK government cancel plans to build a third runway at Heathrow.
Selected airport operators/investors daily share price movements (% change): 19-Nov-2010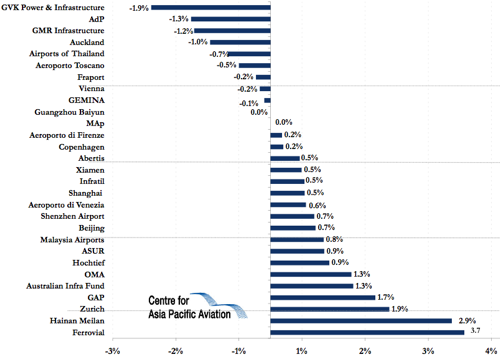 Jordanian Duty Free Shops dropped by -4.3% on Friday while DUFRY shares gained 2.7%.
Selected airport suppliers daily share price movements (% change): 19-Nov-2010