Virgin Blue, Spicejet, Kingfisher, Cathay Pacific, Qantas up; Korean slips: Asia Pacific Share Wrap

Virgin Blue and Spicejet led the way, with shares up 6.9% and 6.4% respectively, followed by Kingfisher, whose shares also improved 6.3%.
Qantas, Japan Airlines and Singapore Airlines also gained yesterday, up 4.6%, 1.2% and 0.6%, respectively. Cathay Pacific shares also gained, up 4.4%, after slipping 5.1% on Monday, on news of continued weak passenger and freight demand and depressed yields in Jun-2009.
On 12-Jul-09, the KOSPI fell by 3.53%, the largest daily loss since 15-Jan-09, although the South Korean market since gained 2.2% yesterday. According to Morgan Stanley, the South Korean market is expected to remain bearish in the near future, with the investment bank stating, "the near-term market weakness is expected in Korea on the back of recent out-performance and less favourable domestic and global liquidity going into the second half of 2009". This is hurting the airline sector.
Asia Pacific selected airlines daily share price movements (% change): 14-Jul-09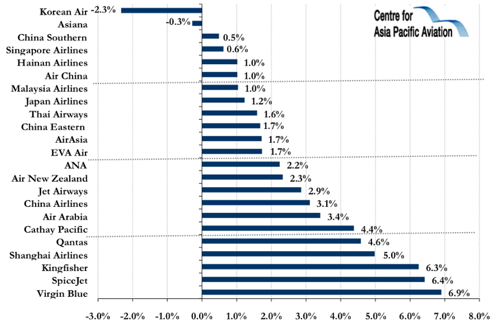 India: good growth returns
Earlier this week, the Indian Ministry of Civil Aviation reported that domestic passenger numbers rose 5.7% year-on-year in Jun-2009 to 3.7 million, indicating that the market, which contracted for 12 consecutive months from Jun-2008, may finally be on the road to recovery. In the month, Kingfisher Airlines and SpiceJet reported passenger traffic growth of 79.5% (including Deccan figures) and 29.5%, respectively, with Kingfisher remaining the market leader, capturing 24.5% of market share in Jun-2009.
Kingfisher's market share is only expected to increase, as Jet Airways continues to report passenger and market share contractions, as it continues to focus on yield improvements.