Lufthansa still Number 2 vs IAG & Air France-KLM. Soft RASK justifies more ASK trimming for all
Analysis
Lufthansa Group's detailed 2Q2016 results confirmed the headline numbers that it pre-released with a profit warning on 20-Jul-2016. After increasing its operating profit in 1Q, the group suffered a decline in 2Q. Among Europe's big three legacy airline groups, Lufthansa was the only one to report lower 2Q profits. In 1H2016, IAG again has the best operating margin of the three, followed by Lufthansa and then Air France-KLM. However, LCCs Ryanair and Wizz Air are more profitable than any of them.
Lufthansa's full 2Q report provides an opportunity to compare the capacity growth and unit revenue performance of each of the Lufthansa Group, Air France-KLM and IAG for 2Q2016. Unit revenue has been soft for some time for all three, but seems to be weakening further. Lufthansa cautioned that advance bookings, especially on long-haul, have declined significantly, citing repeated terrorist attacks in Europe and greater political and economic uncertainty.
Against this backdrop, IAG and Lufthansa have reduced their capacity growth plans, while Air France-KLM has retained its 1% ASK growth outlook for its network airlines. CAPA's analysis highlights the inverse relationship between capacity growth and RASK growth. Further capacity haircuts may follow.
Lufthansa Group adjusted EBIT down 8%, operating result down 5% in 2Q2016
In 2Q2016, the Lufthansa Group's net income fell by 17% to EUR437 million, although the comparison with the previous year was adversely affected by non-operating items, mainly related to foreign exchange movements.
Lufthansa's preferred profit measure, adjusted EBIT, fell by 8% to EUR582 million. In order to compare Lufthansa's operating result with those of other European airlines, CAPA deducts its EUR18 million result from equity investments from its adjusted EBIT.
The operating result derived in this way fell by 5% to EUR564 million. Revenue declined by 3.2% to EUR8,126 million and the operating margin slipped by 0.1ppts to 6.9%, after a margin gain in 1Q2016.
See related report: Lufthansa cuts 1Q2016 operating loss, but mainly thanks to one-offs and fuel. Cost focus still key
Both Air France-KLM and IAG reported year on year improvements in operating profit for 2Q2016, albeit at a slowing pace compared with 1Q2016.
See related reports:
Air France-KLM: margin grows, but performance and profit below IAG & Lufthansa airline groups.
IAG Group: Vueling is stalling, but Aer Lingus helps to grow 2Q profits. 2016 outlook lowered
For 1H2016, the Lufthansa Group's adjusted EBIT was up by 13.0% to EUR529 million. Its operating result (after deducting results from equity investments) increased by 24% to EUR539 million and revenue fell by 2.1% to EUR15,042 million. The group's 1H2016 operating margin gained 0.8ppts to 3.6%.
Lufthansa Group financial highlights 1H2016 and 2Q2016

Lufthansa's Passenger Airline Group is only segment to improve adjusted EBIT in 1H2016
By segment, only the Passenger Airline Group improved its adjusted EBIT in 1H2016, improving its result by EUR192 million, or 77%, to EUR441 million in spite of a 3% drop in revenue. Most of this gain was achieved in 1Q2016 and the segment's 2Q2016 adjusted EBIT increased by only 1% to EUR508 million.
Within the Passenger Airline Group, Lufthansa Passenger Airlines improved its 1H adjusted EBIT by EUR281 million, or 265%, to EUR387 million. SWISS' adjusted EBIT fell by EUR47 million, or 26%, to EUR131 million due to adverse exchange rate effects and one-off factors in the previous year. Austrian Airlines improved its 1H2016 adjusted EBIT by EUR16 million, to an almost breakeven result of -EUR1 million.
The group's LCC brand Eurowings' loss widened by EUR67 million, or 305%, to EUR89 million. Its operating margin fell by 7.1ppts to -9.7%, maintaining its position between IAG's Vueling (1H margin -6.3%) and Air France-KLM's Transavia (-15.5% margin in 1H2016). Lufthansa said that Eurowings suffered from non-recurring expenses for integrating the various flight operations and long-haul start-up costs.
The other main business segments outside the Passenger Airline Group all suffered a decline in adjusted EBIT in 1H2016. The Logistics segment (Lufthansa Cargo) fell back into loss, with an adjusted EBIT down EUR95 million to -EUR45 million and revenue down by 19%. The group blamed "extensive market overcapacities".
Lufthansa Group results by segment 1H2016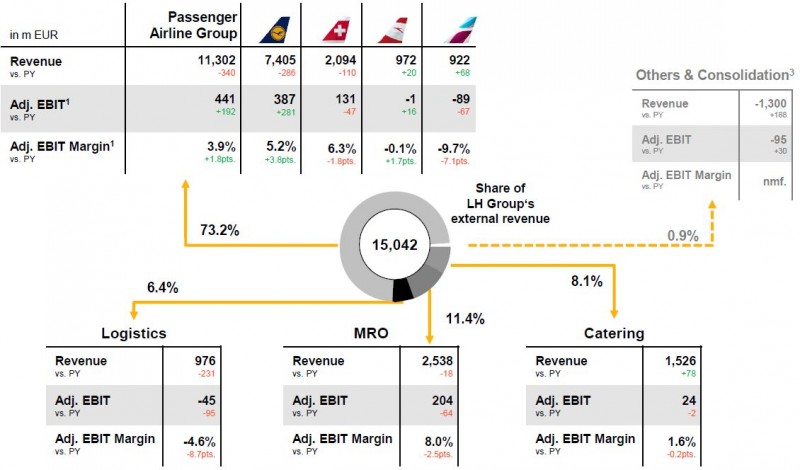 The Lufthansa Group's 1H2016 operating margin of 3.6% places it between IAG's 6.6% margin and Air France-KLM's 1.8%, continuing the relative order of profitability among Europe's big three legacy airline groups that has persisted in recent years.
European airlines and airline groups: operating margins* 1H2015 and 1H2016 (% of revenue)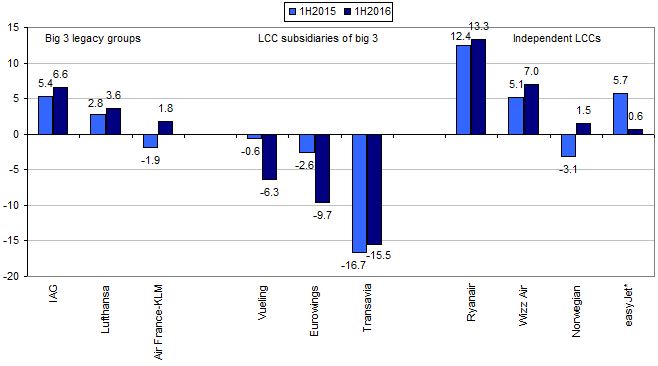 Europe's independent LCCs have higher margins than the LCC subsidiaries of the big three legacy groups
As noted above, Lufthansa's LCC operation Eurowings also generated a 1H2016 operating margin that ranks between the LCC subsidiaries of IAG and Air France-KLM. The losses of all three LCC subsidiaries contrast with the positive 1H results of their parent groups.
This reflects the greater seasonality of the LCC subsidiaries, which rely more on 3Q to generate profits. In the cases of Eurowings and Transavia, this also reflects the expectation of their parents that both will record a negative result for FY2016.
The losses of the three LCC subsidiaries of the big three legacy groups also contrast sharply with the positive margins of Europe's leading independent LCCs in 1H2016. In the first six months of calendar 2016, Ryanair's operating margin was a sector leading 13.3%, Wizz Air's was 7.0% (both were more profitable than any of the big three legacy groups overall), Norwegian's was 1.5% and easyJet's was 0.6% (based on easyJet's pre-tax profit).
See related reports:
Ryanair: profits are still growing, up 12%, "prepared for signs of a market slowdown or recession"
easyJet 3Q profit fall and IAG, Lufthansa profit warnings suggest a tipping point
Norwegian Air: A321neo LR gives short long haul options; 2Q margin grows on lower fuel
Lufthansa Passenger Airline Group ASKs +2.2%, load factor down 2.6ppts in 2Q2016
The Lufthansa Passenger Airline Group increased its ASKs by 2.2% in 2Q2016, slower than its 6.6% growth in 1Q2016. RPKs fell by 1.1% and passenger load factor dropped by 2.6ppts to 77.7%. The group's load factor was below both IAG's 80.9% (an increase of 0.2ppts) and Air France-KLM's 84.7% (a decline of 0.3ppts; note that this figure excludes Transavia).
Lufthansa group RASK falls 4.1% at constant currency in 2Q2016
The decline in load factor was accompanied by a similar decline in passenger yield per RPK (-2.7%) and the two combined to produce a 5.9% fall in passenger RASK. This was adversely affected by currency movements and the ex currency RASK performance of -4.1% was an improvement from a drop of 6.6% in 1Q2016.
A decline in reported RASK was felt in every region of the group's passenger network, although, at constant currency, Europe RASK increased by 0.6% and Middle East/Africa RASK was up by 3.3% (helped by an ASK cut of 11.5%).
The heaviest RASK decline, at constant currency, was in the Americas, where it fell by 11.4%. This is not split between North America and South America, but Lufthansa said that its constant currency yield decline of 7.8% for all of 1H2016 was driven by a 24.0% drop in South America and a fall of only 3.0% in North America. Latin America has been weak for all the major European airlines operating to the region, reflecting economic weakness, particularly in Brazil.
The group also suffered a significant constant currency RASK decline in Asia Pacific (-5.7%), in spite of a modest ASK cut (-1.7%).
Lufthansa Passenger Airline Group traffic and unit revenue by region 1H2016 and 2Q2016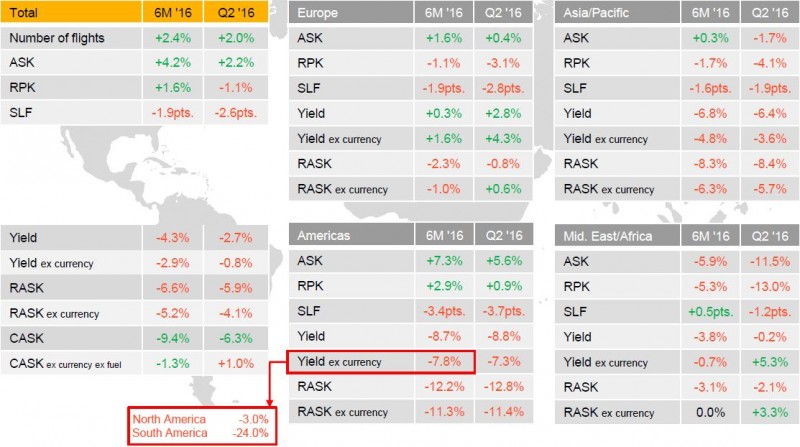 2016 outlook: capacity growth trimmed again, lower profit than 2015 thanks to lower RASK
The Lufthansa Passenger Airline Group has again trimmed its capacity growth plans for 2016. The group is now planning ASK growth of 5.4%, compared with 6.0% announced at the time of its 1Q2016 results in May-2016 (this had been reduced from 6.6% planned previously). This consists of 3.6% for the network airlines (versus 4.2% previously) and 28.1% for Eurowings (28.6% previously).
The group expects 2H RASK at constant currency to be down by 8% to 9% and 2H CASK ex fuel at constant currency to fall by 2% to 3%.
As communicated by Lufthansa when it pre-announced its headline 1H results on 20-Jul-2016, it expects its 2016 adjusted EBIT to be below 2015's level of EUR1,817 million. It had previously guided towards a higher result than last year and the downgrade is mainly due to lower RASK expectations.
Lufthansa Group: ASK growth plan by region for hub airlines and Eurowings 2016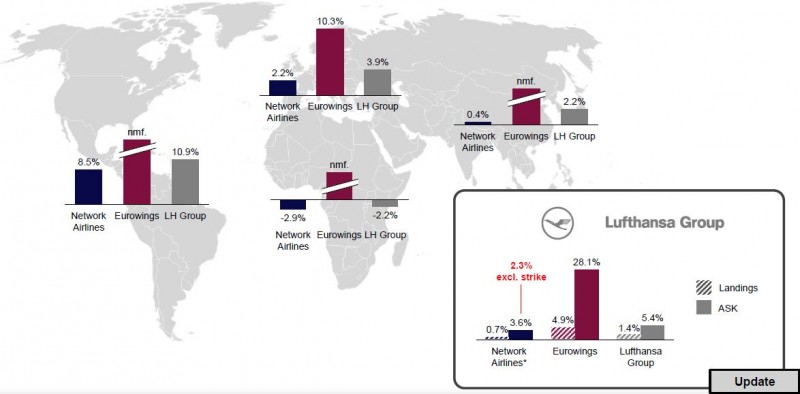 Europe's big three legacy groups in 2Q: IAG grows fastest overall
The Lufthansa Group's 2Q2016 report allows its ASK growth, in total and by region, to be compared with the capacity growth of Air France-KLM (excluding Transavia) and IAG (see the chart below).
Capacity growth was fairly slow for all three groups. IAG grew the fastest, with an ASK increase of 3.2% year on year in 2Q2016 (excluding Aer Lingus), while Lufthansa's 2.2% ASK growth also contrasted with Air France-KLM's cut in its passenger network airline ASKs of 0.2% (although ASK growth was positive, up by 0.8%, if Transavia is included).
ASK growth 2Q2016 versus 2Q2015 for Air France-KLM*, IAG** and Lufthansa Group***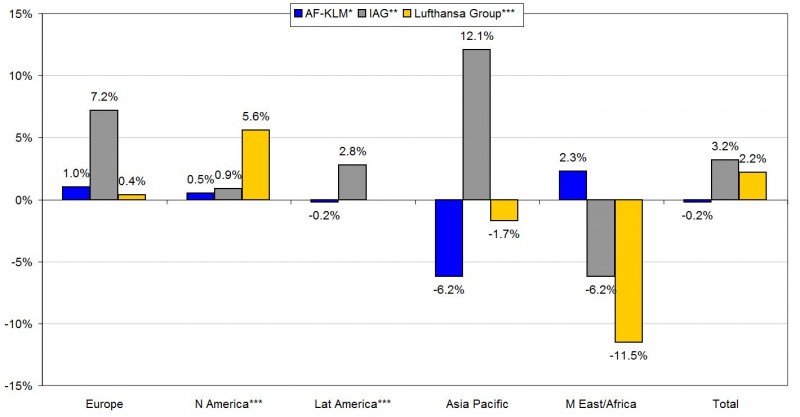 IAG also fastest growing in Europe
In Europe, IAG was the fastest growing among the three, with an ASK increase of 7.2% year on year in 2Q2016 (this does not include IAG's domestic markets, where growth was 6.3%), compared with 1.0% for Air France-KLM (4.5% growth with Transavia) and just 0.4% for Lufthansa Group.
Air France-KLM network airline's ASK increase of 1.0% in Europe comprised a 0.6% reduction in point to point capacity and an increase of 1.5% in hub capacity.
Long haul: overall growth by all three fairly cautious, but wide variations by region
Among the major long haul markets, ASK growth by the big three was fairly cautious to North America, although Lufthansa's growth was bolder.
Lufthansa does not disclose separate figures for North and South America, but its ASK growth of 5.6% for the Americas mainly reflects the North Atlantic, which is much larger than its South Atlantic business. IAG grew its ASKs to North America by 0.9% year on year in 2Q2016, while Air France-KLM grew by just 0.5% more ASKs.
On routes to Latin America, Air France-KLM reduced capacity by 0.2% and IAG grew ASKs by 2.8%. All of the big three cited economic weakness in the region, particularly in Brazil.
The greatest disparity in big three ASK growth was on routes to Asia Pacific in 2Q. IAG's 12.1% ASK growth to the region contrasted with the Lufthansa Group's 1.7% cut and Air France-KLM's 6.2% ASK reduction.
Growth to the Middle East/Africa (including South Asia for IAG) was generally cautious, reflecting geopolitical and macroeconomic uncertainties. IAG grew its ASKs by 2.3%, while Air France-KLM cut capacity by 6.2% and Lufthansa cut by 11.5%.
Europe RASK generally less negative than long haul
The big three generally enjoyed a better ex currency RASK performance in Europe than in most long haul markets. Lufthansa managed an increase of 0.6%, while Air France-KLM limited the decline in constant currency RASK in Europe to 4.0% (not including Transavia, whose RASK dropped by 4.9%) and IAG experienced a 6.5% drop.
Air France-KLM's constant currency RASK performance in Europe was subdivided into a fall of 1.0% for its medium haul point to point operation and a 4.8% drop for its hub operation.
RASK growth at constant exchange rates 2Q2016 versus 2Q2015 for Air France-KLM*, IAG** and Lufthansa Group***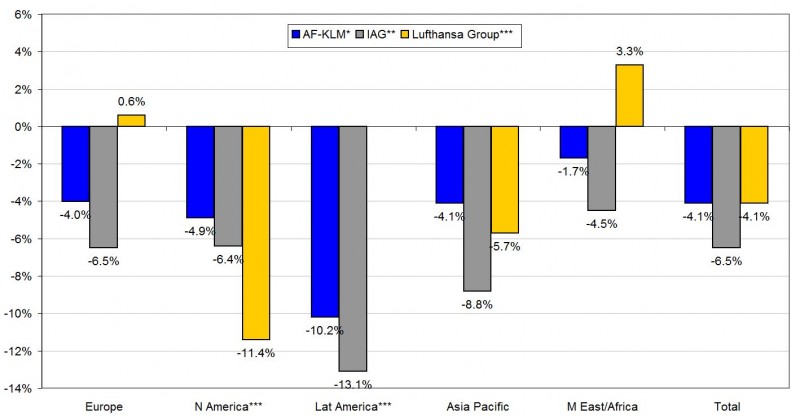 Long haul RASK weakest on South Atlantic for all three airlines
RASK declines ex currency were most dramatic on routes to Latin America. For IAG, this measure plunged by 13.1%, while Air France-KLM suffered a drop of 10.2%. As previously noted, Lufthansa does not break out its LatAm numbers from its North Atlantic performance, but its ex currency RASK decline of 11.4% to the Americas owed much to weakness on the South Atlantic.
RASK performance on the North Atlantic was broadly consistent with those of the overall network for each of the big three.
In Asia Pacific, both Lufthansa and IAG felt the second heaviest decline in RASK: down 5.7% for Lufthansa and down 8.8% for IAG (it increased ASKs to the region at a double digit rate). Air France-KLM limited the decline in Asia Pacific to 4.1%, the same as for its whole network, thanks to its 6.2% ASK cut.
The best ex currency RASK performance for all three came on routes to Middle East/Africa in 2Q2016 (for IAG, this region also includes South Asia). It was down 1.7% for Air France-KLM, down 4.5% for IAG and up by 3.3% for Lufthansa.
RASK growth inversely related to ASK growth
As demonstrated in previous CAPA analysis, the above data for ASK growth and change in constant currency RASK by region in 2Q2016 broadly illustrate the inverse relationship between these two variables. There are many factors influencing unit revenue, but, in general, higher rates of capacity growth tend to put more downward pressure on RASK.
See related report: IAG again beats Lufthansa & Air France-KLM in 3Q2015, but unit revenue is weak
The chart below is a scatter plot of constant currency RASK growth (vertical axis) versus ASK growth (horizontal axis) for the Big Three European legacy airline groups in 2Q2016. The black line on the chart is the trend line through all the data points and its downward slope confirms the inverse relationship noted above.
The orange line for Lufthansa also clearly illustrates the relationship. The gentle slope of IAG's grey line provides evidence that the relationship holds for IAG, but that its RASK is less influenced by ASK growth.
The blue trend line for Air France-KLM actually slopes upwards slightly, suggesting that the group's RASK performance improves as ASK growth increases, although the slope does not have a strong gradient. Air France-KLM's line is distorted by outliers such as its Middle East/Africa performance, where RASK fell at only a low rate in spite of higher ASK growth than elsewhere (without this data point, Air France-KLM's line would have the expected downward slope).
RASK growth at constant exchange rates (vertical axis) and ASK growth (horizontal axis) by region 2Q2016 versus 2Q2015 for Air France-KLM*, IAG and Lufthansa Group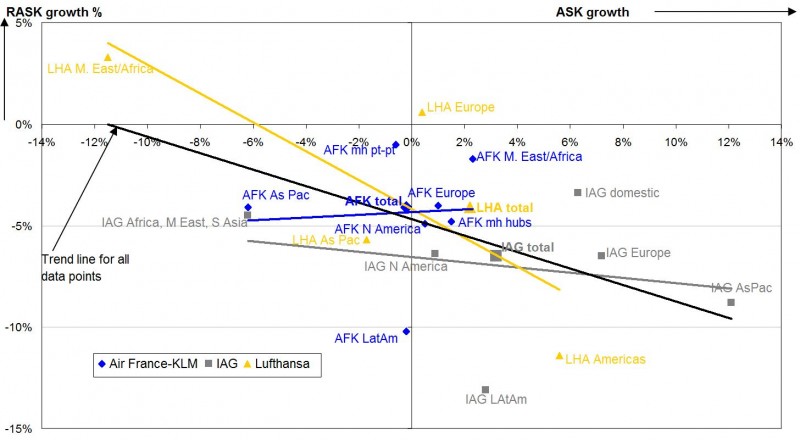 Further capacity trimming to be expected in weakening unit revenue environment
Air France-KLM has consistently been growing at a more cautious pace than either of IAG or Lufthansa for several quarters (with the exception of 4Q2015, when Lufthansa's strike affected network cut ASKs by 0.3%). All have suffered falling RASK at constant currency since at least 1Q2015 and the inverse relationship between ASK growth and RASK growth has been broadly evident for each of them throughout this period.
However, in 2Q2016, both IAG and Air France-KLM reduced their ASK growth from 1Q2016, but still felt a heavier fall in RASK. This points to a further underlying weakening in unit revenue trends, adding to the sense that the profit upswing of recent years is running out of momentum.
Both the Lufthansa Group and IAG have trimmed their 2016 capacity growth plans recently, while Air France-KLM continues to plan only 1% ASK growth for its network airline. This analysis suggests that further capacity growth reduction may be likely at some point.
ASK growth (bars) and RASK growth at constant exchange rates (lines) for Air France-KLM*, IAG and Lufthansa Group 1Q2015 to 2Q2016