Lufthansa needs Eurowings to take it to greater heights after 2015's profit improvement
Analysis
In 2015 the Lufthansa Group had its most profitable year since 2007, before the global financial crisis. Its profit recovery from the crisis has been cautious, but its increased confidence is now signalled with the restoration of dividend payments to shareholders, proposed at EUR0.50 per share.
Compared with its pre-crisis incarnation, one of the biggest changes in the Lufthansa Group is the establishment and growth of a low cost subsidiary with a clear strategic role. First under the Germanwings brand and now under Eurowings, the group's LCC is increasingly assuming point-to-point flying from the hub airlines on both short/medium haul routes and launching new long haul leisure routes. In 2015 it even made a small profit.
However, labour productivity in the mainline Lufthansa operation remains an impediment to the group's ability to join the leaders of European legacy airlines, in terms of profitability. Eurowings has greater labour flexibility and lower unit costs and has also become important to management as a way to show mainline labour representatives a glimpse of an alternative future. As competitor LCCs grow in Germany both management and unions must seize this future.
In 2016 the Lufthansa Group increased its net profit by more than 30 times to EUR1,698 million. However, comparison with the 2015 result of EUR55 million is distorted by significant changes in the line 'other financial items', which included a EUR673 million gain from the sale of JetBlue shares in 2016 and large losses related to derivatives in 2015.
Lufthansa's new preferred profit measure is 'adjusted EBIT', which excludes these and all financial income and costs. However, this measure includes results from Lufthansa's share of profits in its equity investments, which are not typically part of the operating profit that most other European airlines report, nor are a metric on which comparison analysis can be made.
CAPA's preferred profit measure for Lufthansa is this adjusted EBIT minus the result from equity investments. CAPA has calculated this and called it 'operating profit', for ease of comparison with other airlines. The Lufthansa Group's operating profit grew by 61% to EUR1,696 million. Revenue increased by 6.8% and the operating margin gained 1.8ppts to 5.3%.
This margin places Lufthansa ahead of Air France-KLM's 3.1%, but well below IAG's 10.2% operating margin for 2015. It is also significantly short of leading European LCC margins. Ryanair achieved an operating margin of 22.4% and Wizz Air made 16.5% in calendar 2015, while easyJet's margin was 14.7% for the year to Sep-2015.
See related reports:
The group's adjusted EBIT rose 55% to EU1,817 million, in line with its guidance range of EUR1,750 million to EUR1,950 million. Results from equity investments amounted to EUR121 million, the same as in 2015.
Deutsche Lufthansa financial and operating highlights 2014 & 2015
| EUR million except where stated | 2014 | 2015 | Change |
| --- | --- | --- | --- |
| Revenue | 30,011 | 32,056 | 6.8% |
| Operating profit* | 1,050 | 1,696 | 61.5% |
| Operating margin* % | 3.5 | 5.3 | +1.8ppts |
| Adjusted EBIT | 1,171 | 1,817 | 55.2% |
| Net profit | 55 | 1,698 | 2987.3% |
| Cash | 2,738 | 3,093 | 13.0% |
| Gross debt | 6,156 | 6,440 | 4.6% |
| Net debt | 3,418 | 3,347 | -2.1% |
| Equity | 4,031 | 5,848 | 45.1% |
| ASK (millions) | 268,105 | 273,975 | 2.2% |
| RPK (millions) | 214,641 | 220,400 | 2.7% |
| CTK (millions) | 10,249 | 9,930 | -3.1% |
| Passenger load factor % | 80.1 | 80.4 | +0.3ppts |
| RASK (EUR cent)** | 8.70 | 8.94 | 2.8% |
| CASK (EUR cent)** | 8.83 | 8.95 | 1.3% |
| CASK ex-fuel (EUR cent)** | 6.49 | 6.95 | 7.2% |
Lufthansa achieved its highest margin since 2007
The new profit measure adopted by the Lufthansa Group limits the validity of comparison with previous years, when it focused on a different measure called the operating result. It has provided restated figures giving adjusted EBIT back to 2010. To make the chart below CAPA has used these figures from 2010 with the result from equity investments subtracted, and the previously reported operating result for the years before 2010.
On this basis, the Lufthansa Group's 2015 operating profit was its highest ever in absolute terms but the margin of 5.3% was below the 6.1% achieved in 2007. It has now enjoyed three successive years of increasing operating profits, although the net result has been more volatile.
Deutsche Lufthansa revenues, net profit and operating profit* (EUR million) 2003 to 2015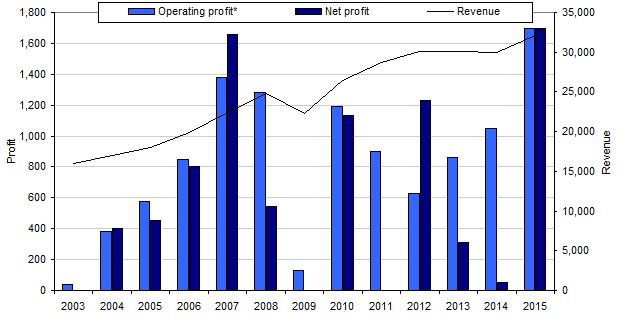 Net debt falls; liquidity healthy, but below that of IAG and AF-KLM
Lufthansa lowered its net debt in 2015, bringing it down by EUR71 million to EUR3,347 million thanks to a faster increase in cash (+13%) to EUR3,093 million at the end of 2015. This result was in spite of an increase in gross debt by 5% to EUR6,440 million, . This cash balance was equivalent to 35 days of revenues. It also has access to EUR0.8 billion of unused credit facilities, which would take its liquidity to 44 days of revenue.
However, although the Lufthansa Group balance sheet has lower levels of financial gearing (net debt to equity) and less off-balance-sheet debt than the other two of Europe's Big Three legacy airline groups, this liquidity reserve is lower. IAG's end-2015 cash balance was equivalent to 94 days of revenue, while Air France-KLM's was equivalent to 54 days.
Deutsche Lufthansa development of net debt and cash* 2003-2015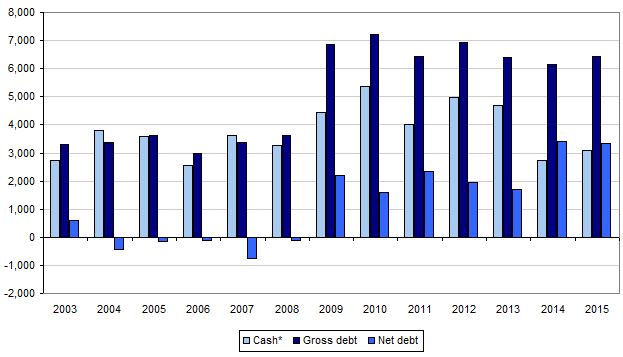 Lufthansa Passenger Airline Group is 83% of adjusted EBIT; profit for Eurowings
By business segment, the Passenger Airline Group (which consists of the passenger businesses of Lufthansa and Germanwings/Eurowings, SWISS and Austrian) accounted for 74% of group revenue and 83% of its adjusted EBIT in 2015. This division more than doubled its adjusted EBIT to EUR1,505 million. All of the airlines in the Passenger Airline Group recorded a positive result.
Although the LCC operation Eurowings – which also includes Germanwings until Eurowings has assumed all of its activities – is still grouped with the Lufthansa brand for financial reporting, separate figures have been disclosed for the first time.
In 2015 Eurowings generated revenue of EUR1,909 million and adjusted EBIT of EUR38 million, a 2.0% margin. However, Lufthansa expects its LCC to be slightly loss-making in 2016 due to expansion costs, costs of its start-up at Vienna, and long haul connection costs.
Lufthansa Group results by segment 2015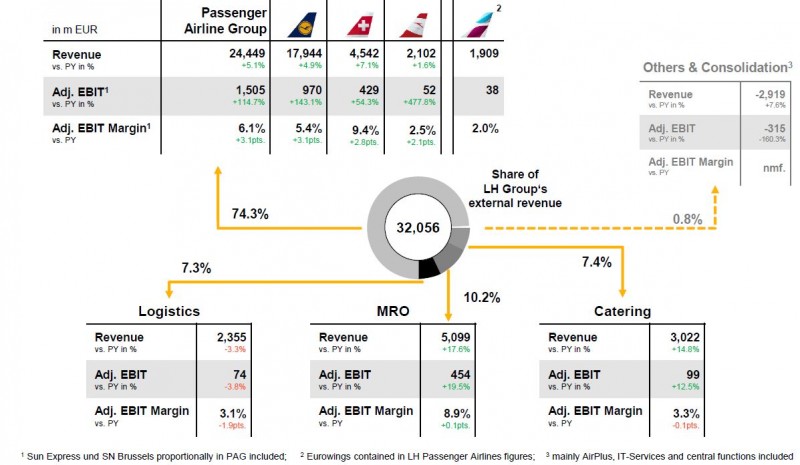 Group ASKs up 2.2% in 2015
The Lufthansa Group increased its ASKs by 2.2% in 2015, with RPK growth just exceeding this (up 2.7%) and load factor gaining 0.3ppts to 80.4%. Its load factor is now broadly in line with the global average, after rising by 2.8ppts since 2011. This increase has been aided by very modest capacity growth: ASKs increased by only 6% from 2011 to 2015.
ASK growth in 2015 was lower than originally planned due to strikes by pilots over pension issues and the further development of Eurowings. This accounted for more than 1ppt of growth.
Deutsche Lufthansa development capacity (ASK, million) and load factor (%) 2003-2015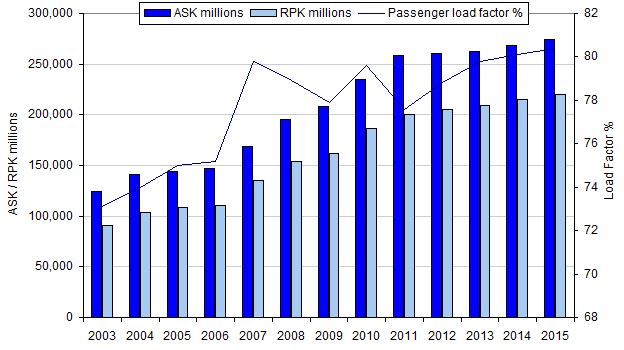 Fastest ASK growth was in the Americas in 2015
In 2015 the Lufthansa Group's passenger business grew most rapidly in the Americas, where ASKs were up by 4.2%. In spite of this, the region provided the group with its best RASK performance, an increase of 6.4%, compared with a 2.6% increase across all networks.
Adjusted for currency, RASK fell by 1.9% in the Americas, less than in any other region and comparing favourably with the 3.0% drop in currency-adjusted RASK for the whole business. However, in 4Q2015, ex-currency RASK to the Americas fell by 4.9%, worse than in any other region. This has been a profitable route area in recent years, mainly thanks to capacity restraint and Lufthansa's membership of the immunised Atlantic++ joint venture.
In Asia Pacific, the group increased its ASKs by 3.4% and ex-currency RASK fell by 3.6%, reflecting demand softness. In 4Q2015 the group cut capacity by 0.5% and limited the ex-currency RASK decline to 1.0%. Lufthansa felt the most severe unit revenue drop in the Middle East & Africa, where ex-currency RASK fell 6.3% in 2015. In 4Q2015, a 7.4% capacity cut helped to push ex-currency RASK up by 0.7%.
In Europe capacity was flat in 2015 as growth by Eurowings/Germanwings was mainly at the expense of cuts by Lufthansa on point-to-point routes. European ex-currency RASK fell by 2.1%, reflecting the mix shift in favour of the LCC. Yield in Germany was diluted by increased LCC competition.
See related reports:
Lufthansa Passenger Airline Group change in capacity (ASK), yield (revenue per RPK) and load factor (%) by geographical region 2015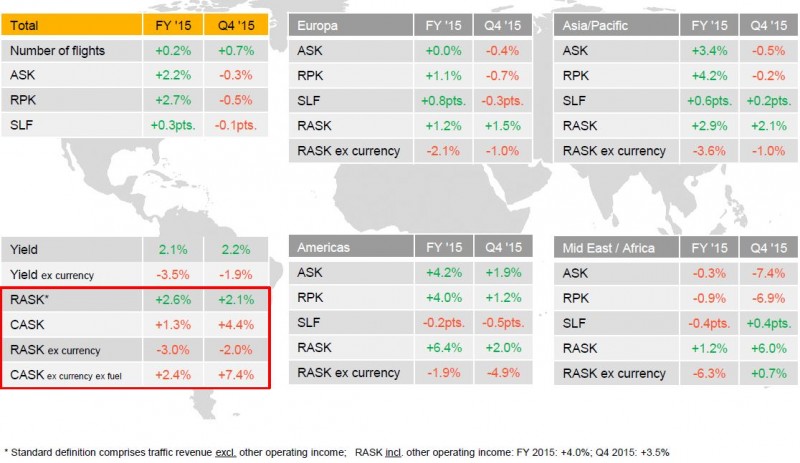 Revenue was up 6.8%
Revenue growth of 6.8% outpaced ASK growth of 2.2%. The Passenger Airline Group increased its revenue by 5.1%, with SWISS leading this at 7.1% and Austrian lagging at 1.6%. As noted above passenger RASK was up by 2.6% but this was inflated by currency movements and the underlying RASK was down by 3.0%.
Total revenue for the group grew faster than in the passenger business, thanks to double-digit growth in the MRO and Catering segments, although Lufthansa Cargo suffered its fourth straight year of revenue decline.
Deutsche Lufthansa revenues (EUR million) 2014 and 2015
| | 2014 | 2015 | Change | % of 2015 revenue |
| --- | --- | --- | --- | --- |
| | 17,098 | 17,944 | 4.9% | 56.0% |
| | 4,241 | 4,542 | 7.1% | 14.2% |
| AUA | 2,069 | 2,102 | 1.6% | 6.6% |
| Passenger Airline Group | 23,320 | 24,499 | 5.1% | 76.4% |
| Logistics | 2,435 | 2,355 | -3.3% | 7.3% |
| MRO | 4,337 | 5,099 | 17.6% | 15.9% |
| Catering | 2,633 | 3,022 | 14.8% | 9.4% |
| Other | 635 | 484 | -23.8% | 1.5% |
| Consolidation adjustment | -3,349 | -3,403 | 1.6% | -10.6% |
| Total | 30,011 | 32,056 | 6.8% | 100.0% |
GDS charge is part of Lufthansa plan to modernise distribution strategy
In Sep-2015, Lufthansa introduced a EUR16 charge on all sales via GDSs (the distribution cost charge, or DCC). This was to reflect the additional cost of using this distribution channel, but was also part of moves by Lufthansa to add more direct channels and, in particular, to develop its digital strategy.
On a conference call with analysts to discuss the 2015 results, Lufthansa Group CEO Carsten Spohr said that the impact of the DCC on the bottom line had been neutral. Some bookings had been lost outside its home market, but GDS fees had been saved, he said. The change was part of Lufthansa's plans to "modernise" its distribution strategy, with three main aims. These were to drive revenue up, bring costs down and to gain more ownership of customer data.
Costs up 7.4%
The Lufthansa Group's operating costs grew by 7.4% in 2014, faster than ASK growth. Fuel costs fell by approximately EUR1 billion, or 14.3%, thanks to lower market prices partly offset by USD strength against EUR and by Lufthansa's hedging programme.
Non-fuel costs jumped by 13.4%, much faster than ASK growth, although some of this was inflated by currency movements. Labour costs increased by 9.0%, although group average head count rose by only 0.5%.
In the passenger business, total CASK increased by 1.3% and ex-fuel CASK grew by 7.2%. Excluding currency effects, the increase in ex-fuel CASK was slower, at 2.4%, but it was still higher.
Deutsche Lufthansa operating costs 2014 and 2015, EUR million
| Costs | 2014 | 2015 | Change | % of 2015 costs |
| --- | --- | --- | --- | --- |
| Fuel | 6,751 | 5,784 | -14.3% | 17% |
| Fees and charges | 5,265 | 5,651 | 7.3% | 17% |
| Operating leases | 52 | 50 | -3.8% | 0% |
| Other material costs | 5,215 | 6,155 | 18.0% | 18% |
| Staff costs | 7,335 | 8,075 | 10.1% | 24% |
| Depreciation | 1,528 | 1,715 | 12.2% | 5% |
| Other costs | 5,088 | 6,106 | 20.0% | 18% |
| Total | 31,234 | 33,536 | 7.4% | 100% |
| Ex fuel costs | 24,483 | 27,752 | 13.4% | 83% |
Improvement needed in labour productivity
Labour productivity remains a core issue in Lufthansa's quest to reduce its unit costs. Focusing on the group's airline businesses (passenger and cargo), despite a slight drop in average head count (-0.6%) labour cost increased by 10.1%.
The group managed to obtain a higher level of production from its airline employees, so that total ATK per employee was up by 2.7% and revenue per employee gained 4.9%, but this was not enough to offset the increase in labour cost per employee. As a result, employee cost per ATK jumped by 7.9%.
Lufthansa Passenger and Cargo segment labour productivity measures 2014 and 2015
| | 2014 | 2015 | Change |
| --- | --- | --- | --- |
| Average head count | 60,172 | 59,812 | -0.6% |
| Total labour cost EUR million | 4,621 | 5,089 | 10.1% |
| Employee cost per employee (EUR) | 76,797 | 85,083 | 10.8% |
| ATK per employee | 690 | 709 | 2.7% |
| Employee costs per ATK (EUR cent) | 11.12 | 12.00 | 7.9% |
| Revenue per employee | 428,023 | 448,973 | 4.9% |
This struggle to improve labour costs relative to capacity and head count is a perennial issue for the Lufthansa Group. By comparison with 2011, the group's airlines had almost the same head count in 2015 (+0.5%) and managed to squeeze 4.0% more ATKs out of the workforce. However, the cost of this workforce increased by 20.6% over this four year period.
Put another way, each employee generated 3.5% more ATKs and 5.9% more revenue over the period, but cost 20.0% more in 2015 than in 2011.
On the 2015 results conference call, Lufthansa Group CFO Simone Menne told analysts that she was not happy with labour productivity in the Lufthansa airlines, although it was better in other group airlines. She was looking for improvement in 2016.
Lufthansa Passenger and Cargo segment headcount, total ATK and Labour cost (EUR million) 2014 and 2015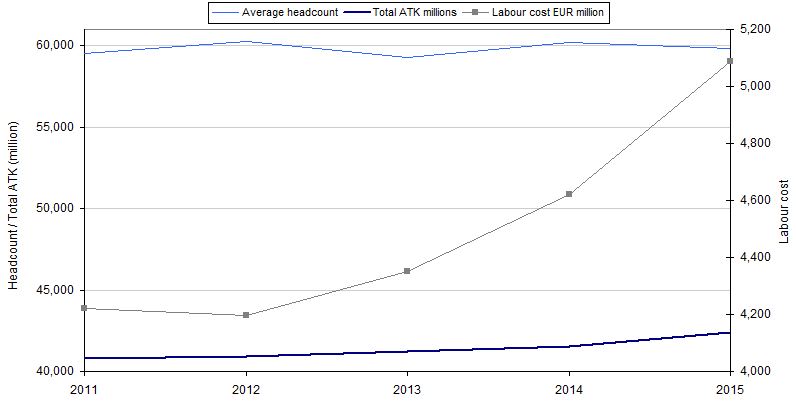 ASK growth to accelerate in 2016, led by Eurowings; highest growth on Atlantic
The group plans to accelerate its ASK growth to 6.6% in 2016, after its 2.2% increase in 2015. The hub airlines will grow by 4.3%, which, taking account of 1.3ppts recovery from capacity lost to strikes in 2015 and 0.3ppts due to the leap year, is consistent with their 3% pa medium-term plan. Eurowings will add capacity at the rate of 35.2%.
This Eurowings ASK growth is inflated by its new long haul routes, although it will be below the previously announced rate of 43.4%. In Europe, Eurowings will grow ASKs by 11.5%. The hub airlines plan 2.4% growth in Europe, giving an overall group rate of 4.2% in the region.
Eurowings' expansion will boost the Lufthansa Group's ASK growth in all regions in 2016. On routes to Asia, the group plans to grow ASKs by 3.8% overall, with hub airline growth at the lesser rate of 1.8%.
In Africa and the Middle East the hub airlines will cut ASK capacity by 2.3%, but Eurowings will limit the group's ASK cut to just 0.5%. This compares with growth of 2.7% planned previously. According to Ms Menne, Africa and the Middle East "remains structurally exposed to the Gulf carriers".
On routes to the Americas, the hub airlines plan a 9.2.% ASK increase in 2016, while Eurowings' expansion will push the group's capacity growth up to 12.5%. This growth will mainly be focused on the North Atlantic, with Latin American growth restricted to 2% to 3%. This adds to concerns about acceleration of capacity growth on the North Atlantic, a market where supply has been relatively tight in recent years and one which has been very profitable for the larger airlines that are part of immunised joint ventures (these include the Lufthansa Group).
See related report: Airlines plan Europe summer 2016 seat capacity: growth accelerating due to LCCs and new models
Lufthansa Group: ASK growth plan by region for hub airlines and Eurowings 2016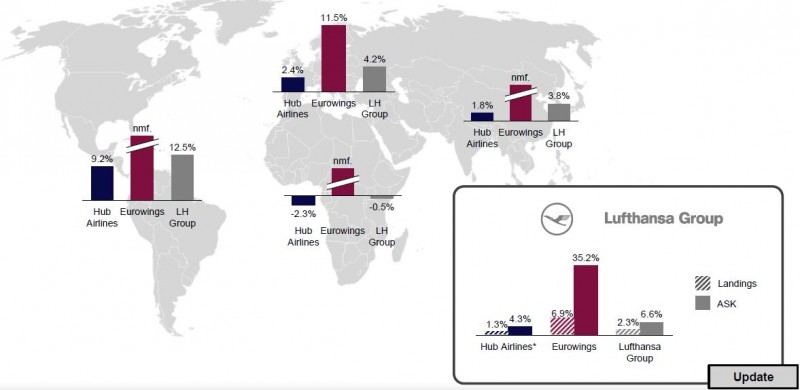 2106: Further RASK reduction, CASK also expected to fall
Lufthansa is assuming that load factor will be stable in 2016, but that yield will fall and so – unit revenue will be "clearly negative" in the passenger business. This partly reflects the increased weight of Eurowings in the capacity mix, but also the competitive nature of the group's markets.
Ms Menne told analysts that forward bookings were currently looking "softer", mainly in the non-premium outbound segments, although premium demand was more "robust".
The group also expects ex-fuel CASK to fall in 2016, in the absence of further strikes. Both Eurowings and the hub airlines are expected to lower their unit costs. This will be crucial for future sustainable profitability.
Lufthansa Group trading assumptions FY2016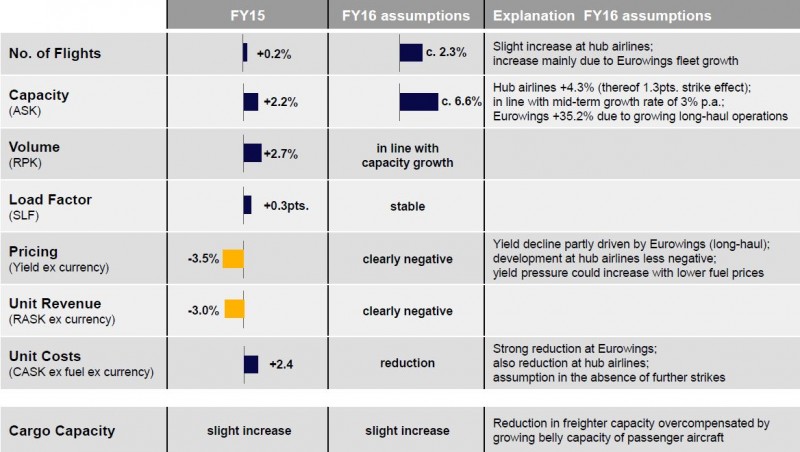 2016 adjusted EBIT to be slightly above 2015 level
The Lufthansa Group expects its adjusted EBIT in 2016 to be only "slightly above" its 2015 result of EUR1,817 million, in spite of a further EUR1 billion expected reduction in the fuel bill. It sensibly assumes that RASK will fall, but, provided this is not more rapid than ASK growth and that revenue grows in segments other than the Passenger Airline Group, there should still be growth in total group revenue.
Assuming that revenue grows a little and that there is no material change in the result from equity investments, Lufthansa's guidance suggests that the operating margin as calculated by CAPA looks set to be flat, at best, in 2016.
See related report: Lufthansa: 2016 staff recruitment plans indicate strategic intentions. Eurowings and SWISS to grow
Unit costs are still too high
In 2015 both RASK and CASK increased in the Passenger Airline Segment. However, it was only thanks to lower fuel prices that the CASK increase was slower than the growth in RASK. Ex fuel CASK took a sharper upward turn, further increasing the need for Lufthansa to focus on unit cost reduction.
This point is well understood by the group's CEO Carsten Spohr, who told analysts the conference call that unit costs are still too high, especially at Lufthansa Passenger Airlines. He needs the group's premium airlines to maintain their market position and to continue to appeal to higher yield passengers. "We won't win a competition that comes down only to cost," he said.
Cost reduction efforts in 2016 will focus on fees and charges, particularly at Frankfurt, after some progress has already been made at Vienna and Zurich. There should also be lower costs for maintenance, and costs related to refurbishment and synergies from the realignment of support functions across the group.
Deutsche Lufthansa – index of passenger revenues per ASK* and operating cost per ASK* (each indexed to 100 in 2009)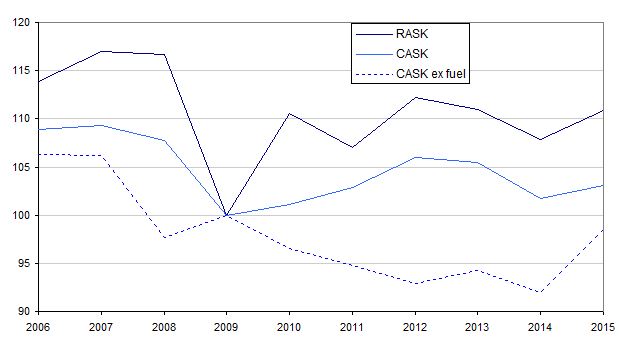 "We use Eurowings as a tool in many ways"
Mr Spohr also needs to see lower costs permeate the group. The establishment of Eurowings as the group's low cost unit is intended not only to provide a more cost-efficient operation to pursue growth in point-to-point markets, but also to demonstrate to mainline employees what is possible, thereby increasing management's bargaining power in labour talks.
Negotiations are outstanding with both cabin crew and pilots in Lufthansa. Mr Spohr was adamant that he would not settle for an agreement that did not reduce unit cost. "What can they do?" he asked on the analyst conference call, "They tried to strike, but it didn't make any difference."
The growth of Eurowings has clearly stiffened his resolve to push mainline unions for improved labour productivity.
Mr Spohr said that Eurowings' ex-fuel unit cost in 2016 is around 30% below that of the hub airlines' (adjusting for the mix of sector lengths) and will fall by around 10% pa until 2018. Eurowings plans to have 98 aircraft in 2016, an increase of 10 over 2015, of which 91 will be on short haul (an increase of six), and seven on long haul (increase of four). It will have 360 short haul routes (up by six) and 17 long haul routes (up by seven).
See related report: Lufthansa to Germanwings to Eurowings. Long haul and lower cost as Lufthansa seeks solutions
Looking further ahead, Lufthansa aims to establish Eurowings point-to-point operations from Munich in 2017/2018. Air France-KLM's Transavia LCC subsidiary will launch routes from Munich in Mar-2016.
See related report: Transavia: Munich to be first base outside home markets, but Air France-KLM's LCC still lacks scale
More generally, Mr Spohr believes that there is room for Eurowings to pursue organic growth, both in Germany and elsewhere, but only if it is profitable. Moreover, he also regards Eurowings as a potential vehicle for participating in what he believes to be much needed consolidation in the European LCC segment of the market.
However, Lufthansa management would not be drawn on future profit margin targets for Eurowings. Mr Spohr indicated that this would depend on its growth and strategy. "It depends on how much we use this tool," he said, "which also depends on what we achieve at the core airline. […] We use [Eurowings] as a tool in many ways".
Although Mr Spohr said that Eurowings would only pursue profitable growth, this reluctance to set targets for its profitability is intriguing. Lufthansa has made it clear that it expects a small loss from its LCC brand in 2016, after its first small profit in 2015.
Losses are not uncommon in the early stages of rapidly growing businesses, but these comments indicate that stand-alone profitability is not the only purpose for Eurowings. Taken also with Mr Spohr's revelation that the Lufthansa Passenger Airline is "the emotional core" of the group, it could be inferred that Eurowings is only there 'pour encourager les autres' (to encourage the others).
Nevertheless, and setting aside such speculation, it currently serves a decisive purpose in revitalising the financial performance of the Lufthansa Group.