Lufthansa cuts 1Q2016 operating loss, but mainly thanks to one-offs and fuel. Cost focus still key
Analysis
The Lufthansa Group narrowed its operating loss in the seasonally weak 1Q2016, in spite of a fall in revenue. A weak pricing environment was more than offset by a reduction in unit costs. This was principally thanks to lower fuel costs, but there was also a welcome fall in underlying ex fuel CASK at constant currency.
However, although Lufthansa Passenger reported higher profits than in 1Q2015, there was a decline for SWISS, Eurowings, Cargo, MRO and Catering. For LCC Eurowings, this was partly due to start-up costs in long haul and at Vienna, but it also reflected strong LCC competition in Germany. Lufthansa is still considering whether to add Brussels Airlines to its Eurowings operation. Austrian only improved its result because of a one-off gain and, moreover, it seems that the improvement in operating profit at the Group level compared with 1Q2015 was due to one-off items.
Lufthansa still expects to post a slightly higher adjusted EBIT result in 2016 than in 2015. Nevertheless, its 1Q2016 report demonstrates that, for all its restructuring progress, it is not achieving results that are consistent with the broader cyclically high margins of the global airline industry. Further CASK reduction remains the focus.
Lufthansa's operating loss narrows by 80%, but thanks to one-offs
In 1Q2016 the Lufthansa Group recorded a small net loss of EUR8 million, compared with a profit of EUR425 million in 1Q2015. However, this comparison is distorted by non-recurring positive other financial items last year, in particular – a EUR503 million gain from the sale of JetBlue shares.
Lufthansa's preferred profit measure is 'adjusted EBIT', which excludes these and all financial income and costs. The adjusted EBIT result improved from a loss of EUR167 million in 1Q2015 to a loss of EUR53 million in 1Q2016. However, this measure includes results from Lufthansa's share of profits in its equity investments, which are not typically part of the operating profit that most other European airlines report.
CAPA's preferred profit measure for Lufthansa is this adjusted EBIT less the result from equity investments. CAPA has calculated this and called it 'operating result', for ease of comparison with other airlines. The Lufthansa Group's operating result improved by EUR124 million, or 80%, from a loss of EUR156 million in 1Q2015 to a loss of EUR32 million in 1Q2016.
Revenue fell by 0.8% and the operating margin gained 1.8ppts to -0.5%. This is weak compared with IAG's positive operating margin of 3.1%, but better than Air France-KLM's margin of -1.8% for the same period.
See related report: IAG keeps FY2016 guidance in spite of weak unit revenue as 1Q2016 results benefit from low fuel
Moreover much, or all, of the year-on-year improvement in the Lufthansa Group's operating profit came from one-off items benefiting Austrian Airlines, and the non-recurrence of one-off negative items affecting Lufthansa Passenger Airlines last year.
Lufthansa Group financial highlights 1Q2016

Passenger segment loss narrows, with Lufthansa Passenger and SWISS in profit
The narrower loss at the adjusted EBIT level was driven by the Passenger Airline Group, whose result improved from a loss of EUR254 million to a loss of EUR67 million, in spite of a 1.6% fall in revenue. Within this segment the biggest airline, Lufthansa Passenger Airlines, turned an adjusted EBIT loss of EUR184 million last year into a profit of EUR70 million in 1Q2016, although its revenue declined by 1.5%.
SWISS also achieved a positive adjusted EBIT result, but this fell by 55% from EUR51 million in 1Q2015 to EUR23 million in 1Q2016. For SWISS, a significant challenge came from the strength of CHF versus EUR.
Lufthansa Group results by segment, 1Q2016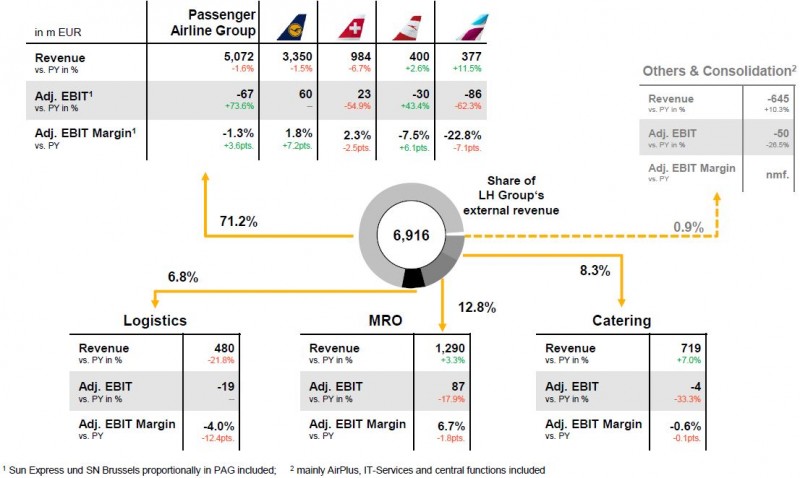 Austrian loss narrows on one-off items
Austrian Airlines narrowed its adjusted EBIT loss by EUR23 million to a loss of EUR30 million, or by 43%, with a 2.6% increase in revenue. It benefited from a positive one-off item in the mid-double digit EUR million range in 1Q2016, related to a new long-term lease at Vienna Airport.
This suggests that Austrian's result without this item was down year-on-year, in spite of lower fuel and a significant restructuring programme. Lufthansa expects Austrian's FY2016 result to be up on 2015, but this is only after the one-off benefit arising from the lease. Its underlying performance is expected to be similar to, or below, last year's level.
The Lufthansa Group CFO, Simone Menne, told analysts on a conference call to discuss the 1Q2016 results that Austrian was on track, but was "burdened by MRO costs", despite all the restructuring. She hinted that the group may decide to "go with Eurowings" in Austria (as suggested by CAPA in a Jan-2016 report), but also said that she was confident in Austrian Airlines.
See related report: Austrian Airlines: Lufthansa Group's poor relation may have improved revenue & profit growth in 2015
Eurowings, whose results are now reported separately within the Passenger Airlines Group, increased its revenue by 11.5%. However, Eurowings' adjusted EBIT loss widened by 62%, from EUR53 million in 1Q2015 to EUR86 million in 1Q2016.
Nevertheless, Ms Menne said that the long haul business of Lufthansa's LCC brand had started well, with a load factor of 94.2% in 1Q2016. Eurowing's result was affected by start-up costs, related to both the long haul network and the establishment of a base in Vienna, amounting to a low two-digit EUR million figure.
Moreover, the profitability of Eurowings' underlying business was lower year-on-year and there is growing LCC competition in Germany, in particular from Ryanair.
See related reports:
The adjusted EBIT of the Logistics segment, Lufthansa Cargo, fell from a profit of EUR52 million in 1Q2015 to a loss of EUR19 million in 1Q2016. Its revenue plunged by 22% year-on-year, due to what Lufthansa called "severe overcapacities in the market and weak demand". The sale of freight capacity on Eurowings long haul flights began during the quarter.
Ms Menne said that Lufthansa Cargo was taking additional steps to reduce costs and that it was reviewing its business model and fleet strategy, including the use of full freighters. No date had been set for the results of this review. For 2016 Lufthansa will increase cargo capacity slightly, with growth in belly space partly offset by reduced freighter capacity.
MRO and Catering profits decline
The MRO segment's result fell by 18% to EUR87 million, in spite of revenue growth of 3.3%. The growth in revenue was volume-related, although prices fell due to "persistently tough competition". The fall in adjusted EBIT was the result of increased expenses and the "absence of non-recurring factors from the previous year".
The Catering segment increased its revenue by 7%, but its adjusted EBIT fell slightly from a loss of EUR3 million in 1Q2015 to a loss of EUR4 million in 1Q2016.
ASK growth of 6.6%; load factor dips by 0.9ppts
The Passenger Airline Group increased its ASKs by 6.6% year-on-year in 1Q2016. Of this, 2ppt came from the expansion of Eurowings and 1ppt from the absence of strike action this year (which caused a loss of capacity last year). Longer distances and seat densification also boosted ASK growth. The number of flights was up by only 3.0%.
The growth in RPKs at 5.2% did not match the capacity increase, and load factor fell by 0.9ppts to 74.9%.
Lufthansa Passenger Airlines increased ASKs by 5.2%, SWISS by 2.1%, Austrian by 8.3% and Eurowings by 34.0%. All of the component passenger airlines suffered a drop in load factor, with the exception of Eurowings, which enjoyed a 5.3ppt gain to 74.0%. However, Eurowings' load factor remains well below the 90%+ levels of leading European LCCs such as Ryanair and easyJet.
Lufthansa Passenger Airline Group KPIs 1Q2016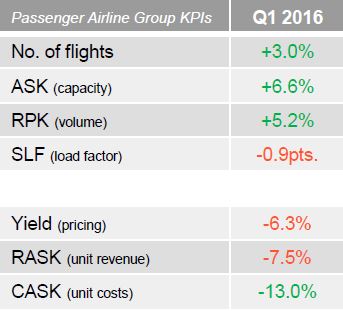 RASK decline accelerates from 4Q2015 rate
In 1Q2016 the Passenger Airline Group's unit revenue, or RASK (revenue per ASK), fell by 7.5%. This weakness partly reflected currency movements, but the currency-adjusted figure was down 6.6%, still a significant drop and a deterioration compared with the 2.0% ex currency decline reported for 4Q2015.
This was also weaker than IAG's 1Q2016 RASK decline of 5.2% (ex currency and Aer Lingus). Yield (revenue per RPK) fell by 5.4% excluding currency movements.
The Lufthansa Group's ex currency yield decline was particularly heavy on routes to South America, where it fell by 23.8%, mainly as a result of economic weakness in Brazil. This contributed to an ex currency RASK fall of 11.1% to the Americas, where the group increased ASKs by 12.5%.
There was also an ex currency RASK decline in every other region, and Asia Pacific suffered the second heaviest fall, with a drop of 7.0%. In Europe, ex currency RASK fell 3.2% and in the Middle East/Africa, it was down by 2.8%.
Lufthansa said that the "disproportionate growth" of Eurowings had also contributed to RASK weakness in the quarter.
Ms Menne said on the conference call that there was ongoing pricing pressure and that she did not expect this to ease in the coming months. In 1Q2016, March was the weakest month. April was looking more stable, but May was looking weaker again, reflecting public holidays in the Group's core markets. June looked a little more stable, but visibility was low.
A general trend is that bookings are being made at shorter notice, particularly in leisure markets.
Lufthansa Passenger traffic and unit revenue by region, 1Q2016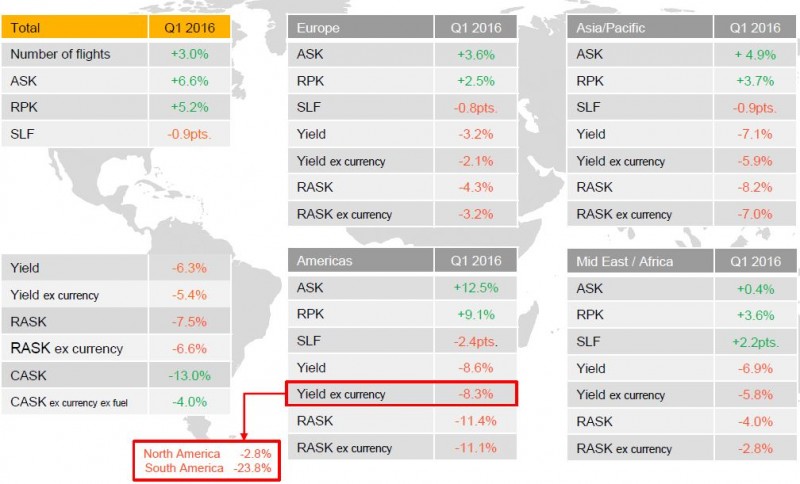 Revenue falls 0.8%; costs fall 5.3%
The Lufthansa Group's revenue decline of 0.8% comprised a fall in traffic revenue of 3.9%, partly offset by a 10.2% increase in other revenue. As discussed above, the traffic revenue decline was driven by the pricing weakness experienced in the Passenger segment and even weaker pricing in the Logistics segment (where traffic revenue fell 22% and cargo traffic volume fell 4.8%).
Total operating costs fell by 5.3%, in spite of the increase in ASKs. Fuel costs fell by 18.1% (a reduction of EUR237 million, more than the improvement in operating profit) and non-fuel costs fell by 2.9%. Labour costs increased by 1.8%, less than the 2.8% year-on-year increase in employee numbers at the end of the period (most of which was in the Catering segment), and less than the growth in ASKs.
In the Passenger Airline Group the total CASK fell by 13.0%. Excluding fuel and currency movements, CASK fell by 4.0%.
This performance was helped by the absence of strike costs (EUR42 million) and the impact of Venezuela currency restrictions (EUR60 million) in 1Q2015. On an underlying basis the ex fuel and currency CASK reduction was 2%. Nevertheless, it was a welcome change of direction after a 2.4% increase in 2015 (including a 7.4% increase in 4Q2015).
Lufthansa Group revenue, operating costs and EBIT, 1Q2016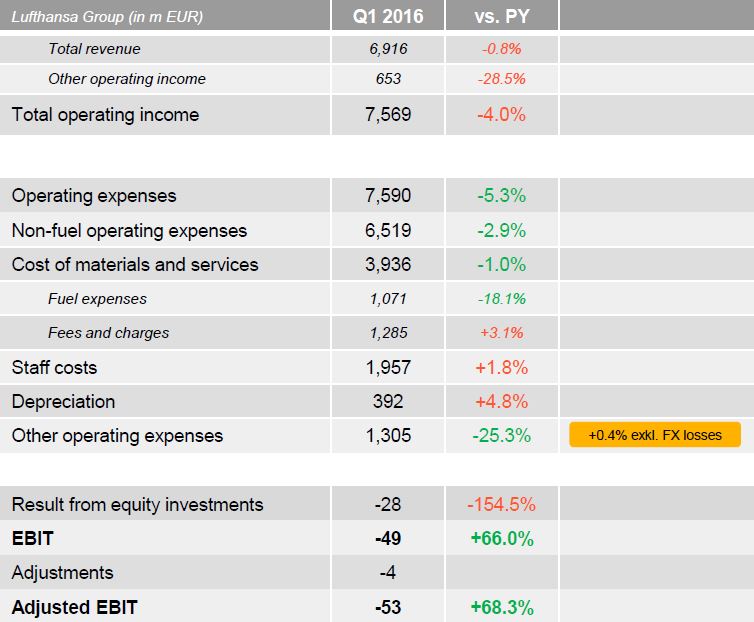 "Constructive" labour talks with cabin crew and pilots
Labour costs in 1Q2016 were contained by advantageous exchange rate effects and lower additions to pension provisions as a result of interest rates. Nevertheless, labour productivity remains an important focus for improved cost efficiency in the mainline Lufthansa airlines. Ms Menne said that "constructive talks" were ongoing with both pilot and cabin crew representatives.
Cabin crew negotiations with the UFO union were further ahead after an arbitration agreement was signed in Jan-2016. These talks, due to last until mid-2016, are aimed at agreeing a new pay structure from 1-Oct-2016 and UFO has agreed not to strike during the talks. With regard to pilots, Ms Menne indicated that Lufthansa is targeting an agreement by the end of 2016.
Still considering Brussels Airlines acquisition; other targets "media speculation"
Asked about media reports linking Lufthansa with possible acquisition targets, Ms Menne told analysts on the conference call that Lufthansa was still considering its option to buy the 55% of Brussels Airlines that it does not already own. It has agreed to extend this year's deadline to the end of Aug-2016.
The decision will depend on analysis of the business of Brussels Airlines and consideration of whether to integrate it into the Eurowings platform, or to keep it as a legacy airline model.
More broadly, Ms Menne said that the airlines with which Lufthansa had been linked represented "media speculation", but acknowledged that she would like to see consolidation in Europe. She added that the more a potential target airline had legacy characteristics and costs, the more difficult it would be to integrate it into Eurowings.
A recent CAPA report on possible acquisitions by Lufthansa concluded that the speculated targets, SAS and Brussels Airlines, were less likely to be candidates for the Eurowings operation than Condor.
See related report: Lufthansa linked to possible acquisitions of SAS, Brussels Airlines & Condor. Eurowings is priority
FY2016 capacity plans trimmed, but profit outlook unchanged
Lufthansa has trimmed its group ASK growth plan for FY2016 to 6.0%, from the 6.6% rate announced in Mar-2016. For the network airlines the plan is virtually unchanged at ASK growth of 4.2% (versus 4.3% previously), while Eurowings' growth has been cut from 35.2% to 26.6%. Further capacity trimming could be implemented in the winter if demand weakness persists.
Lufthansa Group: ASK growth plan by region for hub airlines and Eurowings, 2016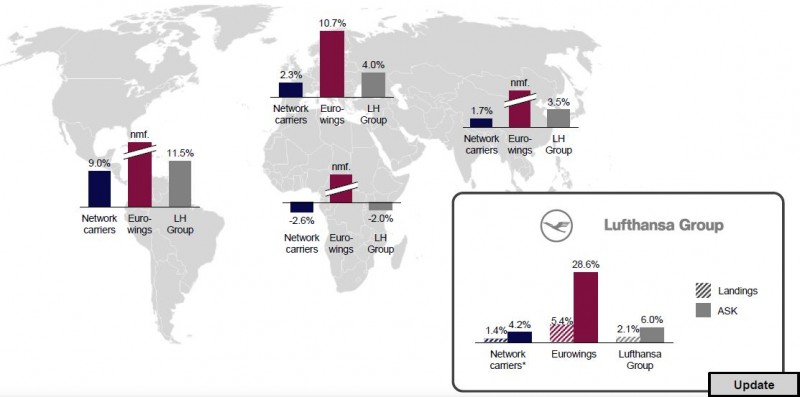 In spite of the slight change to its capacity plans, the Lufthansa Group has maintained its FY2016 guidance that adjusted EBIT will be "slightly above" the 2015 result of EUR1,817 million. It still expects a EUR1 billion reduction in the fuel bill this year and that RASK will fall.
Lufthansa has not given a figure for the expected RASK decline, but the 1Q2016 outcome and Ms Menne's cautious comments on the conference call suggest that it may now be a little weaker than previously anticipated.
By segment, the only change in the outlook for 2016 is in the Logistics business. This is now expected to report a result "significantly below" its EUR74 million adjusted EBIT of 2015, whereas it was previously forecast to be "slightly above" last year's level.
At the group level, Lufthansa has not changed its profit guidance but there is perhaps now less headroom in this outlook. According to Ms Menne, Lufthansa management is rightly seeking to improve its ex fuel unit cost performance, acknowledging that it "cannot rely on fuel".
This makes sense. Fuel prices are volatile and almost impossible to forecast. In a weak and uncertain unit revenue environment, ex fuel CASK must be management's priority.