04-Dec-2008 5:58 PM
Lufthansa-Austrian and Ryanair-Aer Lingus deals closer; European airline share wrap
Austrian Airlines and Ryanair shares rose sharply (+9.8% and 4.4%, respectively), as takeover transactions involving both carriers progressed yesterday.
British Airways shares were also steady, holding onto the previous day's 12% gains as news of a merger talks with Qantas emerged.
European selected airlines daily share price movements (% change): 03-Dec-08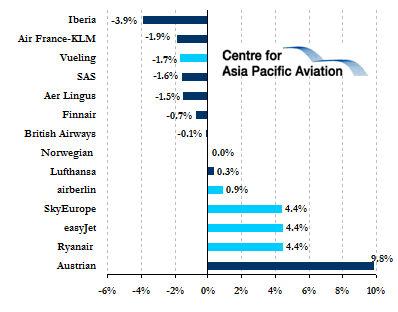 The Irish Government stated it would "carefully consider" Ryanair's revised offer to acquire Aer Lingus, in which the state holds a 25% stake, but it would aim to preserve competition on key routes, particularly to London Heathrow. Michael O'Leary would be heartened by this turnaround by the government, which rejected out of hand Ryanair's previous bid (worth twice as much), in 2006.
Facing a spiralling budget deficit, the Irish Government is clearly more amenable to a deal with Ryanair for its 25% stake in Aer Lingus. Ryanair is now seeking to meet directly with Aer Lingus shareholders (including the government) after the Aer Lingus board rejected its new EUR750 million bid.
Meanwhile, Lufthansa's takeover of Austrian Airlines is a step closer. Lufthansa's Supervisory Board yesterday approved a bid to acquire up to 100% of the shares in Austrian Airlines. Lufthansa aims to initially acquire the 41.56% share in Austrian Airlines held by Osterreichische Industrieholding (OIAG), for just EUR366,000. It will also issue a debtor warrant potentially worth up to EUR163 million, "depending on Austrian Airlines' economic performance and the Lufthansa share outperforming its competitors", with a subsequent public bid to Austrian Airlines' free float shareholders.
Lufthansa stated the move "paves the way for OIAG, the government in Vienna and the European Commission to make their decisions following due consideration of the transaction".
Tax payers in both Ireland and Austria will be getting a much lower return on their governments' airline investments if these transactions go through. But holding them even longer could wipe out any value that is left in the struggling carriers.