Long Beach Airport: slots change & JetBlue's loyalty wanes
JetBlue has historically had a favourable relationship with the airport at Long Beach, which has long been a focus city for the airline. But during the past couple of years that positive partnership has changed, after JetBlue unsuccessfully attempted to launch international flights from Long Beach.
Now JetBlue has relinquished 10 slots at the airport after the Long Beach city council altered the utilisation rates of slots at the airport. The airline will maintain 24 slots; the 10 it has given back will be allocated to Southwest and Delta Air Lines.
JetBlue has added some services to Burbank and Ontario International, two airports that also serve the Los Angeles basin. Even with the return of slots, JetBlue will remain the dominant airline at Long Beach, but the airport's stature within the airline's network is arguably permanently diminished.
Summary
Long Beach passenger levels reach nearly four million in 2018
Long Beach is one of several airports serving the greater Los Angeles area. It joins Burbank, Ontario, Orange County and (of course) Los Angeles International, which is the largest airport in the region.
From 2009 to 2016 Long Beach airport's passenger numbers were at or near three million annually. In 2017 passenger levels jumped substantially to 3.8 million and notched up to 3.9 million in 2018.
During the past couple of years Long Beach has opted to increase its slot pool from 41 to 50.
Long Beach airport annual passenger numbers from 2009 through Mar-2019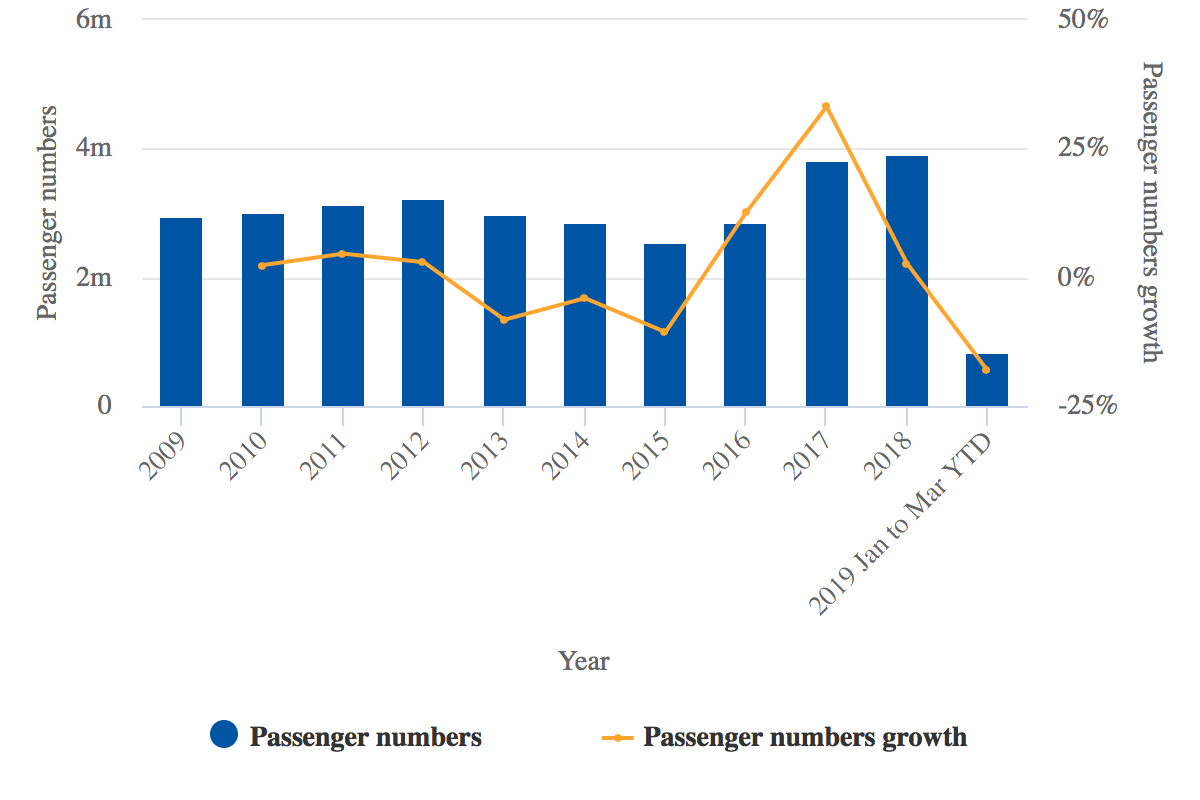 JetBlue has long been the dominant airline at Long Beach after launching service from the airport in 2001 and building the airport up as a focus city.
As of early May-2019, JetBlue represented approximately 63% of the airport's ASKs.
Long Beach airport percentage of ASKs by airline, as of early May-2019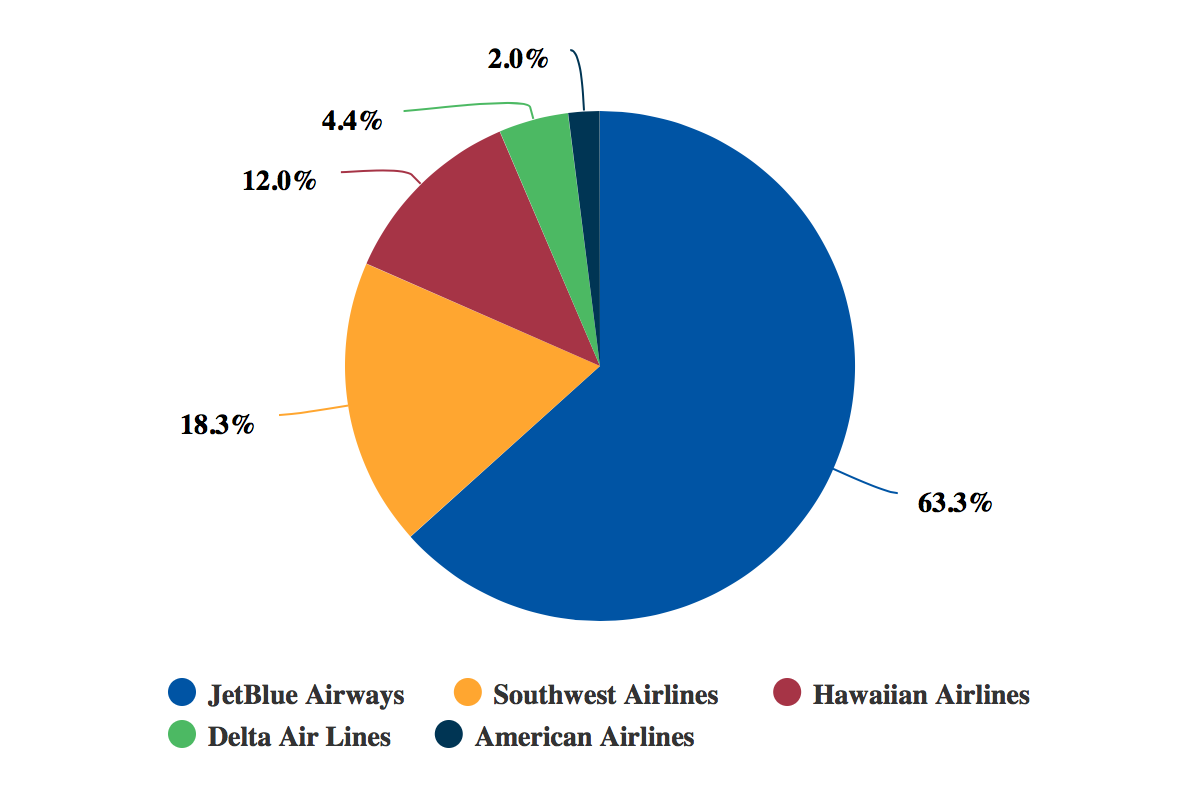 Utilisation changes at Long Beach force JetBlue to return 10 slots at the airport
After JetBlue backed out of the bidding contest for Virgin America in 2016, it needed to determine how it could grow on the US west coast. Los Angeles is highly fragmented and constrained, and given the airline's dominance at nearby Long Beach, JetBlue sought to establish a customs facility at the airport to support the launch of international flights.
In a highly politicised campaign, local opponents were successful in blocking JetBlue's ambitions, citing noise as a big issue in their challenge against the launch of international service from the airport.
See related report: Long Beach airport: JetBlue resizes after rebuff, slots reallocated
After plans to inaugurate international service fell through, JetBlue decided to decrease its operations at Long Beach, and at one point there was discussion about the airline returning a dozen slots to the airport.
Ultimately one slot (which includes one takeoff and one landing right) was awarded to Hawaiian Airlines, which operates flights to Honolulu from Long Beach.
JetBlue, meanwhile, began scaling back the use of its slots. In late 2018 the Long Beach city council voted to require 85% annual slot usage at the airport, and JetBlue was operating below those levels. Ultimately, JetBlue opted to hand over ten slots.
The airport has opted to give those slots to Delta and Southwest.
According to the Long Beach Post, Delta has been offered four permanent slots and Southwest's offer was three permanent and three supplemental slots.
Before JetBlue's decision to give slots back to the airport, Long Beach allocated some of those slots that JetBlue gave up to other airlines due to under-utilisation, the publication reported.
It remains to be seen how those airlines will use their new slots at Long Beach.
Southwest launched flights from the airport in 2016 and has stated that it was interested in gaining more slots at Long Beach. It serves Denver, Las Vegas, Sacramento, San Jose, Sacramento and Oakland from the Long Beach airport, competing with JetBlue on all of those flights with the exception of Denver. The new slots it is receiving do not allow Southwest vast expansion at the airport, and presently it serves most of its routes from Long Beach less than daily.
Previously, Southwest CEO Gary Kelly said that the airline was hobbled in not having more access to Long Beach.
Delta only serves its Salt Lake City hub from Long Beach with its current four slots. Obviously, Los Angeles International is the most important airport for Delta in the region, but during 2019 Delta is adding service to its Atlanta hub from Burbank and Ontario. With its newly acquired slots at Long Beach, service to Atlanta could become a possibility.
Long Beach takes on a different role in JetBlue's network
As it has trimmed service from Long Beach, JetBlue has also opted to return to Ontario International with service to JFK, and has launched flights to JFK and Boston from Burbank.
JetBlue cited several reasons for its return to Ontario, including the fast growing San Bernardino-Riverside-Ontario metro area and affordable housing in the region. The airline also stated that the region was on track to grow by approximately 2 million over the next three decades.
For now, it seems JetBlue will work to keep its 24 slots at Long Beach, but the argument could be made that the airport does not hold the same strategic position in JetBlue's network as it did in the past.
Long Beach is not ranked among JetBlue's system top ten bases measured by ASK deployment, and the airline prefers to talk about its overall performance in the LA basin rather than zero in on one specific airport. JetBlue offers several fights from Los Angeles International, and also offers its Mint premium product from the airport on some of its routes to JFK, Boston and Fort Lauderdale.
JetBlue system top ten hubs/bases/stations by ASKs, as of early May-2019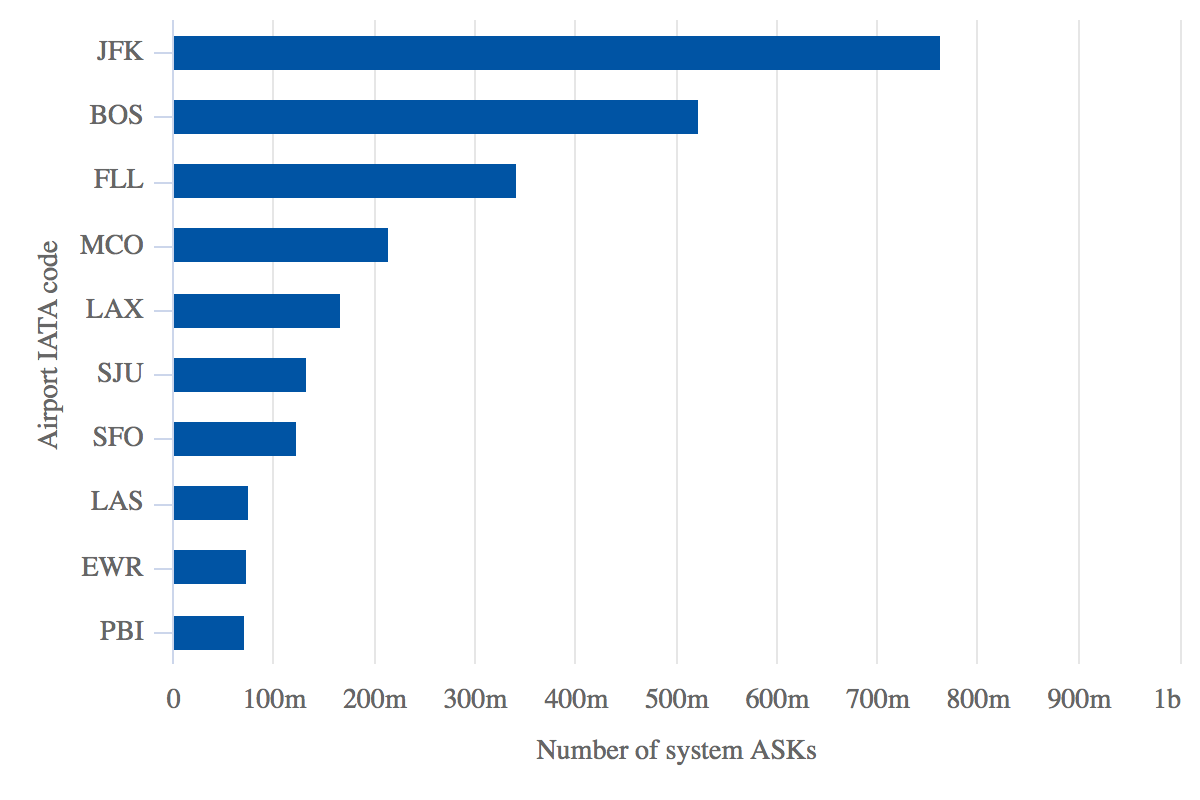 JetBlue works on a California strategy that seems to focus on other LA airports
JetBlue's pull-down in Long Beach, after it hopes to launch international service from the airport were dashed, is understandable.
California and the US west coast in general are strategically important for all airlines, and JetBlue is working to craft a strategy for the region that increasingly alters the role Long Beach will play into the future.