Long Beach airport: JetBlue rightsizes after rebuff; slots reallocated
Most US airports are working feverishly to broaden their international portfolios or secure their first international flights. But early in 2018 community activists enjoyed success from a years-long campaign to block JetBlue from launching international service from the airport to Mexico and Central America.

Unsurprisingly, JetBlue now plans to shrink its presence at Long Beach, which became a focus city for the airline after it launched flights from the airport in 2001. The airline is spreading some services to other Los Angeles area airports, and adding some seasonal leisure destinations from the airport.

JetBlue's decision to adjust its schedule in Long Beach does open up opportunities from the airport for other airlines when JetBlue surrenders its slots at the airport in Sep-2018. Hawaiian Airlines is already launching flights after JetBlue relinquished one of its slots that allowed its codeshare partner to launch service from the airport.
Summary
Long Beach charts solid passenger growth after Southwest's entry.
JetBlue is rightsizing its presence in Long Beach after the city blocked its plans to launch international services from the airport.
With JetBlue's shrinking in Long Beach, there are now slots available for airlines on the airport's waiting list – Delta, Hawaiian and Southwest.
Long Beach logs substantial passenger growth after expanding its slot pool
Long Beach, which is 35km from Los Angeles International airport, is somewhat of a charming airport known for its ease in clearing security.
With Los Angeles International's constraints and fragmentation, JetBlue has built up a focus city at Long Beach while targeting transcontinental routes from Los Angeles, including JFK, Boston, Fort Lauderdale, Buffalo and Orlando International. Some of JetBlue's routes to JFK and Fort Lauderdale are operated with its Mint-configured aircraft, which feature its premium class offering.

Between 2009 and 2017 passenger numbers at Long Beach remained largely in the three million range. But passenger levels jumped 33% year-on-year in 2017, to 3.8 million, after Southwest's 2016 service inauguration from the airport as a result of studies indicating that the airport could increase its available slot pool from 41 to 50. Southwest operates flights from Long Beach to Denver, Las Vegas, Sacramento and Oakland.
Long Beach airport passenger growth from 2009 through Feb-2018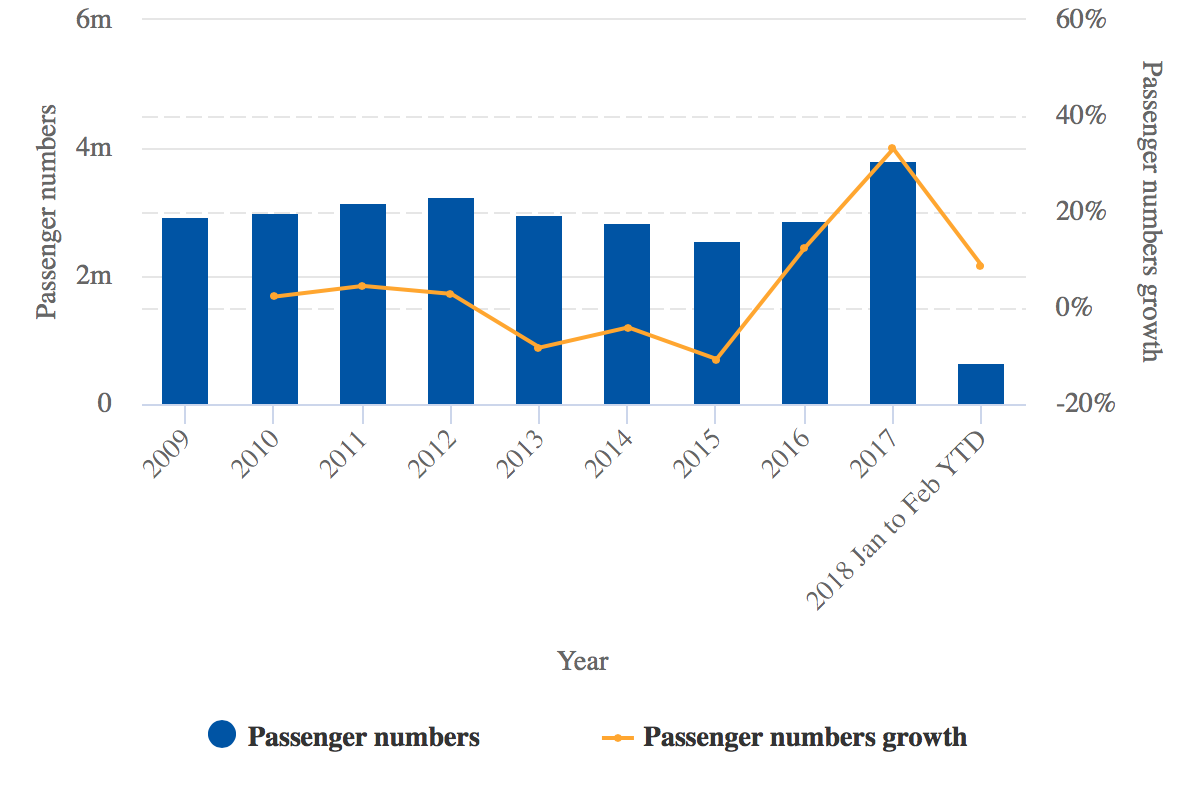 JetBlue rightsizes Long Beach after hopes for international service are dashed
At the time when Southwest was adding service from Long Beach to supplement its service from the greater Los Angeles area (which includes Los Angeles International, Burbank, Ontario and Orange County), JetBlue was working to gain necessary approvals to establish a customs facility at the airport in order to launch international services to Mexico and possibly Central America. Data from CAPA and OAG show that JetBlue represents 77% of seats on offer from Long Beach.
In a highly politicised campaign, local opponents were successful in blocking JetBlue's ambitions, citing noise as a big issue in their challenge against the launch of international service from the airport.
Long Beach airport seat share by airline as of early May-2018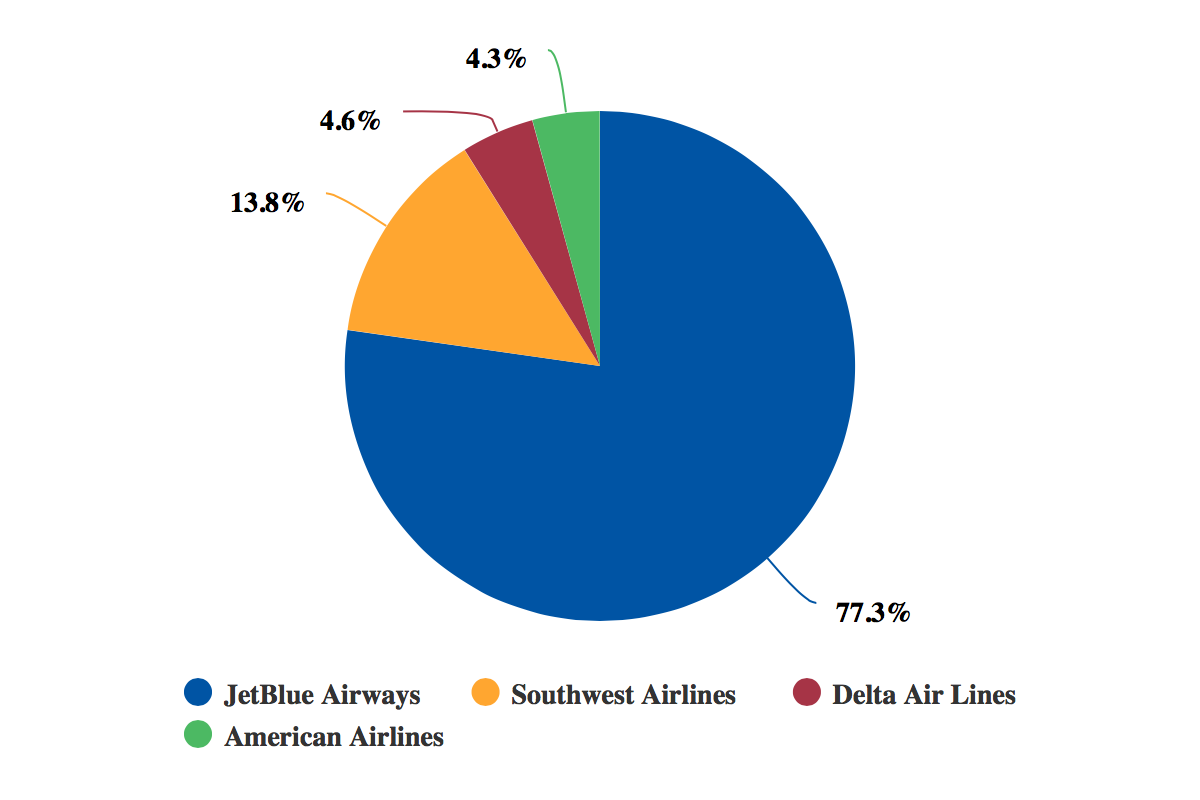 It has been a setback for JetBlue, which was banking on using Long Beach as its base to launch international service from the US West Coast.

After its plans for international service were thwarted JetBlue needed to settle on a strategy for Long Beach, and there was speculation about its ultimate size at the airport.

JetBlue now plans to drop its daily flights from Long Beach from 35 to 23 flights (the number it operated in 2016). Some of the buildup over the past year was to combat Southwest's entry into the market, and JetBlue is now adjusting its schedule to reflect the missed opportunity to launch international flights from the airport. The airline is cutting frequencies to Southwest strongholds in Las Vegas and Oakland, as well as Portland, Salt Lake City, San Francisco, San Jose and Seattle. Delta Air Lines serves its Salt Lake City hub from Long Beach.

JetBlue is tweaking its Long Beach schedule to include some new seasonal destinations: Steamboat Springs and Bozeman, Montana. It is also serving Steamboat Springs from its focus cities in Fort Lauderdale and Boston.

Elsewhere in the Los Angeles area, JetBlue is returning to Ontario, California with a daily (redeye) flight to JFK and adding a second flight from Burbank to JFK, as well as also launching service from Burbank to its focus city of Boston.
Speculation is growing over the recipient of JetBlue's Long Beach slots
JetBlue appears to be rationally rightsizing its operation in Long Beach now that its aspirations for international service from the airport have been dashed. As a result, the airline is returning a dozen slots to the airport for disbursement to other airlines.

JetBlue decided to give its codeshare partner Hawaiian Airlines one of its slots in early 2018, and Hawaiian plans to launch flights from Long Beach to Honolulu in Jun-2018. The move makes sense for Hawaiian, which can easily use its new Airbus A321 aircraft to broaden its base in the Los Angeles catchment area from Long Beach. JetBlue and Hawaiian codeshare on flights operated by Hawaiian from Honolulu to JFK and on connecting services from JetBlue's JFK focus city.

Now, speculation is growing over how the slots JetBlue has relinquished at Long Beach will be distributed. Delta, Southwest and Hawaiian are on the waiting list for slots at the airport. Hawaiian does not likely have ambitions to build up a large presence in Long Beach, nor does Delta. Southwest could be interested in some of the slots to serve some of its larger focus cities and strengthen its presence at the airport.
Southwest CEO Gary Kelly recently declared the airline has been hobbled in not having more access to Long Beach, noting its modest presence at the airport. He said the freeing up of additional slots was welcome news.
Aspects of JetBlue's California strategy are starting to materialise
JetBlue's West Coast strategy appears to be taking shape after it lost the bidding war for Virgin America to Alaska Air Group. It is putting in place some additional transcontinental service from Southern California and scaling back Long Beach to levels where it can operate efficiently and profitably.

It is not often that an airport turns its back on the potential of international service, but concerns about noise and other political issues ultimately won out over the benefits that international flights would have brought to Long Beach.
Now, Southwest could be poised to increase its offerings from the airport.