LCCs reach 10% market share in domestic Japan. Partnerships become likely - but complex
Analysis
LCCs are making ground in the world's fifth largest domestic market: Japan, which is also Asia's third largest domestic market after China and Indonesia.
The current wave of LCCs was launched in 2012 and today they hold 10% market share in Japan, where sceptics long said LCCs could not work, or be profitable. Now LCCs soon are likely to surpass Japan's "New Age" airlines, which launched in the 2000s but have plateaued.
Further LCC growth can be unlocked, but consolidation - or at least some form of cooperation - is increasingly a topic. There are four LCCs, with a fifth on the way. The LCCs once only operated from their home bases, but increasingly are overlapping.
Peach will likely retain its position as its sister ANA LCC Vanilla Air transitions to a medium/long haul platform for ANA to experiment with. Jetstar Japan and Spring Japan could leverage each other's domestic Japan and Japan-China strength. AirAsia Japan, waiting to launch, will seek scale on its own.
LCCs carry 1 out of 10 domestic Japanese passengers
Japanese LCCs are entering their seventh year of operation: Peach Aviation launched in Mar-2012 and in Mar-2017 completed its sixth year of service. Jetstar Japan followed in Jul-2012. Since then, AirAsia Japan has been reborn as Vanilla Air (with a pause in service), following the exit of the AirAsia Group as a significant (but still minority) shareholder. Spring Airlines Japan has entered as well.
These four LCCs transport one out of every 10 passengers in the Japanese domestic market. Peach Aviation has been reporting consistent profits and is now comfortable pondering an IPO.
This 10% market share is an achievement, considering how reluctant Japanese passengers were said to be about LCCs. LCCs in Japan do have a higher cost than LCCs elsewhere, but they still hold a strong cost advantage compared to incumbent airlines.
LCCs in Japan – 'Too many airlines and time for consolidation?' Panel discussion at CAPA Osaka Kansai LCC summit in Jun-2017
Achieving a 10% market share over six years may appear modest, but this reflects infrastructure constraints and the stickiness of passengers to ANA and JAL.
LCCs achieved a 10.1% market share in the year to 31-Mar-2016 (Japan's fiscal year). This dipped to 9.7% in the nine months to 31-Dec-2016. Although full year figures are awaited, this slight decrease reflects some shifting of domestic capacity to international once regulators in Japan and abroad had approved them. One incumbent airline, Skymark, significantly cut its presence in the year to 31-Mar-2016 as part of a restructuring programme. Skymark has now completed this exercise and resumed growth.
These figures use passenger flown data, which is more reflective than capacity information since full service airlines in Japan have a significantly lower load factor than LCCs.
The full service airline group comprises ANA and JAL (including subsidiary JTA), while New Age comprises Skymark, Solaseed, Starflyer and Air Do.
The LCC grouping comprises Peach, Jetstar Japan, Vanilla and Spring Japan. Japan's small/regional airlines are excluded from reporting.
Annual domestic passenger traffic by airline group (left axis) and LCC share (right axis): 2012-2017 (year to 31-Mar for 2012-2016, nine months to 31-Dec-2016 for 2017)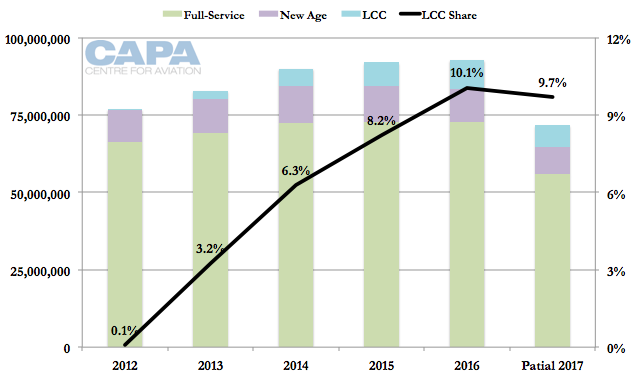 LCCs are poised to overtake "New Age" hybrid airlines
Genuine LCCs have existed in Japan for approximately six years – far less time than their "New Age" airline peers that date back to around the 2000s.
Despite their shorter existence, they have made rapid gains. In the year to 31-Mar-2016 LCCs transported 86% as many domestic passengers as the New Age airlines. In the nine months to 31-Dec-2016 (latest data available), LCCs transported 78% as many domestic passengers as New Age airlines. As noted earlier, this is due to the growth of New Age airline Skymark while LCCs shifted capacity from the domestic to international market.
(Only considering domestic figures underestimates the impact of LCCs, since they have developed significant international operations while the New Age airlines do not.)
New Age airlines have plateaued in their domestic traffic, with approximately 11 million annual passengers between them. At the same time LCCs have been growing, and are poised to overtake the much older incumbents.
The two groups, however, are different: LCCs are stimulating demand on trunk routes and – increasingly – smaller routes. New Age airlines are predominantly focused on a regional area (Hokkaido for Air Do, Kitakyushu for Starflyer, Miyakazai for Solaseed) while Skymark is the third largest airline presence at Tokyo Haneda.
A direct comparison between the groups is difficult: the New Age airlines may no longer appear to be stimulating economic growth, but they are significant drivers of economic activity in their regional areas. The LCCs are stimulating growth. The LCCs also typically have more freedom to grow, whereas the four New Age airlines all some have level of partnership/investment from ANA.
In recent years Japan's two main operators – ANA and JAL – have collectively transported approximately 73 million annual passengers. Although a consistent figure, this is split between JAL slightly contracting and ANA slightly growing.
Annual domestic passenger traffic by airline group: 2012-2016 (year to 31-Mar)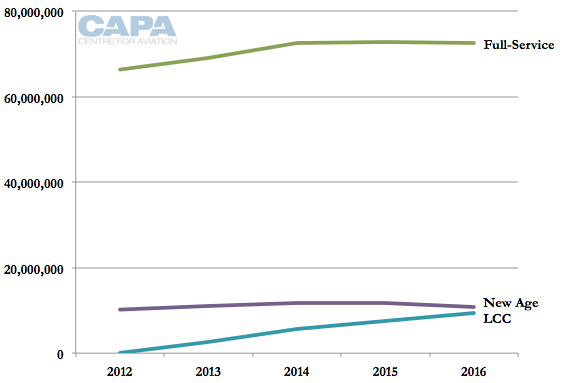 AirAsia Japan would make fifth LCC; there is increasing overlap
The pending launch of AirAsia Japan would give the country its fifth LCC.
In the early days of Japanese LCCs, the startups sought to represent that the development would not result in overcrowding as each airline would have its own patch of grass. Inevitably, they are expanding and stepping on each other's toes.
Peach and Vanilla Air (and the predecessor AirAsia Japan Mk I) have most struggled to explain their strategy since they both have had ANA shareholding. ANA is now a majority owner of Peach and is the sole owner of Vanilla.
In their early days, Peach only flew from Osaka Kansai, while Vanilla was at Tokyo Narita. But now Peach is in Tokyo, including operating some international flights at Tokyo Haneda – the convenient downtown Tokyo airport that Vanilla does not serve. Vanilla is flying from Osaka Kansai.
Jetstar Japan has a notable operation at Osaka Kansai and is growing at Nagoya, where AirAsia Japan plans to launch from. Spring Airlines is also based at Tokyo Narita but mostly serves secondary domestic markets, as well as Chinese cities.
Consolidation likely: Vanilla Air could lead ANA's new strategy as Jetstar/Spring consider joint benefits
CAPA's recent LCCs in North Asia Summit at Osaka Kansai in Jun-2017 debated whether the Japanese market was saturated with operators, and if so – which type of airlines should consolidate.
There are various consolidation scenarios, but the most accepted among industry stakeholders is that of Peach and Jetstar Japan being the main domestic LCCs.
In Mar-2017 ANA increased its shareholding in Peach, going from minority to majority shareholder. This prompted speculation about ANA consolidating its two LCCs, Peach and Vanilla. This may appear at first blush to be rational. There are two reasons making it unlikely.
Firstly, ANA is still conscious of the optics of Vanilla Air's existence: ANA rescued the LCC after its part-owner AirAsia exited the ANA-AirAsia JV "AirAsia Japan". ANA rebirthed the airline as Vanilla Air. ANA worries that a cessation of Vanilla Air would be a loss of face, and perceived to be evidence that ANA should not have rebirthed AirAsia Japan Mk I.
Secondly, ANA is increasingly interested in the medium/long haul LCCs being created from within full service airline groups.
This notably includes Lufthansa Group's Eurowings and IAG's Level.
ANA has rapidly grown its full service business in recent years. As ANA cools on full service growth, it is becoming evident there is space for new medium/long haul platforms. ANA is eager to experiment in this space, and could convert Vanilla Air to a medium haul leisure operator. ANA would do so conservatively, and it would be many years before a medium/long haul Vanilla Air takes on trunk routes.
Jetstar Japan and Spring Airlines Japan could retain independence, but with a partnership that combines Jetstar Japan's strong domestic network with Spring Japan's Japan-China network. It is possible Spring Airlines China could become entwined at a later date, but for now there is enough opportunity for Jetstar Japan and Spring Airlines Japan to transfer passengers between domestic Japanese points and Chinese cities. Both are based at Tokyo Narita's terminal 3, but a partnership is a long time away.
Both would result in AirAsia Japan becoming a competitor. Among other reasons, the AirAsia Group has a planned JV in China and one day will connect the dots between its Japanese and Chinese JVs.
See related report: AirAsia China: establishing the model for JVs in China's complex aviation market
Outlook: consolidation may still be some time away - but there is much logic in partnerships
Although there may appear to be logical consolidation scenarios, Japan's LCCs are likely retain autonomous for some years, as least so long as they are in new growth mode.
During that time, as they grow and the market furthers adapts to LCCs, consolidation priorities could change. The role of a possible AirAsia Japan is still to be defined, but the airline appears likely to attempt to be Japan's third major LCC after Peach and Jetstar Japan.
LCC growth in Japan may not have been as fast as in other markets, but Japan was always going to be different. Plenty of growth remains available, if infrastructure and regulatory constraints are alleviated and LCCs continue to change old mindsets about how to travel.
But, as with the wider trend of international airlines partnering to achieve stronger market presence, an increasingly competitive domestic Japanese market is open to moves in this direction.