LCC penetration in domestic South Korean market reaches new highs but at what cost?
Analysis
South Korea's five major LCCs held an aggregate domestic market share of 42.3% in 3Q2011 in the third quarter of 2011, up from the 40.3% in the six months to Jun-2011 (1H2011), which itself was a new record for LCC penetration in the North Asian nation. This penetration, as confirmed by South Korea's Ministry of Land, Transport and Maritime Affairs, marks a significant rise from a combined market share of just 9.7% three years ago.
However, profitable growth remains a continued challenge for South Korea's LCCs. In 2008, two LCCs in the market, namely Hansung Airline and Yeongnam Air, collapsed amid challenges economic conditions, high fuel costs, a weakened Korean won and funding challenges amid the global economic financial crisis. Among those left standing, losses were heavy, with the nation's four LCCs in 2009 – EastarJet, Jeju Air, Jin Air and Air Busan, reporting combined losses in excess of USD55 million in 2009.
Jeju Air, Air Busan and Eastar Jet reported combined revenues of approximately USD180 million in the 12-month period for an operating margin of -26% for the three carriers, according to the MLTM. The financial picture has improved in 2011, with the same four LCCs reporting combined revenues of KRW512.6 billion (USD457.2 million) in 1H2011 and a combined operating profit of KRW21 billion (USD18.8 million) for an operating profit margin of 4.1%. However, the future of T'way remains uncertain, with the carrier reportedly up for sale again, with Jeju Air named as a potential new owner.
South Korea traffic highlights for the six months ended Jun-2011
| | | Year-on-year growth |
| --- | --- | --- |
| Combined sales revenue | KRW17,440 billion (USD15.7 billion) | n/a |
| | KRW11,460 billion (USD10.3 billion) | +22% |
| | KRW5070 billion (USD4.6 billion) | +30.5% |
| LCCs | KRW512.6 billion (USD460.9 million) | +93.9% |
| | KRW160 billion (USD143 million) | +80% |
| | KRW120 billion (USD107 million) | Revenue almost doubled to this record level |
| | KRW120 billion (USD107 million) | +70% |
| | KRW108 billion (USD96 million) | +145% |
| Combined operating profit | KRW1740 billion (USD1.6 billion) | n/a |
| | KRW1120 billion, (USD1.0 billion) | +739% |
| | KRW635.7 billion | n/a |
| | KRW5 billion (USD4.5 million) | "Smaller than expected" |
| | KRW7 billion (USD6.2 million) | n/a |
| | KRW4 billion (USD3.6 million) | n/a |
| | KRW5 billion (USD4.5 million) | n/a |
LCC penetration in South Korea slightly above Asian average at 29.5%
The recent growth spurt in LCC capacity in the domestic market has meant that LCC penetration in the country has risen to become slightly above the average in Asia Pacific (and the world), at 29.5% of total domestic capacity (seats) share in the first nine months of 2011 (compared to an average of 19% within Asia Pacific and 24.4% worldwide). LCC penetration in South Korea, while higher than the other North Asian countries, remains lower than a number of the Southeast Asian nations.
Asia Pacific domestic LCC penetration by capacity (seats): 10 months to Oct-2011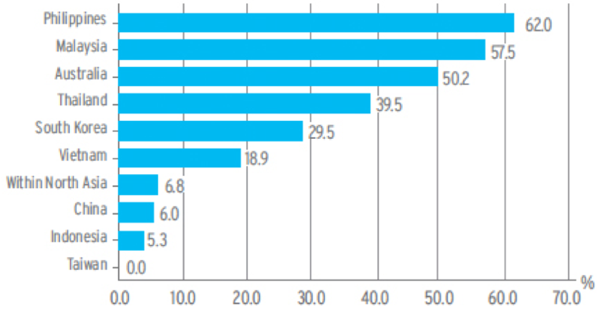 South Korea, like the rest of North Asia, has been slow to adopt the LCC model, especially when compared to its Southeast Asian neighbours, with the main impediment to expansion being conservative regulatory regimes, with protectionism still prevalent in the region. But several South Korean LCCs have established over the last five years (though some have failed). The survivors are in the process of restructuring after heavy losses in 2009, and are increasingly looking for offshore growth opportunities as part of their recovery efforts. Over the pat five years, LCCs have witnessed capacity (seats) growth of around 580% between 2007 and 2011, based on data for the first 10 months of the year.
LCC penetration (Seats) in South Korea: 2002 to 2011 (January to October)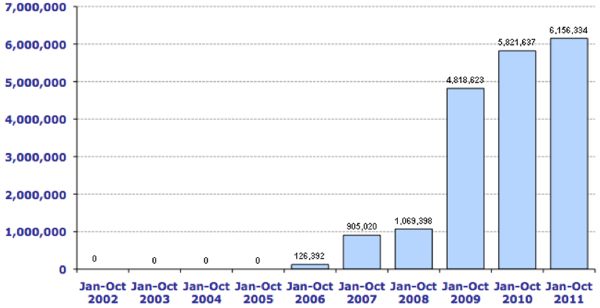 While LCC domestic capacity levels are increasing, overall capacity levels have steadily decreased from their highs in 2003, as Korean Air and Asiana Airlines redeployed capacity away from the loss-making domestic market following the introduction of high-speed rail services in 2004. Domestic capacity levels have risen again since 2007 under the influence of new airlines but remain weaker in 2011 compared to 2009 and 2010 levels. Domestic capacity remains 22% below 2003 levels.
Total seats in South Korea: 2002 to 2011 (January to October)
Five LCCs in the South Korean market
Unlike its neighbours, Korea is inhospitable to foreign LCCs, but has a flourishing low-cost industry. Plans for an Incheon Tiger Airways JV airline were nipped in the bud in Dec-2008, but there are now five LCCs in the market: the independent EastarJet, Jeju Air and T'way Airlines (previously Hansung Airlines), plus two lower-cost units of the flag carriers – Jin Air of Korean Air and Air Busan of Asiana Airlines. In addition to Hansung Airlines, Yeongnam Air suspended services in 2008 due to intense competition and weak demand. In the Korean environment, these airlines are not always typical of the low-cost genre but are at least lower-cost.
South Korean LCCs: key details as at Nov-2011
Airline

Base

Launch date

Parent

Capital (2010)

Fleet Size

Routes

International vs domestic capacity

Information

Seoul

Jan-2009

Saemangeum Tourism Development

KRW27.8 billion

One B737-600; five B737-700s

Four domestic: Cheongju, Gunsan, Jeju, Seoul Gimpo

100% domestic

Seoul

Jul-2008

KRW27 billion

Five B737-800s

Three domestic: Jeju, Seoul Incheon, Seoul Gimpo. Seven international: Bangkok, Cebu, Clark, Guam, Macau, Sapporo Chitose, Shanghai Pudong

21.9% international;

78.1% domestic

Formerly Air Korea, the carrier launched international operations in 2009, and, within two years, plans to expand its international network to 16 international routes in China, Japan and Southeast Asia.

Busan

Oct-2008

KRW50 billion

Two A321-230s, three B737-400s, three B737-500s

Three domestic: Busan Gimhae, Jeju, Seoul Gimpo. Six international: Cebu, Fukuoka, Hong Kong, Osaka Kansai, Taipei Taoyuan, Tokyo Narita

19.2% international; 80.8% domestic

Launched in mid 2007 by the Busan City Government together with twelve local investors. Asiana acquired 46% of the airline in Feb-2008

Jun-2006

Aerkyung

KRW110 billion

Eight B737-800s and five on order

Four domestic: Busan Gimhae, Jeju, eoul Gimpo, Seoul Incheon. Seven international: Bangkok, Cebu, Hong Kong, Kita Kyushu, Manila, Nagoya Chubu Centrair, Osaka Kansai

28.1% international; 71.9% domestic

Became the first LCC to commence international operations from Incheon in Mar-2009.

T'way Airlines

Seoul

2004 as Hansung; 2010 as T'way

Shinbo Investment

KRW20.7 billion

Four B737-800s

Three domestic: Jeju, Seoul Incheon, Seoul Gimpo. One international: Bangkok

7.1% international; 92.9% domestic

Established in 2004 and in Dec-2005, just four months after its commercial launch, Hansung Airlines suspended all services due to budgetary constraints. Services were resumed in Feb-2006 but were suspended again in Oct-2008 for nearly two years. The carrier was formally relaunched in Aug-2010 as T'way Airlines and commenced commercial operations in Sep-2010
Future of T'Way remains uncertain amid reports of potential takeover by Jeju Air
However, the influx of new carriers eager to build viable market shares and the presence of an efficient surface transport alternative has made for an awkward pricing environment, translating into low yields, losses and carrier failures.
According to reports in Joongang on 03-Nov-2011, the intensified competition among domestic LCCs is again creating changes in the market. T'Way, formerly Hansung Airlines, is reportedly up for sale, just over a year after bankrupt Hansung acquired new owners in Sep-2010 and was renamed T'Way.

According to Joongang, citing industry sources, Shinbo Investment, T'Way's major shareholder, decided to sell the airline last month and is currently negotiating with several companies that have shown interest. It has been reported that T'Way has been suffering from financial challenges after Tomato Savings Bank, one of its largest shareholders, was suspended by the Financial Services Commission in Sep-2011.
Jeju Air, owned by Aekyung Group, is reportedly one of the parties considering purchasing it by forming a consortium with a private equity fund. The local newspaper quoted an unidentified official from Jeju Air as saying: "It is true that a PEF has contacted us to see if we are willing to purchase T'Way Air. We are currently examining what benefits acquiring T'Way would bring should we decide to purchase the carrier."
If Jeju Air opts to acquire T'Way, it will be the first LCC in Korea to own more than 10 aircraft. Jeju operates a fleet of eight B737-800s at present, with a further five on order, with T'Way operating a fleet of four B737-800s.
LCCs expanding internationally
The effect has been, in search of profits, the previously domestic LCCs have adapted their strategies and are increasingly turning to international routes, although this remains limited. Only 4.9% of international capacity (seats) from South Korea was operated by LCCs in the ten months to Oct-2011, up from 0.2% in FY2006 and 2.3% in FY2010.
The nation's LCCs are expanding in the wake of a Ministry of Transport relaxation of restrictions on qualification to operate international services. In mid-2008 the restrictions were reduced from two years prior domestic operation and 20,000 flights with no safety violations, to one year and 10,000 flights with no violations.
Following this change, and as the country's young LCCs reached their first anniversary of operations, the number of international services offered by LCCs has increased, a trend that should continue, as brand awareness grows and public acceptance of the LCC model builds in North Asia, now that foreign LCCs are entering the Korean market. Local LCCs are likely to continue expanding their geographical scope, to take advantage of South Korea's growing international air travel market, and diversify away from the loss-making domestic market – and as Korean Air and Asiana Airlines use their LCC units more strategically in future.