LATAM's JVs Part 1: American Airlines partnership would create the largest US-South America force
Analysis
Mid-Jan-2016 was a banner period for the oneworld alliance. Latin American powerhouse LATAM Airlines Group tabled plans to forge immunised joint ventures with Europe's IAG Group and American Airlines, upping the competitive stakes between Europe and Latin America, and the US and Latin America.
The tie-up between LATAM and American is not surprising, despite American's relative silence on the issue until the formal announcement of the partnership was made. With an impending open skies agreement between the US and Brazil, American's rival Delta has been trumpeting plans to form a joint venture with its Brazilian partner Gol, and in 2015 United took a stake in Brazil's third largest airline Azul.
If all the requisite approvals are gained, LATAM and American will solidify their leading presence between the US and South America, drive important revenue synergies and, perhaps over the medium term, add new markets between the two regions. However, given the market concentration of American and LATAM, regulators may be expected to seek concessions for the agreement to move forward.
See related report: LATAM's JVs Part 2: IAG joint venture would greatly strengthen their Europe-South America position
An open skies agreement between the US and Brazil was due to take effect in Oct-2015, but it does not appear that the deal has been finalised. That has not deterred airlines serving the countries to prepare for complete open access between the two markets.
Delta Air Lines has upped its stake in Brazilian airline Gol, and stated its intention to forge a joint venture with its Brazilian partner. During 2015 United took a USD100 million stake in Azul, Brazil's third largest domestic airline, which branched out to the US in late 2014. Azul presently serves Fort Lauderdale and Orlando International from Campinas Viracopos and operates flights from Belo Horizonte to Orlando.
American remained relatively quiet about a potential joint venture with LATAM since dynamics were shifting with Delta and United and their respective partners in Brazil. That changed with the blanket announcement that LATAM was seeking joint ventures with American and IAG.
The proposed joint venture between LATAM and American covers flights between the US and Canada and six South American countries – Brazil, Colombia, Chile, Peru, Paraguay and Uruguay. A LATAM airline holds either the leading position, or second leading position, in all those countries (measured by system seat deployment).
LATAM Airlines Group system seat share in countries covered under the proposed JV with American
LATAM and American work to sustain their leading edge between the US and Latin America
Data from CAPA and OAG for the week of 11-Jan-2016 to 17-Jan-2017 show that American and TAM combined have the largest presence between the US and upper South America, representing nearly 41% of the approximately 165,200 one-way seats on offer between the two regions. Between the US and lower South America, American and LAN hold 59% of the 35,600 one-way seats operated between the two regions.
There are numerous benefits to leveraging the combined scale of LATAM and American through an immunised joint venture.
One of the most valuable is an ability to jointly manage schedules and pricing, to maximise revenue as one entity. That should be a bonus to both companies, as they work to navigate their capacities and pricing during a generally weak period in Latin America's economy – assuming they receive necessary approvals and launch a joint venture in the 2017 timeframe.
More importantly, the tie-up is about long term positioning in the North America to Latin America market, ensuring that each company sustains its leading rankings, and leverages scale to add new routes that make sense.
American and LATAM already control more than 60% of the seats between the US and Brazil
American's largest penetration in South America is in Brazil. Until 2015, when Brazil's economy bottomed out, the airline had made a push into some of Brazil's secondary markets from the US. Schedules in CAPA and OAG for the week of 11-Jan-2016 to 17-Jan-2017 show that American operates flights from its Miami hub and main Latin American gateway to nine Brazilian destinations – Belo Horizonte, Brasília, Campinas, Manaus, Rio de Janeiro, São Paulo Guarulhos, Porto Alegre (with a stopover in Curitiba), Salvador and Recife.
See related report: American Airlines and TAM continue to expand US-Brazil as other markets show signs of weakness
American serves Guarulhos from its hubs at Dallas/Fort Worth and Los Angeles, and Rio and Guarulhos from JFK.
American's other markets in countries covered under the proposed joint venture with LATAM include flights from Miami and DFW to Santiago and Lima. American is the second largest airline between the US and Colombia measured by seat deployment, holding an 18% share behind Avianca's share of 38%. American operates service from Miami to Bogotá, Barranquilla, Cali and Medellin.
It also operates flights between DFW and Bogotá.
United States of America to Colombia (seats per week, one way): 19-Sep-2011 to 26-Jun-2016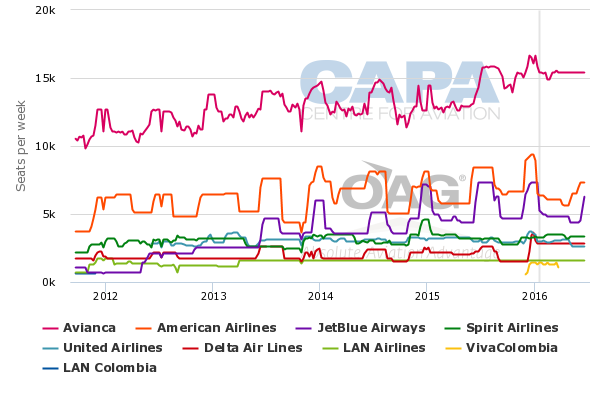 American no longer has direct flights to Paraguay, after ending flights from Miami to Asunción in 2015. It operates service to Montevideo, Uruguay, from its Miami hub.
LAN's US-South America route network includes flights to Miami from Santiago, Bogotá, and Lima. It also operates flights from Lima to Los Angeles, Orlando International and New York JFK. LAN also serves New York JFK from its hub in Santiago.
TAM's largest US market is Miami. It links the Brazilian destinations of Belém, Belo Horizonte, Fortaleza, Manaus, Brasília, Guarulhos and Rio de Janeiro to the South Florida airport. TAM also serves Orlando from Brasília and Guarulhos, and JFK from Rio and Guarulhos. Together, American and TAM control 64% of the one-way seats on offer between the US and Brazil for the week of 11-Jan-2016 to 17-Jan-2016.
United States of America to Brazil (seats per week, one way): 19-Sep-2011 to 26-Jun-2016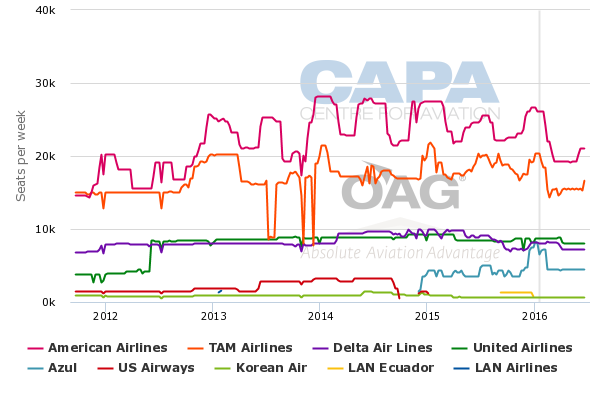 American overlaps with LATAM in a few markets, unsurprisingly, the highest concentration of overlap being with TAM on flights to Brazil. Prior to TAM's exit from the Star Alliance in 2014 to join oneworld, American and TAM were competitors in the US-Brazil market.
LATAM and American overlap on routes covered under the proposed JV: 11-Jan-2016 to 17-Jan-2016
United could be the odd man out if the proposed JVs by American and Delta gain approval
After TAM's exit from Star there was a significant gap in the alliance's coverage in South America. Avianca Brazil joined Star in 2015, but as Brazil's fourth largest airline it does not offer Star nearly the same scope as TAM. Avianca Brazil's Star partner United opted to take a stake in Azul and forge a partnership with Brazil's third largest airline to regain lost ground in Brazil.
See related report: United Airlines forges a new path in Brazil with Azul. What is in store for their partnership
If the proposed Delta-Gol and American-LATAM joint ventures eventuate, United will be the only airline among the big three US global network airlines without a joint venture partner in Latin America. Delta itself is also attempting to forge an immunised joint venture with its SkyTeam partner Aeromexico.

See related report: Delta Air Lines increases its Aeromexico stake and broadens its influence in the US-Mexico market
United's Star partners in Latin America, other than Avianca Brazil, include Copa Airlines and Avianca. Avianca is the largest airline in Colombia, holding a 57% system wide seat share. It is Peru's second largest airline, with a 17% seat share. Its three major hubs are Bogotá, Peru and San Salvador.
Copa has carved out a successful business leveraging Panama City Tocumen's favourable geographical location as a key transit point for connecting traffic from North America to South America. It will be interesting to observe how the Star partners react to the new crop of proposed joint ventures in Latin America. They will either raise their voices in protest, or work to build a competitive commercial alternative to the new business arrangements.
It could be some time before LATAM and American add new markets to their JV
American and LATAM alluded to potential new routes under their proposed joint venture. Given Latin America's overall general economic weakness, and the timing of approval of the proposed alliance, it seems as if completely new routes could be a couple of years in the future.
If the tie-up gets a green light for a 2017 launch, American and LATAM could spend the initial stages of the joint venture harmonising capacity and improving scheduling on existing routes, but as Latin America's economic situation improves there could be intriguing new routes under consideration.
LATAM could consider serving American's hub at DFW to offer better onward connections to central and western US. With Paraguay and Uruguay included in the joint tie-up, it makes sense to consider how those markets fit into the joint venture. At the very least, resumption of direct service from the US to Paraguay appears to be a sound option.
Is the latest round of JVs could usher in a new chapter in Latin American aviation
The creation of a joint venture between LATAM and American seemed almost inevitable after the liberalising of air service between the US and Brazil. After Delta revealed its intent to create an immunised joint venture with Gol, it was only a matter of time before American and LATAM outlined plans to forge a similar arrangement.
Obviously the major difference between the two proposals is the the outsized market concentration that LATAM and American already hold between the US and South America, particularly Brazil. That could raise some eyebrows with regulators, and competitors will no doubt move to flag the market concentration created by the joint venture to the approving authorities. Some concessions may be necessary. However, the new wave of joint ventures on the horizon for Latin America creates an interesting new chapter for the region's airline industry.