Kingfisher, Spicejet, Jet Airways lead Indian airlines down. Virgin Blue still under pressure
Analysis
Conditions in the Indian market continue to weigh heavily on share prices for Kingfisher, Spicejet and Jet Airways. Kingfisher is currently preoccupied in seeking to place aircraft with other airlines, as its ambitious order book sees new deliveries. Jet too is attempting ot place some of its excess capacity offshore in a difficult seller's market. Things are unlikely to improve greatly as a national election looms in India, typically a time when business activity slows.
Indian airlines' share price: 01-Jan-09 to 05-Mar-09
Index 01-Jan-09 = 1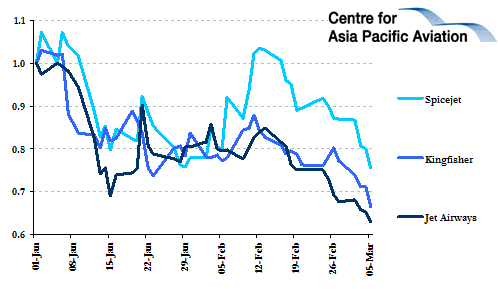 In Australia, Virgin Blue's shares are also under heavy selling pressure, following its new venture onto the Pacific with V Australia. The shares are now at a tenth of their IPO price. Meanwhile, Qantas gained a few cents after shedding much of its value over the past month, since going to the market for funds to reinforce its balance sheet.
Asia Pacific selected airlines daily share price movements (% change): 05-Mar-09