Kingfisher, Jet and Spicejet improve as Indian traffic steadies
The main listed Indian airlines' shares rose on Friday, as better than expected February traffic figures offered some hope that the slowdown in domestic travel has eased. Despite this being a less than overwhelming market positive, the effect was upwards, as investors hungry for good news jumped back in.
India's BSE market index rose a strong 4.95% on a combination of global strengthening and a previous day Credit Suisse investment analysis suggesting the Indian market was priced some 20% below other regional markets.
Jet Airways (+9.7% rise in share price) and unlisted Air India showed actual improvements in passenger numbers, while Kingfisher (+8.0%) traffic numbers fell slightly, although maintaining the largest domestic market share. SpiceJet shares rose 4.9% on the day.
Asia Pacific selected airlines daily share price movements (% change): 13-Mar-09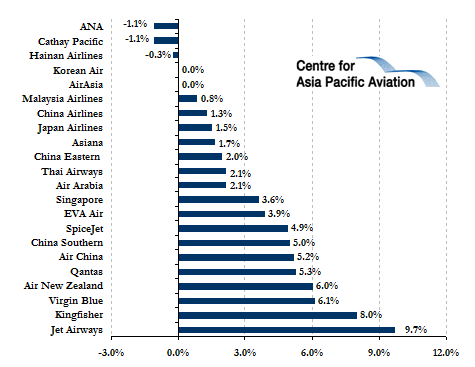 The effect of reduced capacity and increased fares across the board through February has delivered higher load factors for most carriers, notably the LCCs. This should also have meant that financial results are improved - although it takes some time for the financials to be reported.
That said, improved passenger loads for LCCs included up to 40% of seats sold during the Jan-09 promotional period, so their yields will have remained under pressure.
Also, the "recovery" may be short lived. With fares now increased again, traffic for March is expected to remain weak. (See this month's Monthly Essential India for more on these developments.)
Overall domestic passenger numbers were down nearly 8%, a marked improvement on the double digit year on year falls of recent months, notably Nov-08, when the fall exceeded 20%.
Indian domestic passenger numbers and passenger numbers growth: Mar-08 to Feb-09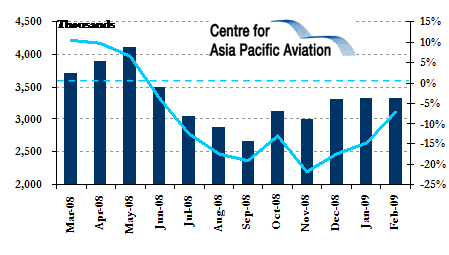 Kingfisher may eventually be able to gain some market traction as its superior market share gives it a slight edge. But in the current highly competitive environment, this is not yet converting to profitability.
With 27.2% share in Feb-09, Kingfisher is ahead of Jet Airways (18.0% share), whose LCC subsidiary Jet Lite occupies a further 7.5% share.
Indian domestic passenger market share in Feb-09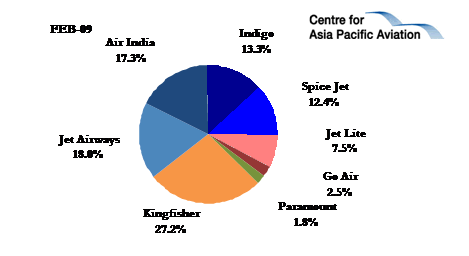 Following the heavy Jan-09 discounting, the LCCs showed good increases in load factor, with IndiGo at a good 82%. Spicejet managed 78.5%, while the full service carriers lagged, in the face of deteriorating business travel demand.
Indian domestic passenger load factor in Feb-09