Kansas City International Airport: solid growth and Icelandair
Kansas City International airport has sustained solid growth during the past few years and marked a major milestone earlier in 2018 with Icelandair's launch to Reykjavik, marking the airport's first trans Atlantic flight. It is a key development for a mid-continent airport, and Kansas City hopes the new service to Iceland will lead to the establishment of additional long haul flights.

As it celebrates new service to Iceland, Kansas City International is undertaking construction of a new terminal to accommodate the airport's future growth.

Most mid-sized US airports remain in reasonably solid shape, and Kansas City International is no different. Its steady passenger growth should continue in 2018.
Summary
During 2017 Kansas City International posted its third busiest year of passenger growth in its history.
The airport marked a major milestone in May-2018 when Icelandair introduced flights from Kansas City to Reykjavik.
As Kansas City aims to secure more long haul service, the airport is working to construct a new terminal to support future growth.
The airport's largest airline presence, Southwest, is backing construction of a new terminal.
Kansas City's growth tops more than 4% in 2017
Kansas City International airport posted 4.2% passenger growth year-on-year in 2017, to 11.5 million passengers. It was the airport's fifth consecutive year of passenger growth, and the third busiest year in the airport's history.
Kansas City International airport: growth in passenger numbers from 2010 to 1H2018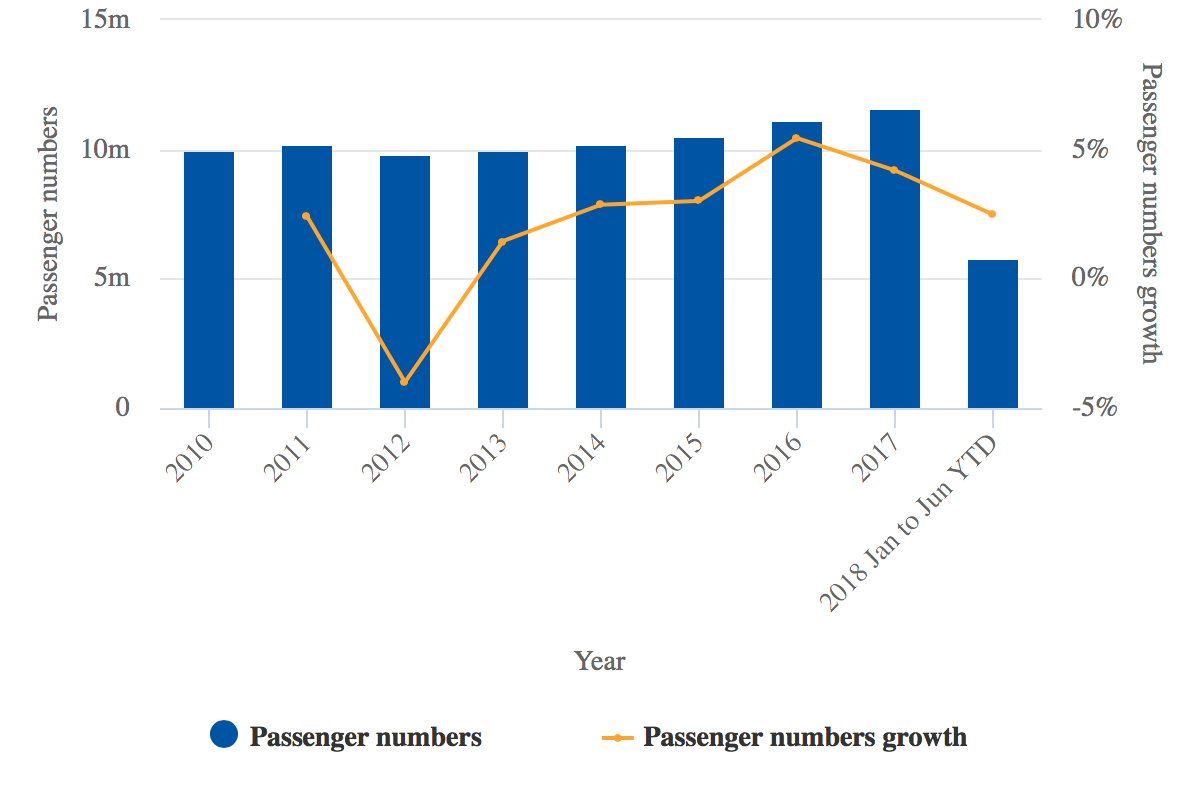 New market momentum has continued in 2018, with Southwest Airlines' new service to Raleigh-Durham, Allegiant Air's new flights to Myrtle Beach, Onejet's service to Pittsburgh, and tour operator Vacation Express' seasonal service to Punta Cana.
Kansas City scores a major victory with Icelandair's new service to Reykjavik
Kansas City's milestone moment for 2018 was the launch of Icelandair's seasonal service to Reykjavik in May-2018. The airport's first nonstop trans Atlantic flight was years in the making, and reflects the strategies of Icelandair and rival WOW Air in marketing Iceland both as an endpoint destination and connecting point to Europe.

Icelandair is using 183-seat Boeing 757s on its thrice weekly service from Kansas City to Reykjavik. Like so many medium sized airports, Kansas City International put together an incentive package for Icelandair. According to the news outlet the Kansas City Star, the airport agreed to a two-year waiver of landing and airport usage fees and also awarded Icelandair USD250,000 to market the route for a two-year period.

According to the publication, the airport has estimated that approximately 300 passengers per day leave Kansas City International on travel to Europe, and during the summer months those levels can grow between 400 and 500.

The seasonal service from Icelandair is a promising start for Kansas City in working towards more long haul service, and it could take a few more years for the airport to expand its offerings to Europe.

Presently (as of late Jul-2018), the airport's other international service includes Air Canada's flights to Toronto, and service to Cancún operated by American and Delta. Air Canada serves several US markets the size of Kansas City to capture, in part, sixth freedom travellers destined to Europe and Asia.

See related report: Air Canada bets big on sixth freedom traffic flows in 2016 with a new transborder push
As Kansas City International aims to bolster its international offerings, the airport is working to build a new a terminal to consolidate the airport's three terminal layout, which was designed in the 1960s for an opening in the early 1970s.

Construction of the new terminal should be completed in the next four years, and will create more efficiency for passenger throughput at the airport, as well as supporting passenger growth, which – on an annual basis – averaged 3.4% between 2013 and 2017.
Southwest Airlines is Kansas City International's largest airline presence measured by weekly departing frequencies as of late Jul-2018, with a nearly 45% share. Delta held an 18% share, followed by American's share of approximately 15%.
Kansas City International airline shares, measured by weekly departing frequencies as of late Jul-2018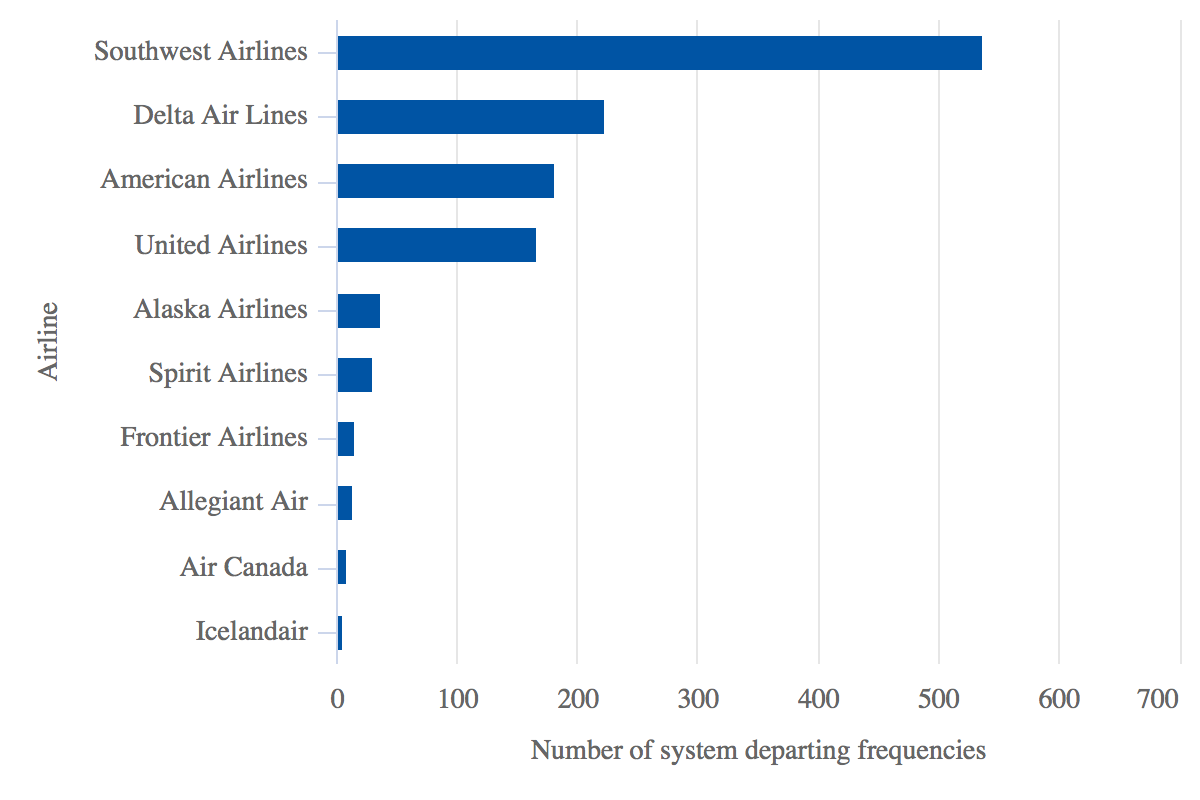 According to the Kansas City Star, Southwest CEO is a backer of the new terminal project at Kansas City International. Mr Kelly told the publication in late 2017 that the project would be an enabler of future growth and "we're 100 percent behind it". However, Mr Kelly could not guarantee Southwest's future growth levels at the airport.

Kansas City International has a solid presence from full service airlines, and the ULCCs Spirit and Frontier offer 28 and 14 weekly departing frequencies, respectively, from the airport. Allegiant's weekly departing frequencies from the airport (as of late Jul-2018) totalled 12.

The low cost hybrid Alaska Air Group operates service to its largest hub in Seattle alongside Southwest and Delta, which also operate flights to LCC JetBlue's stronghold of Boston. JetBlue is working to add more business markets to its network roster from Boston, and competes with Delta (which has built up a focus city in Boston) and Southwest in several markets from Boston.

According to the Bizjournals group, some of the markets from Kansas City with solid passenger levels from the airport that do not have direct service include Sacramento, Cleveland and San Jose. Frontier Airlines is launching seasonal service to one market featured on that list – Jacksonville, Florida – in Aug-2018.
Kansas City International has charted solid growth during the past few years, and is now setting its sights on possible additional long haul service now that Icelandair has landed at the airport. The airport could be an attractive target for long haul low cost airlines looking for secondary markets to expand the model.

Construction of a new terminal should position Kansas City for the future, and create a level of efficiency to enhance the passenger experience. For now, no signs are emerging that Kansas City's solid growth trajectory will not continue.