Jetstar's FlexiBiz offering for SMEs; aiming to avoid cannibalising Qantas' corporate business
Analysis
Australian LCC Jetstar, part of the Qantas Group, has introduced its first specifically business-targetted fares, FlexiBiz, in a bid to satisfy its growing SME market.
The new FlexiBiz offering allows business travellers to change flights on the day of travel and provides additional carry-on luggage allowances and free seat selection. Additional fees for the extras range from AUD29-AUD34 for domestic flights and AUD39-AUD55 for international flights. Business travellers must have an Australian Business Number (ABN), indicating their business status, in order to qualify.
Jetstar group chief executive Jayne Hrdlicka says the introduction recognises the "significant number of customers travelling for business on particular routes during peak times". The FlexiBiz bundle allows the Qantas Group to target these travellers in a dual brand strategy alongside Qantas. The budget-conscious business fare is also available in New Zealand and Singapore, with slight variations.
The new offering complements Qantas' focus on small and medium-size businesses (through Aquire) and premium corporate travel, ensuring that it has all the segments of the business travel market covered. Aquire is a rewards programme for Australian businesses. Similar to the Qantas Frequent Flyer programme for individuals, Aquire offers Aquire Points to businesses for a range of goods and services, including travel on Qantas flights.
Jetstar's FlexiBiz package, aimed at SMEs

Businesses wanting to access FlexiBiz need to register on the Jetstar Business Hub, a dedicated website.
On the Business Hub, purchasers can make and change bookings and manage payments.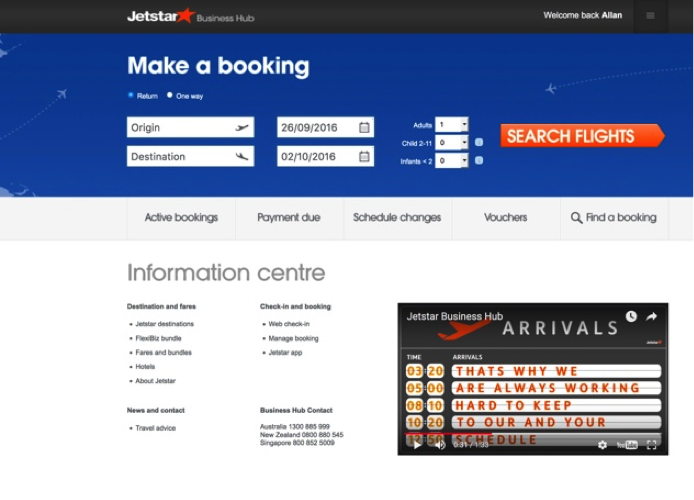 The new Jetstar FlexiBiz bundle includes:
Free flight change on day of travel, for day of travel (subject to availability, up until check-in closes)
One carry-on bag (7kg) + one additional under-seat bag
Upfront or standard seat selection (normally a fee)
Credit voucher provided if booking cancelled by customer (valid for booking within 6 months of issue)
The bundle can be added to any Jetstar Starter fare on domestic and international services.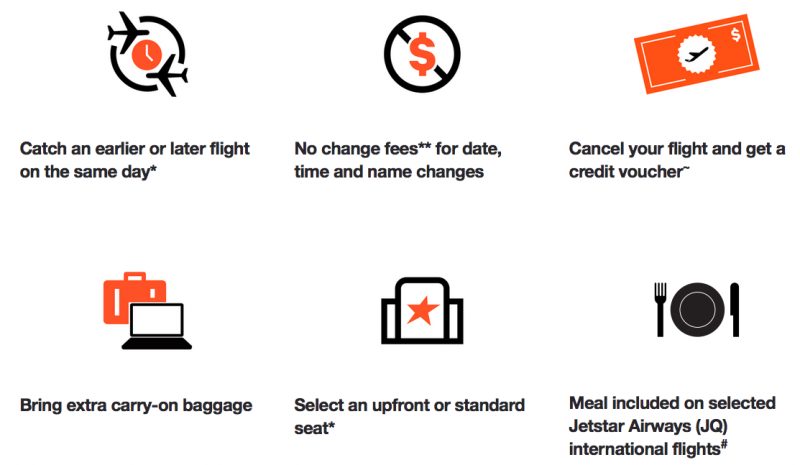 Jetstar aims to tap into a growing market
SMEs represent a growing market for travel suppliers, constituting 96% of all Australia's businesses. Since most SMEs are not serviced by Travel Management Companies (TMCs), this has traditionally been a difficult segment for airlines to target.
CAPA/4th Dimension research shows that SMEs are among the most savvy and price-conscious travel buyers, often buying better than large corporate buyers, despite their being armed with airline deals, negotiated in bulk.
By buying early and avoiding more expensive flexible fares, SMEs are able to achieve significant savings. They are also more likely to look at all airlines when shopping, not just at a preferred carrier, hence what Ms Hrdlicka describes as the "significant number" using what has to date been a leisure airline in Jetstar.
Even before the refinement of the Jetstar offering, the airline was attracting growing numbers of SME customers, enticed by the lower fares. Clearly, the Jetstar expectation is that added flexibility and more generous luggage allowances will make an even more compelling value proposition.
The SME FlexiBiz product will also be offered in New Zealand
Jetstar launched the FlexiBiz programme in New Zealand at the same time as its Australian debut.
The programme is similar in new Zealand, although it is priced slightly lower – NZD21-24 for domestic, NZD39 for short-haul international flights and NZD55 for long-haul international flights on top of the Starter fare.
As in Australia, FlexiBiz is available to New Zealand businesses which register using their New Zealand Business Number (NZBN) through Jetstar's Business Hub website.
The ever-present risk of cannibalising Qantas' corporate market
While FlexiBiz is aimed at SMEs, and taking market share away from the Virgin group, there is no doubt that it will be adopted into travel programmes of larger corporates.
Many already use Jetstar, and will be further encouraged by the availability of FlexiBiz through the airline's TMC distribution channel. TMCs can currently access FlexiBiz via any online booking tool connected to the Jetstar API, including Serko, Sabre Online and Amadeus e-Travel Management.
This move capitalises on the growing adoption of "Best Fare of the Day" policies by corporates. Many travel policies encourage travellers to use the lowest logical fares available in their booking tools. While Jetstar fares may have been the lowest, they may not previously have been the "best" in terms of flexibility and the cost of ancillaries.
FlexiBiz potentially addresses the shortcomings of the leisure-only fares and should enable the airline to grow its marketshare in the price-sensitive segment of the business market.
Initial reports indicated a strong positive market response, with a number of businesses already registering on the new Business Hub.
Clearly, Qantas cannot prevent its corporate clients from accessing this cheaper alternative. However, most corporate customers have market share agreements which require them to book a majority of their flights on Qantas to qualify for discounts. Jetstar flights do not count towards that market share calculation, so customers cannot simply substitute Jetstar in their programmes.
Clearly, Qantas cannot exclude its corporate clients from accessing this cheaper alternative. It could however exert some influence by enforcing its market share requirements among corporate customers, especially since Jetstar volumes are generally excluded from the market share calculation.
Similarly, the FlexiBiz product is excluded from the Aquire loyalty programme, with flights not accruing points the same way as Qantas trips do. Members cannot earn and burn miles on Jetstar within that programme.
SMEs are a key target for the Qantas Group overall
Bolstered by a 30% increase in domestic profit last year, the Qantas Group now sees SMEs as a big focus for both its brands. The group believes its legacy carrier already offers a good balance of value and flexibility and that the new Jetstar product is aimed squarely at the "price-sensitive part of the SME market". But unfortunately that price sensitive segment does not always see itself as a discrete market fragment; the reality is that all travellers have many different guises.
Price sensitivity is almost always one of the main ingredients, no matter what segment is concerned. It is only one though and each traveller has a unique profile in regard to other drivers.
For airline providers - and for intermediaries - the science is therefore in assessing the relative importance of other overriding factors, such as on time performance, frequency of service, ease of check in and movement through airports, lounge and FFP access and many others.
As Jetstar introduces its new product, some "collateral damage" is inevitable in a volatile and increasingly cost-conscious market, but it is clear that Qantas is prepared to risk losing some of its premium business to its low cost sibling.
This is always going to be preferable to losing it to airlines outside the group.