Jetstar Pacific plans fleet and international expansion for 2016 as VietJet competition intensifies
Analysis
Vietnam's Jetstar Pacific is planning more rapid expansion in 2016 as it aims to grow its fleet by 50%, from 12 to 18 aircraft. Jetstar Pacific grew at a rate of nearly 40% in 2015, marking its biggest expansion since it launched in 2008.
The Vietnam Airlines-Qantas joint venture continues to expand domestically but will focus more on the international market in 2016, with a combination of new scheduled routes and charters. There are particularly promising opportunities for Jetstar Pacific in international markets where the Jetstar Group already has a strong presence, such as Bali and Japan.
Further domestic expansion is strategically necessary as the Vietnam Airlines Group responds to the rapid rise of VietJet. Domestic expansion may not be profitable given the current competitive environment, but Jetstar Pacific has an opportunity to improve on weak domestic yields by focusing more on interline and codeshare traffic.
Jetstar Pacific expanded at a rate of nearly 40% in 2015
Jetstar Pacific currently operates a fleet of 12 A320 family aircraft across a scheduled network of 16 domestic and three international destinations. Jetstar Pacific also has a large and growing charter operation to China and Macau. Some of its China and Macau flights have a very small number of seats available for sale on the Jetstar website, although these flights are essentially charters; almost all the capacity is pre-committed by travel agents.
Jetstar Pacific expanded rapidly in 2015, launching 13 new domestic routes for a total of 24. Following the earlier launch of Ho Chi Minh to Bangkok and Singapore, it also launched two more scheduled international routes – Hanoi to Bangkok and Hong Kong – for a total of four. In 2015 Jetstar Pacific also expanded its charter operation with several new seasonal services, primarily to greater China.
See related report: Vietnam aviation: SE Asia's fastest growing market in 2015 as VietJet Air & Jetstar Pacific expand
Jetstar Pacific's passenger traffic grew by 38% in 2015, to 3.6 million. 2015 marked by far the fastest growth for Jetstar Pacific since the airline transitioned to the LCC model and adopted the Jetstar brand in 2008, one year after a minority stake was acquired by the Qantas Group. Qantas currently owns 30% of Jetstar Pacific and Vietnam Airlines the remaining 70%.
Jetstar Pacific annual passenger traffic and year over year growth: 2008 to 2015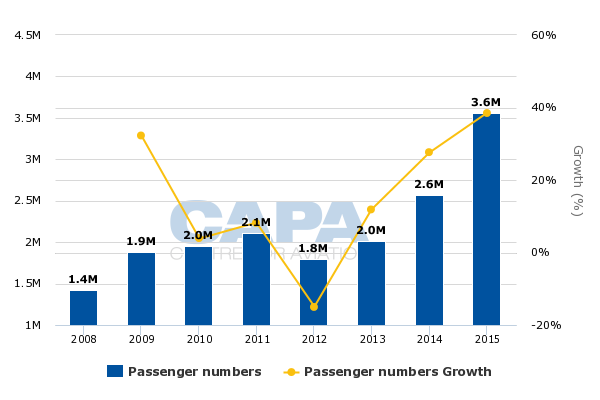 Jetstar Pacific plans to expand fleet by 50% in 2016
Jetstar Pacific is planning more rapid expansion in 2016 as it responds to growing demand at the bottom end of the Vietnamese market and intensifying competition with privately owned Vietnamese LCC VietJet Air. The Jetstar Pacific fleet is expected to expand by 50% in 2016, while the larger VietJet is planning to expand its fleet by 40%.
As CAPA has previously highlighted, in 2015 VietJet grew its fleet of A320 family aircraft by nine aircraft to 30, including two wet leased A320s, and it plans to add another 12 aircraft in 2016. In 2015 VietJet Air recorded 70% passenger growth, to approximately 10 million, and it expects 50% growth to approximately 15 million in 2016.
See related report: VietJet Air 2016 outlook: overtakes Vietnam Airlines in domestic market as IPO planned for 1H2016
Jetstar Pacific COO Leslie Stephens, said on the sidelines of CAPA's Fleet and Finance Forum on 03-Mar-2016, that the airline plans to expand its fleet to 18 aircraft by the end of 2016 as eight A320s are delivered and two A321s are returned. Its current fleet consists of 10 A320s and two A321s. These figures exclude three wet-leased A320s that were used from mid Jan-2016 to early Mar-2016 to meet peak season demand.
Jetstar Pacific has so far committed to four A320 deliveries for 2016 following a contract that was forged with China Aircraft Leasing in late 2015. It has not yet completed deals for the other four A320s that are part of its 2016 fleet plan, but has identified several potential aircraft and is in talks with leasing companies. For the four aircraft it has not yet committed to, it is currently considering both new and used A320s.
Jetstar Pacific fleet summary: as of 10-Mar-2016
The eight A320s that Jetstar Pacific is aiming to add in 2016 will partially be offset by the return of its two A321s to parent Vietnam Airlines. The A321s are currently dry-leased from Vietnam Airlines and are in two class 203-seat configuration, (the eight business class seats are not sold) while Jetstar Pacific's existing A320s are all in standard single class 180-seat configuration. The A320s from China Aircraft Leasing will be delivered in the newly available 186-seat high density configuration.
Jetstar Pacific seeks to add 12 more aircraft in 2017 and 2018
Jetstar Pacific is also now considering both new and used A320s to meet its growth requirements for 2017 and 2018. Jetstar Pacific is seeking approximately six deliveries for both years as part of a business plan approved by its two shareholders in late 2015, which outlines a fleet of 30 aircraft by early 2019.
The LCC could potentially have trouble fully implementing its three year fleet plan, including securing all eight aircraft intended for 2016, given current aircraft availability issues. Mr Stephens told CAPA's Fleet and Financing Summit that there is currently a limited supply of used A320s less than 10 years old, and the aircraft that are available are generally too expensive.
Jetstar Pacific also has decided against implementing an earlier plan to transition to the A320neo. Initially Jetstar Pacific was preparing to acquire A320neos, and therefore over the last few years has forged relatively short-term leases on several used A320ceos as a bridge solution. Jetstar Pacific is now planning to extend its existing A320 leases after determining in early 2015 that A320neos did not make economic sense, given their much higher capital cost, the current fuel prices, and the airline's short average stage length.
Jetstar Pacific was even offered the opportunity by Qantas to take over 10 early A320neo delivery slots from 2016, which would have made Jetstar Pacific one of the first operators of the type. The Jetstar Group, which has 99 A320ceo family aircraft on order, ended up handing back the slots to Airbus and will instead start taking delivery of A320ceos from 2017. The earlier slots were not ETOPS compliant, which would not have been an issue for Jetstar Pacific but was an issue for other Jetstar Group airlines.
Mr Stephens said that Jetstar Pacific will only reconsider the A320neo if the acquisition cost is reduced significantly. At the same time it has begun assessing other long term fleet options, including the Bombardier CSeries and Embraer E-Jet E2 families.
At least for now Jetstar Pacific plans to stick with A320ceos, essentially hoping that reasonably priced aircraft become available as it tries to build up its fleet from 12 to 30 aircraft over the next three years. It is not interested in A321s, including the new high density 230-seat version that VietJet is mainly focusing on as it expands.
Jetstar Pacific to focus on international expansion in 2016
Jetstar Pacific will primarily focus on international expansion in 2016. Its international operation is now more profitable, although strategically Jetstar Pacific will likely need to add capacity on some existing domestic routes as competition with VietJet continues to intensify.
Jetstar Pacific turned an annual profit in 2015 for the first time in its history. However, the profit was very modest and would not have been achieved without the international charter operation.
The international expansion plan for 2016 includes more charter contracts, along with more scheduled routes. The charters are crucial for Jetstar Pacific to maintain its newfound profitability, given the intense domestic competition.
China will continue to be the focus of the charter operation with new services from several Vietnamese gateways, including secondary cities, to several Chinese destinations. Jetstar Pacific also continues to operate several charters to Macau and Hong Kong.
Jetstar Pacific also launched scheduled flights to Hong Kong from Hanoi in Sep-2015, and they have proven successful. Jetstar Pacific is now considering potentially launching scheduled services from Da Nang to Hong Kong. It is not interested in launching scheduled flights in the Ho Chi Minh-Hong Kong market, which it now serves with charters – it believes this route is too competitive, although it is currently only served by full service airlines.
There are currently 31,000 weekly seats between Vietnam and Hong Kong. Approximately half of all Vietnam-Hong Kong capacity is on the Ho Chi Minh-Hong Kong route, while Hanoi-Hong Kong has approximately 10,000 seats and Hong Kong-Da Nang has just under 5,000 seats. There has already been a 31% increase in seat capacity in the market over the last year, according to CAPA and OAG data.
Vietnam to Hong Kong capacity by airline (one-way seats per week): Sep-2011 to Aug-2016
Jetstar Pacific currently accounts for only 6% of total Vietnam-Hong Kong capacity, increasing to 8% from late Mar-2016 as its Hanoi-Hong Kong service increases to daily. The only other LCC in the market, HK Express, has an 8% share but only currently serves Da Nang. VietJet has been seeking to serve Hong Kong but has so far been unable to secure slots there.
Jetstar Pacific is likely keen to expand in Hong Kong as long as its largest competitor remains unable to serve the market. Jetstar Pacific also has the benefit of leveraging the Jetstar Group in the Hong Kong market – for both slots and local marketing. While the group's attempt to launch a Hong Kong affiliate was blocked in 2015, it is now serving the Hong Kong market from Japan, Singapore and Vietnam using its three existing Asian affiliates, and is keen to continue building its Hong Kong presence.
Jetstar Pacific plans to add three scheduled international destinations in 2016
Jetstar Pacific's business plan for 2016 also includes three new scheduled international destinations. As a result, the LCC is expected to end 2016 with six scheduled international destinations to supplement the current scheduled destinations of Bangkok, Hong Kong and Singapore. (Jetstar Pacific includes Macau and several destinations in China in its network map, but essentially these destinations are charters, with only a very small number of seats sold on Jetstar distribution channels.)
Jetstar Pacific is currently evaluating potential new destinations in both Southeast and North Asia. As was the case with Hong Kong, the focus will be on existing Jetstar Group destinations. This is a sensible approach as it enables Jetstar Pacific to leverage the Jetstar Group, reducing the traditional risk associated with launching new international routes, and it aids in Jetstar's overall connect the dots network strategy.
Japan is a likely new destination for Jetstar Pacific as Vietnam-Japan is a growing market not currently served by any LCCs, and there would be an opportunity to leverage Jetstar Japan. Jetstar Pacific also has been evaluating Bali, a destination not currently served nonstop from Vietnam but with tremendous potential. Bali is already served by both Singapore-based Jetstar Asia and Australia-based Jetstar Airways, providing an opportunity for Jetstar Group to offer connections to Vietnam via Bali from eight Australian cities.
Continued domestic expansion for Jetstar Pacific is strategically necessary
Despite the international expansion, Jetstar Pacific will remain primarily a domestic airline. Jetstar Pacific is not planning to add any new domestic destinations in 2016, but it needs to continue adding domestic capacity to support an overall attempt by the Vietnam Airlines Group to maintain market share despite aggressive expansion from VietJet.
In 2015 Vietnam Airlines Group implemented a new two brand strategy, resulting in dramatic expansion of the Jetstar Pacific domestic network. Six domestic destinations were added while some smaller routes were transferred from Vietnam Airlines to Jetstar Pacific.
See related report: Vietnam Airlines clarifies its dual brand strategy and accelerates Jetstar Pacific's expansion
Jetstar Pacific does not expect further domestic network expansion at this point as it now serving all – or virtually all – of the airports in Vietnam that are capable of handling jets. However, Jetstar Pacific has to continue adding domestic capacity to maintain its market share, which is currently approximately 15%, as the overall market has been growing at a rate exceeding 20%. The Vietnam Airlines Group also needs Jetstar Pacific to grow faster than the overall market in order to maintain its domestic market share as the parent airline is growing its domestic operation by approximately 10% per annum, which is significantly slower than the overall market average.
Domestic capacity in Vietnam has nearly tripled since 2011. VietJet, which launched at the end of 2011, has accounted for approximately two thirds of the additional seats.
Vietnam total domestic seat capacity: Sep-2011 to Mar-2016
Jetstar Pacific increases reliance on codeshares and interlines
The Jetstar Pacific domestic operation is unlikely to become profitable despite high load factors, which have generally been well above 80%, as the average yields are very low and will likely be pressured further. However, Jetstar Pacific should be able to generate higher average yields than its LCC competitor since it has the benefit of carrying passengers from Vietnam Airlines and other codeshare or interline partners.
Jetstar Pacific and Vietnam Airlines began codesharing on all flights in 2015 and are now completely integrated. Jetstar Pacific also benefits from working with other Jetstar Group airlines and from codesharing and interlining with Jetstar Group external partners. Jetstar Pacific currently has arrangements with all Jetstar Group partner airlines except Emirates, which for now it is unable to work with because of a conflicting partnership between Vietnam Airlines and Etihad.
Providing domestic feed to the Vietnam Airlines international network, the Jetstar Group and other foreign airlines serving the Vietnamese market is a key and growing component of the Jetstar Pacific strategy. Such international passengers come with a higher yield, essentially subsidising local passengers who at least for now are carried below cost, given the extremely competitive environment in the domestic market.
Jetstar Pacific now has an appropriate strategy and model
The current Jetstar Pacific strategy is sensible and is similar to the model used by Jetstar Asia, which currently has approximately 30 interline and codeshare partners. (Jetstar Pacific also now has relationships with all these partners, including on the overlapping Ho Chi Minh-Singapore route, with the exception of Jetstar Asia's largest single partner Emirates.)
The evolution of the Jetstar Pacific model was inevitable but was slow to materialise, a mistake that has benefited VietJet. After Vietnam Airlines took over the 70% Jetstar Pacific stake from Vietnam's State Capital Investment Corporation (SCIC) in early 2012, it took a couple of years for the flag carrier to decide on a strategy for its new LCC subsidiary.
Jetstar Pacific essentially sat idle until 2014 and was not initially used by the Vietnam Airlines Group to respond to the rapid rise of VietJet, which commenced operations at the end of 2011. In 2014 the Vietnam Airlines Group finally decided to accelerate expansion of Jetstar Pacific, which at the time was at broadly the same size as in 2009, and began embracing the two brand strategy that was initially pioneered over a decade ago in Australia by Jetstar Pacific's other shareholder, Qantas.
Jetstar Pacific outlook has improved but remains partially cloudy
Jetstar Pacific is now on the right track but still has to overcome several challenges as it tries to implement its new business plan. Securing 16 additional A320s for delivery over the next three years at affordable rates will be difficult and could force the LCC to slow its rate of expansion.
Another potentially bigger challenge is the irrational competition in its home market. While there is sufficient demand to support more rapid growth, the domestic market is unlikely to be profitable for Jetstar Pacific in the near to medium term. Yields are extremely low, and the already fierce competition with VietJet will further intensify. The portion of higher-yielding connecting traffic may be too small to enable Jetstar Pacific's domestic operation to turn the corner.
The prospects of profitability in Vietnam's international market seem more promising. The gradual expansion of the scheduled international network and higher reliance on charters provide a good foundation for Jetstar Pacific as it enters a new phase in its development.