JetBlue offers little visibility into its revenue outlook as US domestic capacity continues to grow
Analysis
JetBlue charted impressive growth in many key financial statistics in 2015. The company doubled its ROIC, posted healthy gains in pre-tax margins and recorded a nearly 70% jump in 2015 profits. Moreover, JetBlue was one of the few US airlines that posted positive passenger unit growth during 2015.

It is not clear whether JetBlue can stage a repeat performance in 2016. Obviously lower fuel costs will keep its profits strong; but it is tough to gauge whether the company can sustain its revenue outperformance in 2016. For now, JetBlue does not predict any significant amount of pricing pressure in its markets, but that could change over the course of 2016; airlines (including JetBlue) need to fill the capacity that they plan to deploy in the market place during the year.

Internally, JetBlue is engaging in a lot of commercial initiatives that should drive overall revenue growth. But the airline has opted to report total unit revenues from now on rather than PRASM, making it tough to determine how it is benchmarking against its peers. Overall, JetBlue's outlook is positive, despite the airline posting a negative unit revenue performance for Jan-2016.
JetBlue enjoys both strong fundamentals and PRASM growth during 2015
JetBlue delivered a strong performance in many important fundamentals in 2015 including ROIC, pre-tax margins and top line profit growth. After missing its 7% ROIC target in 2014 the company doubled its return on invested capital in 2015, increased its pre-tax margin by 6.4ppt and posted a 69% increase in top line profits.
JetBlue's year on year performance in ROIC, pre-tax margin and net income: 2014 vs 2015
| | | |
| --- | --- | --- |
| Metric | 2014 performance | 2015 performance |
| ROIC | 6.3% | 13.7% |
| Pre-tax margin | 10.7% | 17.1% |
| Net income | USD401 million | USD677 million |
The airline's profits increased significantly from 2013 to 2014, before oil started to slide in late 2014. JetBlue's profitability in 2015 was no doubt driven by lower fuel costs. Its top line fuel expense for 2015 fell 29.5% to USD1.3 billion.
JetBlue Airways annual - Net profit (loss): 2008 to 2015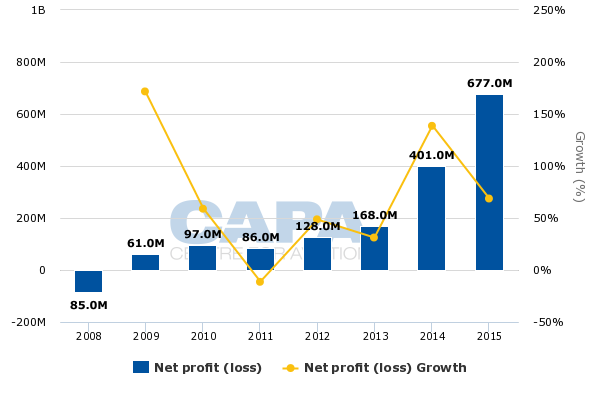 Unlike most of its US airline competitors JetBlue posted an outperformance in passenger unit revenue in 2015, which culminated in its PRASM for the full year notching up 0.7%, compared with PRASM declines for nearly every other major US airline.
Passenger unit revenue performance (PRASM) of selected US airlines for full year 2015
In 2015 JetBlue was shielded from the conditions that pressured PRASM for the large US global network airlines, which were the appreciating USD and falling fuel surcharges on long haul flights. JetBlue's international network centres on the Caribbean and Latin America. Economies of the Caribbean fared better than those of Latin America in 2015, and JetBlue's markets in Latin America include Colombia, Peru and Costa Rica, which were stronger than the region's weak spots in Brazil, Venezuela and Argentina.

Domestically, JetBlue was protected from the weakness that emerged in Dallas and Chicago in 2015. Its six focus cities are New York JFK, Fort Lauderdale, Long Beach, Orlando, San Juan and Boston. It is the leading airline (measured by seat deployment) in Boston, Fort Lauderdale, Long Beach and San Juan. It is the second largest airline at its headquarters JFK and the fourth largest in Orlando.

See related report: JetBlue guides down expectations for 4Q2015 PRASM. Aiming to keep its unit revenue edge in 2016
JetBlue starts 2016 with a negative unit revenue performance. The outlook for 1Q is obscured
JetBlue's PRASM fell 1.9% in 4Q2015, driven by the timing of year-end holidays and a higher than expected completion factor. In early 2016 JetBlue stated from that point on it would only report RASM, which includes ancillary sales and other revenue. Initially, the company forecast a 5% RASM decline for Jan-2016, but then posted a 3.5% decline for the month. The company enjoyed a 2ppt benefit from the winter storm 'Jonas' that struck the US east coast in late Jan-2016.

It is not clear if the RASM performance in Jan-2016 is the low point for JetBlue in 1Q2016. The airline did note that during early 2015 there was a string of winter storms on the east coast, and JetBlue gained 2ppt of positive PRASM in Jan-2015 from cancelled ASMs and passenger reaccommodation. The company gained 3ppt of positive PRAM in Feb-2015 from those factors.

With the Easter holiday falling into Mar-2016 and the tough year on year comparisons, JetBlue's unit revenue performance for 1Q2016 looks murky at best. The airline has offered little colour on demand, other than indicating that it has remained solid.
Benefits from fare families could help JetBlue's total unit revenue performance in 2016
Although JetBlue started 2016 with a negative unit revenue performance in January, two key elements should provide some positive momentum to the company's performance in that metric during the year. The airline will gain USD60 million in annual incremental operating income from a new credit card agreement, and achieve the USD200 million annual run rate in revenue benefit from its fare families during 2016, one year earlier than expected.

JetBlue debuted its segmented fare families product in mid-2015, and has concluded that sales from the fare categories – Blue, Blue Plus or Blue Flex – contributed USD80 million to its operating income for the year, versus previous estimates of USD65 million. The company has cited a higher number of upsales and more checked baggage sales than originally forecast. JetBlue's most basic fare option, Blue, does not include free checked bags.

In 2016 the airline is also expanding its Mint premium product from its third largest focus city Boston to San Francisco and Los Angeles, and on a seasonal basis from Boston to Barbados.

All of those factors are driving revenue benefit for JetBlue, but the timing of its decision not to break out PRASM and instead report just RASM is curious, especially when the airline outperformed its peers in PRASM during 2015.
JetBlue feels comfortable with its projected 2016 capacity growth, as larger A321s come online
JetBlue is planning 8.5% to 10.5% capacity growth in 2016 after growing ASMs 9.5% in 2015. It is likely that the company's ASM expansion in 2016 will fall into the mid-range of guidance.

The airline's stage length is increasing by 1% in 2016, and all 10 of its planned aircraft deliveries are higher gauge Airbus A321 narrowbodies. Three of the new A321s scheduled for delivery in 2016 will feature 200 seats. Those are the "core" aircraft that do not feature the Mint cabin. JetBlue has opted to add ten seats to its new-delivery core A321s, starting in Jul-2016. It will retrofit 15 core A321s beginning in 3Q2016, adding ten seats to the 190 seat aircraft. As of 11-Feb-2016 JetBlue had 20 current generation A321s on order, which will be configured in the 200 seat layout.
JetBlue Airways Fleet Summary as of 11-Feb-2016
JetBlue feels comfortable with its capacity projections for 2016, and given that fuel prices are in the USD30 to USD35 barrel range the airline will likely grow profits again. In early 2016 company executives explained that unlike some other airlines, JetBlue has not experienced outsized pricing pressure. Its focus cities are in metropolitan areas, which help it to stimulate demand for point to point traffic.

JetBlue and Spirit are similar in their strategies of stimulating passenger traffic in large metropolitan areas. JetBlue obviously has a higher-end product that allows it to charge fares that are higher than Spirit, while still lower than those of other large US global network airlines.

But with lower fuel prices and growing capacity, JetBlue may not be as shielded from pricing pressure in 2016. American has already concluded that industry capacity will be higher in 1Q2016 than in any other quarter in 2015. With more seats in the market discounting will continue, and eventually JetBlue will feel that pressure. The airline has initiatives that have the potential to boost its total unit revenues, but yields stand a good chance of being compressed.
The biggest question facing JetBlue is whether it can avoid pricing dilution in its markets
Most North Americans have little visibility into the way that the operating environment will evolve beyond 1H2016. JetBlue turned a strong performance in 2015 and starts 2016 on a solid footing. But the company is keeping its outlook for demand close to its chest. Its network strength should continue to provide some buffer against weaker domestic spots within the US, but the biggest question JetBlue faces is whether it can continue to largely avoid weakness in pricing that has enveloped almost every other US airline. Unfortunately, studying its unit revenue performance in 2016 will offer few clues to the pricing environment that JetBlue faces.