JetBlue and Allegiant increase on improved economic data, GOL shares up on stronger Brazilian market
Analysis
US Quarter-to-Quarter Growth in Real GDP: 4Q2005 to 3Q2009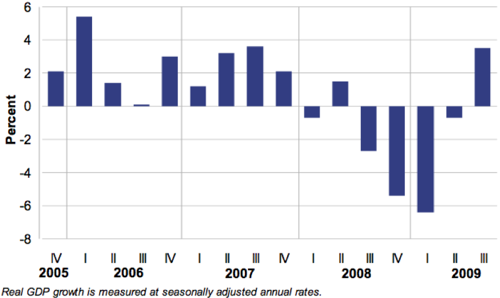 Allegiant and JetBlue shares were up 3.1% and 1.8%, respectively. Southwest's shares fell marginally (-0.2%), while AirTran's shares slipped 2.7%.
In South America, GOL's shares jumped 8.6% on Thursday, as the benchmark Bovespa index posted its biggest one-day jump since 04-May-2009, surging 5.9%, partially negating an almost 7% cumulative loss over the previous two sessions.
In Europe, shares in Norwegian and Vueling were stronger yesterday, up 6.0% and 4.3%, respectively, following the release of their 3Q2009 financial results earlier in the week.
See related articles: Vueling SWOT Analysis: Profits jump in 3Q2009, with 2010 expected to trump 2009 results and Norwegian Air Shuttle SWOT: LCC reports industry-leading operating margin in 3Q2009
Also in Europe, Ryanair and easyJet were up by 0.4% and 1.7%, respectively.
Among the non-listed European LCCs, Turkish LCC, Pegasus Airlines, announced plans to list 24-30% of its share on the Istanbul Stock Exchange in 3Q2010 or 4Q2010.
The funds will help the airline expand its fleet of 24 aircraft to 41 by 2015. The carrier added that it expects to report a profit of EUR17 million in 2009, increasing to approximately EUR40 million in 2010, if oil prices remain at current levels.
Selected LCCs daily share price movements (% change): 29-Oct-09