JetBlue Airways regroups after hurricane disruption; plans lower capacity growth in 2018
Analysis
JetBlue Airways will spend the rest of 2017 rejigging its network in order to offset the effects of Hurricane Maria, which struck Puerto Rico, home to its focus city of San Juan, in 3Q2017. The Caribbean, and Puerto Rico in particular, represent a large [proportion of jetBlue's international ASMs, and jetBlue plans to redeploy capacity from Puerto Rico to elsewhere in its network until some level of normality settles on the region.

JetBlue is in the process of readjusting its ASM deployment for the remainder of 2017 and early 2018, and the airline is warning that fallout from the storms will pressure its unit revenue in 4Q2017. Its unit revenue forecast for that period ranges from a 3% decline to a flat performance.

jetBlue expects its capacity growth to be lower year-on-year in 2018, but comparisons are murky, given the effects from weather events that plagued the airline's network in 3Q2017. However, the airline is assuring that its capacity growth next year should fall on the lower end of its mid to high-single digit target range.
Fallout from 3Q hurricanes will continue to pressure jetBlue's unit revenue
JetBlue endured a one-two punch as Hurricanes Irma and Maria struck Florida and the Caribbean in 3Q2017. Fort Lauderdale and Orlando are the airline's third and fourth largest bases measured by ASKs, and San Juan is its seventh.
JetBlue Airways system top ten hubs/bases/stations by ASKs for the week of 23-Oct-2017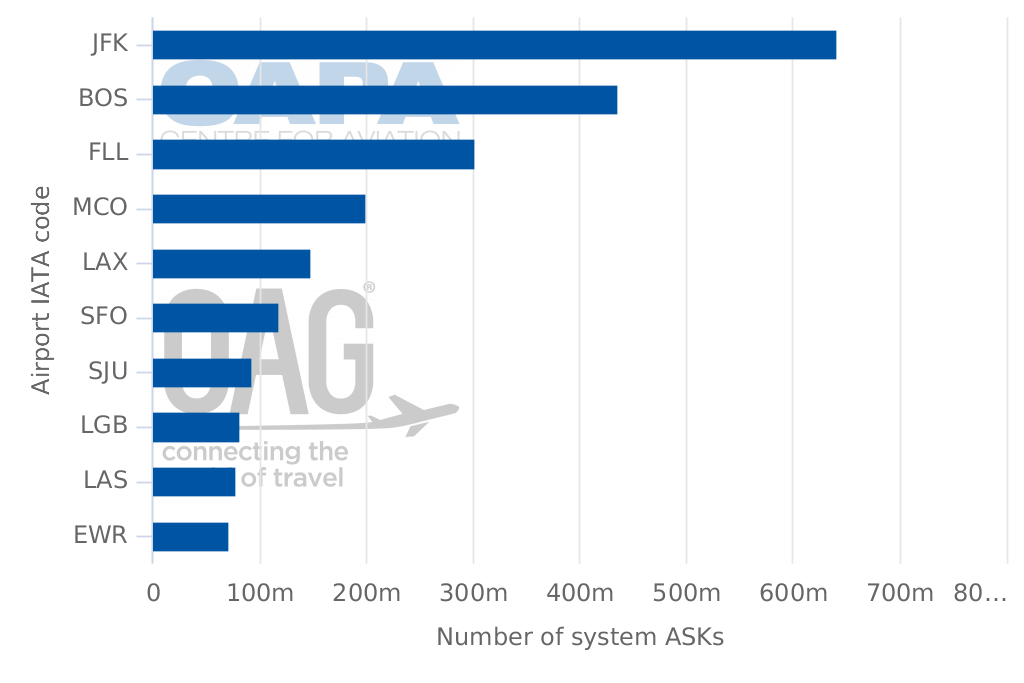 But Puerto Rico represents approximately 26% of jetBlue's international ASK deployment, and 22% of its Latin capacity.
JetBlue Airways system departing ASKs by country for the week of 23-Oct-2017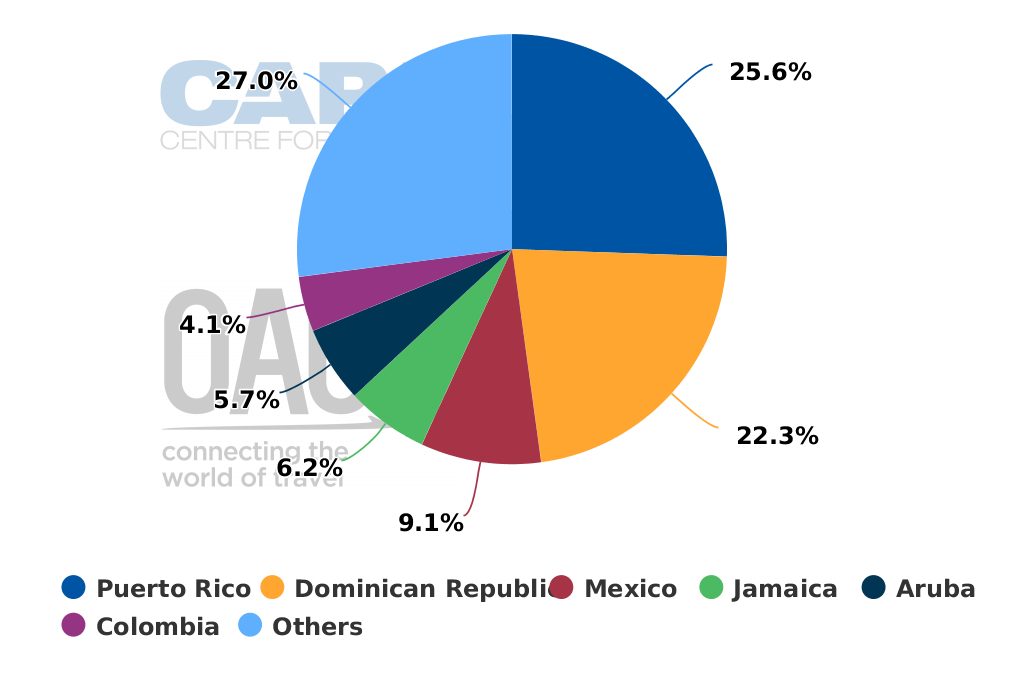 The airline took a USD44 million revenue hit in 3Q2017 as a result of the storms, and projects the effects to range from USD70 million to USD90 million in 4Q2017. Fallout from the storms is driving 1ppt to 2ppt of jetBlue's 4Q2017 RASM forecast, which could reach a 3% decline year-on-year.

JetBlue expects its bookings in Florida to return to normal levels in Nov-2017, but Puerto Rico's traffic recovery will take longer. In Puerto Rico the airline has the largest exposure of any US airline, holding a 35.4% seat share for the week of 23-Oct-2017.
Airline seat counts and share from Puerto Rico to the US for the week of 24-Oct-2016 and 23-Oct-2017

JetBlue begins to redeploy capacity from storm-stricken Puerto Rico
JetBlue is working to adjust its capacity to Puerto Rico, noting that the visiting friends and relatives (VFR) segment represents two thirds of its traffic to the island. The airline plans to remove capacity from Puerto Rico and deploy it into leisure markets, with a specific focus on holiday travel in 4Q2017.
JetBlue EVP commercial and planning Martin St George recently explained, "...think of it as one to two points of ASMs to move. And we have a very large variety of places to redeploy that, and you'll start seeing that loaded very soon". He remarked that jetBlue had experienced strong bookings from New York and Boston as consumers shifted their travel to other destinations in the Caribbean, including Aruba, Grand Cayman and Barbados.
JetBlue plans lower growth in 2018, but storms create tough year-on-year comparisons
JetBlue expects its capacity to grow 4.5% to 5.5% year-on-year in 4Q2017, and full year 2017 ASMs to increase by 4% to 5%. The revised estimates for 4Q2017 and the full year include negative effects of 2.9 points and 1.4 points from the hurricanes Irma and Maria, respectively.

Prior to the hurricanes, jetBlue had trimmed its 2017 capacity growth from 5.5% to 7.5% to 5.5% to 6.5%. Originally, the airline was aiming to grow capacity by 6.5% to 8.5% in 2017, but decided to cut its forecast as it faced unit revenue pressure early in the year.

See related report: jetBlue Airways confident of long term margin performance, despite short term RASM pressure

The airline is not giving specific capacity guidance for 2018, but has stated that its growth for the year should "grow at the lower end of our mid to high single-digit target range", according to Mr St George. He added that was off the original baseline growth targets of 6.5% to 8.5% for 2017.
The airline's lowest year-on-year capacity growth during the past few years was in 2014, at 5.1%.
JetBlue Airways ASM growth from 2012 to Sep-2017
Year-on-year capacity comparisons are somewhat murky in 2018. Flown capacity during the year will be 2% higher than scheduled growth, because of lower completion factors in 2017 from air traffic control challenges and hurricanes.
JetBlue feels positive about its network as new services to Atlanta and Minneapolis-Saint Paul start
Stripping out the effects from the hurricanes squeezing its revenue in 3Q2017 and 4Q2017, jetBlue has a reasonably positive outlook for the rest of its network. During much of 2017 United has cited pricing pressure from ULCCs as one factor affecting its unit revenue performance, particularly in the second half of the year.

JetBlue executives have stated that the airline recorded the spread of lower close-in fares in its network throughout the third quarter; but pricing stabilised at the end of Sep-2017, and more recently the yield environment has been improving.
The ULCC Spirit Airlines has previously estimated that it has a 24% network overlap with jetBlue (in Mar-2017), and the two airlines have significant operations at Fort Lauderdale. From Aug-2016 to Jul-2017, jetBlue's passenger share at the airport was 23.3%, followed by Southwest at 22.3%, and Spirit at 19.3% (based on data from the US DoT).

JetBlue is upping competition with Spirit when it launches new flights in 2018, from Boston to Minneapolis and Fort Lauderdale to Atlanta. Delta also operates flights from Boston to its Minneapolis hub and Delta and Southwest along with Spirit offer service from Fort Lauderdale to Atlanta. For JetBlue, Minneapolis and Atlanta are among the largest domestic markets it does not serve from Boston and Fort Lauderdale.

JetBlue re-entered the Atlanta market in 2017, and data from the US DoT show that from Mar-2017 to Jul-2017 its load factor on flights to the airport was approximately 84%. The airline currently serves Atlanta from its Boston focus city with a mix of Embraer 190s and A320s, with most services operated by the larger-gauge narrowbody.

Minneapolis is a new market for jetBlue, and there's no doubt the airline will add more service from its focus cities to the airport, which is a hub for Delta.
JetBlue continues to build network utility, despite US pricing uncertainty
JetBlue is taking the necessary steps to minimise the operational and revenue disruption from storms that struck two key regions in its network in 3Q2017. The airline is also stressing its planned capacity growth in 2018 will remain rational, as it works to round out its network utility from its top focus cities in order to expand its revenue base.

It is tough to determine how pricing patterns will evolve in the US market during 2018, but jetBlue is focused on maximising its network returns.