Japan vacillates over AirAsia Japan relaunch, despite strong economic benefits
Analysis
Two years after the AirAsia Group announced its intention to re-enter the local Japanese market, the venture has been unable to launch. AirAsia Japan Mk II was announced in Jul-2015 and in Oct-2015 it received its AOC. A Mar/Apr-2016 launch was envisaged, but AirAsia Japan has yet to secure final approval. A 2017 launch appears unlikely while some of the 'powers that be' lobby against the airline ever launching.
AirAsia Japan needs to overcome resistance in the often exclusive Japanese environment still smarting from AirAsia Japan MK I – a JV between AirAsia and ANA that was dissolved. Local mindset needs to be more pro-competition: there appears room in Japan for another strong LCC. Japan has aggressive tourism targets that AirAsia Japan can help meet. AirAsia Japan's proposed base is at Nagoya, which does not have a home LCC and is preparing for a LCC terminal. Competitors are making a launch difficult, and Jetstar Japan has established a base at Nagoya.
AirAsia must regain the trust of Japanese aviation
Two years ago, in Jul-2015, the AirAsia group announced plans to re-enter the Japanese market and establish AirAsia Japan Mk II. The first AirAsia Japan was a JV between AirAsia and All Nippon Airways. The JV was dissolved as the two owners disagreed on operations and growth strategy. AirAsia exited, while ANA took full ownership and relaunched the airline as Vanilla Air.
AirAsia's Jul-2015 announcement expected a Mar/Apr-2016 launch of AirAsia Japan. This was a very quick time frame in a conservative country. The 2016 goal has come and gone, and there are now expectations that a 2017 launch will not be possible.
The delays may appear confusing, since AirAsia Japan received its AOC in Oct-2015. However, final authority has not been granted to AirAsia Japan. The industry broadly attributes this to two main reasons.
Firstly, Japanese authorities are concerned that AirAsia Japan is relying too much on AirAsia in Malaysia for procedures and policies; Japan wants to see a Japanese-specific way of business. Japan remains overly safety-conscious and generally prefers smaller airlines to use the experience of ANA or JAL for safety, maintenance, training, etc.
Secondly, some in Japanese aviation and government are not inclined to support AirAsia. In a country where relationships are important, the feeling among many is that in 2012 Japan trusted AirAsia to launch in Japan and the airline subsequently exited the market. No matter what AirAsia's reason is, many feel that AirAsia has broken their trust, and should not be given a second chance.
Adding to these debates and emotions is what CAPA understands to be ANA's lobbying against AirAsia Japan. ANA felt badly after AirAsia left their original JV. Besides ANA not wanting to see more LCC competition, specifically – ANA does not want to see the re-entry of AirAsia.
The delays for AirAsia Japan largely reflect the conservative and counterproductive views Japan must shed in order to grow further, although AirAsia could also benefit from being more local in its second Japanese venture.
Yet to be asked is: aside from a small group of aviation and government officials, will Japan on the whole benefit from AirAsia Japan? The answer is overwhelmingly – yes.
AirAsia Japan's proposed home at Nagoya is planning for a LCC terminal. Japan's aggressive 2020 and 2030 tourism goals need more airline service, which AirAsia Japan is willing to provide.
See related report: Japan aviation: regional airport growth and privatisation needed to meet aggressive tourism targets
Jetstar Japan has pre-emptively secured a footprint in Nagoya, AirAsia Japan's proposed base. In the week commencing 19-Jun-2017 Jetstar Japan serves six destinations from Nagoya: four domestic and two international. Jetstar Japan's domestic network comprises one city (Okinawa) served daily, two cities (Sapporo and Kagoshima) served 11 times weekly, and one city (Fukuoka) served twice daily.
Nagoya, in between Osaka and Tokyo (but close to Osaka), is better linked to Osaka and Tokyo via shinkansen – Japan's high-speed train – so Jetstar Japan does not have service from Nagoya to Tokyo while its base is young.
Other airlines operate from Nagoya to Tokyo, mainly to feed international flights. No airline operates from Nagoya to Osaka (cities 125km apart).
Jetstar Japan's presence at Nagoya is not all-encompassing, and there are plenty of opportunities for AirAsia Japan should it launch. However, Jetstar Japan's presence at Nagoya makes it harder for AirAsia Japan to bulk up. Once AirAsia Japan moves closer to launch, Jetstar Japan could, of course, grow at Nagoya and add further pressure to AirAsia Japan.
Jetstar Japan destinations and weekly frequency from Nagoya: week commencing 19-Jun-2017
Jetstar Japan is the third largest airline at Nagoya for system capacity. It is also the third largest for domestic capacity, but for international capacity the airline is small, since it has only one daily international flight (split between Manila, four weekly, and Taipei, three weekly).
Nagoya Chubu Centrair International Airport system seat capacity: Week commencing 19-Jun-2017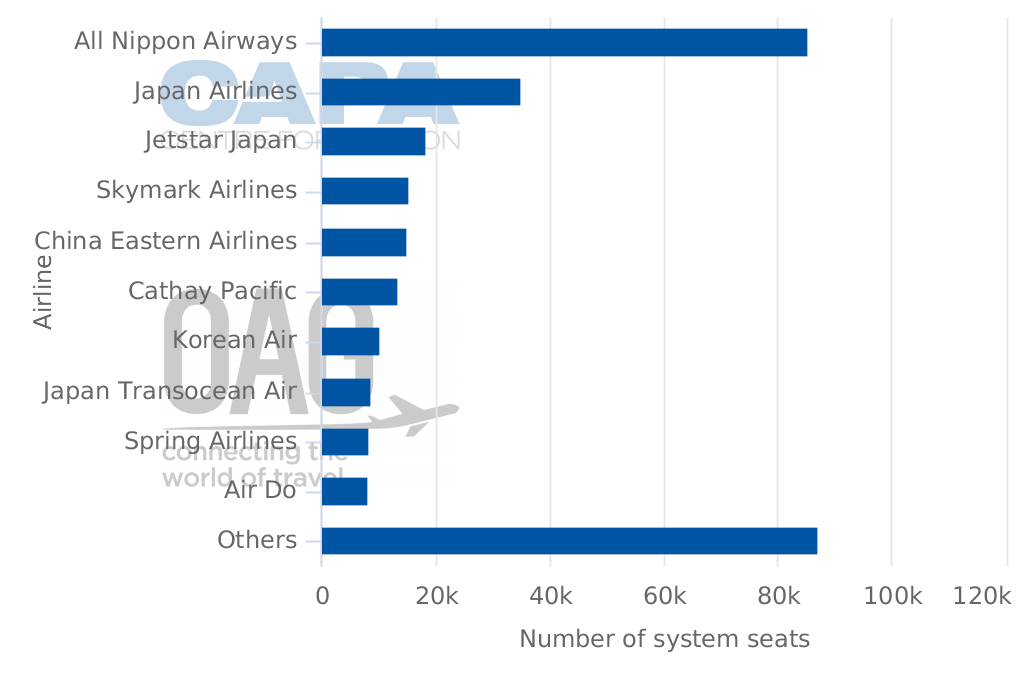 For Jetstar Japan, Nagoya (NGO) is its fifth largest city. Jetstar Japan's largest presence, by far, is at Tokyo, while Osaka Kansai, Sapporo and Fukuoka are in general proximity to each other in terms of size.
Jetstar Japan top 10 hubs/bases/stations/focus cities based on available seat capacity: week commencing 19-Jun-2017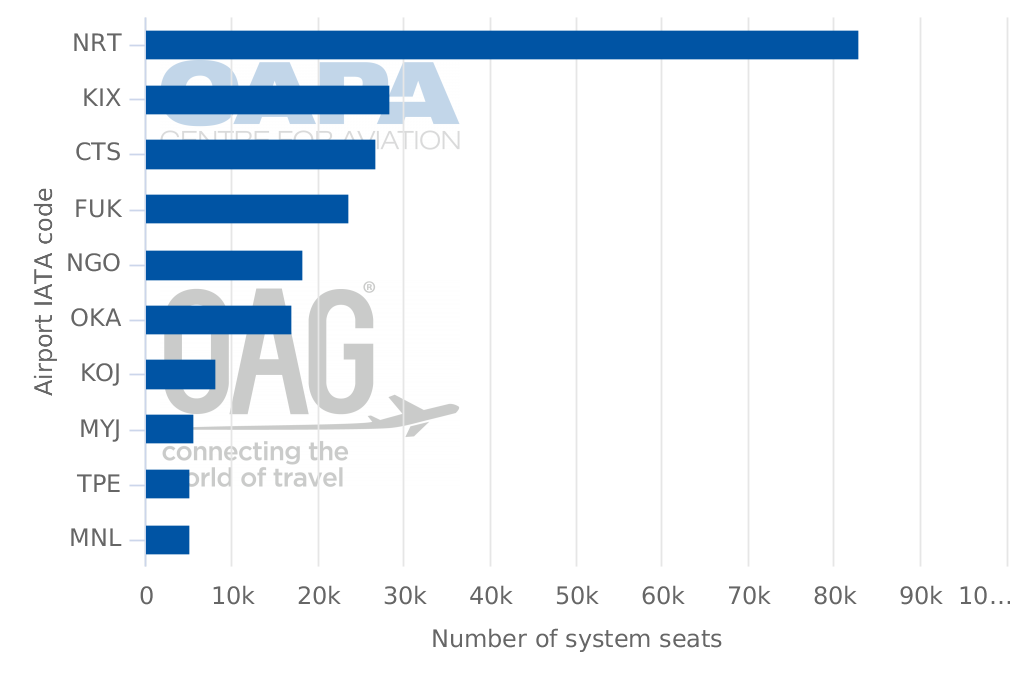 Competitive pressure on AirAsia Japan looks likely to be applied mostly by Jetstar Japan. Jetstar Japan is looking to secure a presence in major cities as it is Japan's largest domestic LCC. In the nine months to 31-Dec-2016, Jetstar Japan carried 38% more domestic passengers than the next largest LCC, Peach. Further, it is significant that the Jetstar and AirAsia groups have a rivalry across the region.
Geography is also a factor: Peach's Osaka hub is close enough to Nagoya that AirAsia Japan would not look to open a base there immediately (but with time could). Nagoya is also far away enough that AirAsia Japan will not infringe on Peach's core catchment area.
Largest airlines in domestic Japanese market ranked on seat capacity: week commencing 19-Jun-2017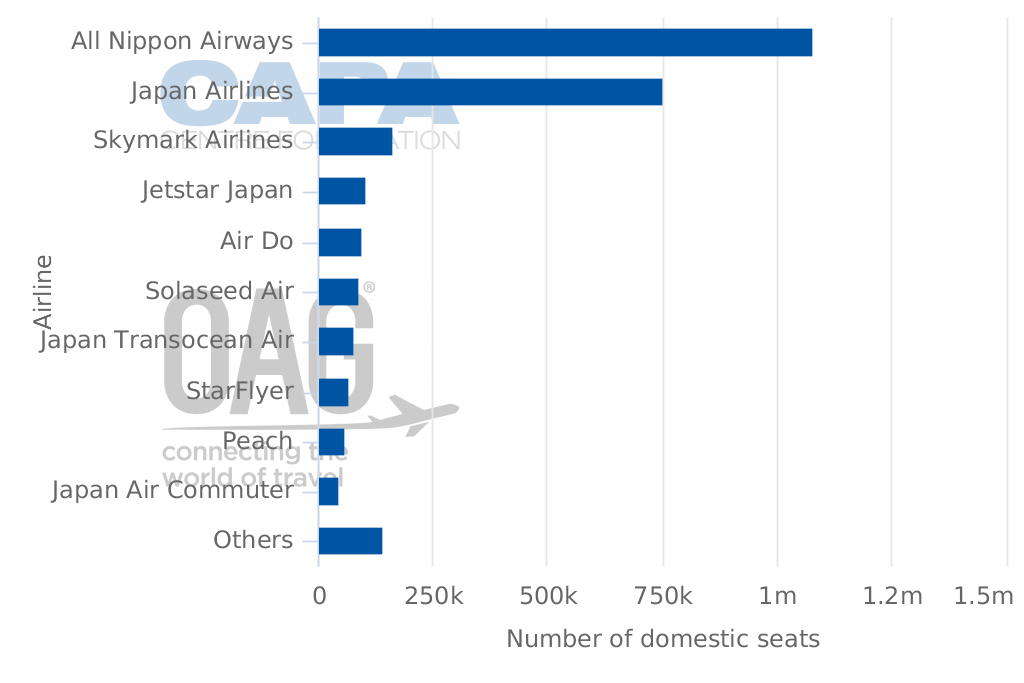 Nagoya is test case for LCC/full service overlap
Nagoya is Japan's seventh largest airport for domestic capacity, and is sixth largest for LCCs. Nagoya accounts for 4.4% of domestic LCC seat capacity.
As LCCs expand at Nagoya, the airport presents an interesting case study for LCCs in Japan. In Tokyo and Osaka, LCCs have been somewhat hampered by being difficult to access, since they are more distant airports (Narita and Kansai) than downtown airports (Haneda and Itami).
Japan's 10 largest airports for domestic LCC seat capacity: week commencing 19-Jun-2017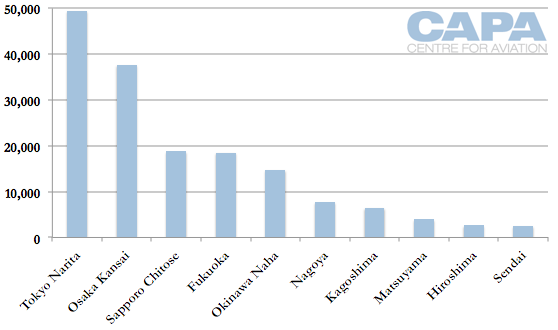 Nagoya, however, has only one airport. This reduces the geographical component of the passenger preference equation.
Japan's four LCCs – Peach, Jetstar Japan, Vanilla and Spring Japan – account for 6% of available domestic seats, according to OAG data. As Japanese LCCs have a much higher load factor than full service airlines, the LCC's share of flown passengers is 10%.
At Nagoya the LCCs account for 10% of capacity in Jun-2017. Although this is higher than the average for domestic Japan, nine other airports have LCC market share rates of 8-11%. (Only 17 airports have domestic LCC flights.)
As LCCs grow at Nagoya, it will be worthwhile to see whether the LCC market share increases in line with the country average or is accelerated, perhaps showing greater market reception where distance to the airport is not a factor.
LCC domestic capacity market share at Japan's 20 largest airports (left axis), and total domestic seat capacity at the 20 largest airports (right axis): week commencing 19-Jun-2017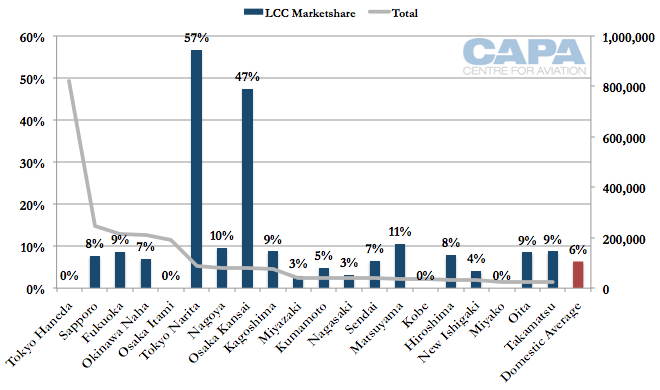 Outlook: a meeting of minds to grow Japanese aviation further
AirAsia enters a regulatory discussion with the disadvantage of its history in Japan, having ruffled some feathers. That should mean that it is willing to conform to traditional practices in Japan – as other LCCs have had to do. AirAsia does not need to give regulators extra reasons to push back.
With its operation in order, AirAsia Japan offers an undisputed economic benefit to Japan. No LCC uses Nagoya as its main home, and AirAsia Japan can help grow the long haul services and presence of its sister airlines. The airline remains the lowest cost LCC model in the region and is generally faithful to the core low cost modality.
Japanese aviation and tourism do need to continue the significant reforms – in practice and mindset – that have already been commenced. That process must continue if the government's aggressive goals are to be achieved. Standing still in the airline industry is to be left behind.