Japan crisis: What does it mean for Hawaii?
Analysis
Traffic between the two nonetheless relies largely on leisure demand between the two islands, and as such this is a market that can be in a consistent state of flux as various outside factors come into play. These factors over the past decade have included the SARS outbreak in 2003, the 2008 global economic downturn and the increasing volatility of fuel prices. There is also little doubt that the recent devastating events in Japan will have an affect on this dynamic air travel market, but what affect that is remains to be seen.
The Japan-Hawaii market has always been an interesting market. Hawaii has historically been an extremely popular destination for Japanese tourists since Japan started to emerge as a global economic powerhouse. But the Japanese do not just see Hawaii as a vacation island. Hawaii is home to a large Japanese immigrant community and there are strong cultural and economic ties between the two.
Services and market share
Historically, four airlines have been strongest between Hawaii and Japan. These are ANA and JAL on the Japanese side, and Northwest (now Delta) and United on the American side.
A fifth player, Hawaiian Airlines, joined the market this past autumn, as the result of obtaining one of four daily slot pairs awarded to US carriers this past summer to begin service to Tokyo Haneda. This summer, it will further expand service in the market by adding a daily service between Hawaii and Osaka, which it remains committed towards servicing despite recent events in the marketplace. Furthermore, Taiwan's China Airlines has long provided service between Tokyo and Honolulu, using Tokyo as an intermediate stop on its Taipei-Honolulu route. Limitations at other airports - outside of Honolulu, only Kona can has the facilities and runway length to support non-stop flights from Japan - have largely restricted all Japan-Hawaii service to land at Honolulu.
Japan-Hawaii frequencies: Mar-2011
Japan-Hawaii.jpg.png" alt="" width="546" height="279" />
The Hawaii-Japan scheduled market has become increasingly concentrated between Honolulu and Tokyo. In the past, various other Japanese cities have enjoyed non-stop service to Honolulu, largely on JAL. These include Fukoka, Sapporo and Sendai, all of which had non-stop service to Honolulu as recently as Oct-2003.
Other carriers have provided service in the past, including Continental on Honolulu-Nagoya as recently as 2007. Furthermore, the choice of carriers on Osaka-Honolulu has been narrowed in the past few years as both ANA and United Airlines dropped out of the market. JAL is the clear market leader with 47 weekly flights between Japan and Hawaii (26 to Narita and seven each to Haneda, Nagoya and Osaka). Delta is next with 35 weekly flights (21 to Narita and seven each to Nagoya and Osaka). ANA and United each provide 14 weekly flights to Tokyo, with United's service only to Narita and ANA's service split evenly between Haneda and Narita. Hawaiian offers seven weekly flights to Haneda, while China Airlines offers five weekly flights to Narita.
Market share on non-stop Hawaii-Japan routes
Japan-Hawaii1.jpg.png" alt="" width="545" height="264" />
The market share above represents total marketshare, including connecting traffic. The results above show an amazing correlation between non-stop capacity and marketshare. The strong correlation possibly supports a theory that local demand between Hawaii and Japan is largely driven by the amount of non-stop capacity offered.
Demand Concentration: Japan-Hawaii market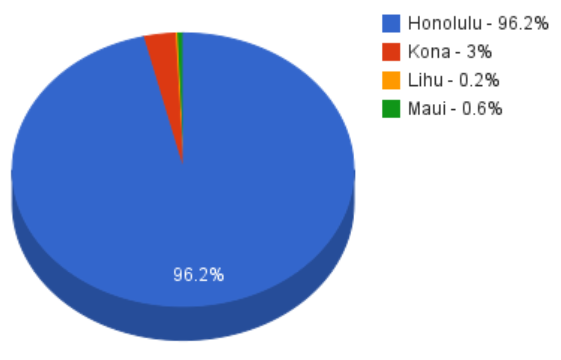 Air travel demand between Japan and Honolulu is overwhelmingly concentrated to Honolulu. Only one other market among Hawaii's "big four" - Kona - has notable demand to and from Japan. However, that demand is likely largely attributed to the fact that JAL had been serving Kona from Tokyo for the past 14 years. Unfortunately, as part of the Japanese carrier's restructuring, service to Kona was discontinued in Oct-2010, replaced with a new Haneda-Honolulu route.
This nonetheless should not be taken as a sign that there is actually so little demand outside of Honolulu, as the numbers would clearly show.
Intra-island travel likely important
Air travel between the various Hawaiian islands is a huge market within itself. There is a very large amount of intra-island capacity and fares are relatively affordable. It is very likely that many Japanese tourists visiting the island might purchase separate itineraries to travel within the island airports, something that would not be reflected in the above numbers. Maui in itself might provide an excellent opportunity for airline service to Japan, but its short runway and lack of full immigration processing facilities make service beyond the US and pre-clearance Canadian airports currently unfeasible. Indeed, back in 1998 Hawaiian Airlines was awarded the authority to begin Maui-Tokyo service in 2000, but the service was never started after runway expansion plans in Maui were cancelled.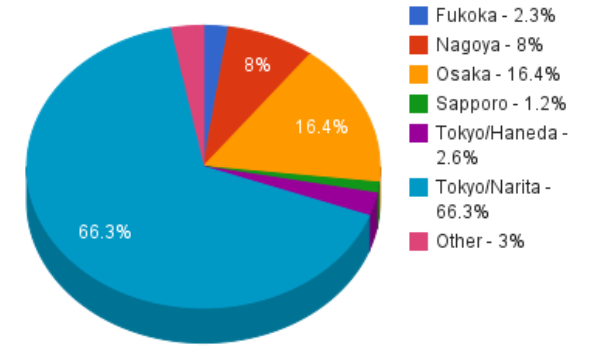 In Oct-2011, an expanded air service agreement between the US and Japan, combined with the opening of Tokyo Haneda airport to international services, allowed the opening of a limited number of regular direct flights between Tokyo Haneda and the US, with four daily flights available to US carriers and four to Japanese carriers. Of the total of eight flights, seven went to use between Haneda and Honolulu.
ANA and JAL both launched Haneda-Honolulu service on 31-Oct-2010, and Hawaiian followed shortly after on 17-Nov-2010. This actually is not the first service between Haenda and Honolulu in recent times. While Japanese carriers had stopped serving this route in the 1970s, China Airlines had special permission to route its Taipei-Honolulu service via Haneda, and had been doing so until early 2002. Nonetheless, now that three carriers are flying the route non-stop, with significant capacity, how has the market shifted?
Marketshare Shift in Tokyo Traffic
Haneda.jpg.png" alt="" width="395" height="204" />
Clearly, Haneda traffic is biting slightly into Narita traffic, but growth in the market over the past year - possibly due to increased marketing efforts in promoting Haneda service - appears to have softened the decline in Narita-Honolulu demand, which declined only 11.3%.
Furthermore, time restrictions for slots on international long-haul flights from Haneda, which restrict operations to between the hours of 10 pm and 7 am, are another factor that likely softens any fall in demand from Haneda. Nonetheless, in only the first two months of the new Haneda service, Haneda flights have grabbed almost a quarter of the local market - 23.4% - which is undoubtedly impressive in such a high-demand market, and shows huge promise for Haneda-Hawaii, restricted only by the limitations of the US-Japan air service bilateral.
Japan-Hawaii resilience faces new test
There is little doubt the recent tragic events in Japan are reason to worry with regards to the Hawaii-Japan travel market. At the same time, however, there is little doubt that the market has proven to be incredibly resilient, even showing some growth in the past year. The biggest showing of the airline industry's commitment to the market, however, might be from what it has not been doing as of late: cutting capacity. While JAL – an airline always quick to react to market conditions given its precarious financial state – has temporarily cut frequency to Honolulu through April 24, other airlines have largely been keeping Hawaii schedules in tact.