India Air Traffic Management. Unique CAPA report: the ATM system and AAI's plans for integration
Press Release
The most comprehensive (170 page) report ever produced on India's ATM system reviews the structure, governance and operation of Air Navigation Services in India. The global vision and plans set down by the International Civil Aviation Organisation (ICAO) for the global Air Traffic Management system are also described and considered in their context for India's air navigation services provider (ANSP), the Airports Authority of India (AAI).
India is the ninth largest aviation market in the world by annual seat capacity and CAPA projects it will be the third largest aviation market in the world by 2025. Today, approximately 80 Indian airports handle scheduled services, operated by nine domestic airlines, with a combined fleet of some 400 aircraft.
Advances in ATM procedures and technology are enabling greater growth. Much of this is down to the AAI, which has a dual role, as both the air navigation services provider and as the operator of 125 airports across India. A major institutional change in structure is planned, with the possible corporatisation of the ANS division of the AAI before the end of FY2016.
More than 70 foreign passenger and cargo airline operators also serve Indian airports. In FY2015, total passenger traffic at Indian airports surpassed 190 million.
Over the last decade scheduled aircraft movements have more than doubled from 718,000 to more than 1.6 million in FY2015, supplemented by a further 281,000 general aviation movements. In addition to arriving and departing movements, Indian airspace handles approximately 400,000 annual over-flight movements.
Scheduled aircraft movements at Indian airports FY05 to FY15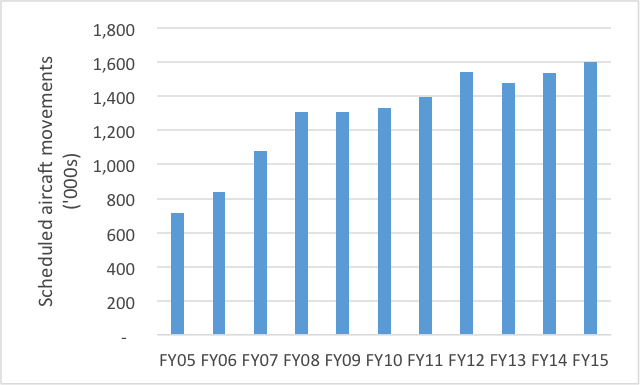 In addition to the rapid growth being experienced at an all-India level for which system-wide responses are required, there are also challenges at individual airports related to runway capacity which require local solutions. Mumbai is a prime example of an airport where the implementation of measures to decongest its airside to improve the throughput of what is effectively a single runway, has been critical for preventing the airport from reaching saturation.
Five years ago Mumbai Airport could handle a sustained maximum of 32 aircraft movements per hour with occasional peaks of 36-37 movements. Today the airport has a declared capacity of 45 movements per hour and has achieved 50 movements on occasion.
CAPA projects that Indian passenger traffic will almost triple in size within 10 years by which time India is expected to emerge as the world's third largest aviation market behind the US and China. This will place significant pressure on air navigation services in India. Long term solutions will require a new way of thinking with a fresh approach and an organisation that is focused not only on technology and equipment, but also people and training.
CAPA's India ATM Report 2015, to be released on 27-May-2015, is the most in-depth study ever conducted on the current status and outlook for air traffic management in India. This comprehensive 170 page report covers traffic movements; infrastructure status and requirements; manpower and training issues; implementation of new procedures including flexible use of airspace; impact of the GAGAN satellite based navigation system; and prospects for corporatisation of the Indian ANSP.
The Report details the current status of India's ATM system, and the AAI's plans to adopt and to integrate the interdependent capabilities needed to ensure that Indian aviation continues to support the capacity growth that the country's economy demands and that India plays its part as a key airspace and airport provider in the global air transport system, particularly in light of its strategic geographic location at the centre of some of the fastest growing air routes in the world between Asia and Europe/Middle East. For more information contact Binit Somaia on bs@centreforaviation.com
India's Air Navigation Services provider has commenced a major upgrade programme
India's airspace covers 9.5 million square kilometres, of which just over 60% is oceanic, comprising regions over the Arabian Sea, the Bay of Bengal and the Indian Ocean. Approximately 35% of the airspace in India is reserved for military use which does create challenges for commercial operations.
The airspace is divided into four primary Flight Information Regions (FIR) at Delhi, Mumbai, Chennai and Kolkata, with a sub-FIR at Guwahati.
Indian Airspace Flight Information Regions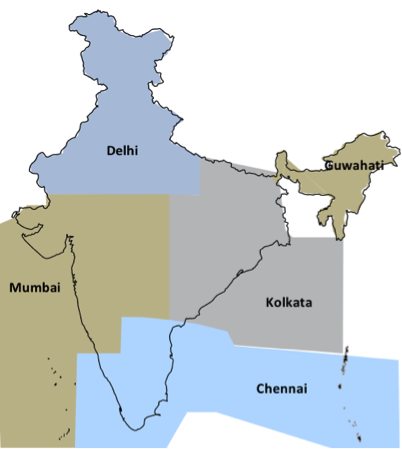 Air navigation services (ANS) for civilian operations are provided by the state-owned Airports Authority of India (AAI). The AAI has a dual role, as both the air navigation services provider and as the operator of 125 airports across India, although around 50 of these are idle. A further five airports accounting for more than 50% of total traffic are managed by private operators, however the AAI provides air traffic control (ATC) services at these airport.
India has 26 civil enclaves, which are managed by the AAI. These are areas with a defence airfield which are designated for civilian use. At such airports the ATC services are provided by the Indian Air Force.
In the last few years the AA has pursued a number of initiatives to optimise airspace capacity which has resulted in greater efficiencies.:
enhanced radar surveillance, supplemented by ADS-B;
upgrading of telecommunications and data infrastructure;
introduction of air traffic flow management procedures and collaborative decision making at the six metro airports;
implementation of systems and procedures such as Performance Based Navigation;
reduction of horizontal separation on selected Required Navigation Performance routes;
harmonisation of upper airspace in the Chennai and Kolkata Flight Information Regions, to be followed by Delhi;
flexible use of airspace (FUA) enabling civilian operators to access military airspace when it is not being used by defence forces;
Satellite based navigation - GAGAN - is the flagship project of India's airspace modernisation plan
India is implementing GPS aided geo augmented navigation (GAGAN), a regional satellite-based augmentation system (SBAS) initiative of the Indian government. SBAS is a system to improve the accuracy of a GNSS receiver by providing reference signals. It is the flagship project of the airspace modernisation plan.
With GAGAN, India will become the fourth market in the world to offer space-based satellite navigation services to the aviation sector. GAGAN will provide augmentation service for GPS over the Indian land mass, the Bay of Bengal, South East Asia, the Middle East and the Arabian Sea extending up to Africa.
The availability of the GAGAN signal will bridge the gap between the European Union's European Geostationary Navigation Overlay Service (EGNOS) and Japan's Multi-functional Satellite Augmentation System (MSAS) coverage areas.
The benefits of GAGAN include improved efficiency, direct routes, increased fuel savings, approach with vertical guidance at runways, significant cost savings due to withdrawal of ground aids and reduced workload of flight crew and Air Traffic Controllers.
Aircraft equipped with a Satellite Based Augmentation System (SBAS) receiver will now be able to use the GAGAN signal in Indian airspace for en route navigation and non-precision approaches without vertical guidance.
The Directorate General of Civil Aviation (DGCA), India provisionally certified GAGAN to Required Navigation Performance, 0.1 i.e. accuracy to 0.1 nautical miles in Dec-2013. The objective is to attain APV1/1.5 certification which will allow the system to offer precision approaches in India. Aircraft, crews, runways, approach procedures and separation procedures and systems must be certified by the national regulatory authority before the system can be used operationally.
Key challenges associated with the implementation of GAGAN include:
The GAGAN signal-in-space (SIS) in the upper levels (up to 45,000 feet) and in the lower levels (5,000 to 15,000 feet) needs to be validated;
A survey of obstructions at all airports needs to be carried out charts will be need to be updated accordingly. This process is expected to take approximately two years;
Low visibility procedures will need to be designed, trialled and approved by the DGCA. This process is expected to take approximately five years;
Indian airspace flight routes will need to be restructured based on the GAGAN signal;
Manpower will need to be properly trained to be able to operate and maintain the new system;
An independent cell will need to be established to monitor the status of all GPS and GEO satellites over Indian airspace;
Final certification will need to be obtained from the DGCA.
Completion of all of the above is expected to take several years such that full operationalisation of GAGAN is not expected until at least 2020.
GAGAN could potentially be rolled out to neighbouring countries which would provide seamless air navigation across a much wider airspace. However, for such an initiative to proceed will require political dialogue to be initiated and for reference stations to be established in those countries.
Corporatisation appears to be back on the agenda and may be tabled in the next session of parliament
Given the expected future direction of the sector, and in line with international trends, the time is right to develop a new model rather than ad hoc revisions to the existing structure.
The Ministry of Civil Aviation (MoCA) had earlier indicated that it will accept the recommendation of a consultant to corporatise the ANS division of the AAI. This would involve hiving-off the division as an independent autonomous body with separate financials. The new ANS entity would be subject to stringent performance parameters and monitoring mechanisms.
Execution of this plan has been delayed for several years due to concerns about the impact on the AAI's revenue. However, a legal consultant has now been appointed to propose amendments to the relevant Act, which may be tabled in the next session of parliament commencing Aug-2015. If the revisions are passed it is possible that a corporatised Indian ANSP could be functioning before the end of FY2016.
As and when it proceeds, the corporatised entity should be headed by a domain expert and not a bureaucrat. In addition there is a need to implement a new culture focused on performance, cost efficiency, service and environmental sustainability whilst maintaining safety as the primary objective. This will require greater engagement and collaboration with airline customers.
The AAI may need to appoint a global technical advisor for a period of 3-5 years during the transition from its current insular environment to a more customer-focused, service-driven and accountable organisation.
CAPA's India ATM Report 2015, to be released on 27-May-2015, is the most in-depth study ever conducted on the current status and outlook for air traffic management in India. This comprehensive 170 page report covers traffic movements; infrastructure status and requirements; manpower and training issues; implementation of new procedures including flexible use of airspace; impact of the GAGAN satellite based navigation system; and prospects for corporatisation of the Indian ANSP. For more information contact Binit Somaia on bs@centreforaviation.com