16-Apr-2010 3:28 PM
Iceland eruption and the massive disruption to global aviation: Is the shutdown really necessary?
Much of European airspace is closed for today at least. Within Europe the scene is casual chaos. Not only are travellers and flights grounded in several major European city, but it will take days to restore schedules, even if the scare is called off today. And in points as far away as Australia and Argentina, aircraft bound for Europe have been grounded too. Is this a massive over-reaction of super-cautious politicians and bureaucrats who are far more concerned about their own liability – while suffering none of the financial carnage that this will cause the airlines and their feeding chain? Or is it a genuinely serious event that justified shutting down most of Europe's airspace.
6 million passengers could be affected
If the closures continue for up to three days, the Centre for Asia Pacific Aviation (CAPA) estimates some 6 million passengers will be affected - probably forfeiting their flights; as an Act of God, the volcano's impact nullifies insurance claims for cancelled flights.
EUR120 million was wiped off the value of Ryanair and Aer Lingus yesterday, with their share prices each falling 1.4% yesterday in what was otherwise a healthy day for European stock markets.
British Airways and easyJet fell 0.2% and 0.3% respectively, while Nordic airline stocks suffered, with SAS and Norwegian falling 3.9% and 3.2%, respectively. Aeroflot was 2.1% lower.
Europe selected airlines daily share price movements (% change): 15-Apr-2010
Restrictions in place until 19:00 (UK time) at the earliest - NATS
The following is the latest NATS statement on the Icelandic volcanic eruption, posted at 02:30, Friday 16-Apr-2010:
"The cloud of volcanic ash continues to cover much of the UK and the eruption in Iceland continues. Following a review of the latest Met Office information, NATS advises that restrictions will remain in place in UK controlled airspace until 19:00 (UK time) today, Friday 16-Apr-2010, at the earliest.
"However, flights in Northern Ireland and the Western Isles of Scotland to and from Glasgow and Prestwick may be allowed up to 1300 (UK time) today, subject to individual coordination. North Atlantic traffic to and from Glasgow, Prestwick and Belfast may also be allowed over the same period.
"We will review further Met Office information and at 0830 (UK time) we will advise on the arrangements that will be in place until 0100 (UK time) on Saturday, 17 April.
"In general, the situation cannot be said to be improving with any certainty as the forecast affected area appears to be closing in from east to west. We continue to work closely with airports, airlines, and the rest of Europe to understand and mitigate the implications of the volcanic eruption".
An earlier (14:00, 15-Apr-2010) NATS statement noted, "in line with international civil aviation policy, no flights other than agreed emergencies are currently permitted in UK controlled airspace…We continue to work closely with airports, airlines, and the rest of Europe to understand and mitigate the implications of the volcanic eruption.
EUROCONTROL situation map outlining Flight Information Regions Affected by volcanic ash clouds, as of 4:45 Greenwich time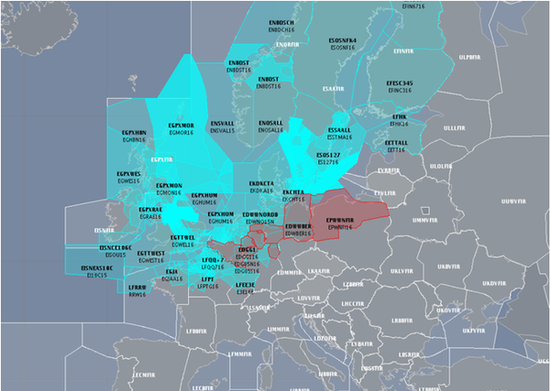 The question is, what happens if Iceland's Eyjafjallajokull glacier volcano keeps on erupting - for days, or weeks? The Vatnajokull eruption in Iceland in the 1990s (a similar event under a much bigger glacier) led to minimal disruption, apart from a short period when the eruptions began, with aircraft routed around the area. It certainly did not lead to region-wide closures of air space. Such has the paranoia around safety and security grown since September-11.
Recovery in the key trans-Atlantic business market (the lifeblood for many European and US long-haul airlines) is still elusive, while short-haul premium demand within Europe continues to contract. Airlines finances, particularly in Europe, remain fragile, and airline managements will be hoping the ash – and the attendant paranoia – settles quickly.