IATA issues "grim" outlook - airlines bear brunt of economic woes
Analysis
The International Air Transport Association (IATA) has revised its loss forecast for the global airline industry, to reflect the dramatic deterioration in revenues, as a result of slumping freight demand and premium passenger traffic since its last forecast in Dec-2008.
Falling off a cliff: IATA monthly international freight volume (FTKs) vs Premium passenger demand (% change year-on-year): Jul-2005 to Jan-2009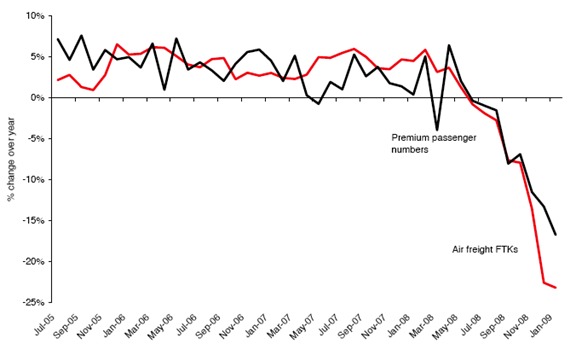 Industry net losses are now expected to reach USD4.7 billion (Dec-2008 forecast: USD2.5 billion) and operating losses will balloon to USD8.5 billion (Dec-2008: USD5.0 billion).
Forecast operating profit and net profit (USD millions) by region: 2009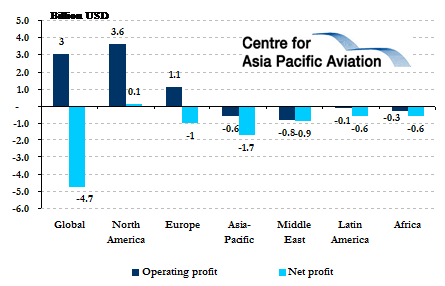 Industry net margins will be -1% in 2009 - marking the fifth negative annual result in the past seven years for the global airline industry. At its peak in 2007, the global airline industry reported a net margin of just 2.5%.
Industry operating profit margin and net profit margin: 2003 to 2009E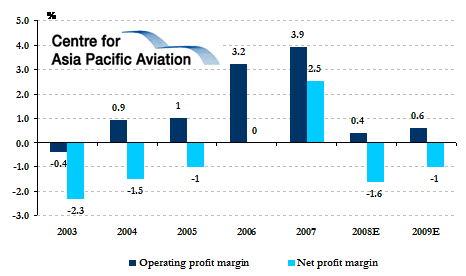 Traffic forecasts slashed
2009 cargo traffic is predicted to fall by 13% (Dec-2008 forecast: -5%), passenger traffic will contract 5.7% (Dec-2008: -3%) and airlines will cut capacity by 6%.
Forecast airline traffic (passenger and cargo combined) (TKP) growth and capacity (ATK) growth (% change year-on-year) by region: 2009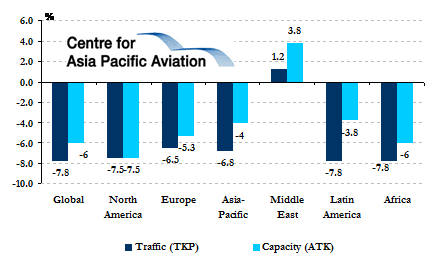 Annual passenger and cargo traffic growth rates have been falling since 2004 and will be deeply negative this year, reflecting the expected 1.9% reduction in worldwide GDP - the deepest fall since the 1930s.
World economic (GDP) growth compared to global passenger numbers and cargo volume growth (% change year-on-year: 2001 to 2009E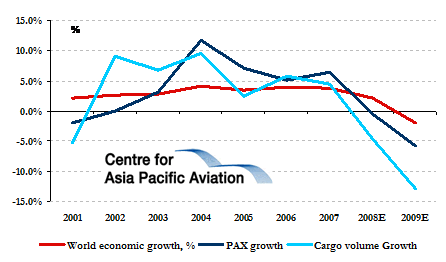 Revenue losses to outstrip fuel cost reductions
Airline revenues will decline by 12% or USD63 billion (Dec-2008: -6.5% to USD35 billion). The revenue reduction is greater than the expected USD52 billion reduction in the industry's fuel bill as a result of lower prices.
Overall, fuel is expected to ease to around one quarter of total costs after peaking at 32% last year.
Fuel cost proportion of total operating costs (%): 2001 to 2009F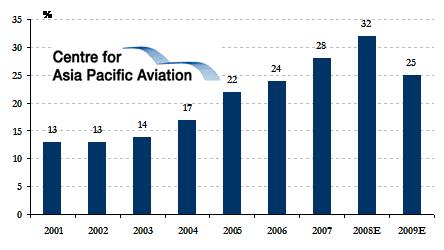 Regional wrap: No market spared
According to IATA Director General & CEO, Giovanni Bisignani, "this crisis is re-sizing and re-shaping this industry". All regions are impacted, though regional differences remain significant.
Asia Pacific airline profitability slammed
Asia Pacific airlines were previously expected to lose USD600 million and USD1.1 billion at the operating and net levels, respectively, in 2009, according to IATA's Dec-2008 forecast. The industry body now pegs the net losses at USD1.7 billion, with an unchanged operating result at negative USD600 million.
Overall, the region is expected to see a 6.8% fall in passenger and cargo demand, but only a 4.0% drop in capacity, leading to a dilution of load factors.
IATA provided the following updates on the region's major economies:
Japan, the region's largest market is expected to see GDP drop by 5.5% in 2009 with exports already in freefall.
China has been successful in stimulating demand in domestic markets with pricing adjustments. International demand to and from China is expected to contract by between 5% and 10% over the year.
India, whose market for international air services tripled in size between 2000 and 2008, is expected to see capacity increase by 0.7% in 2009, while demand drops between 2% and 3%.
The Centre for Asia Pacific Aviation last week predicted it is "only a matter of days before Asia Pacific airlines begin grounding aircraft", given the extent of the traffic downturn, with the region most affected by falls in premium passenger and cargo demand.
Middle East faces the biggest earnings revision in percentage terms
IATA has slashed its earnings outlook for the Middle East, despite it being the only region expected to show positive growth in demand in 2009 (+1.2%). But this will be overshadowed by the impact of a 3.8% increase in capacity.
IATA stated, "while this is significantly below the double-digit growth of previous years, the region continues to add capacity ahead of demand". The 2009 result is expected to be a net loss of USD900 million (a slight deterioration from the USD800 million loss recorded in 2008 and a hefty downwards revision from the Dec-2008 forecast of a USD200 million loss this year).
Europe outlook unchanged
European carriers are expected to lose USD1 billion at the net level in 2009 - unchanged from the previous forecast. Operating results are expected to be positive and come in at around USD1.1 million - an UPGRADE from the previous forecast of a USD700 million operating profit.
IATA stated a forecast 2.9% fall in the continent's GDP is expected to result in a drop in demand of 6.5%. Capacity cuts by European carriers of 5.3% will not keep pace with the fall in demand, driving yields and profitability down.
North American carriers outperform
Carriers in this region are expected to deliver the best performance for 2009 with a combined US$100 million profit - down from the previous prediction of a USD300 million profit. A 7.5% fall in demand is expected to be matched by a 7.5% cut in capacity. Despite the worsening economic conditions, the operating profit outlook of USD3.6 billion is unchanged, as carriers are benefiting from careful capacity management and lower spot prices for fuel.
Conclusion: "Crisis must bring change"
Mr Bisignani stated resizing the industry will be "much tougher than the adjustments we saw after 9-11 or SARS", adding "the industry is in intensive care". He stated nearly 40 airlines had been suspended from the IATA settlement system in the past 15 months because they could not pay their bills.
The IATA chief stated there are two priorities for airline survival; "conserving cash and adjusting capacity to demand". He added that recovery will not come without change and warned governments that bail-outs are "not the prescription to return the industry to health". Rather, access to global capital, the ability to merge and consolidate and the freedom to access markets are needed.
One glimmer of hope, particularly for Asian carriers, is that much of the traffic deterioration expected for 2009 has already occurred. IATA stated, "as manufacturers end their de-stocking, there should be a modest bounce in air freight as component shipping rises a little". Traffic figures for March will be eagerly anticipated, as the industry looks for a bottoming out in demand.
In summary, IATA stated the prospects for airlines are dependant on economic recovery. Mr Bisignani warned there is little to indicate an early end to the downturn and airlines should expect a "grim 2009". He added, "while prospects may improve towards the end of the year, expecting a significant recovery in 2010 would require more optimism than realism".
But IATA's latest financial forecasts may also prove optimistic, particularly if traffic weakens further in coming months as recessions deepen in many countries.
The next industry forecast will be published at the end of June.