IAG and Heathrow: airport decision welcome, but possible charges issues. Options at other IAG hubs
Analysis
On 25-Oct-2016 the UK government announced its support for a new runway at London Heathrow Airport. There is still a lengthy set of processes to be observed before a new runway at Heathrow can finally be built. Moreover, opponents are likely to fight a fierce battle to try to prevent it. Even Heathrow Airport does not expect the runway to open before 2025. 2030 is more likely.
Airlines at Heathrow, led by British Airways and its parent IAG, have given a muted welcome to the UK government's decision. However, they are very clear that they do not wish to see airport charges increase as a result. IAG in particular has long been adamant that it will not pay for the expansion through tariff increases at Heathrow. The airport is among the most expensive in the world and its aeronautical yield rose 2.5 times from 2007 to 2014.
The UK government has set its aim on keeping landing charges close to current levels. Heathrow CEO John Holland-Kaye said that the expansion would provide an airport that is fair and affordable; but history suggests that the airport and its leading airline may define these terms differently. However, as this report demonstrates, IAG has other hubs and other airlines that give it alternative growth options.
Recent CAPA analysis reports have compared Heathrow with other European hubs and with other London airports, in addition to the political background to the decision and the perceived relative merits of the options considered by the Airports Commission, led by Sir Howard Davies.
See related reports:
After a brief review of the status of the UK government decision and airline responses, this report will focus on IAG's position with respect to Heathrow and the other main hubs used by the group.
The UK government's decision is not really a decision
If it is built, the new runway at Heathrow will be the first full-length runway in the south east of England since the Second World War. The government's decision backs the Jul-2015 recommendation of the Airports Commission. Moreover, the choice reflects the majority view of the UK's aviation industry, business leaders, trade unions and politicians.
However, it remains far from a done deal. The UK government will embark upon a consultation process in the New Year and is expected to put the decision to a vote in parliament in a year's time. The formal planning approval process will then commence and this could last for several years (the planning process for Heathrow's Terminal 5 took more than eight years).
Although the weight of opinion in the UK backs Heathrow expansion, a large number of well organised, high profile and passionate objectors have been vocal. In parallel with the steps towards a final decision to build the runway, and at any stage along the way, it is inevitable that there will be legal proceedings to block or reverse the decision. Even if such actions fail to prevent the runway, they could certainly delay its completion.
The expansion of Heathrow will be subject to compensation and mitigation measures
Many of the opponents of a new runway at Heathrow are motivated by environmental concerns of one kind or another, and these are likely to provide the basis for legal challenges. Mindful of this, the government has highlighted a number of proposals and commitments.
Noting that Heathrow has made commitments to noise reduction, the government will make more stringent night-time noise restrictions a condition for approval. It is proposing a six and a half hour night flight ban and legally binding noise targets, helped by newer aircraft technology.
In addition to noise, air quality is an important environmental factor. Additional work by the government after the Airports Commission has concluded that a new Heathrow runway is possible within air quality limits, provided that mitigation measures are implemented. The government will make meeting air quality legal requirements a condition of planning approval.
Local residents subject to compulsory purchase will receive 125% of the market value of their houses, and Heathrow has promised a GBP700 million noise insulation scheme for homes near the airport. Money will also be available for the insulation of schools and other community buildings. Further funds could also be available for local authorities and communities.
IAG welcomes the new Heathrow runway decision, but does not want to pay more
IAG, the owner of Heathrow's largest airline British Airways, welcomed the prospect of a new runway at the airport, while emphasising that "the cost to customers must not increase from today's level if the airport is to have a future".
The government's announcement about its decision to support a new runway at Heathrow included an aim to keep to keep charges "close to current levels". However, IAG CEO Willie Walsh showed his resolve to solidify this aim by calling it a government "directive to cap customer charges at today's level".
Mr Walsh added, "Heathrow is the world's most expensive hub airport so it's critical that new capacity is affordable".
Virgin Atlantic supports the expansion, but not higher charges at Heathrow
Heathrow's number two airline, Virgin Atlantic, has said that it supported the expansion "provided that it delivers for our customers." Virgin also said, "New capacity must be allocated in a way that brings more choice, better service and lower fares for customers".
Virgin Group's Sir Richard Branson sided with Willie Walsh by stressing that "adding to passenger charges that are already the highest in the world at Heathrow is simply not an option".
Although IAG and Virgin Atlantic may agree on holding airport charges at current levels, there may be some disagreement between them over the allocation of slots at the expanded airport. Virgin is likely to push for greater competition, while BA has an interest in restricting new entry.
EasyJet plans to enter Heathrow "with the right charging structure"
Intriguingly easyJet, which does not currently operate from Heathrow, is now interested in becoming a new entrant. The LCC's CEO Dame Carolyn McCall called the government's decision to back a new runway at Heathrow "good news for UK consumers and businesses".
Dame Carolyn added, "With the right charging structure and the right infrastructure for our efficient model, easyJet plans to operate from Heathrow, in addition to our existing London bases, providing new routes and lower fares to customers".
Ryanair proposes three competing new runways
As is often the case, Ryanair has its own proposal with regard to runway capacity development in the south east of England.
Europe's largest LCC, which also does not operate at Heathrow currently, has called for the approval of new runways at each of Heathrow, Gatwick and Stansted. Ryanair has argued that this will provide a truly competitive market, helping to hold down both the costs of the infrastructure and the subsequent operating costs to the airlines.
Ryanair CEO Michael O'Leary said, "At a time when the UK benefits from having 3 competing airports in London, and 3 strong competing airlines [BA, easyJet and Ryanair], we now need 3 additional runways to enable London and the south east to continue to offer competitive airport fees, lower air fares and a better deal for UK citizens and visitors".
Between 2007 and 2014, Heathrow's aeronautical yield increased 2.5 times
The cost to airlines of operating at Heathrow is a hot topic. Successive five-year (quinquennial) reviews of airport charges, regulated by the UK's Civil Aviation Authority (CAA), have enshrined Heathrow's position as the most expensive hub in the UK and Europe, and one of the most expensive in the world.
Of course, Heathrow is also one of the highest-yielding markets for airlines and this has tended to outweigh airline concerns over airport charges. However, further significant increases to pay for capacity expansion are likely to tip the scales and cause Heathrow's airlines to question the cost/benefit trade-off of being at the airport.
Scarce capacity has allowed the airport to set high tariffs, but has also allowed the airlines to demand a yield premium. A new runway will alter the supply/demand balance and increase airline competition.
Not surprisingly, airlines at Heathrow would be deeply unhappy if any subsequent yield dilution were to be accompanied by another hike in airport charges.
In the so-called fifth quinquennium for airport charge regulation (Q5), which was 2008/09 to 2013/14, Heathrow's average aeronautical revenue per passenger was allowed to increase 23.5% above the increase in the retail price index (RPI) in year one, and at RPI +7.5% in subsequent years. Between 2007 and 2014 Heathrow's aeronautical yield increased by a factor of 2.5 times from GBP9.3 to GBP23.3.
In Q6 (2014/15 to 2018/19) the balance has tilted a little more towards the airlines, with a price cap set at RPI -1.5%. In 2015 Heathrow's aeronautical yield fell modestly to GBP22.67. However, it was still 2.6 times Gatwick's GBP8.6, 3.7 times Stansted's GBP6.1 and 4.0 times Luton's GBP5.7.
Aeronautical revenue per passenger (GBP) for London Airports: Heathrow, Gatwick, Stansted and Luton, 2006 to 2015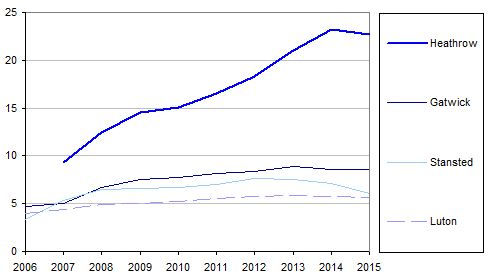 In the past, such as before the construction of Terminal 5, the CAA has allowed airport charges to increase ahead of significant capital investment. However, after years of increasing charges and the break-up of the former BAA monopoly, airlines have less stomach for yet more price rises.
The CAA may have to alter its historical approach, which has allowed Heathrow to recover its cost of capital and to achieve a spread on top.
See related reports:
Heathrow tariffs are much higher than at other London airports
The aeronautical revenue per passenger achieved by each airport is the result of a complex set of tariffs that depend on a number of factors – including aircraft type and size, passenger loads and exactly which services are bought by an airline from the airport.
As noted above, the aeronautical revenue yield clearly demonstrates Heathrow's significant premium over the other principal London airports. This can also be seen in a sample of charges for specific aircraft types, as illustrated in the chart below (which shows combined landing and terminal Charges in 2015 for Heathrow, Gatwick, Stansted and Luton).
Combined Landing/Terminal Charges (USD) 2015 for London Airports: Heathrow, Gatwick, Stansted and Luton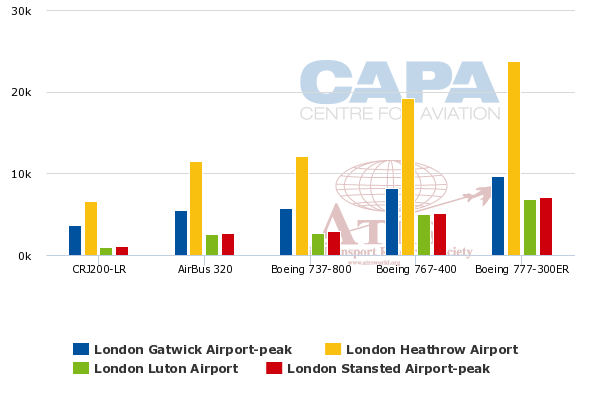 IAG has three other hub airports in the group
Before the CAA arrived at its RPI -1.5% price cap for Heathrow in Q6, IAG CEO Willie Walsh had sought to influence the airport and the regulator by raising the prospect that British Airways could eventually seek a new home.
In Oct-2013 Mr Walsh said: "…Like other airlines at Heathrow, we cannot move to a better-run UK hub that offers customers real value for money. No such alternative exists today but these excessive charges combined with a complacent management team at Heathrow make an alternative hub look more attractive and more realistic".
For British Airways there is still no alternative UK hub airport with the connectivity that Heathrow offers.
However, IAG as a group has alternatives for its growth. In addition to BA's Heathrow hub IAG has Iberia's hub at Madrid, Vueling's hub at Barcelona, and Aer Lingus' hub at Dublin.
See related reports:
International Airlines Group (IAG): top 10 airports by seats 24-Oct-2016 to 30-Oct-2016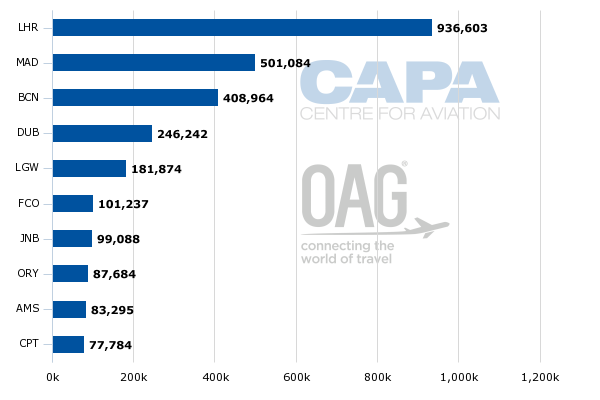 IAG airlines have solid positions at their respective hubs
Based on data from OAG for the week of 24-Oct-2016, IAG airlines have the leading position by number of frequencies at each of Heathrow, Madrid Barajas, Barcelona El Prat and Dublin. They are also number one by share of seats at all but Dublin – where Aer Lingus is number two to Ryanair.
The IAG airlines at each of the four hubs are not as dominant as the leading Air France-KLM and Lufthansa Group airlines are at their respective hubs, but nevertheless have solid positions.
Comparison of the leading IAG airline's position at the group's top four airports, 24-Oct-2016 to 30-Oct-2016
| | London Heathrow | Madrid Barajas | Barcelona El Prat | |
| --- | --- | --- | --- | --- |
| Leading IAG airline at airport | | | | |
| Leading IAG airline share of seats | 48.9% | 44.0% | 34.5% | 36.9% |
| Leading IAG airline rank by seats | 1 | 1 | 1 | 2 |
| Leading IAG airline share of frequencies | 53.4% | 47.8% | 34.3% | 40.1% |
| Leading IAG airline rank by frequencies | 1 | 1 | 1 | 1 |
| Total pax at airport 2015 | 75.0 million | 46.8 million | 39.7 million | 25.0 million |
Madrid, Barcelona and Dublin have much lower charges than Heathrow
IAG's other three main hubs have considerably lower airport charges than those that apply at Heathrow.
For the aircraft types illustrated in the chart below, combined landing/terminal charges at Heathrow are at least double those at Madrid, which is the next most expensive among IAG's four principal hubs. In most of the sample cases, Heathrow's charges are towards three times Dublin's.
IAG's significant presence at airports with considerably lower airport charges than at Heathrow does give it alternatives for at least some of its growth.
Combined Landing/Terminal Charges (USD) 2015: London Heathrow, Madrid Barajas, Barcelona El Prat and Dublin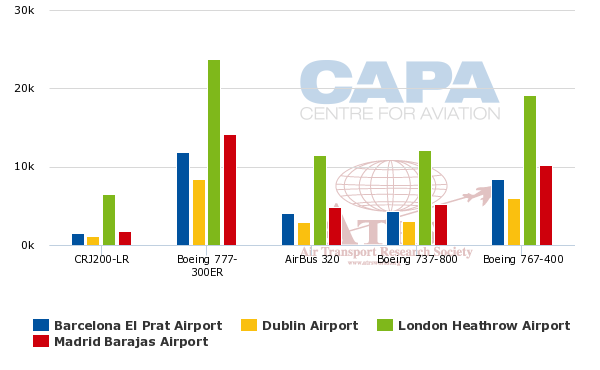 Heathrow has similar number of destinations to the other three IAG hubs, but more intercontinental
In spite of Heathrow's greater size compared with the other three (Heathrow handled 75 million passengers in 2015, compared with 46.8 million at Madrid, 39.7 million at Barcelona and 25 million at Dublin), this does not translate into significantly higher connectivity.
According to OAG data, Heathrow has a total of 172 passenger destinations, which is six fewer than Madrid, only two more than Barcelona, and 25 more than Dublin (see table below).
The main difference is that Heathrow has far more intercontinental destinations than the others, particularly in North American and Asia Pacific. These are two regions where BA plays a significant leading role for IAG from Heathrow. However, Dublin has the second highest number of North American destinations among the IAG hubs and Aer Lingus offers the group additional options for North Atlantic expansion.
The one intercontinental region where Heathrow is at a disadvantage is Latin America, where Madrid has far more destinations. Iberia is already the leading IAG airline to Latin America and this is likely to continue.
Barcelona is the leading IAG hub by number of European destinations, reflecting Vueling's short/medium haul focus and that of the other LCCs that make up the majority of seat capacity at the airport.
The different distribution of destinations by region mean that IAG could not replicate its Heathrow network at one of its other hubs. It would not be likely to attempt to move BA to one of those airports. However, IAG could develop alternative growth scenarios for the group by focusing its future development on its non-Heathrow airlines.
Number of passenger destinations by region: London Heathrow, Madrid Barajas, Barcelona El Prat and Dublin
| | London Heathrow Airport | Madrid Barajas Airport | Barcelona El Prat Airport | Dublin Airport |
| --- | --- | --- | --- | --- |
| | 79 | 115 | 143 | 130 |
| | 14 | 13 | 12 | 2 |
| | 29 | 6 | 0 | 0 |
| | 6 | 25 | 3 | 0 |
| | 12 | 6 | 4 | 2 |
| | 32 | 11 | 8 | 13 |
| Total | 172 | 176 | 170 | 147 |
Heathrow is much more of a premium market
A factor on which Heathrow offers BA and IAG a strong advantage is the premium nature of demand at the airport. At Heathrow 11% of seats are in premium cabins (first class or business class) – far higher than at IAG's other hubs and one of the highest of any airport in the world.
This is supplemented by premium economy seats, which make up 4% of the total at Heathrow, again a much higher level than at the other IAG hubs.
Heathrow's combined 15% of seats in premium and premium economy compares with 5% at Madrid, less than 3% at Barcelona and 3% at Dublin.
Similarly, Heathrow has remained almost impregnable to low cost airlines (the result of high charges and slot restrictions). As of the week of 24-Oct-2016, fewer than 2% of seats at Heathrow are operated by LCCs. This compares with 19% at Madrid, 46% at Dublin and 68% at Barcelona.
Comparison of IAG's top four airports by LCC and premium seat shares
| | London Heathrow | Madrid Barajas | Barcelona El Prat | |
| --- | --- | --- | --- | --- |
| LCC share of seats | 1.9% | 19.3% | 67.7% | 46.3% |
| Premium cabins* share of seats | 11.1% | 4.5% | 2.3% | 1.7% |
| Premium economy share of seats | 4.1% | 0.4% | 0.2% | 1.6% |
IAG does have alternatives
Although new capacity at Heathrow could stimulate new competition and be dilutive to yields, the airport seems likely to remain a higher-yielding and more premium-focused market than IAG's other hub airports.
This might reduce the attraction to IAG of favouring its other hubs once a new Heathrow runway is built. Much will depend on the development of airport charges and the balance of the cost of operating at Heathrow versus the yield that can be achieved.
In many ways the long delay in approving new runway capacity at Heathrow has suited British Airways and IAG over the years. Restriction of supply has been beneficial to its yield, and helped to restrict LCC competition at Heathrow. This could change with a new runway (and would certainly change under Ryanair's three new runways proposal).
Nevertheless, with its other hubs at Madrid, Barcelona and Dublin, IAG does have alternatives. With Brexit a real possibility, this is a good position to be in.