Hong Kong-Philippines: Hong Kong Airlines adds to 6th freedom pressure
Analysis
Summary
Cathay Pacific and Cebu Pacific have the largest available seat capacity in the Hong Kong-Manila market: Cathay has a 37% share, Cebu 30%, and Philippine Airlines 26%. However, in terms of the local flown market, Cathay's share is diluted by its substantial sixth freedom network beyond Hong Kong.
Cebu Pacific expands by deploying widebodies
Cebu Pacific has increased its market share of available capacity by 50%, growing from 20% in 2014 to 30% in 2018. This has mostly been achieved by replacing narrowbody flights with widebody A330s in Cebu's high-density configuration. Since 2014 Cebu has grown Manila-Hong Kong flights by 8% and seat capacity has more than doubled, growing 113%.
Hong Kong is one airport where Cebu Pacific has deployed its A330s. The A330 deployment is partially strategic and partially out of necessity.
Cebu intentionally deployed widebodies on regional Asian routes where traffic rights and/or slots were constrained. The airline increased regional A330 flying when its long haul network (mostly to the Middle East) became overly competitive – largely due to Gulf airline competition.
Cebu Pacific Manila-Hong Kong annual available seats (left axis) and frequency (right axis): 2008-2018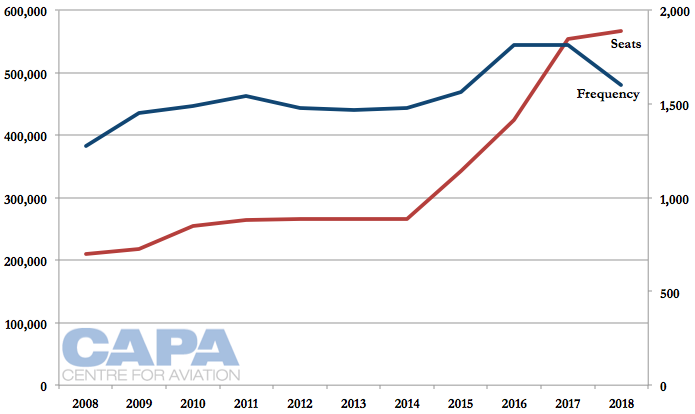 The growth of trans-Pacific flights in recent years has often been focused on the Asian hubs from which the flights originate. But underpinning the growth are substantial sixth freedom connections, often from Southeast Asia.
The Philippines, and Manila in particular, is a large source of traffic, albeit low-yielding. However, for growing airlines that may lack any combination of network breadth, frequency, product, hub airport competitiveness or brand recognition, low-yielding sixth freedom traffic is ideal, since it is a market easy to accommodate.
There are all-new entrants to the Philippines: Air China did not serve the country until 2010. ANA's first flight to the Philippines was in 2011, China Eastern's in 2013 and Xiamen Airlines' in 2015. The airlines launched service to the Philippines for a combination of local and connecting traffic.
Incumbents have grown significantly: EVA Air grew from one daily flight to four between 2015 and 2017, corresponding to EVA's North America growth. Asiana, China Airlines and China Southern have upgauged.
The chart below records growth by airline from the Philippines to hubs of major trans-Pacific operators. Excluded is Cathay Pacific, whose significant size distorts the rest of the data.
Over the past decade, Asiana and Korean Air have maintained leadership positions whereas JAL has sharply fallen, reflecting its bankruptcy restructuring. JAL's decline helped create room for ANA, which is now larger in the Philippines than JAL. EVA Air rapidly grew to be the fourth largest airline in the Philippines for hub connections (after Cathay, Asiana and Korean Air).
Annual seat capacity from the Philippines to hubs of major trans-Pacific operators: 2008-2018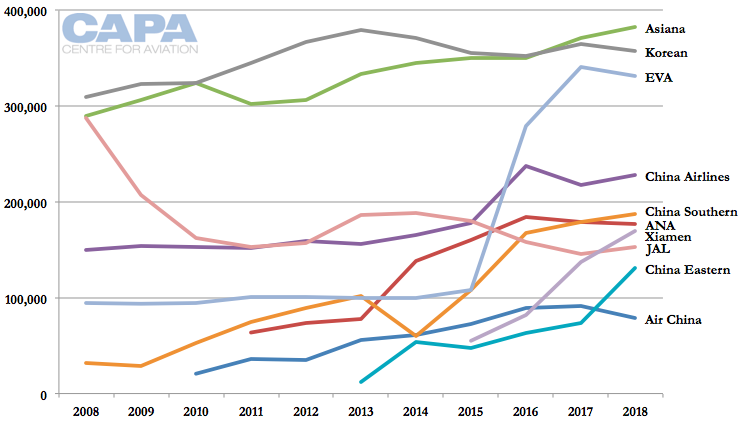 748" height="423" />
Total seat capacity from the Philippines to Northeast Asian hubs has doubled over the past decade, with most growth occurring since 2014.
Cathay's capacity has increased and decreased over the years. The most prominent growth is from other airlines. Cathay accounts for approximately 30% of the seat capacity between the Philippines and Asian hubs with major trans-Pacific networks. While Cathay has been a large sixth freedom competitor in the Philippines-North America market, there is also substantial local Philippines-Hong Kong traffic.
Annual seat capacity from the Philippines to hubs of major trans-Pacific operators: 2008-2018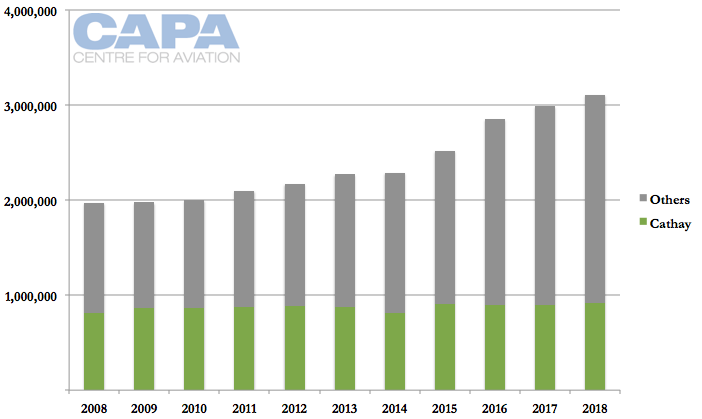 Outlook: Hong Kong Airlines makes a difficult but necessary entry to Manila
For local traffic, the Hong Kong-Manila market is not an ideal launch for Hong Kong Airlines. There is overcapacity and resulting yield pressure, and Hong Kong Airlines will have low frequency with only one flight a day. Further expansion is challenged due to slot constraints in both Hong Kong and Manila.
It would have been better to mount a stronger presence in Manila and other cities a few years ago, before yield and slot pressures became acute.
At the time, Hong Kong Airlines was focused on regional greater China expansion in Beijing, Shanghai and Taipei, as well as connections to Bangkok. Hong Kong Airlines' North America development did not occur proactively enough. Cathay Pacific has been impacted by competition out of mainland China, but it moved earlier to diversify its trans-Pacific network and reduce reliance on mainland China.
Hong Kong Airlines now needs to show it is not too little, too late. Manila connections will be important to help the airline sustain a North America network. Success in Manila could encourage Hong Kong Airlines to make bolder growth in particular, and more difficult, Southeast Asian markets.