Hawaiian Airlines weathers f/x and surcharge challenges just as its long haul network shows promise
Analysis
Just as Hawaiian Airlines has taken a breather from explosive growth in the 2011 to 2013 time period, shifts in overall market dynamics have occurred, including the rapid appreciation of the USD against most global currencies and a sharp fall off in fuel surcharges. Those changes have created unit revenue shortfalls for most US airlines, even as significantly lower fuel prices are producing record profitability.

Although Hawaiian's business model is different from that of most US airlines, it has not been immune from revenue degradation in 2015. Nevertheless, the airline notes positive trends in its largest geography, North America. Capacity growth between Hawaii and the US west coast slowed to single digits in 3Q2015, with similar trends occurring in late 2015 and early into 2016.

Hawaiian has undertaken some pruning of its long haul network within the last couple of years, and the efforts have borne fruit, although the results are masked by pressures from foreign exchange rates and fuel surcharges. However, overall Hawaiian feels comfortable with its competitive position in the North American and long haul markets despite the headwinds pressuring its unit revenues.
Hawaiian's long haul routes endure pressure from f/x and lower fuel surcharges
Hawaiian's system passenger unit revenues declined 4.6% in 3Q2015, which was on the lower end of its guidance of a 4% to 7% decline. Its passenger unit revenue for the 9M ending Sep-2015 fell 3.8%. During 3Q2015 nearly all of the decrease in passenger unit revenue was attributed to foreign exchange pressure and lower fuel surcharges.
Hawaiian estimated that without those negatives its system passenger unit revenues would have fallen less than a half point year-on-year in 3Q2015.
Hawaiian Airlines' long haul network is centred on Asia and Australia, with 40% of its international seats for the week of 26-Oct-2015 to 1-Nov-2015 dedicated to Japan, and nearly 27% to Australia.
Hawaiian Airlines international capacity by country (% of seats): 26-Oct-2015 to 1-Nov-2015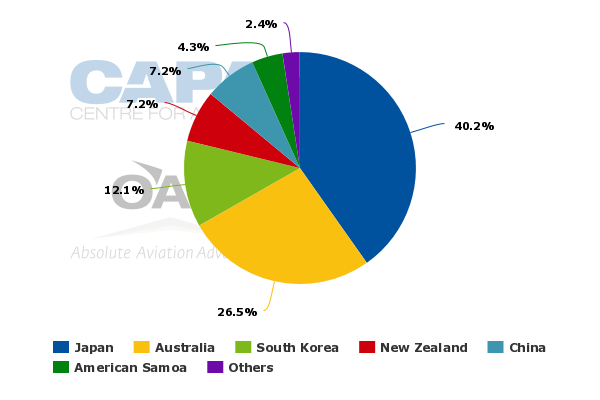 On an ASM basis, 37% of Hawaiian's ASMs are dedicated to Japan and 31% to Australia.
Hawaiian Airlines international capacity by country (% of ASMs): 26-Oct-2015 to 1-Nov-2015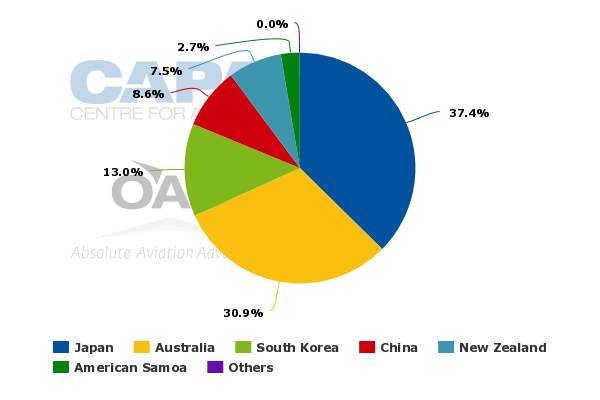 Both the AUD and JPY have depreciated against the USD throughout 2015. The AUD in late Oct-2015 traded as low as AUD70.8 cents against the USD. The value of JPY was less than USD1 cent.
Japan and Korea also have regulated fuel surcharges, which have dropped considerably during the last year as energy prices have fallen rapidly. South Korea represents Hawaiian's third largest international market measured by seats and ASMs.
Hawaiian's long haul unit revenues face a setback after a promising turnaround in 2014
Hawaiian estimated that its passenger unit revenues on its long haul routes in 3Q2015 declined in the mid-teens, which was all attributable to f/x and lower fuel surcharges. It is a frustrating setback for the airline, which improved its passenger unit revenue on Pacific routes by 11.5% in 3Q2014 after it cut unviable flights from Honolulu to Fukuoka and Taipei.
Its passenger unit revenues in Pacific markets had fallen 18% year-on-year in 3Q2013.
All the major US airlines operating in the trans-Pacific market have posted a weak unit revenue performance on those routes in 2015, driven in part by f/x and fuel surcharges, and in some cases, competitive capacity additions.
American recorded an 11.3% decrease in Pacific passenger unit revenues in 3Q2015, United an 11.6% decline, and Delta posted a 9.3% drop year-on-year.

See related reports:
Hawaiian noted that its aggregate passenger unit revenues in local currency continue to improve, which demonstrates the strengthening of its market position. Company chief commercial officer Peter Ingram explained that Hawaiian has been pleased with demand in long haul markets, despite the appreciation of the USD over a period of roughly one year and a half. "Demand for Hawaii vacations has remained very strong", he concluded.
Mr Ingram also explained that the fuel surcharge in Japan and Korea has not yet reached zero, but moving beyond 4Q2015 and into early 2015, Hawaiian will start to lap the fuel surcharge pressure, which will result in more favourable year-on-year comparisons.
Competitive capacity is moderated in Hawaiian's largest geography – North America
Hawaiian's passenger unit revenue decline on its North American routes shrank to 1.6% after a decline of 7.2% in 2Q2015. The airline had warned that capacity between Hawaii and North America would reach record levels in 1H2015, and Alaska Air Group previously had estimated its seats on offer between Hawaii and North America would grow 12% year-on-year.

See related report: Hawaiian Airlines faces capacity competition while it focuses on its balance sheet
During 3Q2015 capacity growth between Hawaii and North America slowed to 6%, after double digit increases during the prior three quarters, said Mr Ingram. He stated capacity growth would continue to moderate, and based on published schedules, industry capacity growth would reach 5% in 4Q2015 and 1Q2016.
A snapshot of CAPA and OAG data for the week of 26-Oct-2015 show that Hawaiian's seat counts are flat, year-on-year, in the markets it serves between Honolulu and Maui and the US west coast and JFK. Total seat counts have risen 10% in Seattle, driven by a 26% increase by Alaska Airlines, which has its largest hub and headquarters in Seattle.
Alaska has also increased its seats on offer between its hub in Portland and Honolulu, year-on-year.
An increase by United has pushed seats up between Honolulu and San Francisco, and seats between Los Angeles and Honolulu have grown 3% year-on-year. Seats on offer between Honolulu and Phoenix and San Diego are down year-on-year, and there is flat seat growth between Honolulu and Los Angeles.
One way seats and yr/yr seat growth on Hawaiian's US routes from Honolulu: 26-Oct-2015
Route
Total seat growth and
specific airline seat increase
Airline seat share
Honolulu-Seattle

6,609 up 10%

Alaska up 26%

Delta flat

Hawaiian flat

Alaska 45%

Hawaiian 31%

Delta 24%

Honolulu-Portland

3,471 up 9%

Alaska up 26%

Hawaiian flat

Hawaiian 59%

Alaska 41%

Honolulu-Sacramento
1,848 flat
Hawaiian - 100%
Honolulu-Oakland

2,259, down 2%

Alaska down 8%

Hawaiian flat

Hawaiian 81%

Alaska 19%

Honolulu-San Francisco

9,995 up 13%

United up 17%

Hawaiian flat

United 79%

Hawaiian 22%

Honolulu-San Jose

2,476 flat

Alaska flat

Hawaiian flat

Hawaiian 75%

Alaska 25%

Honolulu-Los Angeles

23,736 up 3%

United up 7%

Allegiant up 25%

American down 2%

Hawaiian flat

Delta up 2%

United 27%

Hawaiian 26%

Delta 24%

American 19%

Allegiant 5%

Honolulu-Las Vegas

5,643 flat

Hawaiian flat

Allegiant flat

Hawaiian 89%

Allegiant 11%

Honolulu-Phoenix

4,382 down 2%

Hawaiian flat

American/US Airways down 3%

American 58%

Hawaiian 42%

Honolulu-San Diego

3,000 down 5%

Alaska down 14%

Hawaiian flat

Hawaiian 69%

Alaska 31%

Honolulu-New York JFK

1,724

Hawaiian up 20%

Hawaiian 100%
Seat growth is flat between Maui and San Jose year-on-year, and up in San Francisco after Hawaiian's market entry.
One way seats and yr/yr seat growth on Hawaiian's US routes from Kahului: 26-Oct-2015
Route
Total seat growth and specific airline increase
Airline seat share
Kahului-Oakland

2,947 flat

Alaska flat

Hawaiian flat

Hawaiian 63%

Alaska 37%

Kahului-San Francisco

5,810 up 106%

Hawaiian entered the market

United up 33%

United 65%

Hawaiian 35%

Kahului-San Jose

2,947

Alaska flat

Hawaiian flat

Hawaiian 63%

Alaska 37%
By early 2016 Virgin America will add roughly 1,036 weekly one way seats between San Francisco and Honolulu and Maui.
Hawaiian seems unfazed by the new competition, and has previously stated it is used to competing with airlines all over the world. The 5% industry capacity growth between Hawaii and North America cited by Mr Ingram presumably included Virgin America's new service, so for now it seems as if this new entrant in the Hawaiian market is not markedly disrupting the supply-demand balance.
The North American market still represents roughly 50% of Hawaiian's revenues, and investors have questioned how the airline can combat the inevitable competitive encroachment on routes between the US and Hawaii.
Company CEO Mark Dunkerley concluded that ultimately "we don't think (that) in any market… you can protect yourself against competitors coming in, certainly in none of ours". He believes that Hawaiian's cost, brand and positioning in the market place are strengths that allow it to compete effectively.
Mr Dunkerley noted that historically, as some airlines have added capacity to the Hawaiian market, they discover that Hawaiian has a successful formula for serving the region, and opt to deploy that capacity elsewhere. Hawaiian does have the unique advantage of being the largest airline in the inter-island Hawaiian market, which allows the company to market those destinations and forge partnerships with airlines to offer access to their customers to those smaller markets, by interlining with Hawaiian.
F/x and fuel surcharge pressure continue to weaken Hawaiian's unit revenues in 4Q2015
Hawaiian's unit revenue pressure will continue into 4Q2015 as unit revenues are forecast to fall 2.5% to 5.5% year-on-year. The company estimates that f/x and fuel surcharge pressure will affect unit revenues by 4 to 4.5ppt.

The airline is planning system capacity growth of 3% to 5% in 2015, which is slightly higher than the 1.8% growth Hawaiian recorded in 2014, but well below the 22% ASM expansion of 2012 and the 14% growth in 2013.
Hawaiian weathers f/x and fuel surcharge challenges while posting strong top line profits
Despite the unit revenue pressure in 3Q2015, Hawaiian almost doubled its top line profits year-on-year as net income grew from USD36 million to USD70 million, driven to a large extent by falling fuel prices.
The added drag from currency and fuel surcharges is a particularly disappointing burden for Hawaiian, which was seeing positive results from its efforts to diversify its network and build strength in the trans-Pacific.
The logic behind that network diversification strategy remains strong, and Hawaiian is rightfully taking a long term view that building up and maintaining its trans-Pacific presence is key, once global macroeconomic conditions stabilise.
As it weathers lingering challenges in its long haul markets, Hawaiian for now can enjoy some rational behaviour by competitors operating from Hawaii to the US mainland, which remains Hawaiian's most important and strategic geography.