Havana Jose Marti International Airport: Exciting times and the opportunity to become a regional hub
Analysis
As a result of the restoration of diplomatic relations between Cuba and the United States of America the US President Barack Obama visited Cuba in Mar-2016. In his speeches he placed heavy emphasis on youth, generational shift and the future (the main protagonist of the old guard, Fidel Castro, rejected Obama's visit and his words of reconciliation). This has whetted the appetite of airlines, airport operators, ATM providers and investors seeking opportunities there.
Indeed, and even though Cuba has long been receiving flights from many countries if not from the US (where only 'special circumstances' applied), it is possible to bracket these events with other similar outcomes in countries such as Iran and Myanmar. Suddenly, Cuba is 'open for business' in the eyes of the western world, but that might not quite be the case. There is a long way ahead and there is a lot to be done, with no guarantees.
This report, while dealing briefly with wider aviation and, indeed, economic issues arising out of the rapprochement, focuses on the country's leading airport, Havana's Jose Marti International - and how it stands to gain from these developments; particularly if it could become a regional hub.
An overview of Cuba's history and economy
Cuba was discovered by Christopher Columbus in 1492 and developed as a Spanish colony over the following centuries. Large numbers of African slaves were imported to work the coffee and sugar plantations. Havana, becoming the transport focal point for the 'treasure fleets' that left annually for Spain from Mexico and Peru, established itself as a transport hub very early on.
During the Spanish-American War in 1898 US intervention helped the Cubans overthrow Spanish rule. Cuba eventually became an independent republic in 1902, thereafter experiencing a string of governments that were mainly dominated by the military and corrupt politicians. Fidel Castro led a rebel army, the July 26 Movement, to victory over the dictator Fulgencio Batista in 1959 and his authoritarian rule held the subsequent regime together for almost five decades. He stepped down as president on health grounds in Feb-2008, in favour of his younger brother Raul Castro.
Cuba's communist revolution, with Soviet support, was exported throughout Latin America and Africa during the 1960s, 1970s, and 1980s. Such support was most clearly manifested in the Cuban Missile Crisis of Oct-1962 when medium-range ballistic missiles were placed on the island, capable of destroying many US cities.
But Cuba faced a severe economic downturn in 1990 following the withdrawal of former Soviet subsidies worth USD4-6 billion annually. Cuba has often portrayed the US embargo, in place since 1961, as the source of its difficulties and illicit migration to the US as a continuing problem. In Dec-2014 the US President began efforts to re-establish diplomatic relations with the Cuban government, a connection that had been severed in Jan-1961. The United States and Cuba reopened embassies in their respective countries on 20-Jul-2015.
Mr Obama's visit was calculated to highlight the generational contrast and appeal to younger cohorts, both in Cuba and in the United States. He presented his vision for a thaw in relations as the inevitable path to the future, and the hostility and isolation that had come before as the stale remnant of a previous century.
The softening of the relationship opens the way for increased trade between Cuba and the US, and also for a potentially large and comprehensive increase in air travel between the two countries. Already thousands of US citizens visit Cuba by indirect means (and they always have done), but in 2016-17 thousands could become millions.
Potential major impact of American arrivals
It also hints at the potential 'Americanisation' of Cuba, where currently the only substantial US national presence that remains is the aging fleet of ancient US Dodge and Chevrolet cars that still clatter around.
There are two ways of looking at this Americanisation. There is intense interest in Cuba amongst many US carriers which is hardly surprising. Cuba is, after all, a new market opening on the doorstep of a mature one. It is like the opportunity arising to enter the Chinese or Indian markets (albeit on a lesser scale) but less than 100 miles from Florida. The first priority is to gain a foothold there. The weakness of national airline Cubana should make that easier, even if Cubana suddenly found the will, and the money, to invest in a fleet of next generation Boeings.
The other aspect to Americanisation is the impact of American culture on the country.
That development would inevitably have ramifications for the tourist industry. But the Castro brothers have treated Old Havana as an archaeological and historic site; the finest and greatest example of colonial architecture in the Americas, and one that UNESCO declared a World Heritage site in 1982.
Hence, there is said to be an accord which would not prevent Americans heading back to Cuba en masse but would ensure that they could not expect to find a Starbucks on every street corner or a glitzy shopping mall in every suburb. 'En masse' means not only sun worshippers and history buffs; new tourism segments have developed since the previous days of mass tourism from the US. For example, Cuba is now reported to be much more 'gay-friendly' than Haiti, which has historically been one of the key destinations for that tourist segment. These are evolutions and issues that the Cuban authorities and visitors will have to adapt to.
Naturally, any such economic 'accord' that takes the form of restrictions on US retail sector businesses will have implications for non-aeronautical revenue development at Cuba's airports.
The chart below details the sources of tourism to Cuba in 2015. The dominance of Canada should be noted, and also the strong showing of Western European countries – the second, third and fourth largest markets.
Cuba - Tourist arrivals by market, 2015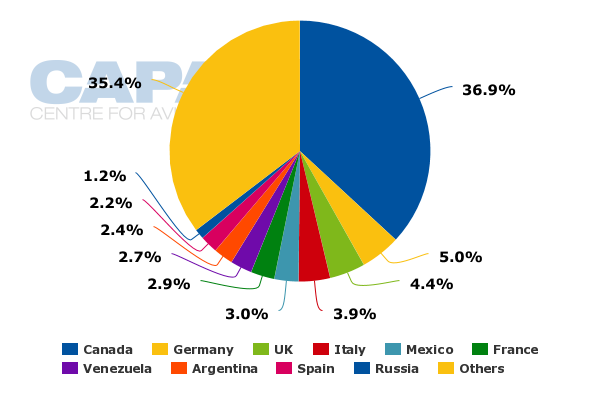 While officially retired, the 89 year-old former head of state still wields enormous influence in Cuba; observers still study his sporadic columns and appearances for insights into Cuba's opaque political system. Nevertheless, this report continues on the assumption that in the younger, more progressive Raul President Obama has found someone who will in actuality, it is hoped, sign up to the President's positive vision for the relationship.
Cuba's economic system starts to loosen
For now Cuba remains a Marxist-Leninist one-party republic, one of the last remaining such entities in the world along with North Korea, and the role of the Communist Party is enshrined in the Constitution. The economy is a planned one, and is dominated by the export of sugar, tobacco and coffee. Cuba is world-renowned in the fields of education and health care (often being one of the first countries to lend assistance in other nations' crises, such as the Ebola outbreak of 2014/15).
The government continues to balance the need for loosening its socialist economic system against a desire to retain firm political control. In Apr-2011, the government held the first Cuban Communist Party Congress in almost 13 years, during which leaders approved a plan for wide-ranging economic changes. Since then, the government has slowly and incrementally put limited economic reforms in place, including allowing Cubans to buy electronic appliances and cell phones, to stay in hotels, and to buy and sell used cars. The government also cut state sector jobs as part of the reform process, and it has opened up some retail services to 'self-employment', leading to the rise of the so-called 'cuentapropistas', or entrepreneurs. Approximately 475,000 Cuban workers are currently registered as self-employed.
The regime has updated its economic model to include permitting the private ownership and sale of real estate and new vehicles, allowing private farmers to sell agricultural goods directly to hotels, allowing the creation of non-agricultural cooperatives, adopting a new foreign investment law, and launching a "Special Development Zone" around the Mariel port.
Cuba's population is 11.03 million, making it the 80th most populous country globally. As well as being the largest island in the Caribbean, it is the second most populous after the neighbouring Hispaniola (Haiti and the Dominican Republic). However, as of 2015 there was a slightly negative birth rate.
Key economic metrics of Cuba
| | |
| --- | --- |
| GDP (purchasing power parity) | USD128.5 billion (2014 estimate) *1 |
| GDP (official exchange rate) | USD77.5 billion *2 |
| GDP real growth rate | 1.3% (2014 est.); 2.7% (2013 est.); 3% (2012 est.). |
| GDP real growth rate, country comparison to rest of world | 167 |
| GDP composition by sector of origin | Agriculture 4%; Industry 23.5%; Services 72.7% |
| Main industries | Petroleum, nickel, cobalt, pharmaceuticals, tobacco, construction, steel, cement, agricultural machinery, sugar. |
| Main exports (commodities) | Petroleum, nickel, medical products, sugar, tobacco, fish, citrus, coffee. |
| Main export partners | Venezuela 33.5%, Canada 15.9%, China 9.5%, Netherlands 4.5% (2014). |
| Imports (commodities) | Petroleum, food, machinery and equipment, chemicals. |
| Main import partners | Venezuela 38.7%, China 9.8%, Spain 8.4%, Brazil 4.7%, Algeria 4.4% (2014). |
| Industrial production growth rate | 9.6% (2015 est.). |
| Labour force | 5.111 million (Note: state sector 72.3%, non-state sector 27.7% (2015 est). |
| Unemployment rate | 3% (2015 est.); 2.7% (2014 est.). Note: these are official rates; unofficial estimates are approximately double the official figures. |
| Inflation rate | 4.4% (2015 est.); 5.3% (2014 est.). |
| Public debt | 31.6% of GDP (2015 est.); 32.1% of GDP (2014 est.). |
Lack of internet access: a problem for airlines
One severe economic issue Cuba has is that the internet has some of the lowest penetration rates in the Western hemisphere. ETESCA, or Empresa de Telecomunicaciones de Cuba S.A. (Telecommunications Company of Cuba) is the government-owned service provider. ETESCA operates approximately 120 cyber cafes, and the government provides an online Wiki-style encyclopedia website, but nothing more; that is about it. Internet access is limited and controlled, email is monitored and the sale of computer equipment is strictly regulated.
None of this is conducive to the hosting of GDS and the reservations systems of Western airlines.
Cuba occupies a strategic geographical position
Geographically, Cuba, which is considered to be part of Latin America, comprises the island of Cuba, as well as the Isla de la Juventud and several minor archipelagos. It is located at the confluence of the Caribbean Sea, the Gulf of Mexico and the Atlantic Ocean. Cuba is south of Florida and the Bahamas, west of Haiti and the Dominican Republic, north of the tax haven of the Cayman Islands and east of Mexico, thereby occupying a strategic position. Looking at it from the point of view of airport hub operations there are two established ones in the region. Firstly Miami, which is probably the major gateway to Latin America from North America and Europe). Secondly, Panama's Tocumen International Airport, about 1000 km to the south and home to Copa Airlines and the 'Hub of the Americas.'
Locator map for Cuba and its airports in relation to nearby countries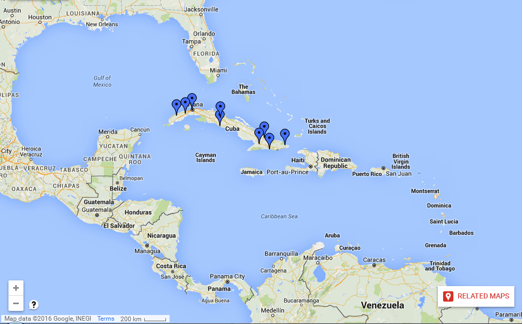 See related report: Miami's airport juggles its role as the US' primary passenger and cargo gateway to Latin America
Havana is by some margin Cuba's largest city. Other major cities include Santiago de Cuba, Camagüey and Holguín. Traffic development related to most of these cities other than Havana is more likely to consider outbound rather than inbound travel. For visitor purposes Havana is the big draw, at least for now, even if alternative airports can be more appropriate for access to beach resorts.
Cuba's largest cities and towns, population
| | | |
| --- | --- | --- |
| City | Province | Population |
| City of Havana | | 2,201,610 |
| | | 423,392 |
| Camagüey | Camagüey | 301,574 |
| Holguín | Holguín | 269,618 |
| Santa Clara | Villa Clara | 210,220 |
| Guantánamo | Guantánamo | 208,145 |
| Bayamo | Granma | 144,664 |
| Victoria de Las Tunas | Las Tunas | 143,582 |
| | | 140,734 |
| Manzanillo | Granma | 132,789 |
International Airport figures stay 'within touching distance' of peer-group airports, just
The table below compares Havana José Martí International Airport (hereinafter HJMIA) with peer airports in the Caribbean. In this case Miami has not been included since it is not considered to be a direct competitor at this stage; nor have airports in Haiti for the same reason. The selected airports lie around the Caribbean Sea. Most are O&D airports handling tourism or business traffic or both, though the hub at Panama is also included. (N.B. population figures in this instance are for metropolitan areas, where they are known).
Havana and Caribbean peer airports by assorted airline metrics. Populations:
| | | | | | | |
| --- | --- | --- | --- | --- | --- | --- |
| Airport/metric world ranking | ASKs | Seats | Frequencies | Cargo payload | Pax 2015 (unless stated): million | City population: million |
| Havana JM Int | 167 | 330 | 360 | 278 | 4.0 3 | 2.2 |
| | 357 | 343 | 223 | 372 | 3.2 1 | 0.26 |
| | 133 | 264 | 320 | 199 | 3.2 | 0.1 |
| San Juan LMM Int, Puerto Rico | 144 | 198 | 118 | 172 | 8.8 | 2.2 |
| | 64 | 92 | 104 | 108 | 19.6 | 0.8 |
| | 94 | 134 | 127 | 119 | 7.8 2 | 1.5 |
From these statistics it is evident that despite Cuba's isolation from the US market, Havana's airport has been able to stay within touching distance of tourist airports such as Punta Cana and the US Commonwealth country airport Luis Muñoz Marin International Airport at San Juan, Puerto Rico; at least in terms of ASKs, which are driven by European scheduled services and charters.
However, it cannot compare with Cancún and Panama City airports despite their smaller population size, which hints at the paucity of outbound travel from Havana, as well as a lack of any hub importance. It occupies a low position in the cargo payload statistic.
The table below summarises HJMIA's route network. The table below this compares HJMIA with its peer group.
Havana José Martí International Airport Network Summary (at 28-Mar-2016)
| | |
| --- | --- |
| | 28 |
| Domestic only | 2 |
| International | 26 |
| Total nonstop passenger destinations | 45 |
| Domestic | 13 |
| | 0 |
| | 0 |
| | 11 |
| | 19 |
| | 0 |
| | 2 |
| Total nonstop freight destinations | 0 |
| Domestic | 0 |
| | 0 |
| | 0 |
| | 0 |
| | 0 |
| | 0 |
| | 0 |
Comparison of airports by total airlines and nonstop destinations
| | | | | | | |
| --- | --- | --- | --- | --- | --- | --- |
| Airport | Total airlines | Pax traffic 2015 (unless stated) (million) | Airline to pax ratio | International airlines | Non-stop passenger destinations | Non-stop freight destinations |
| Havana JM Int | 28 | 4.0 3 | 0.14 | 26 | 45 | 0 |
| | 20 | 3.2 1 | 0.16 | 17 | 45 | 2 |
| | 38 | 3.2 | 0.08 | 35 | 58 | 1 |
| San Juan LMM Int, Puerto Rico | 28 | 8.8 | 0.31 | 26 | 54 | 7 |
| | 46 | 19.6 | 0.42 | 44 | 107 | 3 |
| | 23 | 7.8 2 | 0.34 | 21 | 81 | 8 |
It is evident from the data that HJMIA has an average number of airlines operating there, compared with its peers. Most of its airlines operate internationally, as do those at the peer group airports, but HJMIA has a low total of international destinations within the group. The score of 0.14 in the column 'airline to pax ratio' however suggests a high degree of choice of airline to its users, for the size of the airport, it being bettered only by Punta Cana in this category. HJMIA rates poorly for cargo compared with the peer group, having no nonstop destinations.
Existing route structure – a congregation of Caribbean, South American and European services
The route map below shows existing destinations that can be reached by direct (red) or connecting flights.
Apart from the network around the Caribbean, together with a small number of Canadian and South American services, there are numerous direct routes to Europe (10 in all, including Moscow). The single westbound long haul route (not shown) is to Beijing. Despite the historical connection to Africa and the fact that Cuba is established in some spheres on that continent – such as in medicine for example – there are no direct African services.
While such routes could eventually start up, the more obvious gaps in the airport's route network – apart from to/from the US – are central and western Canada and Brazil. Aside from the tourism potential, the economic indices table above showed that both those countries are either an import or export partner with Cuba. There would also seem to be some scope for more direct services from parts of Europe, where the entire Caribbean region is regarded as appealing to tourists, although European vacation prices are too high for many working people.
Direct and indirect (connecting) routes from Havana José Martí International Airport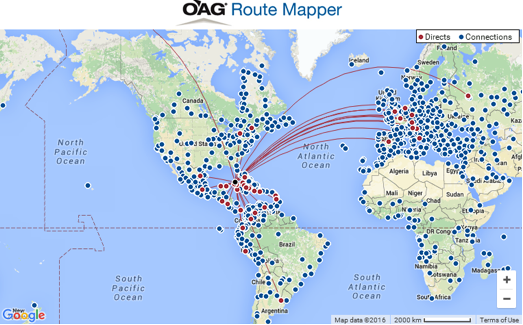 The 'heat' map below adds emphasis to the concentration of air routes by region. The focus on Caribbean and Mexican routes stands out, followed by Western Europe.
Havana José Martí International Airport international capacity, seats by region heat map, 28-Mar-2016 to 03-Apr-2016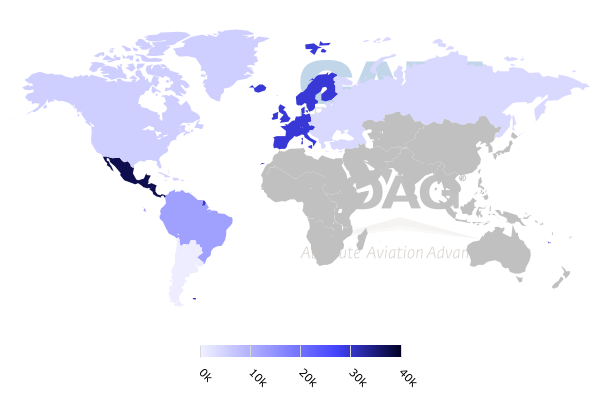 International nonstop connectivity – opportunities in three world regions beckon
The following chart examiness at international (passenger) nonstop connectivity in more detail, again comparing HJMIA with the same peer group. While HJMIA has the lowest total of destinations, it is strong on Latin America where it is has the second highest number of destinations after the region's premier hub at Panama. It is also relatively strong on European destinations.
On the other hand, the scope to increase the airport's presence in the North American markets is evident. Remarkably, the almost total lack of international connectivity between all the peer-group Caribbean airports and the Asia Pacific, Middle East and African regions is equally evident. (The Beijing route referred to above does not register on the chart).
To take one random airline example: Emirates operates into 11 cities in North America and three in South America, but not into Central America. Its nearest point of entry to Cuba is Orlando. It has pushed back new service to Panama City due to the slow process of gaining necessary approvals to forge a partnership with Copa Airlines.
Options remain for Emirates: to wait for the new airport at Mexico City to open (that date has been put back to 2020); or still to consider an airport on an island where there is already a strong tourist trade, where that market is likely to increase considerably along with tourism infrastructure, and one where at least some of the necessary airport infrastructure is in place. HJMIA has a 4000m runway but work is required on passenger facilities to bring them up to date.
Nonstop connectivity values (passenger destinations). Comparison of Havana, Nassau, Punta Cana, San Juan LMM, Cancún and Panama City Tocumen airports, Apr-2016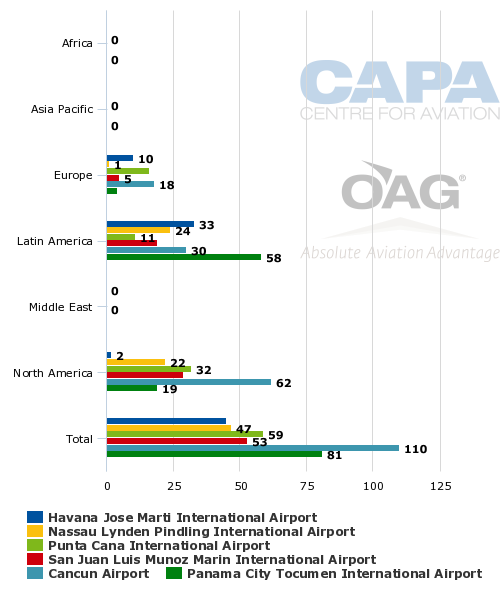 Seat capacity – the low cost segment is small but growing
The contribution of full service, regional and low cost airlines is represented in the chart below. The majority of seat capacity is taken up by full service airlines, with a small but not insignificant contribution from the budget segment. In comparison with the 8.3% of seat capacity on LCCs, the average (1Q2016) for the Caribbean is 14.5% ('within' and 'to/from' averaged). In Latin America it is 26.6% ('within' and 'to/from' averaged), while worldwide it is 25.4%. (Source in all cases CAPA - Centre for Aviation, data provided by OAG).
Havana José Martí International Airport capacity, seat share by airline type, 28-Mar-2016 to 03-Apr-2016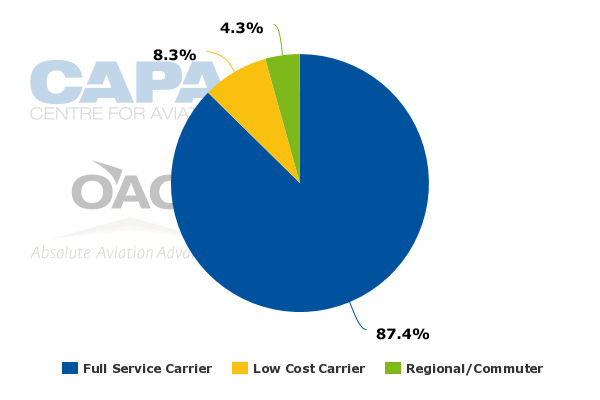 It may be useful to compare this traffic split again with the airport's peer/competitors.
Comparison of selected airports by airline type – seat availability, 28-Mar-2016 to 03-Apr-2016
| | | | | |
| --- | --- | --- | --- | --- |
| Airport | % of seats on FSCs | % of seats on LCCs | % of seats on other modes (e.g. regional, charter airlines) | Clarification of previous column |
| Havana JM Int | 87.4 | 8.3 | 4.3 | Regional/commuter |
| | 44.5 | 21.3 | 34.2 | Charter and Regional/commuter |
| | 71.4 | 25.3 | 3.3 | Charter and regional/commuter |
| San Juan LMM Int, Puerto Rico | 43.6 | 47.4 | 9 | Charter and regional/commuter |
| | 54.8 | 42.0 | 3.2 | Charter and regional/commuter |
| | 99.7 | 0.3 | - | - |
By this measure, there are considerable differences between airports in the region. While Tocumen International Airport is focused almost entirely on FSCs (indeed 99.7% is one of the highest ratios in the world for a primary hub airport), at the other end of the scale the San Juan and Cancun airports are far more oriented towards LCCs.
Havana remains more oriented towards FSCs and regional airlines but must prepare itself for the influx of new LCCs as the restoration of relations with the US takes effect, thus potentially also stimulating further the Canadian market.
Cubana is the main airline by capacity, but Copa has a significant presence
The distribution of seat capacity by individual airline is detailed below.
Havana José Martí International Airport capacity (seats per week), by all airlines, total system, 28-Mar-2016 to 03-Apr-2016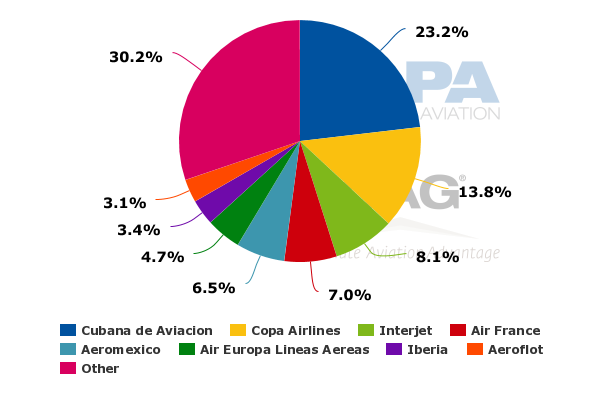 While the state airline Cubana de Aviación is the largest airline it could not be described as dominant and the presence of Copa Airlines, which feeds its Panama City Tocumen Airport hub, is significant at 13.8% of capacity. The Mexican LCC Interjet is responsible for almost all of the budget airline capacity referred to earlier; at least for now.
European airlines are led by Air France with 7% of seat capacity, and Iberia, which is starting to increase its presence again in Latin American markets, at 3.4%. Aeroflot, which once operated many flights each week to Havana, retains a smaller presence now with 3.1% of capacity though its code shares with Cubana. The airline that filled Iberia's gap during its period of regression – Air Europa – still has 4.7% of capacity; more than that of Iberia.
International capacity by country is led by Mexico
The distribution of seat capacity can also be represented as below, by country. In this instance Mexico is shown to be the largest presence, followed by Panama, Spain and France. Canada trails in fifth place because, despite the propensity of its citizens to seek out Caribbean destinations for winter sun vacations, it is not a year-round origin point. Again, the fact that there are direct services only from Toronto and Montreal may play a part in this.
Havana José Martí International Airport capacity seats by country, 28-Mar-2016 to 03-Apr-2016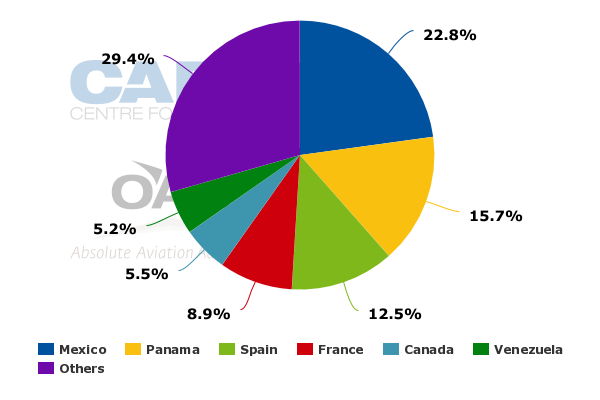 No First Class; but Business Class ratio is high
An interesting comparison to make is the ratio of airline seats by type at HJMIA and among the peer airport group (a new facility just made available by CAPA).
The lack of First Class seating at HJMIA stands out in the chart (it is actually 0.2% and therefore not visible here), Yet the ratio of Business Class seating is the second highest of the peer group after Panama City Tocumen Airport, and the 'world average' is shown for comparison. The proportion of Premium Economy seating at Havana is 2.4 percentage points higher than at the Panama hub.
Havana José Martí International Airport schedule by class of seat - one -ay weekly departing seats (total system) 28-Mar-2016 to 03-Apr--2016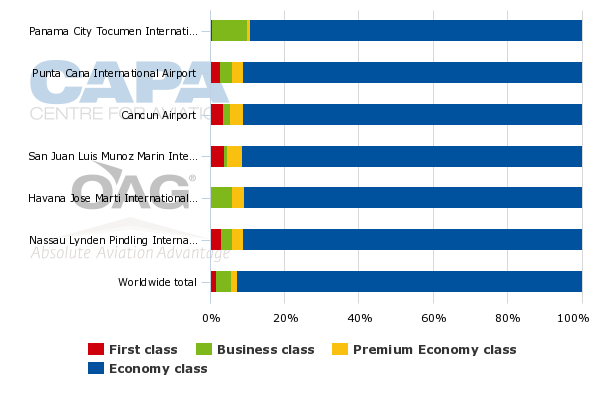 Alliance penetration is greater than might be expected

The global airline alliances have made their presence felt at HJMIA to a greater degree than might have been envisaged.
While just over 50% of seat capacity remains on unaligned airlines (including Cubana, which has just two codeshare deals), SkyTeam has reached almost 25% (Air France, Aeromexico, Aeroflot, Air Europa etc) and Star Alliance 19.1% (Copa Airlines, Lufthansa etc). Oneworld's fairly meagre presence is limited mainly to Iberia. British Airways does not operate into Cuba, though independent rival Virgin Atlantic does. Both of these airlines might consider increasing their presence in the light of the new political paradigm.
American Airlines, the other senior branch of oneworld, does not yet operate for reasons that are evident. However, it is one of several US airlines that have been operating Special Authority Charters from various US airports under US Government restrictions, administering 12 categories of travel purpose, which do not include general tourism. Those charters do not register in these analytical charts.
Havana José Martí International Airport capacity, seat share by alliance/unaligned, 28-Mar-2016 to 03-Apr-2016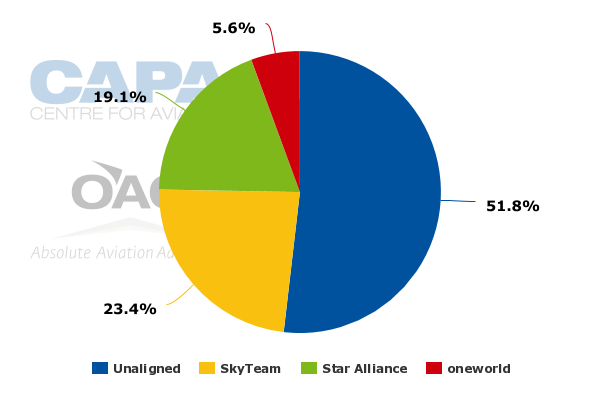 The question is how this compares with peer airports. The same group is used as previously.
Comparison of Havana with selected peer group airports by alliance penetration – seat availability, 28-Mar-2016 to 03-Apr-2016
| | | |
| --- | --- | --- |
| Airport | % of seats on unaligned airlines | % of seats on aligned airlines |
| Havana JM Int | 51.8 | 48.2 |
| | 56.5 | 43.5 |
| | 47.7 | 52.3 |
| San Juan LMM Int, Puerto Rico | 56.9 | 43.1 |
| | 51.9 | 48.1 |
| | 3.1 | 96.9 |
Apart from Tocumen Airport dominated by Copa Airlines, which must be regarded as a statistical outlier in this respect, HJMIA has the second largest number of seats on alliance airlines. This is quite an achievement when account is taken of the US airlines/alliance members that have not been able to operate there.
Seat capacity increasing but may stall this year
Regrettably, no current or recent historical passenger traffic data can be obtained from ETESCA at this point. What can be said with certainty is that the collective airlines' capacity has been increasing in 1Q2016, as evidenced in the chart below.
The increase is in both the domestic and international segments; the chart shows the total system capacity.
Havana José Martí International Airport seats, system-wide, per week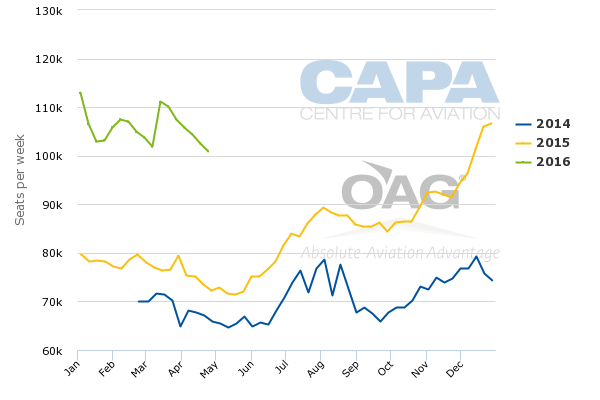 But some caution must be applied here. Capacity at HJMIA may actually decrease between 2015 and 2016. The downward nature of the chart above (green line) does suggest that is starting to happen at HJMIA. The same trend is the case for the country as a whole.
A capacity reduction may well run contrary to the hype generated by the restoration of diplomatic relations and the anticipation of new US air services, but there is method at work here.
Firstly, the forging of a new bilateral air services agreement between Cuba and the US has prompted numerous airlines to vie for available frequencies and those airlines are wide-ranging in types of operation – FSCs, LCCs, ULCCs and regional airlines alike have jumped on the bandwagon. US regulators are in the process of evaluating the proposals from those airlines, but the proceedings are very different from more typical route awards. The government has no historical data to study demand patterns in weighing the merits of the route requests submitted by US airlines.
One important element to consider, as the resumption of scheduled service between Cuba and the US moves closer, is whether Cuba's infrastructure – not only the airports but also the hotels and surface transportation – has the ability to support an influx of travellers from the US. Many of the smaller Cuban airports eligible for new flights from the US have smaller infrastructure in place today. This is because of the long absence of flights to the US. They could be overwhelmed by the addition of 10 to 20 flights per day from the US alone, according to one ULCC. Other unknowns are the actual costs of operating to Cuba, and methods of enforcing adherence to the categories of travel stipulated in the new air services agreement.
The real challenge for the US government is determining an accurate level of demand to Cuba, given the 56-year absence of commercial service between the two countries. For that reason alone capacity need not be enhanced by new services, necessarily, until the picture becomes clearer.
The table below is indicative of the way that capacity is shared between Cuban airlines and those of other countries when one or more routes are established between Cuba and a foreign country. Contrasts of participation are stark, but in only eight of the 29 examples are Cuban airlines the solo or majority operator. The conclusion must be that in the short term, until the US airlines begin to initiate those routes (assuming that they do), there may be little stimulus to the market that has originated from Cubana de Aviación and its aging fleet of Russian aircraft – except for one ATR42-500 (detailed after this table).
Airline/country share of seat capacity where there are routes to and from Cuba
| | | | |
| --- | --- | --- | --- |
| Country | Cuba Airline Seats (%) | Paired Country Airline Seats (%) | Other Country Airline Seats (%) |
| | 100% | 0.00% | 0.00% |
| | 0.00% | 0.00% | 100% |
| | 0.00% | 100% | 0.00% |
| | 0.00% | 100% | 0.00% |
| | 100% | 0.00% | 0.00% |
| | 7.34% | 90.71% | 1.96% |
| | 0.00% | 100% | 0.00% |
| | 12.8% | 63.14% | 24.06% |
| | 54.77% | 45.23% | 0.00% |
| | 0.00% | 100% | 0.00% |
| | 0.00% | 100% | 0.00% |
| | 16.59% | 83.41% | 0.00% |
| | 0.00% | 100% | 0.00% |
| | 100% | 0.00% | 0.00% |
| | 100% | 0.00% | 0.00% |
| | 0.00% | 100% | 0.00% |
| | 100% | 0.00% | 0.00% |
| | 20.74% | 76.72% | 2.55% |
| | 0.00% | 100% | 0.00% |
| | 100% | 0.00% | 0.00% |
| | 0.00% | 100% | 0.00% |
| | 0.00% | 0.00% | 100% |
| | 0.00% | 100% | 0.00% |
| | 9.05% | 75.03% | 15.91% |
| | 0.00% | 0.00% | 100% |
| | 0.00% | 100% | 0.00% |
| | 0.00% | 100% | 0.00% |
| | 0.00% | 0.00% | 100% |
| | 69.26% | 30.74% | 0.00% |
Cubana de Aviación Fleet Summary (hulls) as at 05-Apr-2016
| | | | |
| --- | --- | --- | --- |
| Aircraft | In Service | In Storage | On Order* |
| | | | |
| | | | |
| | | | |
| | | | |
| | | | |
| | | | |
| | | | |
See related report: US-Cuba: US regulators must weigh likely demand in a hotly contested race to resume flights

Stage lengths are spread; airport retains a 21-hour operational timetable
While most flights are in the length category of two to four hours there is a wide variety with over 25% of flight seats in the 0-2 hour range and over 10% in the 10 to fourteen hour categories. This variety must have an impact into the operational capability of the airport.
Havana José Martí International Airport, seats by length of flight, 04-Apr-2016 to 10-Apr-2016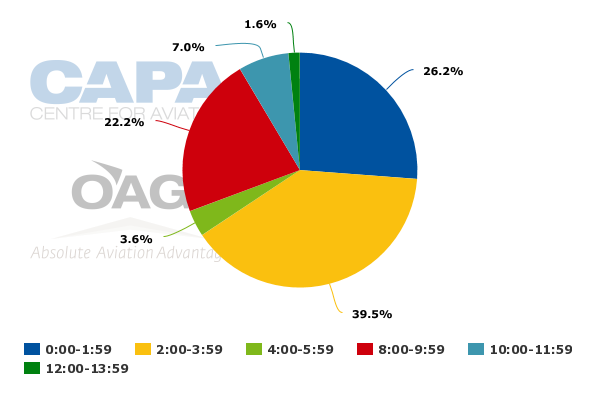 This wide range, together with the conglomeration of frequencies, is emphasised in the following chart of the number of weekly frequencies vs. flight time in hours.
Havana José Martí International Airport frequencies (04-Apr-2016 to 10-Apr-2016)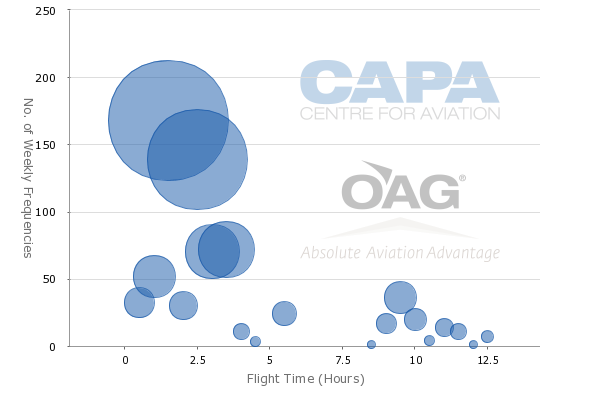 On the question of operational capability, the following chart of arrival and departure seat availability by hour indicates that (a) there is a three hour early morning time bank where there are no services, (b) the three hour period 0600-0900 is heavily skewed in favour of departing services and (c) other periods, mainly in the early afternoon, are skewed in favour of arriving services.
The chart relates to a typical day, Monday, in April. There is a small amount of variation by day but it is not significant.
Havana José Martí International Airport, seats per hour, typical day, Monday 04-Apr--2016 (all airlines, total system, all terminals, all origins and destinations)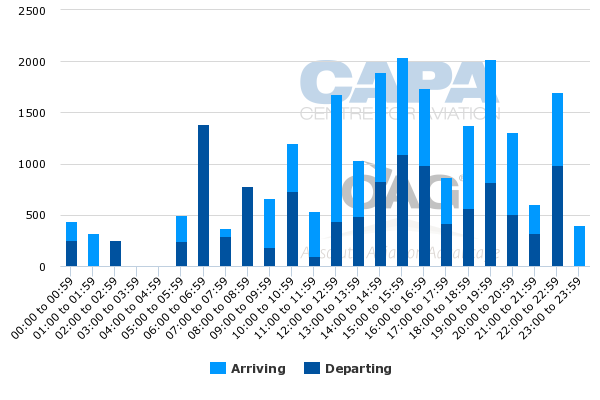 Cargo – two European countries have over 40% of all capacity
All of HJMIA's cargo is carried in the belly hold of passenger aircraft and exactly 95% of volume capacity is international.
As with passenger capacity, cargo volume capacity is expected to decrease overall in 2016; see the chart below.
Havana José Martí International Airport cargo payload (kg) capacity year-on-year, system-wide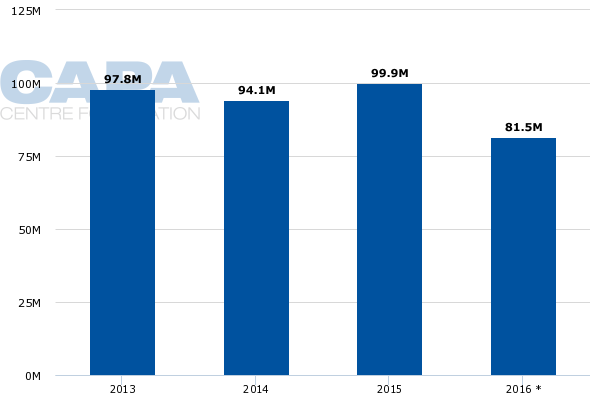 Conversely, volume – as with passenger seats – did increase over 2015 in the first four months of 2016, although the rate of growth has since stalled.
Havana José Martí International Airport, cargo payload, system wide, per week, 2014-2016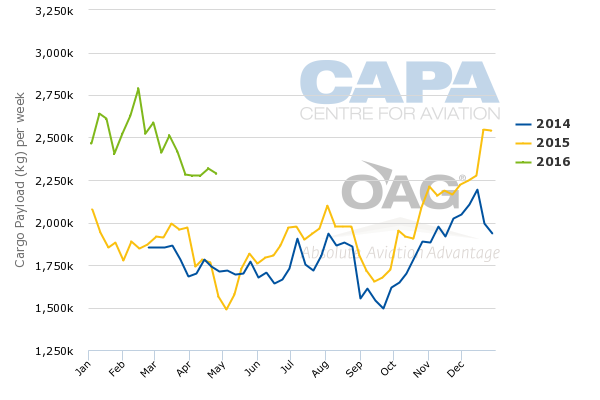 The largest market potential (by capacity) is Western Europe, and by a margin of almost three times that of second-placed Central America. Individually, France is the largest presence by volume capacity, followed by Spain, Panama and the Russian Federation, in that order.
Havana José Martí International Airport international capacity cargo payload, total system, by country, 04-Apr-2016 to 10-Apr-2016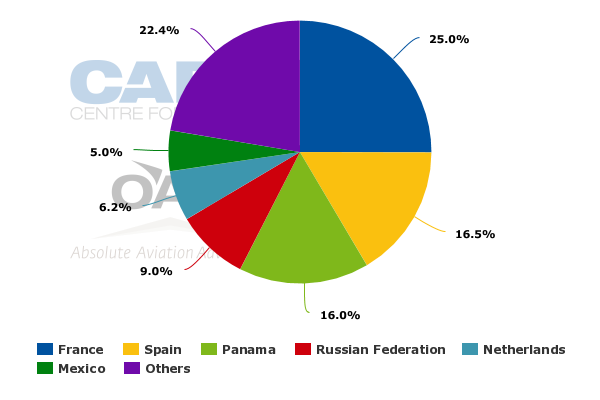 Havana has four passenger terminals, T3 is the biggest and most modern
There are four passenger terminals linked by a bus service, plus a freight terminal. Terminal 1, the original international and domestic building, is now used for domestic flights and Terminal 2 primarily for charter. These are flights to the United States for US residents with special authorisation (as mentioned previously) and Cuban citizens holding US visas. The International Terminal 3 was opened in 1998 and is the largest, busiest and most modern. Terminal 4 is the freight terminal. Terminal 5 is operated by Cubana de Aviación.
Havana José Martí International Airport terminal share (seats), by system, 04-Apr-2016 to 10-Apr-2016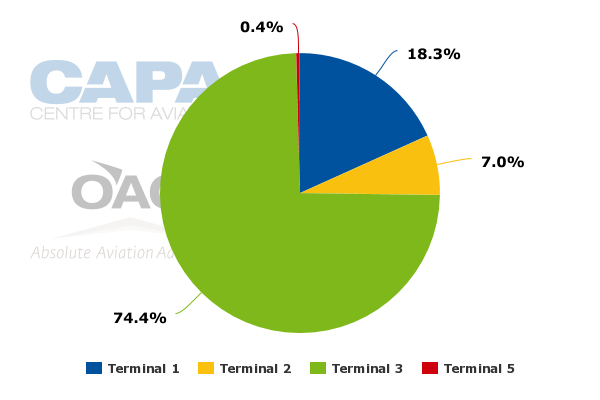 It is evident from the table below that while there is some centralisation of terminal usage by alliances that is not always the case, with Star Alliance airlines split between two terminals.
Airlines by Terminal
| | | |
| --- | --- | --- |
| Terminal | Airline | Alliance |
| Terminal 1 | | unaligned |
| Terminal 1 | | unaligned |
| Terminal 1 | | |
| Terminal 1 | | unaligned |
| Terminal 1 | | unaligned |
| Terminal 2 | | unaligned |
| Terminal 2 | | unaligned |
| Terminal 2 | | unaligned |
| Terminal 2 | | unaligned |
| Terminal 2 | | |
| Terminal 3 | | |
| Terminal 3 | | unaligned |
| Terminal 3 | | |
| Terminal 3 | | unaligned |
| Terminal 3 | | unaligned |
| Terminal 3 | | |
| Terminal 3 | | unaligned |
| Terminal 3 | | unaligned |
| Terminal 3 | | |
| Terminal 3 | | |
| Terminal 3 | | |
| Terminal 3 | | unaligned |
| Terminal 3 | | |
| Terminal 3 | | |
| Terminal 3 | | unaligned |
| Terminal 3 | | |
| Terminal 3 | | |
| Terminal 3 | | unaligned |
| Terminal 5 | | unaligned |
Construction – T3 being renovated. Potential new airport, but the new accord brings doubts
In 2010 Terminal 2 went through a remodelling and expansion exercise. According to the CAPA Global Airport Construction Database there is some USD252 million being spent on terminal expansion and general upgrades through 2016/17, mainly in T3. In Feb-2016 Brazil's Odebrecht was selected to undertake the expansion and modernisation works with financial support from the Brazilian Development Bank (BNDES).
The construction is specifically targeted at catering for the increasing number of tourists reaching the island now and in the future. New aerobridges and an expansion of the eastern wing of T3 in order to accommodate larger aircraft figure highly.
There is also the possible construction of an entirely new airport, to be located on the site of a military air base in San Antonio de los Baños, 10km from the capital's current airport. In Feb-2015 the Russian Ministry of Trade and Industry was reported to be negotiating with the UAE's infrastructure investor Mubadala over the project. It is part of a bigger scheme linking the seaport and a railway to the airport. The concept of 'a big airport hub for Latin America' has been mentioned, along with a potential USD200 million or more investment in the project by the Russian government.
Talks actually commenced in early 2013 and were initially part of an agreement by which the Cuban and Russian governments would establish a joint Russian-Cuban airline to operate Latin American and possibly North American services. How this projected arrangement will be influenced by the new accord with the US remains to be seen.
Ownership – 'public sector', but foreign operators and investors keen to get involved
The airport is owned and operated by ECASA, an acronym for Empresa Cubana de Aeropuertos y Servicios Aeronáuticos S.A. This is the government-owned entity for airport operation and aircraft/baggage handling covering 22 Cuban airports, along with other responsibilities such as air traffic control, aviation safety, and check-in activities.
In the aviation arena there is hardly anything that ECASA does not control. Nevertheless foreign organisations are hovering in the wings, keen to press home any advantage that may arise out of the accord with the US and the anticipated increase in travel.
Figuring highly are three organisations that already have experience in Latin America, meaning that they have interests there now, have done in the past, or at least have bid for them. Leading the field is AENA, which is said to be interested in management concessions for seven Cuban airports, including Havana International (and also the Varadero and Holguín airports).
Meanwhile both Aéroports de Paris and Fraport are also said to be attracted to these airports.
Summary & Conclusions
A recent accord between Cuba and the United States has resulted in diplomatic relations being restored between the two countries for the first time in 55 years;
The expectation is that it will lead to an increase in trade, a resumption of flights and mass tourism from the US, most of it to Havana's International Airport;
There is the potential for the 'Americanisation' of Cuba as US retail firms flock there, thus adversely affecting Havana's individuality. Measures have been introduced to limit the impact of this unwelcome development but they could inhibit the growth of alternative airport revenues as well;
Currently Canada supplies over a third of all international visitors and is thus a market that should not be overlooked;
The government continues to balance the need for loosening its socialist economic system against a desire to retain firm political control;
Politically, the fact that previous president Fidel Castro remains in the background means that large-scale changes to methods of doing business between Cuba and foreign countries may be subject to intense scrutiny. 'Accords' may prove to be as opaque as they are now looking to be in Iran. Airlines will be wary of mass exposure to this new and expanding market;
One problem for western airlines setting up a base there is poor internet access;
Considering the lack of US flights, HJMIA holds its own against most of a range of Caribbean peer group airports but no more than that. International connectivity is on the low side;
The route structure is focused on the Caribbean, Canada, South America and Europe. There are opportunities to bring in services from unserved regions, taking advantage of HJMIA's long runway;
Havana remains more oriented towards FSCs and the regional airlines but must prepare itself for an expected influx of LCCs;
There is a surprisingly high degree of penetration by airline alliances at HJMIA. This augurs well for potential hub activity, but in the first instance HJMIA will be developed as a point-to-point airport;
If HJMIA (or any replacement in the future) is to be developed as a regional hub, it will find itself in competition with Miami international and Panama City Tocumen airports;
Additional capacity is being supplied but it may decrease overall in 2016. There are concerns in the US over the costs of operating there, and about the infrastructure. There is little recent historical data on which to base forecasts. This is likely to affect projections by other airlines;
As for the home airline, Cubana, at this stage it is the junior partner where capacity into and out of Cuba is concerned, at least on a country-by-country basis, and is held back by its current aging fleet;
Operations at the airport are adequate for the current volume of traffic, but any rapid increase may require a reappraisal of people management and the way that slots are distributed;
With regard to its peer group airports in the cargo arena, HJMIA occupies a low position. It has no nonstop cargo destinations. This can be expected to change, with progress of the US accord;
Construction is taking place, chiefly in the main Terminal 3. There is the remote possibility of a new airport being built, but given the issues of national and political backing that scheme will undoubtedly be affected by the new political paradigm;
Several foreign airport operators and investors are keen on the possibility of taking over not only HJMIA but also other Cuban airports, under concession.
Breaking news: US-Cuba regular service is forecast to commence in Sep-2016, with route approvals being allocated in the next two months. The US-Cuba agreement on aviation opened room for up to 110 daily frequencies between both countries, with 20 being for Havana and other nine locations with international airports handling 10 daily frequencies. American has sought over 50% of the daily Havana frequencies. Other airlines expected to demonstrate interest are Delta, United, Southwest, Alaska Airlines, JetBlue, Spirit Airlines, Frontier Airlines and Silver Airways.
It is not known if one or two major airlines will be handled the bulk of the frequencies or if there will be a more diverse spread.
See related reports: