GOL, TAM rise on traffic results. US Airways, American and Air Canada down
US airline stocks were mixed as the Dow crept up a third of a percentage point. But that was on the back of Goldman Sachs' strong profit performance, offsetting some more bad consumer news that will not augur well for airlines.
US Airways (-3.3%), American (-2.3%) led US stocks down. Earlier this week a Fitch Ratings analyst rated American, United and US Airways the most exposed to a long term cash drain. As summer passes and the cold breath of winter approaches, there will be sobering moments for those airlines that have not been able to store away plenty of nuts to see them through the weaker months towards the end of the year.
Air Canada (-4.4%) suffered heavily. Central America's, COPA (-4.8%) stocks also performed poorly; the network carrier last week reported a load factor reduction of 5.1% for Jun-2009.
Brazil traffic positive – but not load factors
GOL and TAM stocks rose strongly on Tuesday as the Ministry reported strong Brazilian traffic figures for the first half of the year and for the Jun-2009 month. The market response was perhaps a little more enthusiastic than the figures justified however. Total domestic market traffic (RPKs) rose 9.4% year on year for Jun-2009, but this was against a capacity increase (ASKs) of 11.9%.
For the month, both GOL and TAM's traffic was up by 0.8%, while their respective load factors fell 1.5% (to 65.6%) and 2.5% (to 64.7%), as capacity outstripped growth. (Meanwhile, David Neeleman-led new LCC startup, Azul, has captured 4.3% of the domestic market, ahead of its capacity, delivering a relatively high load factor of 76.0%)
North & South America selected airlines daily share price movements (% change): 14-Jul-09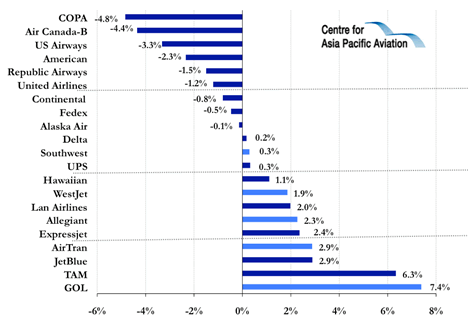 A Federal bankruptcy judge has approved Republic's intention to acquire Frontier but allows Frontier to exit the agreement in the case of a higher offer. This process, however, has a strict time schedule in that initial proposals must be received by August 3rd and finalized by August 10th, with all offers being considered on August 11th.
Gamblers on Air Canada's future pushed the shares down, after rising on Monday. This is a key day for Air Canada's future. As they vote today, there will be plenty of pressure on the Machinists and Aerospace Union to toe the line as each of the carrier's other main unions have. If the Union members again vote against deferral of the carrier's pension payment commitments, this could be the last straw, tipping the flag airline into seeking bankruptcy protection – or forcing the government's hand to step up with cash to prevent that happening. The first vote showed 50.8% against the arrangement.