GOL jumps on speculation of a recovery in air travel demand, easyJet, Ryanair and AirAsia all gain
Worldwide LCC share prices generally gained on Wednesday (15-Jul-09), reflecting Wall Street's solid lead, with GOL leading the way, jumping 8.9%, following Tuesday's 7.4% increase. The stock market increases came despite sharply higher oil prices, which are of particular concern for the LCC segment.
GOL's shares reached their highest levels since Sep-2008 yesterday, with the carrier's major competitor, TAM, also up strongly, on speculation that Brazilian air travel demand will recover in 2H2009.
GOL share price growth: Jan-09 to Jul-09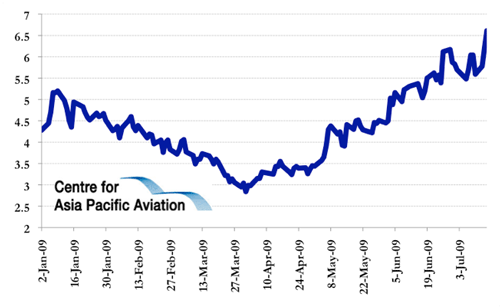 According to Sao-Paulo-based, Itau Corretora, the industry has "already hit the bottom of the well in international and domestic demand" with the outlook being that there will be a "recovery in economic activity in the second half, and with the industry normally growing two or three times GDP, there will likely be a very strong recovery" for airlines.
In the Asia Pacific region, Virgin Blue's shares slipped 4.8% yesterday, while AirAsia gained 1.7%.
In the US, Southwest was up 3.7%, while in Europe, easyJet and Ryanair gained 2.8% and 2.5%, respectively.
Selected LCCs daily share price movements (% change): 15-Jul-09