Gol has some encouraging results behind its overall 3Q2013 loss
Even as losses continued for Brazil's second largest airline Gol during 3Q2013, there were some positive signs in the carrier's results and its efforts to improve its financial leverage. Its work during the past year to beat back the effects of a weakening Brazilian economy and the resulting pressure that has had on demand were evidenced in improved passenger unit revenue and yields.

Gol also recorded positive margin improvement and made strides in its leverage ratios as its exposure to the Brazilian domestic market is more pronounced than its major rival TAM, who as part of the LATAM Airlines Group is leveraging the parent company's ability to transfer some of TAM's exposure to the falling BRL to the LATAM balance sheet.

Going forward it seems that Gol aims to focus on international expansion as a means to weather the tough market conditions within Brazil. While the carrier is not prepared to divulge the form that expansion will take, additional service to the US might be in the offing.
Gol makes progress in growing revenues and operating income
Gol's 3Q2013 loss of BRL197 million (USD85 million) was a marked improvement from the BRL309 million (USD133 million) loss the carrier recorded the year prior. Gol also improved its operating margin by 11.8ppt, which resulted in a positive 1.7% showing compared with a negative 10% margin during 3Q2012.
Gol financial results: 3Q2013 vs 3Q2012 and 9M2013 vs 9M2012

The carrier's top-line revenues increased 12% to BRL2.2 billion (USD949 million) as passenger revenues jumped 16% to BRL2 billion. Expenses notched down slightly at 0.3% to BRL2.2 billion (USD949 million), which helped Gol reverse a negative BRL201 million (USD87 million) operating loss recorded in 3Q2012 to a positive BRL37 million (USD16 million) result in 3Q2013.
Gol makes a push into the corporate space to lift yields
Given that roughly 95% of Gol's seat deployment is dedicated to the Brazilian domestic market, where GDP growth has been refined to between 2% and 2.5% for 2013, the carrier's 21% increase in passenger unit revenues and 28% jump in yields on a 7% decline in capacity is commendable.
Gol unit revenue, cost and yield performance: 3Q2013 vs 3Q2012 and 9M2013 vs 9M2012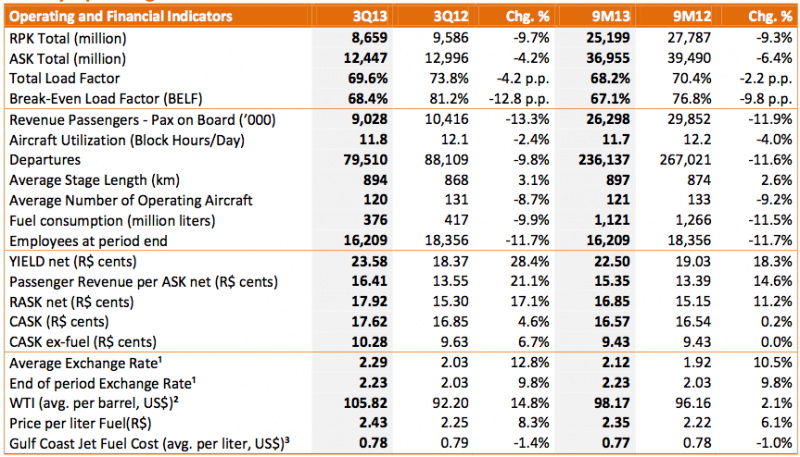 Gol attributes the solid performance to its courting of corporate clients while maintaining its leisure passenger base. CEO Paulo Kakinoff in an earnings discussion cited an increase in business passenger volume as a driver in the favourable yield performance, which in some ways echoes comments made by LATAM with respect to its Brazilian operations. LATAM executives recently remarked that its revenue management strategy of keeping its focus on corporate customers and price stimulation among leisure passengers was helping the company achieve a turnaround in its Brazilian domestic operations.

See related report: LATAM concludes it has achieved a successful turnaround in its Brazilian operations
Gol's loads continue to lag, but the airline could attempt to bolster occupancy in 2014
But unlike LATAM, who recorded a 4ppt increase in its Brazilian load factors during 3Q2013, Gol's load factor declined 4ppt from 74% to 70%. The decline in Gol's loads sustains a trend at the carrier for the last couple of quarters that shows for the moment it is trading load factor for yield. However, Gol's 3Q2013 load factor performance was an improvement over the 68% loads the company posted in 2Q2013.
Gol operating data: 3Q2013 vs 3Q2012 and 9M2013 vs 9M2012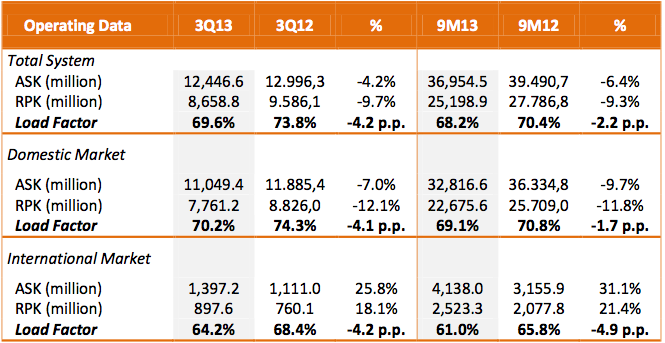 See related report: Macroeconomic pressure continues plague Gol's profitability as losses become the norm

In outlining Gol's 3Q2013 results, Mr Kakinoff remarked that the company can maintain its current yield performance while potentially improving load factor, where opportunities are "clearly available". Gol's CEO also stated the carrier is "clearly focusing more on corporate customers". While targeting higher-yielding passengers is logical, it does beg the question of how much corporate demand there is within Brazil as TAM, Gol and Avianca Brazil all vie for the attention of higher-yielding business travellers while the country's economic situation remains tenuous.
Gol seeks to grow international capacity by up to 8% in 2014
While Gol plans to keep its domestic capacity in 2014 at 2013 levels, its plans to grow international supply between 5% and 8% during 2014. The expansion builds on new flights Gol debuted in Dec-2012 from Rio de Janeiro to Miami and Orlando via stop-over in Santo Doming, and perhaps some expansion in Latin America.

Obviously Mr Kakinoff would not disclose specific markets, but he noted that, "there are some bilateral agreements between Brazil and the countries where we are beginning to fly and we are still waiting for those allowances to formally announce new routes and markets". He also stated that Gol has "some international routes asking for additional capacity". In addition to Miami and Orlando via Santo Domingo, Gol also offers service to the Argentinean markets of Cordoba, Rosario, Buenos Aires Ezeiza and Aeroparque and Montevideo, Uruguay.

Gol's original preference was to offer its US flights through Caracas, but the Venezuelan government denied the carrier's request to funnel stop-over traffic through the capital of Venezuela. Earlier in 2013 Gol also said it was studying the possibility of introducing flights from Brazil to Nigeria, which would require some sort of stop-over given Gol's all Boeing 737 fleet. While Gol has little choice but to expand outside Brazil, new routes take up-front expense and various timeframes to reach maturity, which is a tough proposition given Gol's consistent unprofitability during the last couple of years.

See related report: Gol shifts US strategy as Venezuela shuns stopover traffic to the US
Gol continues to make progress in its balance sheet clean up
Another area where Gol continues to make progress despite mounting losses is in its efforts at de-leveraging its balance sheet.

At the end of 3Q2013 Gol's total liquidity (cash, financial assets, restricted cash and short-term receivables) stood at BRL3.3 billion (USD1.4 billion), which is roughly 35% of the company's 12 month trailing revenues.

Gol has increased its foreign exchange exposure as the BRL's decline against the USD continued in 3Q2013 at 13%. The carrier stated 70% of exposure is protected during the next three months compared with 37% in 2Q2013. While it works to minimise its exposure to currency fluctuations LATAM is in the midst of moving TAM's debt and aircraft obligations to LATAM's balance sheet, which is denominated in the USD. Additionally, LATAM has stated that it will eliminate its BRL exposure risk by mid-2014. That gives TAM an advantage since Gol will have some risk to currency fluctuations even with its hedging activity.

Gol's efforts to de-leverage its balance sheet have resulted in its leverage ratio – adjusted gross debt/last 12M EBITAR – falling to 10.9x in 3Q2013 versus 15.5x in 2Q2013 and 17.7x in 3Q2012. Again, commendable given Gol's challenges in attempting to regain profitability.
A return to profitability still needs to be the ultimate target for Gol
During 3Q2013 Gol did make some progress in important metrics as industry capacity within Brazil continued to rationalise, falling 4.4% during the 9M ending 30-Sept-2013. But as Gol's BRL705 million (USD304 million) loss for the first nine months of 2013 shows, the carrier still has a significant uphill climb in restoring its profitability.
The company appears to be making all the necessary moves for a recovery, but the outcome of its efforts remain uncertain, which means Gol is not quite over the hump in restoring the only metric that ultimately matters – sustainable profitability.