Global airline alliances: Antitrust law creates uncertainty – Part 4
Analysis
In the final part of this series on global airline alliances, we discuss the impact of the Gulf airline concept on European network airlines and global alliances. We also examine the uncertainty of antitrust law as a foundation for expanding the alliance system.
This is an extract from a report that appears in the latest edition of Airline Leader, CAPA's airline management magazine. Go to www.airlineleader.com to download the full edition.

The poor man's merger and the 'imaginary' level playing field
Global alliances have not formed because they are the ideal model for expansion. They exist because they are the only universally available means for an airline to extend its route network beyond the out-and-back (third and fourth freedom) national system. They are merely a substitute for rationalisation through genuine cross-border merger.
This is the result of the "archaic" – a common description – air services agreement requirement that all designated international airlines be under the "substantial ownership and effective control" of nationals of their home country. This condition exists in most of the web of some 3000 bilateral air services agreements. Several newer, more enlightened, ones have removed the restriction, but the web is so extensive that to ignore it is to risk exclusion from international operations. Hence marketing alliances are a safer way to proceed, while simultaneously, and almost imperceptibly, the objectionable ownership restrictions gradually decay.
Meanwhile, there is another, parallel evolution. The new Gulf airline concept – for it is a whole new model – has rocked the established industry, particularly the European network airlines, which see it as a threat to expanding their long-standing sixth freedom markets. Founded on the three pillars of ultra long-haul aircraft technology, geographic centrality and a more liberalised aviation marketplace, Emirates Airline is rolling out a rapid expansion strategy comparable only with airlines in the emerging markets of Asia. Emirates' growth has even outstripped the infrastructure plans of its home airport, Dubai, which are exceptional by any standards. Etihad and Qatar Airways are adopting similar strategies.
The incumbent network airlines and global alliances cannot do much to curtail the use of long-haul aircraft – indeed their home countries produce them – nor can they shift the geographical equation. But they can work hard to roll back the spread of liberalism, for example under the guise of seeking "a level playing field" – an elusive, if not imaginary goal.
An orchestrated chorus of anti-liberalisation voices has already suppressed outgoing IATA CEO Giovanni Bisignani's attempts at opening up the skies and bringing commonsense to the 70 year-old system. His 2009 "Agenda for Freedom" campaign was quietly shelved last year when freedom was identified as a threat to the status quo.
In a presentation before Washington's International Aviation Club in Jan-2011, the Association of European Airlines' secretary general, Ulrich Schulte-Strathaus, remarkably proposed a new role for ICAO in preventing "dumping" of capacity, as a means of creating the desired level playing surface. The proposition is at best improbable. (And, whether an airline that has just reported an annual system load factor of 80% and a FY2011 profit of USD1.6 billion can readily be shown to be "dumping" capacity is a very practical question.)
More relevantly, a few months before him at the same club, the highly respected John Byerly, the retiring US bilateral and multilateral negotiator, had identified the real issue confronting and inhibiting the airline industry – that of foreign ownership restrictions. In his words: "If I have one big regret during my tenure as Deputy Assistant Secretary, it is that, despite all the talk, we really have not had the sort of meaningful, respectful, future-oriented conversation that's needed on this important and difficult subject."
So, for as long as that divergence of opinion plays out and regulatory restrictions remain, the poor man's merger will continue as the expansion mode of choice. In the current environment, this can deliver substantial benefits to consumers and the wider economy. But it should be seen as what it is: an inadequate and temporary alternative to genuine industry rationalisation.
It should not be used as a vehicle to postpone the deeper substantive change that the industry so desperately needs.
Metal neutral ATI complicates alliance relationships
THE MOST RECENT, METAL NEUTRAL, ATI GRANTS ARE ONLY THE TIP OF THE ICEBERG in the evolving and massive body of competition exemptions being granted around the world. In many ways, this is creating a potential legal minefield. Many more agreements within alliances and between alliance members quickly become per se offensive under competition legislation, meaning that the parties must seek local approvals wherever they are in effect communicating and agreeing on commercial issues.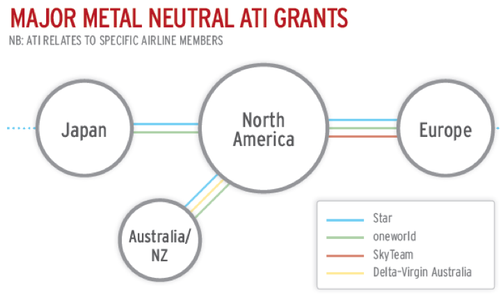 So there is already a vast body of single national jurisdiction authorisations – for things such as allowing alliance members to bid collectively, or as subsets, for corporate contracts and specific conventions. Star, for example, has a Corporate Plus and Convention Plus plan, each of which exists as an optional extra to the basic membership. There is scope for hundreds of these types of approval, in the various jurisdictions. These too have layered rights to exchange information and establish agreements and apply only to those alliance members which have gained the necessary immunity.
When the US DoT and the EU Commission jointly prepared their report on global alliances, many had hoped they would seriously move towards greater compatibility of process. After all, where a group of airlines is operating across the north Atlantic under immunised licence, it is clearly less than optimal if (1) the regulatory process for achieving that immunity is greatly different and has varying timeframes and, (2) the criteria for approval and monitoring are not the same.
But, despite a more cooperative attitude than existed previously between these often warring factions, the report stopped short of agreeing on steps towards any confluence of process. Therein lies the germ of a global virus of complexity.
If that is the situation between the world's two leading competition authorities, what happens as many more national administrations become involved, each with their own brand of legislation, merger principles and consumer goals?
And there is a more immediate and very practical issue. As Mr Mifsud notes, even where only US and EU immunity is involved, the varying nature of immune status among alliance members can raise potentially serious breaches of US antitrust law, where cooperation with a lower level member exceeds the rights of that junior: "Airlines that do not have ATI can participate in the alliances' networks and some marketing programmes, but are prohibited from even discussing price, route allocation, or anything else that would make them less aggressive competitors with their partners. In other words, the alliances are made up of partners who can legally cooperate and partners who are required to compete with each other."
The DoT condition of metal neutrality is relatively recent, after an accelerated evolution from where, as Mr Mifsud notes, alliance agreements were often "little more than agreements to agree".
This would seem to contain the germ for future disputes. He continues: "This is such a dramatic change that one must wonder whether all the parties fully understand that they are committing themselves to binding agreements that are not easily changed and that are enforceable in US courts. The industry has little experience with such agreements and yet they involve companies with substantially diverse and different legal cultures."
Cold comfort indeed. As if more were needed, the following words from a paper in early 2010 sound a further sombre note. As Under Secretary of State at the DoT, Jeff Shane was arguably the most influential force in recent times in driving global liberalisation through open skies. He joined with another lawyer, Warren Dean, in concluding that "alliances have become as complicated as the international regulatory environment in which they operate … alliance members can have no confidence in their ability, as defendants in a treble-damages case, to explain to a court after the fact the dynamics of a commercial aviation joint venture and the exigencies of networked operation."
This is a less than ideal foundation for expanding the global system of alliances, metal neutrality and ATI. The varying and sometimes conflicting jurisdictional regimes, along with substantial variations in internal levels of cooperation among alliance members, will create increasing pressures for rationalisation.
Seen in this light, it is clear that the evolution of global airline alliances and related foreign ownership issues still has a long way to go. Where we are now is not the birth of a new system, but merely a holding pattern, while the real basis for rationalisation is prepared. It would be dangerous – and retrogressive – to assume otherwise.

This report contains original information from the following sources:
1. TransAtlantic Airline Alliances: Competitive Issue and Regulatory Approaches. A report by the European Commission and the US Department of Transportation, 16 November, 2010.
2. Metal Neutrality and the Nation-bound Airline Industry, Paul V Mifsud, Air and Space Law 36, no. 2 (2011): 117–130. Kluwer Law International BV, The Netherlands.
3. Alliances, Immunity and the Future of Aviation, Warren Dean Jr (Thompson Coburn LLP) and Jeffrey N Shane (Hogan Lovells US LLP), The Air & Space Lawyer 22, no 4 (2010): 1,17-22. American Bar Association, Chicago.