Garuda posts 3Q profit and strong growth figures fuelled by robust Indonesian economy
Analysis
Garuda Indonesia has returned to the black after a challenging 1H2011 and has a bullish outlook, particularly in the fast-growing Indonesian domestic market. Garuda aims to tap into the expected 14% to 16% annual growth in Indonesia's domestic market by pursuing rapid expansion at its budget unit Citilink, which it expects will be profitable starting in 4Q2011, and establishing a new regional jet operation from 2H2012.
Garuda is now preparing to spin off the Citilink unit into a separate company in early 2012, which will enable the LCC to pursue faster growth. Citilink recently began operating its first Airbus A320 and aims to be operating 20 of the type by the end of next year. Garuda is also planning to soon place an order for 18 large regional jets, which will be used primarily to improve connections at secondary bases.
Garuda currently has a 28% share of Indonesia's domestic market but its share is higher at Jakarta than most of Indonesia's regional centres, where passenger traffic is also growing fast on the back of the country's booming economy.
Garuda has reported a net profit of IDR474 billion (USD54 million) for 3Q2011 and an operating profit of IDR715 billion (USD82 million). Both figures represent significant improvements over 3Q2010, when Garuda incurred a net loss of IDR127 billion (USD14 million) and an operating profit of IDR174 billion (USD20 million). The 3Q2011 performance also marks a big improvement over 1H2011, when Garuda incurred net losses of IDR185 billion (USD21 million) and operating losses of IDR341 billion (USD39 million).
Garuda financial highlights for 3Q2011 vs 3Q2010 and 2Q2010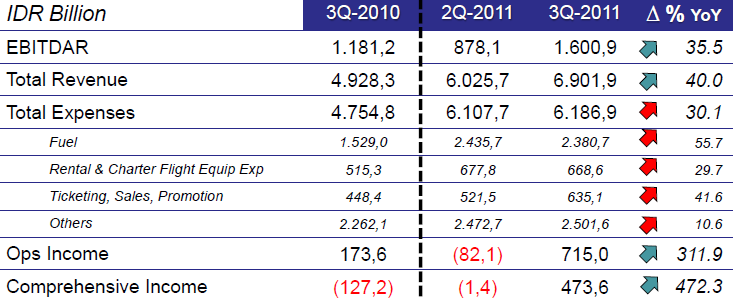 Revenues in 3Q2011 surged by 40% to IDR6.902 trillion (USD787 million) while expenses increased by only 30% to IDR6.187 trillion (USD705 million). The revenue spike easily outpaced a 24% increase in traffic (RPKs) and a 21% increase in capacity as Garuda was able to post higher yields across all its domestic and international operations.
Garuda passenger load factor and yield, 1Q2010 through 3Q2011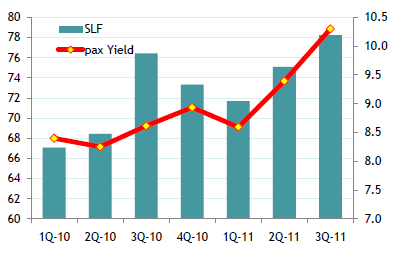 Garuda's relatively small international operation recorded a 24% improvement in passenger yields although its load factor slipped slightly from 75.1% in 3Q2010 to 74.8% in 3Q2011. International traffic was up 15% to 875,000 passengers (see backround information).
The larger full-service domestic operation recorded a 34% increase in passenger traffic for 3Q2011 to 3.225 million passengers. Yields were up 11% while load factor improved by 3.5ppt from 78.9% to 82.4%. In speaking to analysts at the carrier's 3Q2011 results briefing, Garuda CEO Emirsyah Satar credited the improvement in domestic yields to Garuda's "aggressive" pursuit of more corporate sales as the carrier continues its focus on the premium sector.
Citilink approaches profitability as yield and load factor improves
Garuda also has been working on improving its position in the budget sector. The Citilink unit recorded 19% growth in 3Q2011 to 403,000 passengers. Citilink's yield improved by 23%, while the load factor improved by 5.4ppt from 74.6% to 80%.
The significant improvements in yield and load factor means Citilink approached break-even in 3Q2011 after incurring large losses in 2010 and early this year. Garuda does not yet release separate financial results for Citilink but its unit costs for 3Q2011 were only US3 cents below its average passenger yield, indicating a slight operating loss. Mr Satar told analysts that he expected Citilink to be profitable in 4Q2011 although it will still be in the red for the full year.
Garuda earlier this year unveiled plans to turn Citilink into a separate company under the Garuda group. Mr Satar said Garuda continues the process of "spinning off" Citilink into a separate entity and the current target for completing the transition is 1Q2012. "As a separate entity it will be able to grow faster," he added.
Citilink currently operates six B737s and one A320. The A320 was delivered in Aug-2011 and three additional A320s are scheduled to be placed into service during 4Q2011, including one which is being delivered on 31-Oct-2011. Mr Satar says Citilink plans to have a fleet of 14 A320s by the end of next year, while retaining its six remaining B737s, although he acknowledges Garuda is still working with leasing companies to source some of the 10 additional A320s that are planned for 2012.
Citilink to have fleet of 24 leased A320s prior to delivery of first purchased A320 in 2014
Garuda also recently committed to lease six A320s from GECAS from 2013. Mr Satar says Garuda aims to secure another six leased A320s for 2013, giving Citilink a total of 10 deliveries in 2013 and a total fleet of 24 A320s by the end of 2013. In 2014, the new A320s Garuda ordered directly from Airbus earlier this year will start to be delivered. Garuda at the Paris Air Show in June placed firm orders for 25 A320s for Citilink, including 10 A320neos and 15 current generation aircraft.
See related article: Paris 2011: Indonesia takes centre stage
The rapid growth at Citilink is a key part of Garuda's multi-tier strategy to profit from the anticipated rapid growth in Indonesia's domestic market. Mr Satar says Garuda expects annual domestic growth in Indonesia of between 14% and 16% per annum. Garuda data shows Indonesia's domestic market grew by 15% through the first seven months of 2011 to 23.7 million passengers.
Citilink allows Garuda to participate in the growth taking place in the low end of the domestic market, which until now has primarily been served by competitors as Citilink is much smaller than any of Indonesia's LCCs. But Garuda also expects rapid growth in demand for full-service domestic services. As some of this growth will occur outside Garuda's main hub of Jakarta, the carrier is planning to start offering more flights from secondary hubs.
Garuda to place order in Nov-2011 for 18 E190s or CRJ1000s
The upcoming addition of large regional jets will support the planned expansion at Garuda's secondary hubs. Garuda, which currently does not operate any aircraft smaller than B737s, has been evaluating the E190 and CRJ1000 for its new regional aircraft requirement. Mr Satar says a selection will be made and an order for 18 aircraft will be placed within "a few weeks". He expects the first regional jets will enter service in late 2012.
Mr Satar says most of the new regional jets will be used to launch new routes from regional bases such as Balikipapan, Makassar and Medan. Garuda traditionally has primarily operated main trunk routes, leaving smaller competitors such as Batavia, Merpati and Sriwijaya to offer regional connections. But there are significant growth opportunities in Indonesia's outer islands, particularly in six corridors identified by Indonesia's new master plan for economic growth. "We are not yet very dominant in those areas," Mr Satar explains.
Sriwijaya earlier this year forged a tentative agreement with Embraer to acquire 20 E190s, which the carrier will likely use to augment its position in regional centres such as Balikipapan, Makassar and Medan. Garuda would also like tap into the rapid growth expected in these regional centres and operate more flights which do not touch Indonesia's main island of Java or its congested Jakarta hub.
A few of Garuda's new regional jets will also be used to replace its remaining B737-500s. Garuda now operates five B737-500s, which are primarily based in Makassar.
Garuda also has five B737-300s and six B737-400s remaining in its mainline fleet although these will be replaced by larger B737-800s. Garuda ended 3Q2011 with 47 B737-800s, which are used on domestic and regional international routes, and has since taken delivery of its 48th B737-800. Three more B737-800s are slated for delivery in Dec-2011 as five more B737-400s exit the fleet. Garuda since 2009 has been rapidly replacing its B737-300/400s with B737-800s as part of a massive fleet renewal programme.
Garuda's fleet as of end of 3Q2011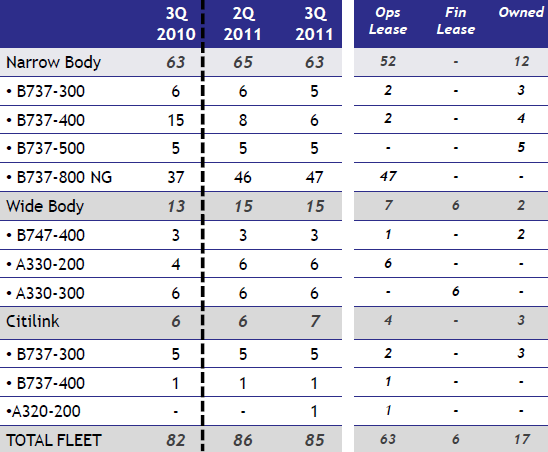 Domestically Garuda now competes against nine domestic carriers. It is the second largest domestic carrier in Indonesia after Lion Air.
Based on its own data for the first seven months of 2011, Garuda captured 28% share of Indonesia's domestic market. For 3Q2011, Garuda's domestic market share reached 31%, up from 29% in 2Q2011 and 26% in 3Q2010.
Over the last year it has been able to grow its market share by 5ppt as its 39% increase in traffic has outstripped the 15% growth in the overall market.
Indonesia domestic market growth, Jan-Jul-2010 vs Jan-Jul-2011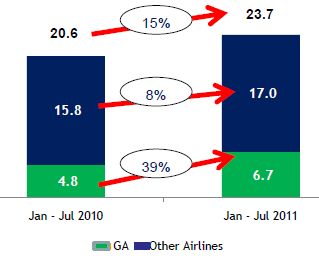 Garuda domestic traffic and market share by quarter, 1Q2009 to 3Q2011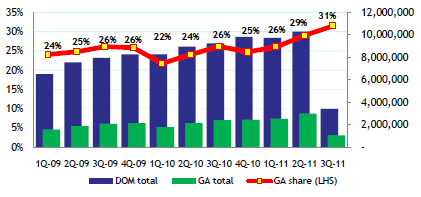 Domestic competition is expected to intensify even further over the next several years as several existing carriers as well as proposed start-ups look to profit from Indonesia's rapid economic growth. While most of the growth will likely be in the LCC sector (Mandala plans to return to the market), some carriers are also targeting the premium sector that currently is dominated by Garuda.
Pacific Royale proposes new threat to Garuda at top end of the market
Proposed Indonesian start-up Pacific Royale, for example, is targeting premium passengers with a full-service business model. Pacific Royale CEO Samurdra Sukardi told CAPA earlier this month that the carrier plans to launch domestic services late this year or early next year. Mr Sukardi says the carrier will initially operate a fleet of five A320s and five F50 turboprops from Jakarta and three secondary bases.
Pacific Royale plans to configure its A320s with two classes and price its product slightly below Garuda but above Indonesia's budget-focussed carriers. Pacific Royale, which is backed by a mix of Indonesian and Indian investors, also aims to later expand into the international market with A330s.
Garuda, however, is not overly concerned about the prospect of new competition. "We notice there will be new players coming in. Competition is competition. Competition makes you more innovative," Mr Satar says.
Clearly there is room in Indonesia's fast growing market for several carriers. Indonesia has always had a fragmented aviation market given the country's vast geography, which spans over 5000km and includes more than 1,700 islands. But Garuda has successfully positioned itself as Indonesia's main carrier for premium and corporate domestic passengers and with the recent focus on Citilink is now in better position to capture a bigger share of the budget sector.
Indonesian market to continue growing rapidly regardless of global conditions
While the outlook for the overall global economy is gloomy, Indonesia is heading only in the positive direction. The economy continues to grow rapidly and as a result Garuda expects to continue reporting strong growth in both in the domestic and international segments despite the uncertainty in the global economy. "We see growth in Indonesia – strong domestic growth and consumption," Mr Satar says.
Indonesia's international market has been growing almost as fast as the domestic market, surging 14% through the first seven months of 2011 to 7.8 million passengers. Garuda has seen its share of the international market grow from 19% in the first seven months of 2010 to 22% in the first seven months in 2011. In 3Q2011 the carrier's international market share slipped slightly but Mr Satar expects Garuda to start growing its international share again in 4Q2011 as capacity is added on several international routes.
Mr Satar says the recent drop in international market share, from 24% in 2Q2011 to 23% in 3Q2011, was primarily driven by rapid expansion at AirAsia Indonesia, which unlike Garuda is mostly an international carrier. "AirAsia has been quite aggressive, especially from Bandung and other secondary cities," Mr Satar said.
Indonesia international market growth, Jan-Jul 2010 vs Jan-Jul-2011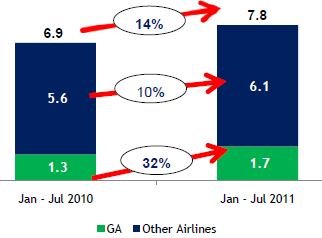 Garuda international traffic and market share by quarter, 1Q2009 to 3Q2011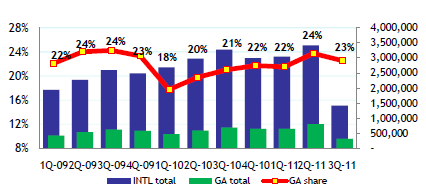 Rapid growth in Indonesia-China market anticipated
Mr Satar says Garuda will take delivery in Nov-2011 of an additional A330, which will be used to increase frequencies to Beijing, Shanghai and Melbourne. Garuda is particularly bullish on the China market as the carrier starts to work with Indonesian authorities and one of China's largest travel agencies to promote more inbound tourism from China.
Mr Satar says there are currently less than 500,000 mainland Chinese tourists visiting Indonesia annually although almost 50 million Chinese are now travelling abroad. "Our target is to get to one million," he says. Garuda currently serves both Beijing and Shanghai with five weekly A330 flights while Guangzhou is served daily with smaller B737-800s.
With strong double-digit domestic and international growth expected for the foreseeable future, Garuda's outlook is relatively bright. After posting losses in 1H2011, Garuda is back in the black and is now tracking slightly ahead of its original profit target for the full year. With Indonesia's economy showing no signs of slowing down, 2012 will also likely be another positive year for Garuda.
Exchange rate used: 1USD=IRD8772
Background information:
Operating indicators for Garuda domestic full-service operation, 3Q2011 vs 3Q2010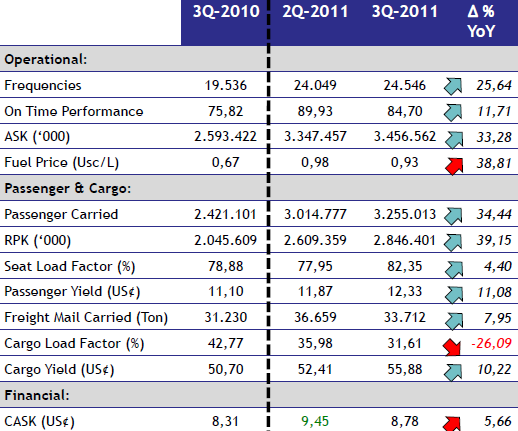 Operating indicators for Citilink unit, 3Q2011 vs 3Q2010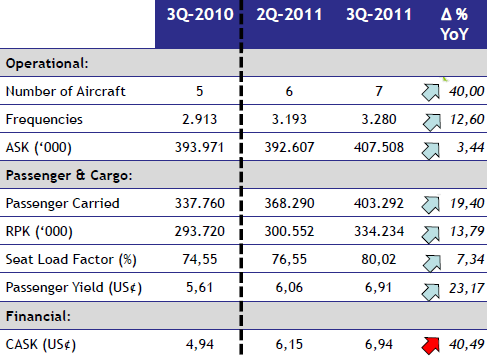 Operating indicators for Garuda international operation, 3Q2011 vs 3Q2010