Paris 2011: Sriwijaya's ageing fleet gets big boost with E190s
Analysis
Sriwijaya Air is responding to intensifying competition in the Indonesian market by committing to become the first Indonesian customer for E190s. The new type will allow Sriwijaya to differentiate itself from some of its low-cost competitors and expand into some of Indonesia's many fast-growing secondary routes.
Embraer announced during the Paris Air Show on 20-Jun-2011 a tentative deal with Sriwijaya for 20 E-190s plus 10 purchase rights. If firmed up, the order could drastically change Sriwijaya's image as a second-tier carrier in Indonesia's fast-growing domestic market.
The carrier currently operates an ageing fleet of 14 B737-200s, nine B737-300s and six B737-400s, according to Ascend data. The fleet has an average age of about 25 years.
Sriwijaya's current fleet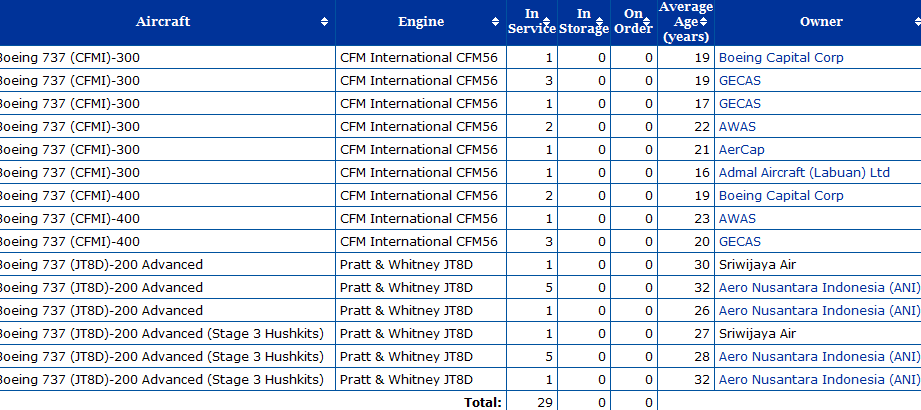 Sriwijaya is expected to use its new fleet of E190s to open new routes which are now too large for its B737s. The E190s could also be used to take over B737s on some of Sriwijaya's thinner routes, allowing the B737s to be redeployed on denser trunk or international routes.
Sriwijaya has also been looking at adding B737-800s, with potential deliveries as early as next year, to start replacing its ageing B737s. Several of the carrier's B737s are due to come off lease over the next few years although Sriwijaya in recent months has been continuing to lease in additional B737-300/400s.
Sriwijaya to use new E190s to expand from regional bases
The carrier's new E190s are expected to be based at Jakarta as well as Balikipapan, Makassar, Surabaya and Medan. Surabaya and Medan are the second and fourth largest cities in Indonesia, respectively, while Balikipapan and Makassar are smaller regional gateways for Kalimantan (the Indonesian part of Borneo) and Sulawesi.
Jakarta is Sriwijaya's main hub and accounts for nine of the carrier's 10 biggest routes. Sriwijaya is the fifth largest carrier at Jakarta, accounting for about 7% of all capacity (domestic and international). Srijiwaya has a relatively smaller presence in Surabaya and Medan, where it currently accounts for less than 5% of capacity, according to Innovata data.
Sriwijaya's top 10 routes based on capacity (seats per week), 20-Jun-2011 to 26-Jun-2011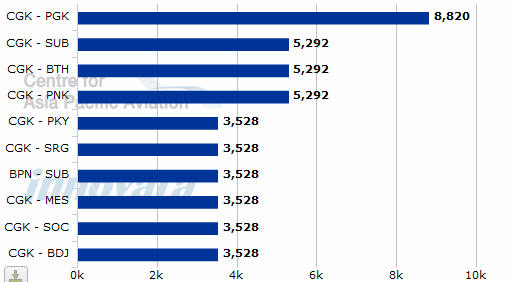 Jakarta capacity (seats per week, to/from) by carrier, 20-Jun-2011 to 26-Jun 2011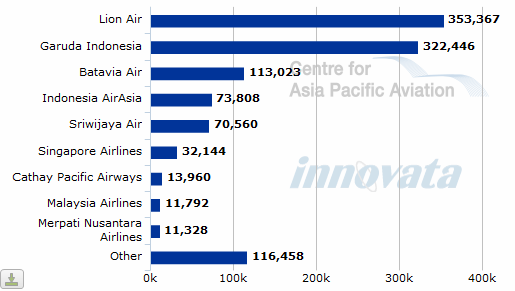 Surabaya capacity (seats per week, to/from) by carrier, 20-Jun-2011 to 26-Jun 2011
Medan capacity (seats per week, to/from) by carrier, 20-Jun-2011 to 26-Jun 2011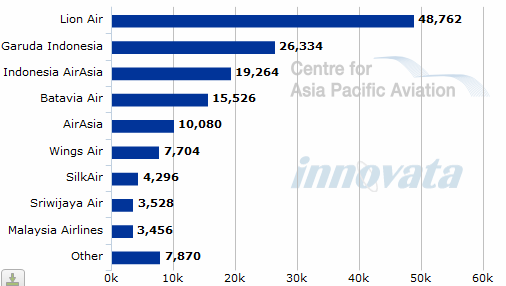 Sriwijaya already operates some secondary short-haul regional routes from Balikipapan including to Tarakan and Banjarmasin within the island of Borneo. It also operates some regional routes within the island of Sumatra such as Medan-Padang and Medan-Banda Aceh and within the island of Sulawesi such as Makassar-Palu and Makassar-Kendari. These are the types of regional routes (which are only served with one frequency per day) which could be more appropriately served with E190s. Several regional routes from Balikipapan, Medan, Surabaya and Makassar which are currently not served by Sriwijaya could also become viable once the E190s are delivered (likely next year).
Sriwijaya now operates to about 30 domestic destinations in Indonesia and has one international destination in Singapore, where it began serving from Jakarta in Dec-2009. The carrier has been looking at expanding its international network, including to Australia, China and Malaysia, although most of the proposed international flights will more likely be operated with B737NGs if acquired rather than the new E190 fleet.
Sriwijaya's network map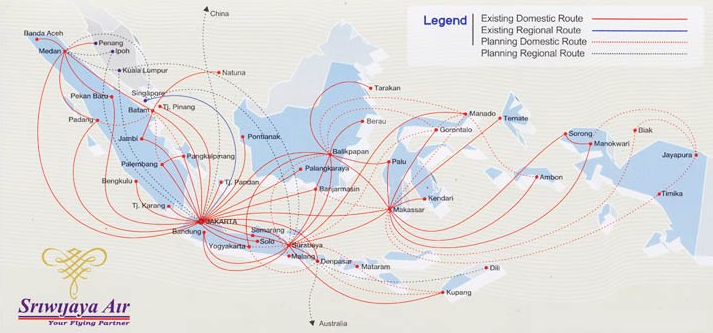 Although it is significantly smaller than AirAsia in the international market, Sriwijaya last year was Indonesia's third largest domestic carrier after Lion Air and Garuda. In 2010 Sriwijaya transported about 7 million domestic passengers, making it slightly larger than Batavia Air, and captured almost 14% of the total domestic market.
Sriwijaya needs new aircraft to keep up with its competitors
Sriwijaya will configure its new E190s with 100 seats in a single-class configuration. Sriwijaya's move to add new aircraft comes as nearly all of its competitors also upgrade their fleets. Indonesia's largest domestic operator, Lion Air, plans to phase out its remaining B737-300/400s and MD-90s as it continues to rapidly take delivery of new B737-900ERs from its nearly 200-aircraft mega order. AirAsia Indonesia, meanwhile plans to retire its last B737-400s later this year in favour of an all-A320 fleet.
Garuda Indonesia has been quickly replacing the B737-300/400s it uses on domestic routes with new B737-800s. Garuda's low-cost arm Citilink still only operates B737-300/400s but is planning to start taking leased A320s in 2H2011 and is expected to place an order for 25 new A320s plus 25 options during this week's Paris Air Show. Mandala, which suspended operations early this year, is also aiming to resume services with A320s which will likely be sourced by new part-owner and partner Tiger Airways.
With the E190 Sriwijaya will be better able to compete on product as most of its competitors introduce newer aircraft. As the E190 is significantly smaller than Lion's B737-900ERs and AirAsia's A320s the aircraft will also allow Sriwijaya to focus on some of Indonesia's many secondary routes, which are growing almost as rapidly as the country's domestic trunk routes as the Indonesian economy continues to chalk up rapid growth. On these routes Sriwijaya will be competing mainly against turboprops, including ATR 72s and Bombardier Dash 8s operated by Lion Air subsidiary Wings Air and the wide mix of turboprops operated by regional carrier Merpati. By selecting the E190 over a turboprop Sriwijaya is taking a bit of a risk as the E190 has much higher unit operating costs than turboprops and Indonesia is typically a low yield and extremely price sensitive market.
Garuda Indonesia also has been looking at adding larger regional jets to grow its operation on secondary routes. While Sriwijaya for now is in line to be Indonesia's first operator of the E-jet family, Garuda has been evaluating the E-jet and Bombardier CRJ families and could place an order for up to 25 large regional jets at Paris later this week.